Charmed, I'm Sure: The History of Charm Bracelets
Part 1
By Beth Bernstein
There is no other piece of jewelry that acts as a time post and chronicles a woman's life like a charm bracelet or necklace. These tokens of treasured moments, added with souvenirs and keepsakes of new encounters, achievements, romances, humorous events, and significant occasions all recall and reveal the passage of time and the journey that the woman who wears her charms has taken so far. Charm bracelets also reflect a woman's dreams, hopes, superstitions, goals and will eventually link together and tell more of her tale as she continues to grow and experience life.
When I talk to women friends whose careers range from jewelry designers to lawyers to architects, they recall memories of their mother's charm bracelet clanging and jangling, while cooking in the kitchen or going out for a night on the town. They talk about playing with their grandmother's charm bracelet and how they listened intently to what each charm signified. In the U.S., many of us were raised wanting to feel that familiarity and comfort and bring back the memories to our own wrists. Some of us were lucky enough to be handed down the charm bracelets as heirlooms or to get a special gift of just one charm that we loved from generations before us.
These are pieces we collect, that reflect who we are, what we are doing and how we are feeling at different times in our life, much like journaling or creating a memoir out of pieces that link the past to our present and future.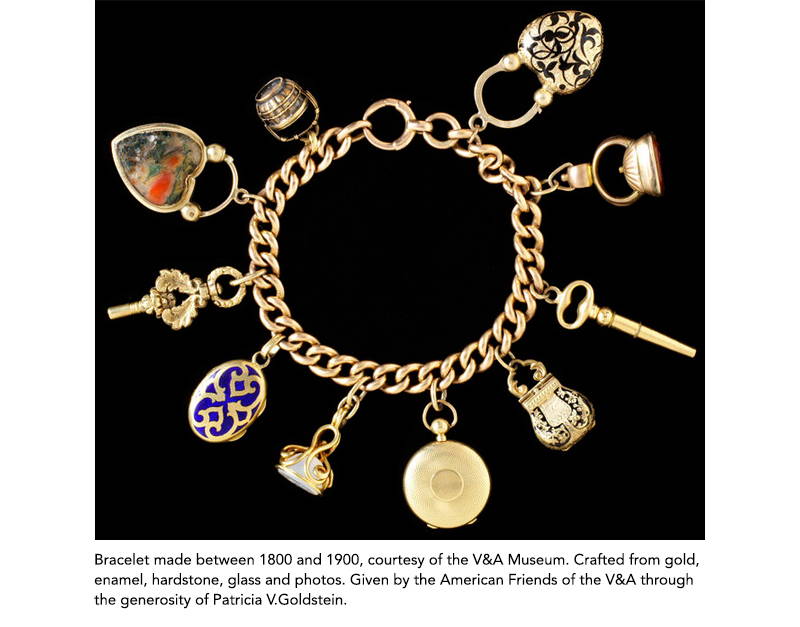 For this reason we are featuring a three part series on the history of charms and the charm bracelet from ancient times to present.
Part 1 will take us briefly through ancient civilizations, the difference in amulets, talisman and the way charms moved toward love, luck and protection rather than warding off evil. It will end with the Victorian Era charm bracelets becoming the height of fashion and how they hold sentimental meaning.
Part 2 will take us through the beginning of the 20th century, the evolution into platinum and diamonds and the first Hollywood stars and renowned houses that made charm bracelets famous igniting a trend among women of every demographic. This chapter will move into charms during and post WWII and the materials and types of charms available.
Part 3 will continue on with iconic women who wore charm bracelets, the advent of mechanical charms, how the charms blossomed into a booming industry. We will reveal how they began to celebrate every conceivable occasion, memory and moment in life. We will cover their brief outage in the feminist 70s and working woman 80s and the full circle comeback of charm bracelets in the late 20tth and 21st centuries. They are here to stay and how are being reworked into charm 'necklaces' with a passion and preference for meaningful and iconic themes. We will discuss how social media had a huge impact on creating allure among new collectors who find them, simply charming.

Charm Me: The Invention of Charm Bracelets
Let's go back in time to when charms were first recognized as pieces of jewelry by the Egyptian Pharaohs. It has been reported that prehistoric civilizations wore some sort of shell, teeth or other natural element to keep bad spirits away. But as far as an actual piece of jewelry goes, what we know as amulets and talisman, made out of rocks, wood and gems and were worn as bracelets or necklaces as protective shields to ward off evil. During this time they were forms of identification and due to the shorter lifespan and the beliefs of the day, charms also served to identify people to the gods in the afterlife.
Charms slightly transformed in Roman times to represent religious and spiritual believers.
"During the Roman empire charms became a way of secretly conveying a common bond such as religion or culture," explains Alice Kwartler of of Alice Kwartler Antiques (alicekwartler.com) who specializes in charms as well as signed jewelry. "Christians wore fish underneath their garments to be able to have entry in to worshipping with other Christians. Jews wore passages from law in a gold charm to keep their faith close to their hearts." She adds.
Later in history, different cultures viewed them as protective: knights and then soldiers guarded themselves with charms to keep them safe in battle.
It is interesting to note that during the Renaissance, charms lost their charm among the wealthy classes who began to read books that were being mass produced which lessened the superstitions of the day; however, it was believed Catherine de' Medici Queen of France, from 1547 until 1559 wore a charm bracelet that supposedly possessed occult powers.
Whether known as amulets, talisman or charms, there was definitely enough interest and intrigue to continue to believe in their powers and also to keep their popularity alive.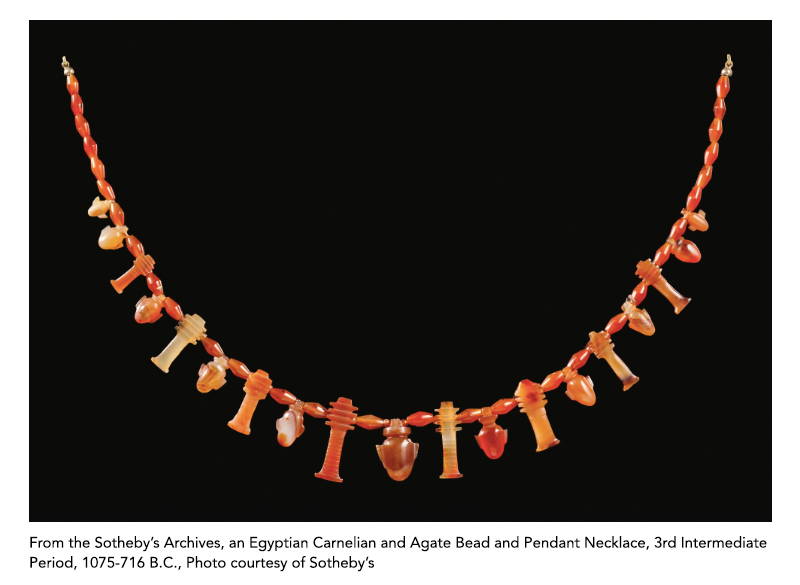 Charmed and More
When it comes to different styles which influenced charms, the 18th and 19th century's women's chatelaines (which were worn pinned to the waist) with chains dangling with essentials such as small sewing items and magnifying glasses also held decorative charms and were designed predominantly in sterling silver charms. They were known as the predecessors of charm bracelets. Men's watch chains, which were worn on waistcoats to carry time pieces also dangled with types of charms. These were predominantly intaglio fobs with family crests. One of their early uses of these fobs were to sign documents. Eventually they were designed to show a person's hobby or profession or were created with mottoes and motifs in English or French and bespoke a language of love, freedom and overcoming obstacles in a poetic way. If we fast forward to the 1930s and 40s, one of the most influential fashion designers of the time, Elsa Schiaparelli wore her grandfather's watch chain filled with antique fobs and intaglios. It was one of her signature pieces. (But more on that in Part 2)
The Queen of Custom Charm Bracelets
It wasn't until Queen Victoria's reign that charms not only reached the height of popularity but the Queen's love for all types of charms deemed them fashionable among the elite and wealthy throughout Europe. She also introduced a new type of charm—sentimental and romantic-which could be seen in the charm bracelets she wore and those she gave as gifts. Her influence left such as imprint that the same motifs and symbolism which were represented in her day were again reflected in more modern styles of charms throughout middle to later part of the 20th century as well as current designs.
"Like all jewelry in the early part of Queen Victoria's reign, charms were imbued with the sentimentality that was so prevalent among the early years when she first met and fell head over heels for Prince Albert," explains Elizabeth Doyle of Doyle & Doyle (doyleanddoyle.com) who sells a range of time period jewelry but favors Georgian and Early Victorian pieces. "Many charms revealed secret messages of love and endearments during the Victorian era and others picked up on the messages of luck and brought back protection in different motifs from earlier incarnations," she continues.
Doyle cites one of my own favorites of Queen Victoria's bracelets, which consists of enamel hearts, one for each of her children. According to The Royal Trust Collection "it is a gold chain bracelet with nine enameled heart shaped lockets of different colors; containing the hair of Queen Victoria's children. This simple chain and locket bracelet is typical of the sentimental items Prince Albert gave to the Queen on November 24, 1840. The inscription on the clasp states that it was given to her three days after the birth of their first child, Victoria, The Princess Royal. A locket was added for each subsequent birth, each one containing a lock of the child's hair and inscribed with the name and date of birth."
"When Prince Albert died, she created mourning charm bracelets, the pendants, lockets and medallions of which became all of the rage in England during this time," Doyle continues.
As quoted from The Royal Trust, "One of the mourning bracelets she wore constantly after Albert's Death, consisted of sixteen various oval and heart shaped lockets, enameled in black on gold. Some set with jewels, others engraved, several with inscriptions and miniature photograph of male head comprise this bracelet which was worn.
"Both bracelets were part of a group of jewels placed in the 'Albert Room' at Windsor Castle after the Queen's death in 1901. This was the room in which Prince Albert had died in 1861 and the Queen left instructions for a specific list of personal jewelry to be placed there and not passed on in the family."
Says Alice Kwartler, "Queen Victoria also set the tone for trends during the industrial revolution, which made the style of charms that were in vogue accessible for women of all demographics to wear and follow her lead."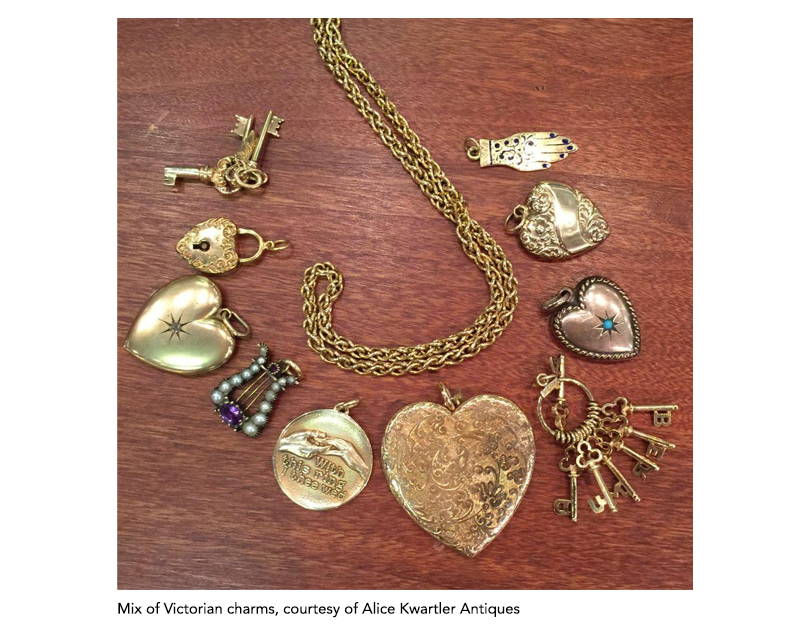 You Charm Me
Another company was competing for a place in charm's history. Tiffany & Co., which opened in 1837, the same year young Victoria became Queen, and decided to create their own version of a charm bracelet in 1889. The Tiffany charm bracelet was a dainty chain from which a single heart was hung. It instantly because a hit and a status symbol and is still being designed in different incarnations today.
Simply Charming
During the latter part of the 19th century we see an abundance of hearts, four leaf clovers, birds, and flowers which had different meanings and a more lighthearted approach to charms that all signified, luck, love and protection in diverse designs.
Kwartler adds, "In addition to the romantic and memorial quality of the Queen's charms, she was way ahead of her time, choosing to create an extremely individual and fashionable statement of a woman's life through jewelry. She allowed the world to see who she was and what was personal to her, a tradition we now carry on in our charm bracelets today."
Stop back in July to travel into the 20th century with us as we continue our journey with charms!
Beth Bernstein is a jewelry historian, collector of period and modern jewelry and a purveyor of all things sparkly. She has penned three books—'My Charmed Life,' a memoir; 'Jewelry's Shining Stars,' a modern jewelry design coffee table book; and 'If These Jewels Could Talk,' an in-depth look at celebrities and the stories behind their legendary jewels on the silver screen and in real life—with a fourth one in the works. She has written and continues to write for major print and online magazines on all subjects pertaining to jewelry and style.

Learn About Our Charm Bracelets:
Charms and Bracelets. Bracelets and charms. Our charms are the ultimate in customized storytelling. Make a bracelet your own by choosing charms that inspire you and tell your story. Because you choose the chain and the charms that have meaning to "you", it is truly "your" charm bracelet, like a fingerprint – uniquely yours.
In our 18k gold collections, you can find the gold charms that are right for you in a broad range of sizes and meanings. Our charms designed around inspiring themes, like Carpe Diem, Dream, Never Fear, and Perseverance. They are created to empower you, to make you stronger. We offer a selection of bracelet chains for your charms that range from slim, modern styles, perfect for an understated look of one charm or two, to bigger statement chains that when loaded with six or seven charms make a statement. Many of the gold charms that we offer are also available as sterling silver charms so that you can create these same timeless looks at a different price and in a different metal. These sterling silver charms are offered with bracelet chains that feature hinged links, so you can easily rearrange charms, slip some on and off, all in a matter of moments.
Browse the charms & bracelets collection by Monica Rich Kosann to feel empowered + inspired:
https://www.monicarichkosann.com/collections/charms-bracelets