Here at MRK we're big fans of all things timeless in every aspect of our lives - from our jewelry, to our food. With July 4th coming up this week, we couldn't think of a better time to bring you a menu that will never go out of style, curated by our brand ambassadors at The New Potato. From a unique take on a classic tomato salad, to the perfect summer cocktail, this menu will wow your guests this summer (and for many summers to come)...
---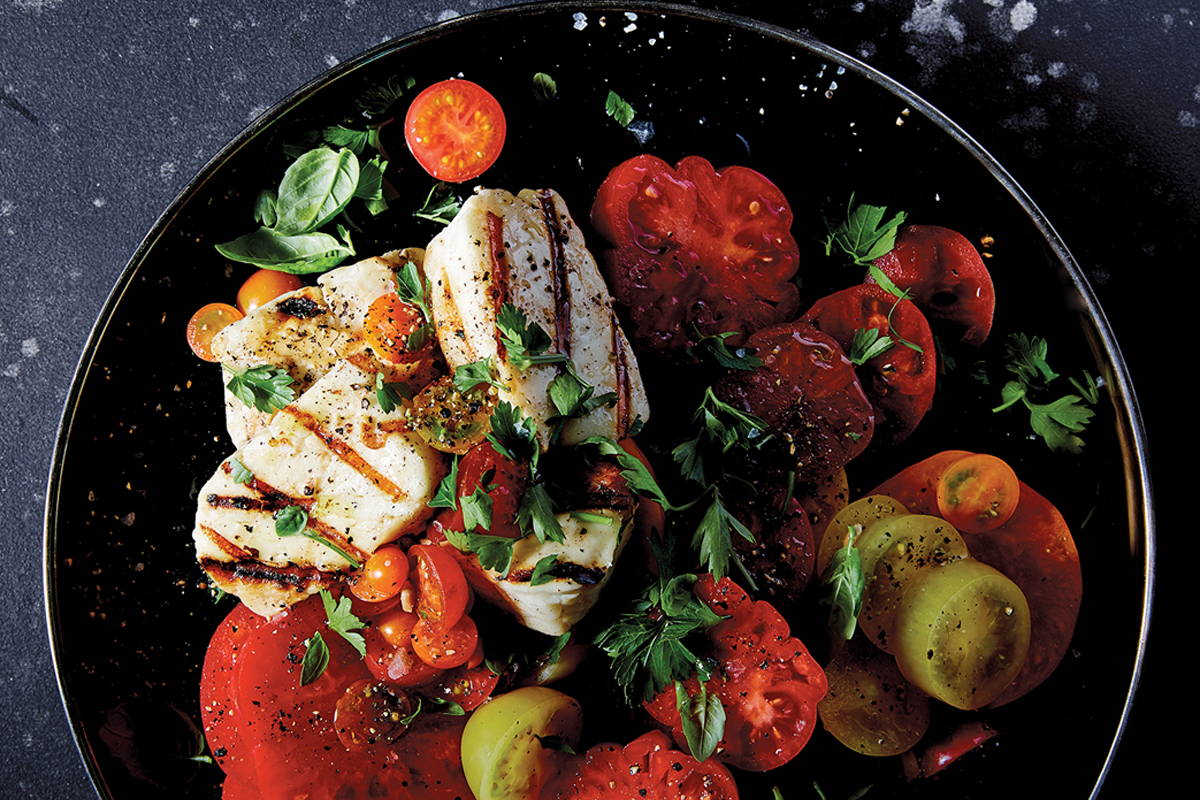 ---
Tomato Salad with Grilled Halloumi and Herbs
Serves 4
1 pound small to medium best summer tomatoes, sliced into rounds
½ lemon
Flaky salt and freshly ground pepper Extra-virgin olive oil
½ pound Halloumi cheese, sliced into 4 slabs
5 basil leaves, torn
2 tablespoons finely chopped flat-leaf parsley
Preheat a grill or grill pan over medium-high heat.
 
Arrange the tomatoes on a serving platter or four plates. Lightly squeeze the lemon over them and season with flaky salt and pepper.
 
Brush the grill grates with oil, then add the cheese and cook, turning once, until marks appear and the cheese is warmed throughout, about 1 minute per side. Place on top of the tomatoes. Drizzle the salad with olive oil and sprinkle with the basil and parsley. Serve immediately.
---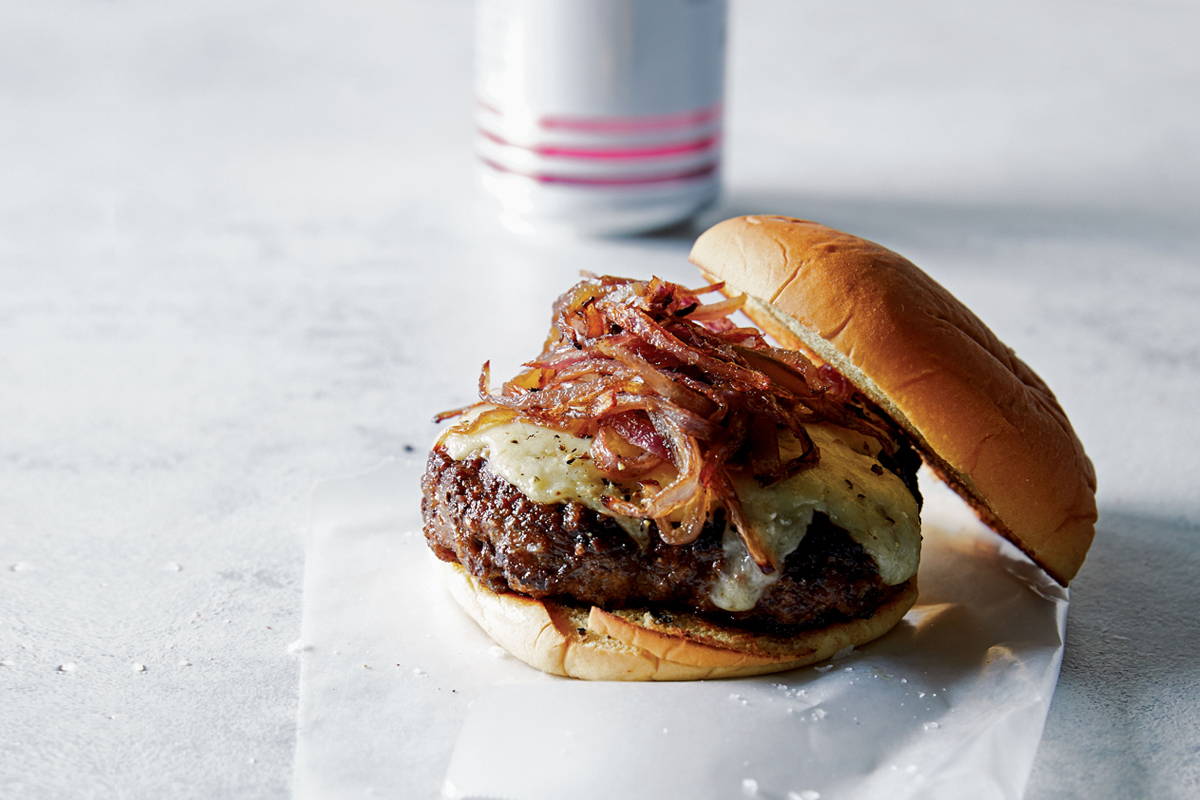 ---
Cheeseburger with Easiest Fried Onions
Serves 4
For the onions
Neutral oil, for frying
2 medium red onions, halved and thinly sliced
Kosher salt
For the burgers
1½ pounds ground beef, preferably 80% lean
Kosher salt and freshly ground pepper
Oil, for the pan
8 slices cheddar cheese
4 potato buns, split and toasted
PREPARE THE ONIONS: 
In a medium saucepan, heat ½ inch neutral oil over medium-high heat. When it's hot enough that it bubbles briskly when a piece of onion is added, carefully add half the onions and fry, stirring occasionally, until browned and crisp, about 9 minutes. (Reduce the heat as needed to prevent the oil from smoking.) Using a slotted spoon, transfer the onions to a plate lined with paper towels to drain. Season generously with salt. Repeat with the remaining onions.
MAKE THE BURGERS: 
With your hands, form the ground meat into 4-inch patties about ¾ inch thick, and season generously with salt and lightly with pepper.
Heat a cast-iron or other heavy skillet over medium heat until very hot. Use a paper towel to lightly wipe with oil. Add the burgers and cook (working in batches if necessary) until well browned on the bottom, about 5 minutes. Flip and cook to your liking, about 5 minutes longer for medium-rare and 7 minutes for medium. Two minutes before the burgers are done, top each with 2 slices of cheddar. Cover the skillet and let the cheese melt for the last 2 minutes. Transfer the burgers to a plate and let rest for 2 to 3 minutes.
Fill the toasted buns with the burgers and onions, then serve.
---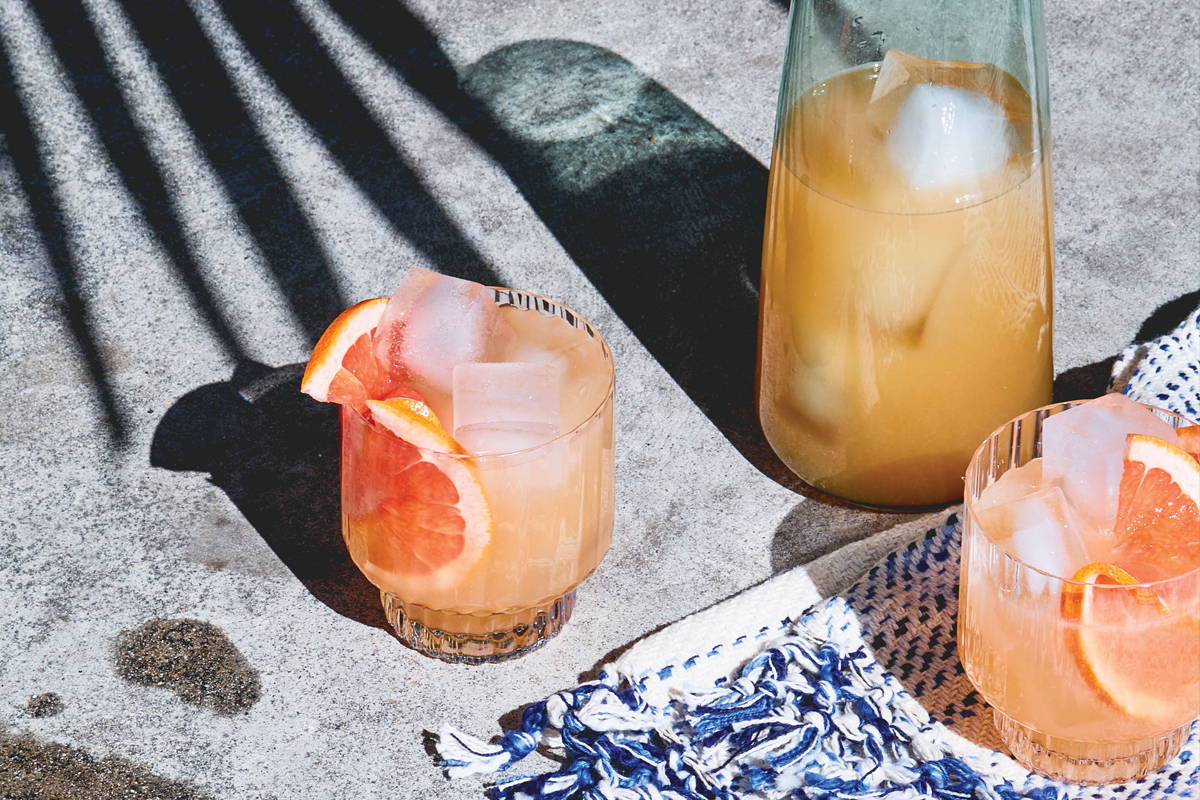 ---
Grapefruit Margarita
Makes 1 drink
Ice
3 tablespoons fresh grapefruit juice
3 tablespoons tequila
1 tablespoon fresh lime juice
2 teaspoons simple syrup (see Note) or honey
In an ice-filled shaker, combine the grapefruit juice, tequila, lime juice, and simple syrup and shake well. Strain into an ice-filled rocks glass.
NOTE: To make simple syrup, combine 2 teaspoons sugar with 2 teaspoons water and heat in a microwave for 15 to 30 seconds, until the sugar is dissolved. Refrigerate until chilled. Alternatively, do this on a stovetop.
---
---
"Healthy" Chocolate Chip Cookies
Makes about 10 cookies
2 cups raw almonds
2 tablespoons cacao nibs
1 cup rolled oats
¾ teaspoon baking powder
½ teaspoon kosher salt
½ cup chocolate chips (or 3 ounces dark chocolate, chopped)
½ cup dried cherries
¼ cup plus 1 tablespoon virgin coconut oil, melted, unsalted butter, melted, or other oil
¼ cup pure maple syrup
1 egg
Position two racks in the upper and lower thirds of the oven and preheat the oven to 350°F. Line two baking sheets with parchment paper.
In a food processor, process 1 cup of the almonds until they resemble a coarse flour, stopping every few seconds to check the consistency. Transfer to a large bowl. Add another ¾ cup almonds as well as the cacao nibs to the processor and process to a flour. Transfer to the bowl. Add the remaining ¼ cup almonds and pulse until they are finely chopped, about 30 pulses. Transfer to the bowl.
Add the oats, baking powder, salt, chocolate chips, and dried cherries to the bowl and stir to combine.
In a small bowl, lightly beat together the oil, syrup, and egg and pour over the dry ingredients. Stir until evenly moistened.
For each cookie, pack ¼ cup of the dough into a measuring cup and transfer to the baking sheets. With wet hands, lightly press down the rounds to about ½ inch thick.
Bake until golden and dry to the touch, about 20 minutes, rotating the baking sheets halfway through. Let the cookies cool completely on the baking sheets. The cookies can be kept in an airtight container for up to 5 days or tightly wrapped and frozen for up to 1 month.