Like many brands, the photoshoot for our 2020 campaign - scheduled to be shot at the end of March - was postponed indefinitely due to Covid-19. After a couple of months, we began to talk about ways in which we could create something new that was meaningful to our brand while keeping ourselves and our employees safe and in quarantine. Typically, our photoshoots are shot by Monica and her daughter Danielle, while her other daughter Laura, shoots video. Luckily, the three had been together while in lockdown, so we decided to get creative! This year, Danielle photographed, Laura modeled, and Monica played a multitude of roles - makeup and hair, clothing stylist, jewelry stylist, and occasional photographer. As many of you know, our brand is rooted in family and our personal stories, and there is no better way for us to showcase our jewelry and those stories in this turbulent year than with images created by Monica and her daughters as a team. Here, we're thrilled to share a little behind the scenes look at how some of the images came together. These images will roll out over the next few months - along with another campaign we were able to shoot when restrictions eased up a bit, that we can't wait to share with you soon as well...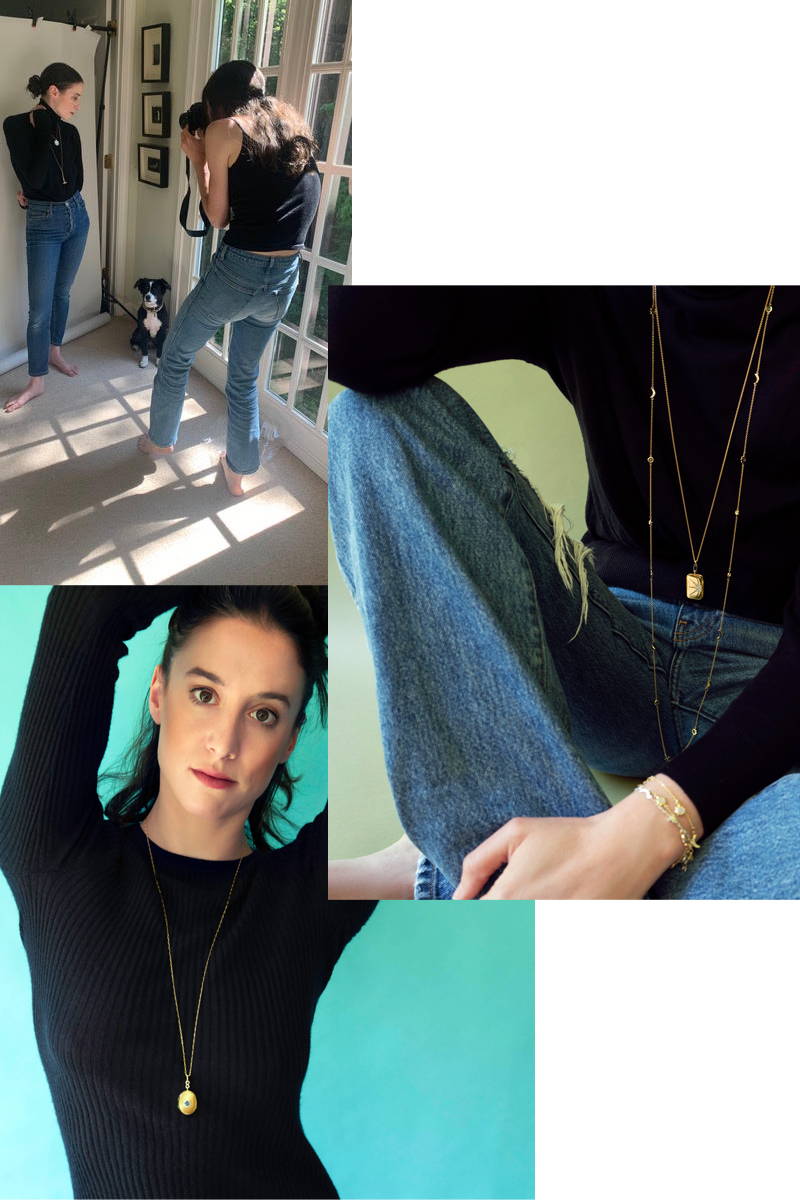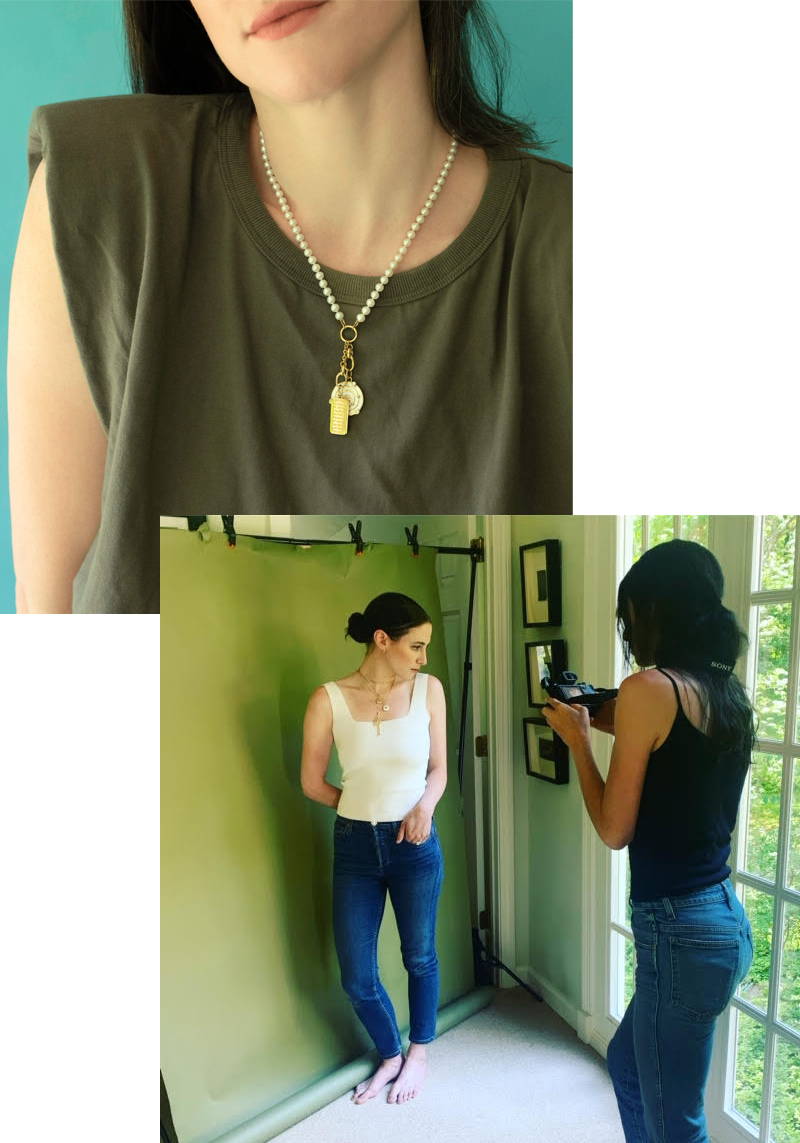 Our Design Your Own charm chain will soon be available with a chain of pearls. This is one of the pieces we (Monica's daughters in particular!) are most excited about this year. It looks great here with our Time is Now charm and Dorothy Medallion, and looks even better when mixed with other pieces as part of neck mess.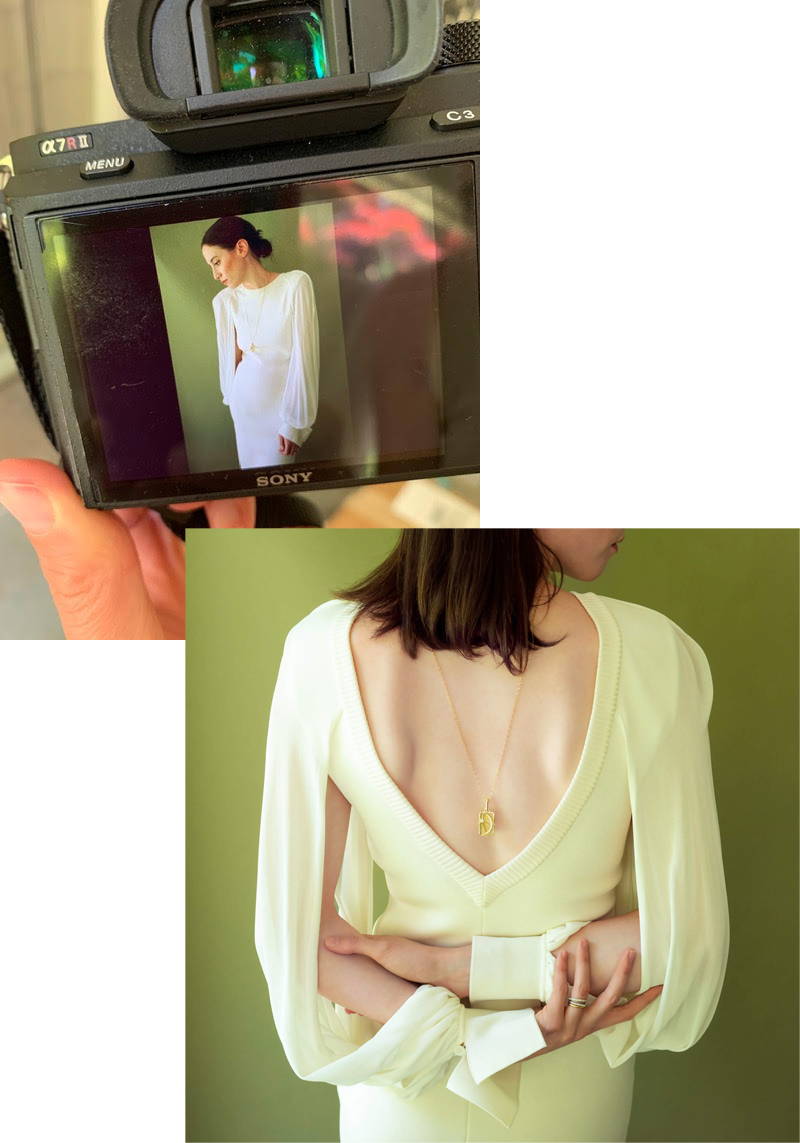 We love styling our locket necklaces on a woman's back for photoshoots, as lockets are meant to hold our secrets, and this way of styling makes for a powerful image. But, as you can see from the image in the camera, an elegant locket necklace - like this new Gate necklace style from our Gate Collection- looks beautiful as a statement piece (the regular way) for an evening out.