"Whenever we design a product, we ask ourselves, can a woman share this piece with her daughter twenty years from now?"
What to include in your jewelry collection is always a highly personal decision. After all, the jewelry we choose to buy and wear says a lot about who we are and the stories we want to tell.
Heirloom jewelry isn't something you tend to buy on a whim. Either it's passed down to you from a family member, containing within it the stories and symbolism of the past. Or it's a new tradition you embark on for future generations, and so will require some careful consideration.
So, what makes a piece of jewelry an heirloom, and how do you build your collection?
The financial value and intrinsic beauty of each piece play a role but more importantly is what the jewelry symbolizes. Heirloom jewelry is more than a financial investment. It's about how family ties endure from generation to generation.
So, whether you already have some heirlooms in your jewelry collection or you want to start a collection afresh, we have a variety of thoughts and ideas we hope are helpful.
What is heirloom jewelry?
Heirlooms are described in the Cambridge English Dictionary as "a valuable object that has been given by older members of a family to younger members of the same family over many years."
There are two aspects of this description that stand out: "valuable" and "over many years."
An heirloom, by definition, must be valuable. But how you interpret the value of a piece of jewelry is not limited to its financial worth. More often than not, the sentimental value of the piece is just as, if not more, important.
There are some tell-tale signs you can look for to help determine the financial value of your jewelry. First are the special hallmarks that tell you the metal content of the jewelry. Second is the weight - usually the heavier a piece, the more valuable it is. The third thing to consider is the stones. If they're brightly colored, clean, precious, or semi precious, the chances are they have some financial value.
The second element that defines heirloom jewelry is its longevity. Heirloom pieces get passed through the generations over the course of many years.
Longevity is, of course, borne out of the quality of both the materials and the craftsmanship of the jewelry. It's how the jewelry is made that will determine whether or not it can stand the test of time.
Most importantly, heirloom jewelry has to be meaningful, passing down that meaning from grandmother to mother, to daughter, and long into the future.
Because of that, rather than being just trendy, heirloom jewelry should be as classically beautiful today as it will be in twenty years' time. Rather than being a modern fashion statement, your heirloom jewelry ties each new generation's stories to those that came before.
So, when looking to build your collection of heirloom jewelry, there are four things to keep in mind:
It needs to be made with long-term quality.

It should be as wearable now as it will be in twenty years' time.

It should build value over time.

It should tell a story.
Building your heirloom jewelry collection
Whether you're looking to expand your heirloom jewelry collection or just starting out, there are a few things to keep in mind.
First of all, if you're freshly embarking on an heirloom jewelry collection, how do you know what piece to start with? Do you build your collection around a sterling silver necklace, or perhaps a pair of diamond earrings should be your starting point?
The truth is, an heirloom jewelry collection can begin anywhere. You can start with a beautiful vintage ring you find at a flea market, a locket your grandmother gifted you for your wedding, or a charm bracelet you've been building for your daughter.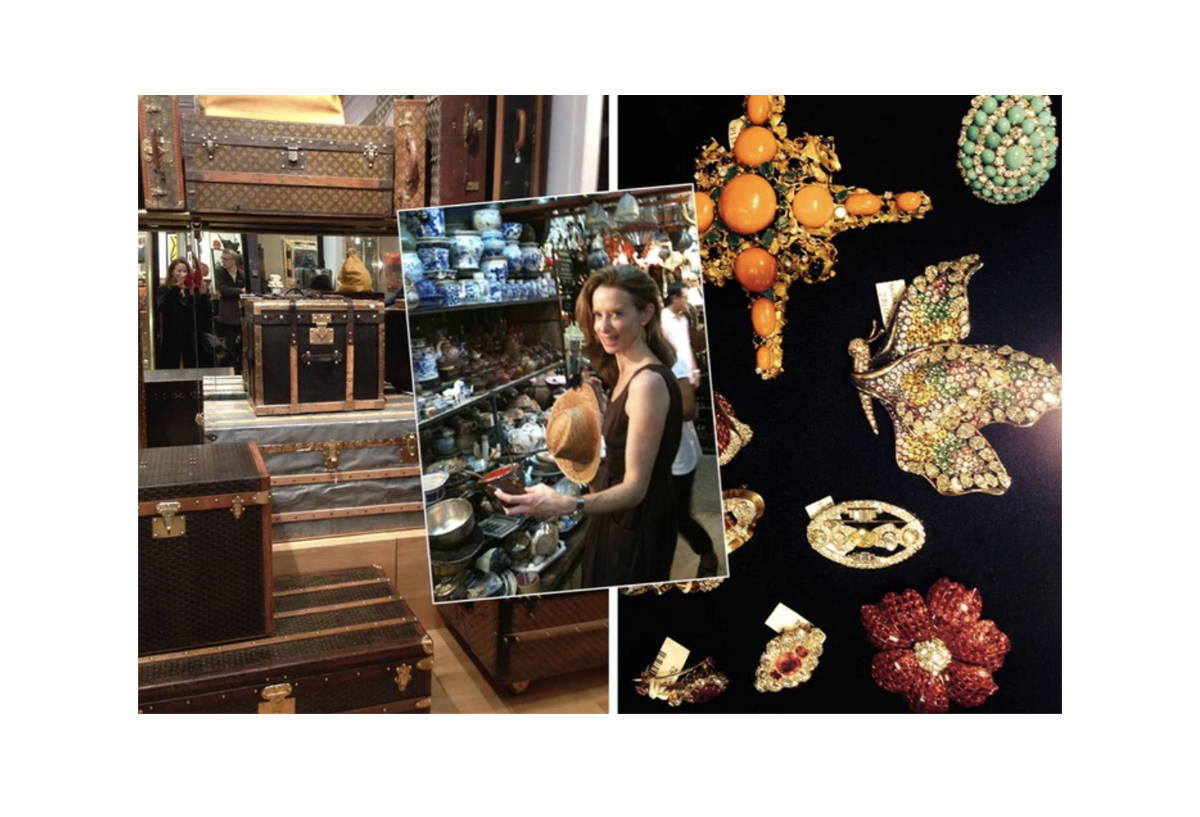 The key to how you begin your collection comes down to what you already have, and what pieces jump out at you.  
If you need some guidance, consider adding these quintessential heirloom pieces to your growing collection:
- An heirloom

locket

steeped in historical significance and a timeless piece that stands the test of time.

 

- An heirloom

bracelet

, such as a charm bracelet with its collectibility factor or an iconic tennis bracelet.

 

- A pair of diamond

drop earrings

- a timeless classic!

 

- An heirloom

ring

is typically an engagement, wedding, or eternity ring, but can also include right hand or promise rings. Heirloom rings often include precious gemstones like sapphires, rubies, or diamonds.

 

- An heirloom

brooch

can hold historical significance, and can be transformed for the modern wearer, such as turning it into a pendant necklace.
More specifically, you might want to consider a few other styles and motifs as heirloom jewelry to invest in.
Art deco jewelry
Bold, deco inspired designs are relatively modern, but they'll resonate with future generations. We think their style can endure over generations. .
Our Marilyn White and Black Ceramic and Pave Diamond Link Bracelet features five carats of alternating diamond links. It's a show-stopping statement piece that will stand the test of time.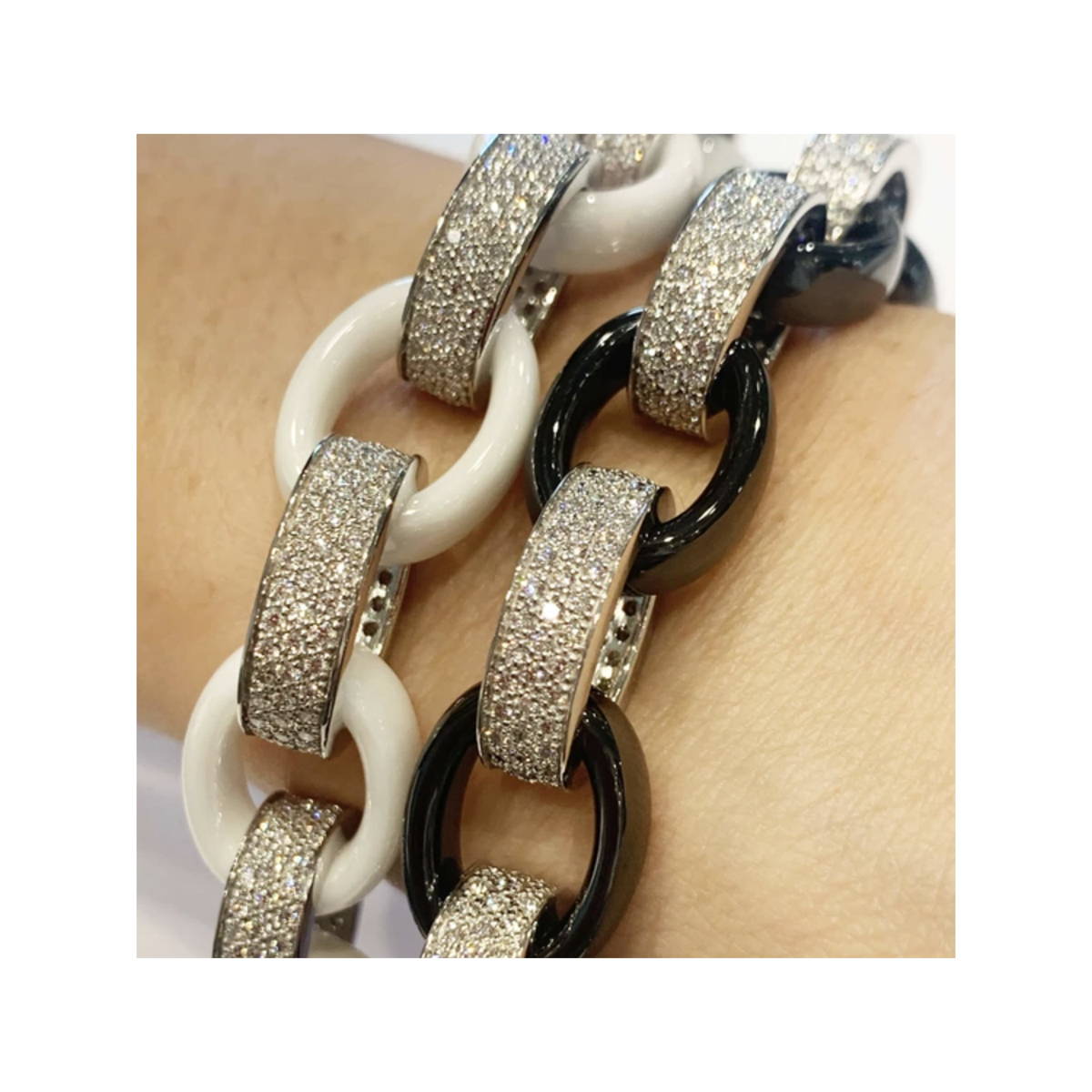 Natural pearls
When cultivated pearls came into being in the 1920s, the price of pearls fell, making them more affordable. It in turn made pearls available to a broader audience.
Natural pearls are timeless, particularly as drop earrings or worn as a pendant. Look out for size, shape, luster, and surface quality when assessing the value of your natural pearl. Alternatively, ask an expert to help you.
Contemporary designers
People often assume a piece has to be vintage in order to be considered a valuable heirloom. In fact, there's no harm in starting your own heirloom tradition by looking at contemporary designers for a smart investment.
The Goldsmith's Fair in the UK for example, is a good event to start looking for top-quality new jewelry. You can also browse our site and High Jewelry Collection for inspiration.
When to grow your heirloom jewelry collection
Once you've decided on a style and the first piece in your collection, you may want to plan how that collection will grow from there. Do you want to plan your jewelry collection in advance, purchasing new pieces on a set timeline? Or instead, do you prefer to let your collection develop organically as your life story unfolds?
Alternatively, you might want to build your heirloom jewelry collection around major life milestones that can be celebrated and remembered forever with a special piece of jewelry.
- The birth of your child

- Your engagement or wedding day

- Your graduation

- A coming of age (first communion, confirmation, bat mitzvah, etc.)

- A career achievement

- A travel experience

- A special anniversary or landmark birthday
However you choose to grow your collection is entirely personal to you. Whether you start from scratch with entirely contemporary pieces, build on an inherited heirloom piece, or mix and match modern with antiques you've discovered in flea markets, your heirloom collection will tell your unique story.
How to assess quality and make smart purchases
As we've already discussed, there are certain factors that determine whether a piece of jewelry is financially valuable. And, while it's the sentimental value of an heirloom that really matters, it's the quality of its materials that determine how enduring it is as an object you can hand down through generations.
The first thing to note is the hallmark. These are tiny imprints found on a piece of quality metal, which can usually be seen but may need the help of a magnifying glass to see clearly.
Gold hallmarks to look out for are 18K, 14K, 10K, 750, 585..

Platinum hallmarks are 950, PLATINUM, PLAT.

Well-known

silver hallmarks

include 925, Silver, 800, and Sterling.

Fine jewelry maker hallmarks including brands like Tiffany & Co, Cartier, and Tacori.
It may be the case that your jewelry doesn't have a hallmark, in which case, you can get it appraised by a jeweler.
Chains can be assessed by checking their weight and length. As a rule of thumb, the longer and heavier your gold or platinum chain is, the greater the value.
Gold is a traditionally valuable metal, so it's likely that antique or vintage gold jewelry can be viewed as an heirloom investment piece. The value of gold usually takes into account the gold content - the purity of the gold used in the jewelry - rather than the quality of the gold. Even damaged gold can be valued highly.
24-carat gold is the purest, measuring at 999 parts of pure gold per thousand. That said, because 24-carat gold is a softer material, the most valuable gold jewelry you find would usually measure 18 carat.
When it comes to stones, it usually follows that the brighter and clearer the stone, the better. Diamonds are valued according to the four Cs (color, cut, clarity, and carat).
Precious gemstones, such as sapphire, ruby, and emerald, can add a great deal of value to a piece of jewelry, especially if they've been well looked after.
How to repurpose acquired heirlooms
If you have received a piece of heirloom jewelry from a family member which, for all its sentimental and financial value, just isn't something you'd like to wear, you might consider repurposing it to best fit your style.
First, consider whether changing the piece might offend any family members who have an attachment to its significance. Second, determine whether or not the piece will lose any value when it's repurposed, such as damage to the stones (diamond-encrusted eternity rings are notoriously difficult to alter).
If those hurdles are cleared, here are some repurposing ideas that may work well for your heirloom piece:  
- Turning a brooch or ring into a pendant necklace

- Taking the gemstone of an heirloom ring and resetting it into a contemporary band or other style

- Lengthening or shortening a pearl strand

- Changing a metal's color, going from yellow to rose gold for example

- Shortening a choker necklace into a bracelet

- Surrounding a gemstone with a halo of small diamonds

- Transforming a pendant into a modern ring
Remember that while heirloom jewelry is meant to be passed down through a family, each generation will have their own style and story to tell. By repurposing an heirloom piece, each wearer is able to continue the family legacy while adding her own mark.
In summary
When you embark on building an heirloom jewelry collection, keep in mind enduring quality, timelessness, and value that will grow over time.
This means investing in pieces that have all the hallmarks of quality materials and good craftsmanship, and finding styles that will look great today but will also speak to future generations.
But more important is how you let your heirlooms tell your story, and how you weave that in with the stories of your mother, grandmother, and the generations to come.
What items do you have in your heirloom jewelry collection, and what is it about them that you love most?