We're thrilled to announce the launch of our latest demi fine jewelry collection, Locket x Color. The colorful collection features enamel vermeil lockets in various colors that we chose specifically to give strength to your positive emotions (because color can truly do that) and bring happiness, while also allowing you to keep your loved ones close to your heart with our signature lockets. Here, Monica discusses the inspiration behind the collection and how color has affected and inspired her...
On Lockets x Color…
"Lockets are sexy. They hold a woman's secrets - and it's up to her if she wants to share. I wanted to create lockets that a women could mix in with other layers around her neck to add a splash of color. Adding some color to your neck can be fun - especially if they're locket necklaces! We created lockets in various colors, giving our women a range of choices…I love the idea of a customer buying a few different colors and changing it up depending upon her outfit for the day. This collection is a collaboration between color and lockets.
The truth is, I wanted to make lockets that were colorful but didn't break the bank. 18k gold vermeil is a wonderful way to keep the pieces looking elevated while still keeping the prices manageable. Colors come and go and our customers look to us to create pieces that last forever. With vermeil, one can feel a bit less guilty buying something that feels a bit more like a fashion piece (though we always believe lockets are timeless, whether in colored vermeil or 18k gold).
All in all, I wanted this collection to feel happy."
On color as inspiration…
"Color is so inspirational…each color symbolizes a different energy and a different feeling. We react to colors we see whether we know it or not.
Take orange for instance: Orange is a stimulating color that inspires enthusiasm and creativity. With similar physiological effects as its root color of red, orange increases oxygen supply to the brain, stimulating mental activity.Or, lucky green. Dark green holds a wealthy tone of empowerment for women who are eager to succeed. The shade suggests confidence.
Ivory symbolizes quiet and pleasantness. Beige symbolizes calm and simplicity. Yellow signifies joy, happiness, betrayal, optimism, idealism, imagination, hope, sunshine…
I could go on! We explored many pantone colors in the office and looked at color wheel and color charts for inspiration. There is no shortage of inspiration when it comes to color!"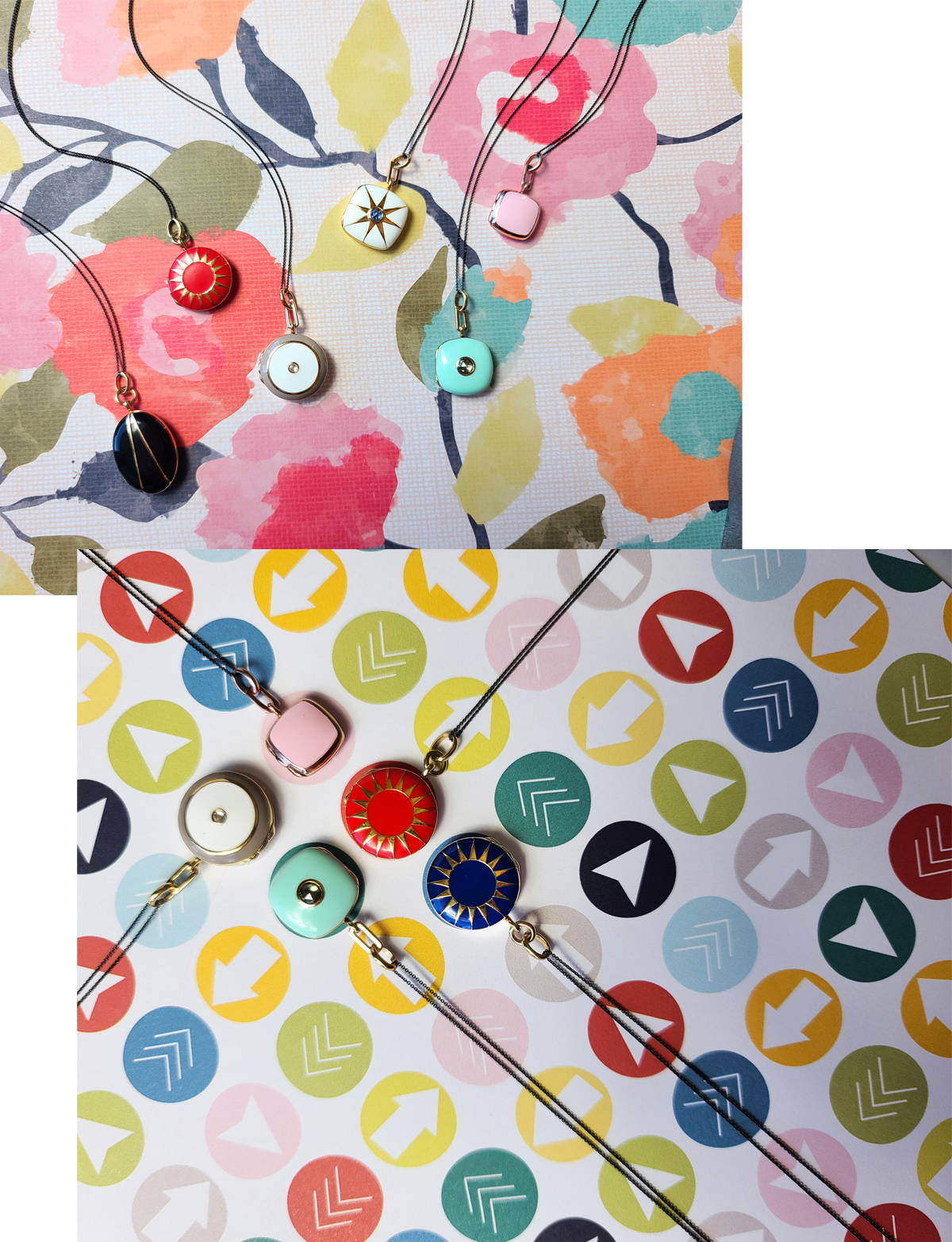 ---