OUR JOURNEY AND DISCOVERY OF THESE CLASSIC SILVER FRAME STYLES FOR THE HOME
VINTAGE STERLING SILVER FRAMES
Our experience with sterling silver frames grew out of the early journey that launched our brand. Before there was a jewelry collection at Monica Rich Kosann there was a collection of sterling silver image cases, pieces that literally were made from old compact and cigarette case molds, but were retrofitted to hold photographs. We had these cases manufactured by silversmiths in New England and Italy. These wonderful artisans were a part of multi-generation family businesses that in some cases had existed even before the dawn of the twentieth century. While we began with these families making our "image cases" we came to learn and understand that they had a rich heritage in making traditional sterling silver picture frames as well.
The exposure to these pieces in the workshops of these artisans gave us and Monica a new appreciation for the craftsmanship and intricacy of so many of the styles she found at flea markets and antique dealers throughout the world. It became clear that silver picture frames manufactured over the past 100+ years in the United States, Italy, and Great Britain (just to name a few countries where these vintage pieces were commonly made) were all uniquely different in their styling and history.
A casual visit to the categories of vintage style silver picture frames on web sites like eBay and first dibs will often yield the virtual version of rummaging through the stalls of a flea market searching for treasures from this category of antique pieces.
From the United Kingdom you will find circa 1900 Edwardian and Art Nouveau style silver frames for example that oftentimes have the most intricate patterning and detailing. Many of these styles were commonly presented with velvet backing or with beautifully hand cut and finished wood backs that, if well preserved, have the most delightful century old patina. Later styles took on cleaner and more contemporary silhouettes and were sometimes decorated with clean guilloche lines and etchings or were accented with other metals like yellow or rose gold. One of our favorite early English frame types were "wire" frames that were crafted by hand with heavy sterling silver "wire." They are intricate in their construction and finding styles in good condition can be a challenge.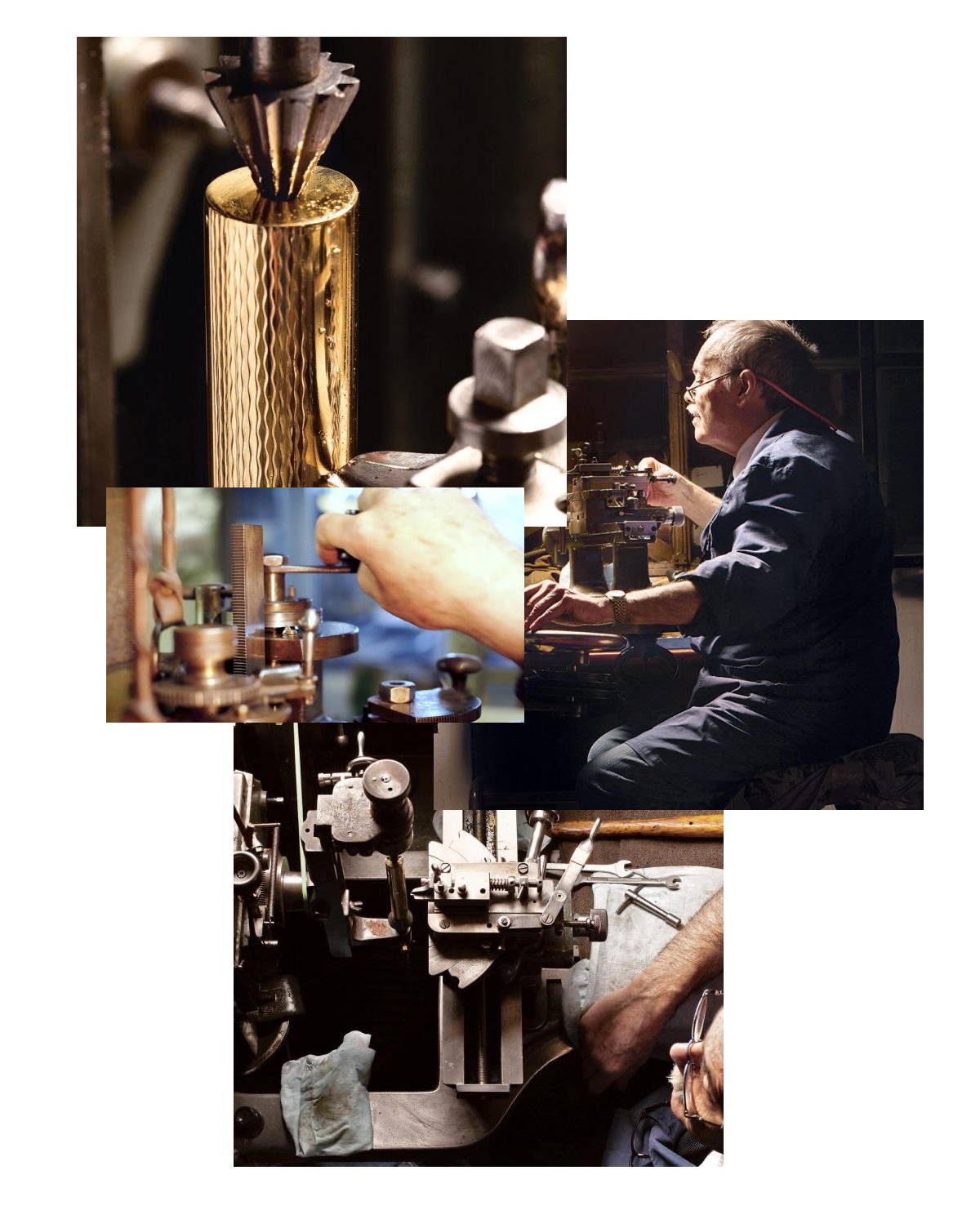 A Florentine Guilloche artisan and his equipment
A journey through American silver picture frames of the twentieth century is like a stroll through some of the iconic names in jewelry and American silversmithing. Tiffany was always a source for these frames so one will find a variety of vintage frame styles bearing their name. Famed jewelers like JE Caldwell and silversmiths like Gorham, Lunt and Reed & Barton are just a few examples of those who produced a broad range of sterling silver frame designs.
Our love for antique sterling silver picture frames from Italy has always been less about the names of brands, but rather more about the incredible range of techniques used by artisans to create these beautiful pieces. While houses like Buccellati are iconic in the world of Italian Silver, we love the methods that so many local artisans were trained in over the centuries. Italy was a source for the most beautiful, timeless hand engravings on silver frames, and other methods like hand chasing (where a pattern in the silver is hammered out from behind the metal by the artisan) that created extraordinary designs. Another favorite method of ours is hand guilloche. Guilloche is "a decorative technique in which a very precise, intricate and repetitive pattern is mechanically engraved into an underlying material via engine turning." In the early days, this was done by hand by highly skilled artisans guiding the equipment needed to achieve the intricate patterns produced by hand guilloche work. As the years progressed, machine driven techniques became a bigger part of producing these types of designs, but hand guilloche work is still done on many of our sterling silver frames as well as on watch faces at the highest echelons of that industry.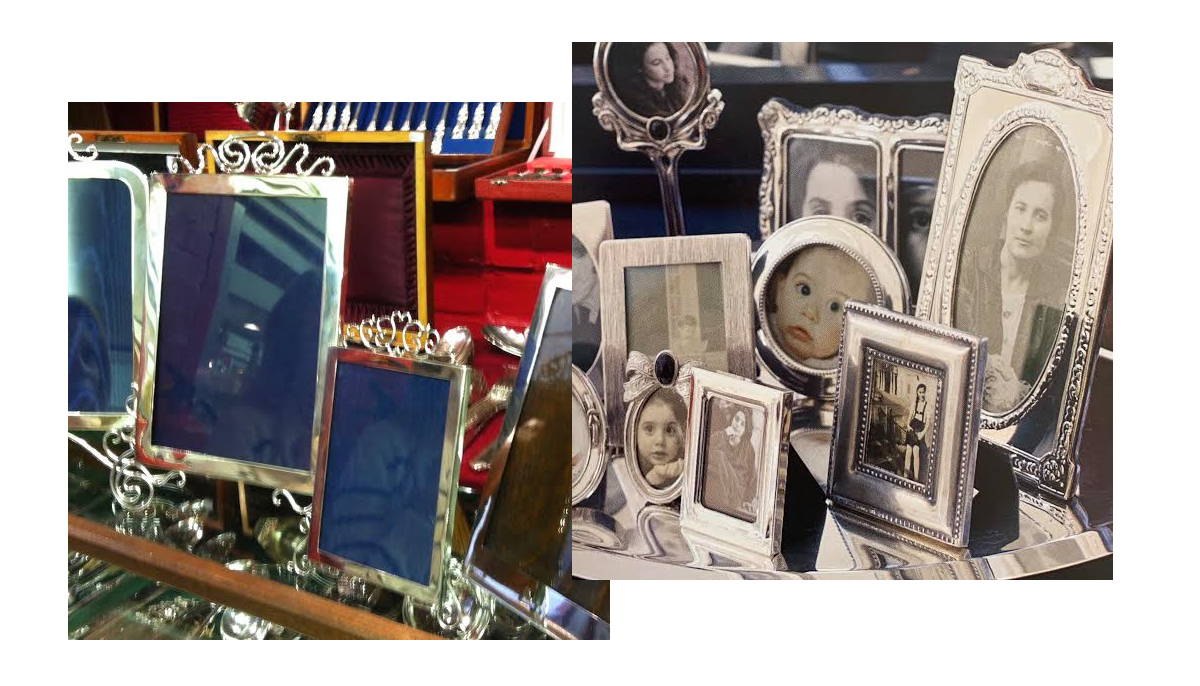 A tabletop vignette featuring vintage frames & Wire Frames circa 1900
The charm of vintage and new sterling frames echoes throughout the world of interior design. Award winning designer Nate Berkus has long appreciated these pieces. He shared these thoughts. "Ever since I was a teenager, I have collected silver frames; some are signed and hallmarked, others remind me of the flea market or antiques shop where they were discovered. Handsome frames help tell a story."
OUR STERLING SILVER FRAMES VS OTHER SILVER FRAMES
As we built our own collection of sterling silver frames, we drew on the quality and craftsmanship of these vintage pieces that we came to know and love. Because of that, our frames have many elements of quality, craftsmanship and value that we hope will make them special pieces for the home. Equally fitting, all of our sterling silver picture frames are made in Florence, Italy, a center for the artisanship and silver history we shared above.
A popular method of producing silver frames today is to stamp a sheet of sterling silver metal under a die to "punch and form" the silhouette of a frame. Sometimes these metal sheets can be particularly thin, and while we do use this same technique on our sterling silver frames, we do use a thicker metal plate in order to create a frame that is more durable and longer lasting. That thicker metal plate then allows us to decorate the frame using the same types of centuries old techniques we discovered in the finest vintage frame styles. Whether it is hand engraving or hand guilloche, the thicker plate provides the canvas for the intricate detailing of these techniques. Even in a frame where our pattern and decoration is part of the stamping process, our sturdier foundation of silver creates a higher quality style.
The quality of our sterling silver frames does not end with the "front." Like all parts of our collection we adhere to a 360 degree rule. Every piece has to be superior in its quality from every side. When one walks behind a table where one of our picture frames is sitting, we want them to see a back to the frame that is also a beautiful complement to any home. Our frames have carefully chosen wood or fabric backings. The wood pieces are all specifically cut for each frame style either in a carefully chosen wood finish or to then be covered with a velvet fabric.
We also have a variety of sterling silver frame styles that we think you will find unique to us. We offer 11 x 14" styles which is a size not traditionally found. Because of their scale, this size frame cannot just be stamped from a mold, so instead we build the frame by hand using four separate pieces where we mitre the corners and join them together.
HOW TO CARE FOR YOUR STERLING SILVER FRAMES
One of the biggest challenges with sterling silver frames over their history is that they traditionally always needed to be polished as they would tarnish badly every few months. Polishing frames, especially if one has a lot of them, can be a tedious, time consuming process and one that doesn't easily align with our busy lifestyles. To overcome that challenge and put an end to that polishing, our sterling silver frames are coated with a lacquer that protects them from tarnishing and makes polishing unnecessary. Because all of our silver frames are carefully lacquered; to care for them we recommend using a soft, dry dust cloth (with no chemicals or abrasives) when needed to gently remove fingerprints.
We are often asked about engraving on our sterling frames. Because of the lacquer finish we don't recommend this. The diamond point of an engraving machine can "break" the lacquer during the engraving process, which may eventually allow tarnish to creep under the lacquer and compromise the long-term quality of the frame. One way we recommend putting a personal touch on a sterling silver frame given as a gift is to write a handwritten note and place if behind whatever photo goes into the frame. The recipient should know about the note when receiving the gift but will soon forget it is there only to be delighted when rediscovering it years later. If there is no photo available at the time one is ready to gift a frame, we suggest letting that beautiful note simply fill the entire frame opening; a perfect photo can always be added later by the recipient.
MORE ABOUT STERLING SILVER PICTURE FRAMES AS GIFTS & AT HOME
A sterling silver frame can still be the ideal gift for so many special occasions. Traditionally it is an iconic wedding gift, as the ability of sterling silver to be important for generations makes it's a thoughtful gift for that special day. At the same time, that enduring nature of sterling silver makes it a wonderful choice for any milestone: anniversaries, graduation, or special birthdays.
Because many people associate a sterling silver frame as a "traditional gift", we have also tried to be thoughtful about creating more contemporary frame designs that will complement a more modern home décor but still be timeless in their appeal. Silver is the ultimate neutral color, so a beautiful sterling frame in the right design can usually find the perfect spot in any home. Additionally, the neutral colored materials we use in our backings allow for more flexibility when using our frames at home.
Within the home, studio or office, sterling silver frames have a special place. Well known photographer Jamie Beck says it best, "there is nothing more timeless than a silver frame wrapped around a photograph of our life's most enduring moments. Elegant and understated but respectful of the interior content, silver frames make instant heirlooms and age as beautifully as a good wine. As a photographer, I think the silver has an extra layer of depth considering much of my black and white printed works contain silver salts in the prints. A subtle way to match the makeup of photography with its rich history in a timeless way that together with the frame can age gracefully."
A DECORATING TIP
In her book, Living With What You Love, Monica offers some interesting insights into how to create a vignette of frames like sterling silver on a shelf or tabletop. "Identical frames are fine for wall-hung photographs, but it's a different story if they're all going on a single flat surface like a shelf or side table. If all the frames are the same height, (pattern) and color, they lose their individuality. Go for different heights (and designs). Choose frames that are as distinctly individualistic as the photos inside them … Once you have an arrangement you like, you'll find that the frames become as familiar as the images they hold. It's like recognizing your best friends by their favorite outfits."
A FINAL WORD ON SILVER FRAMES
Whether you decide to enjoy a vintage sterling silver frame, or one made new today, we hope you will find some of this background helpful. Sterling silver frames have been part of so many people's homes for well over a century so it will be interesting to see what the next one hundred years bring to the world of these iconic pieces.