The reality of 2020 is that many of us have been spending a lot more time in our sweats than we ever have before. While some of us are going back to the office, many are still working from home, and want to stay comfortable while still feeling like we put ourselves together. The good news is, this is easily accomplished with jewelry! Jewelry - like charm necklaces and bracelets, stacking rings, or locket necklaces - is just about the easiest addition you can make to sweatpants and sweatshirts, and still feel like you put together an outfit - not to mention, you'll look great on your upcoming Zoom call. Don't be afraid to pair even your most elegant pieces with your sweats - after all, what's the use of having special pieces you love if you don't get to wear them? Here are a few of our favorite ways of how to wear jewelry with your sweats...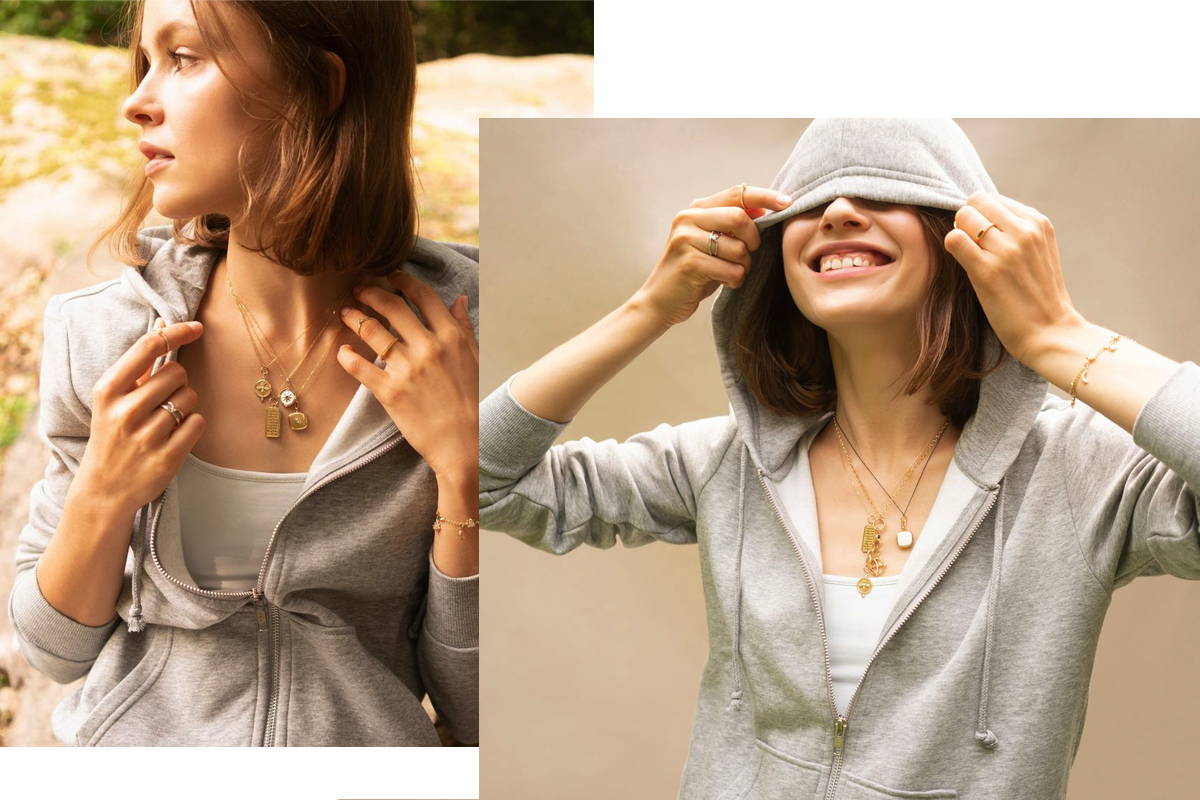 Create a Neck mess with your zip up sweatshirt
We love a good neck mess, and it looks better than ever with a white t-shirt and a zip up sweatshirt. Layering your short necklaces means you can tell your story and put together a unique look without having to sacrifice comfort. We also love the versatility of a zip up sweatshirt. You can unzip it to showcase your charm and locket necklaces, and you can add a cute jacket to it when you run out on an errand or to a meeting. It's the perfect look, whether your at home or out and about.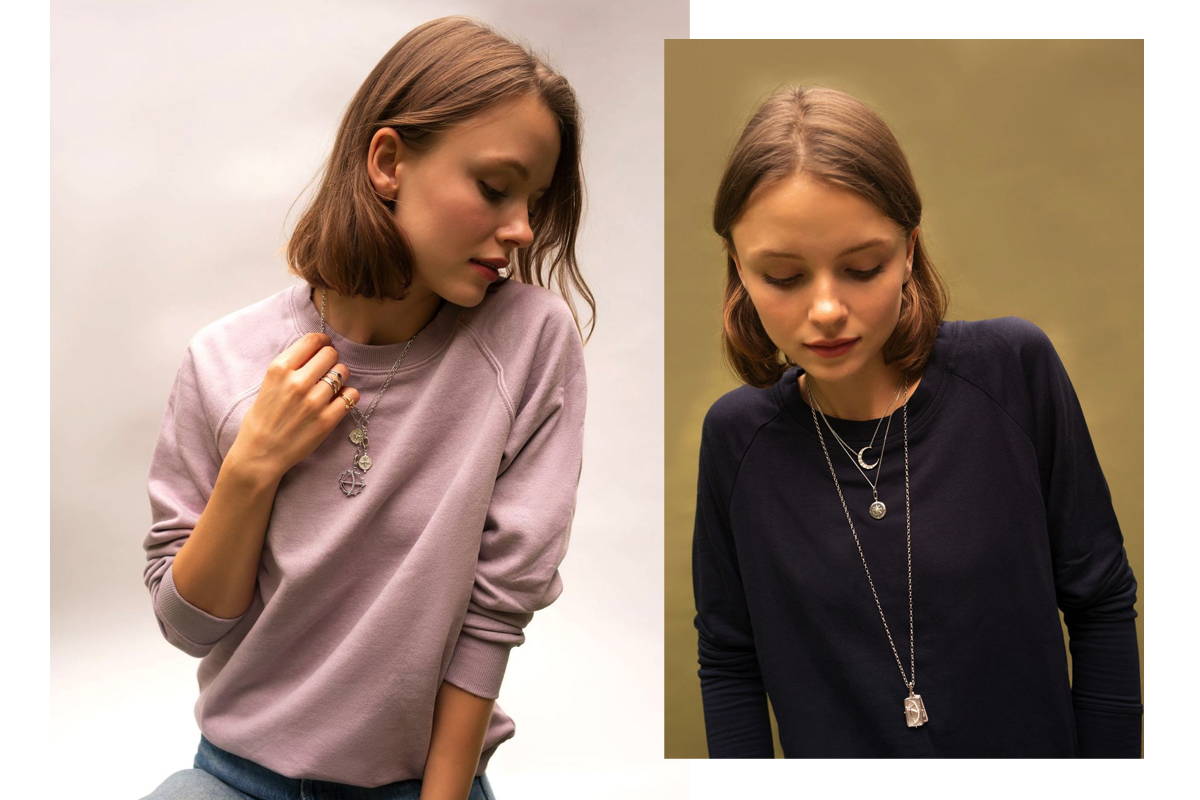 Pair Sterling Silver Charm Necklaces With A Colored sweatshirt
We love the way sterling silver necklaces pair with color, and there is nothing like a colorful sweatshirt to brighten up your day. A colored sweatshirt immediately makes you feel like you put in a little bit of extra effort, and also make silver charm necklaces really pop. Whether you layer short necklaces or play with longer layers, you'll light up the zoom call with this look.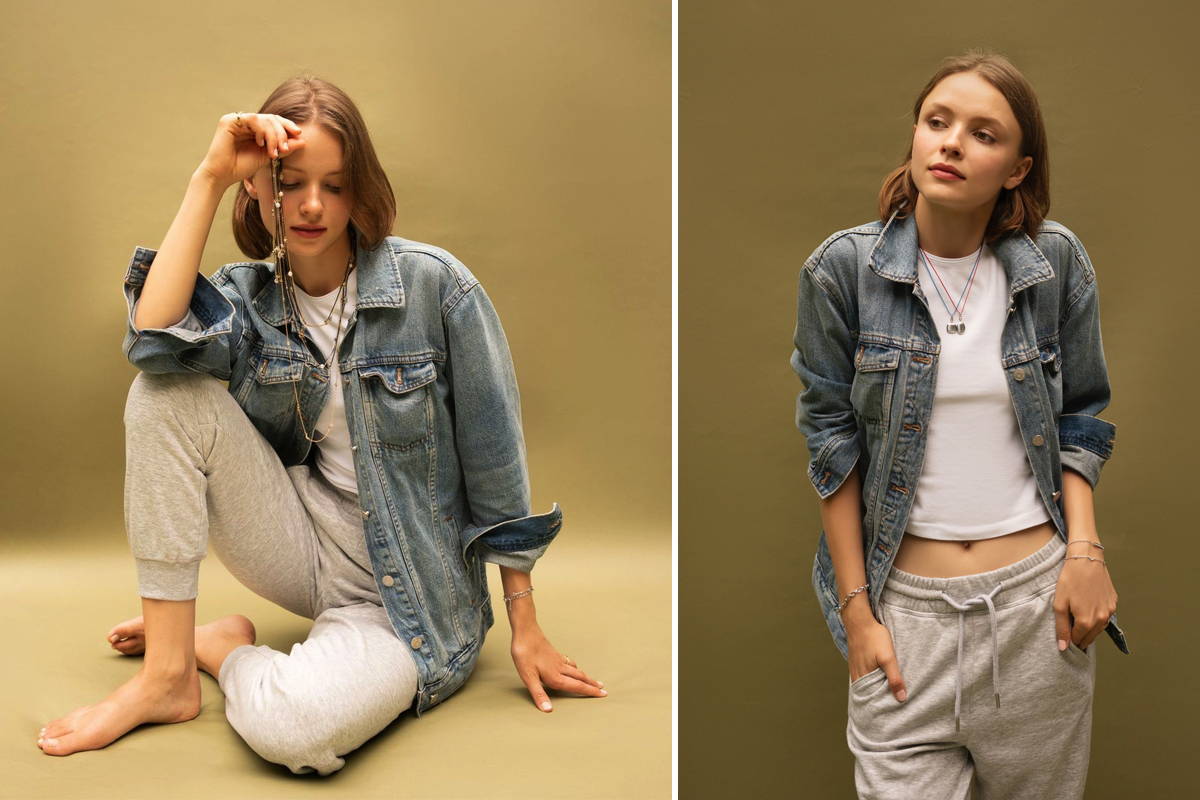 Dress up your sweatpants with charm necklaces and bracelets
There is almost nothing more comfortable than a pair of sweatpants, and beautifully jewelry helps you dress them up more than anything else could. Pair your favorite sweatpants with elegant long necklaces (like our Sun, Moon and Stars chains) or more low-key necklaces like our sterling silver locket necklaces. Layer delicate or chunky bracelets to add some texture to your look. A white t-shirt and jean jacket is one of our favorite ways to top your cozy sweatpants, and really lets your jewelry shine.
Wear lots of stackable rings with your favorite sweatshirt
Stackable rings go with just about everything - and many of us never even take our delicate rings off. Colorful rings make a basic gray sweatshirt look anything but. We all have a favorite sweatshirt we hate to take off, so this is the perfect way to give it that extra something!