MY JOURNEY: FLEA MARKETS, VINTAGE CLOTHING AND THE PERSONAL ACCESSORIES OF YESTERDAY
How has vintage style inspired me? I think it is safe to say that without my lifelong love of things vintage, I would never have launched my fine jewelry collection.
Being first generation American I think part of my heart has always been attached to things that are from the past. I've always loved to rummage around flea markets and antique shops wherever I find myself, and as I traveled more for both fun and work, I was fortunate to find new places to unearth treasures and inspiration. I've always felt that vintage style has a modern appeal.
I think the most intriguing part of any item I find in these markets is their unknown history. In essence, they are heirlooms from the past which were special to someone. If I could magically go back in time to have a tea or coffee with the woman who owned the vintage piece I was holding in my hand, what stories might she share?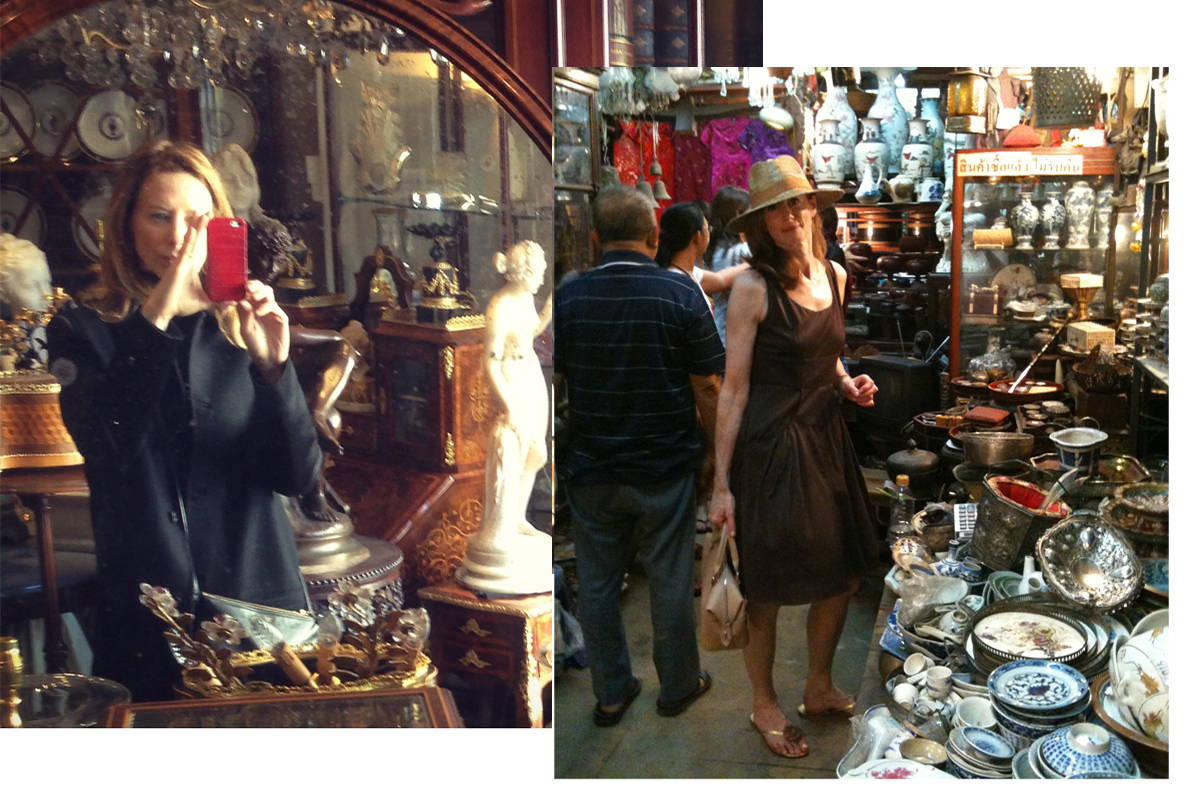 How Vintage Style Clothes Started My Journey
As a teenager I was intrigued by vintage style clothing. Shops that offered vintage clothing were a magnet for me. My fascination was centered around a few found pieces that I could add to my wardrobe, designs that allowed me to foster an eclectic style as I was developing an eye for the periods and movements that would come to inspire me later.
I was always especially attracted to the objects that were treated like fashion accessories in the early 1900's: vintage cigarette cases, powder compacts, lockets, and minaudieres (which were like tiny purses). If you were out to lunch or at a party with someone during that period; you might "powder" your nose using a compact that had your monogrammed initials on it and was beautifully accented with special stones. The same was true of cigarette cases – thankfully very few of us smoke today - but in their day they were truly chic pieces that men and women carried with them. For me they were all like pieces of art.
I had always collected these pieces and one day, being a portrait photographer, I started offering them to my clients. I would put the photos I had taken for them inside these old cigarette cases or powder compacts (after I had torn out the inside mechanisms) basically repurposing these vintage "objects" for a new use and for a new generation. My clients bought them to give as gifts, and no matter who received them the reaction was always one of surprise and delight. Everyone who saw them, loved them!
The comments back to me were, "this is so beautiful", "it is like a modern-day heirloom, or an heirloom (my portrait of their family) in an heirloom," "how can I get another?" But that was just it, I couldn't get them another because these were all one-of-a-kind pieces that I had found. It was then that I realized that more people than my clients might want these special little pieces of art, something vintage inspired, that held a cherished family photo inside. So, after finding artisans who still had these long unused molds for cigarette cases and powder compacts, I started to design my own pieces that would not hold cigarettes or powder, but would hold photographs instead.
That was how our brand started. With cases that held photos (today they are only offered on our website and in our shop at Bergdorf Goodman).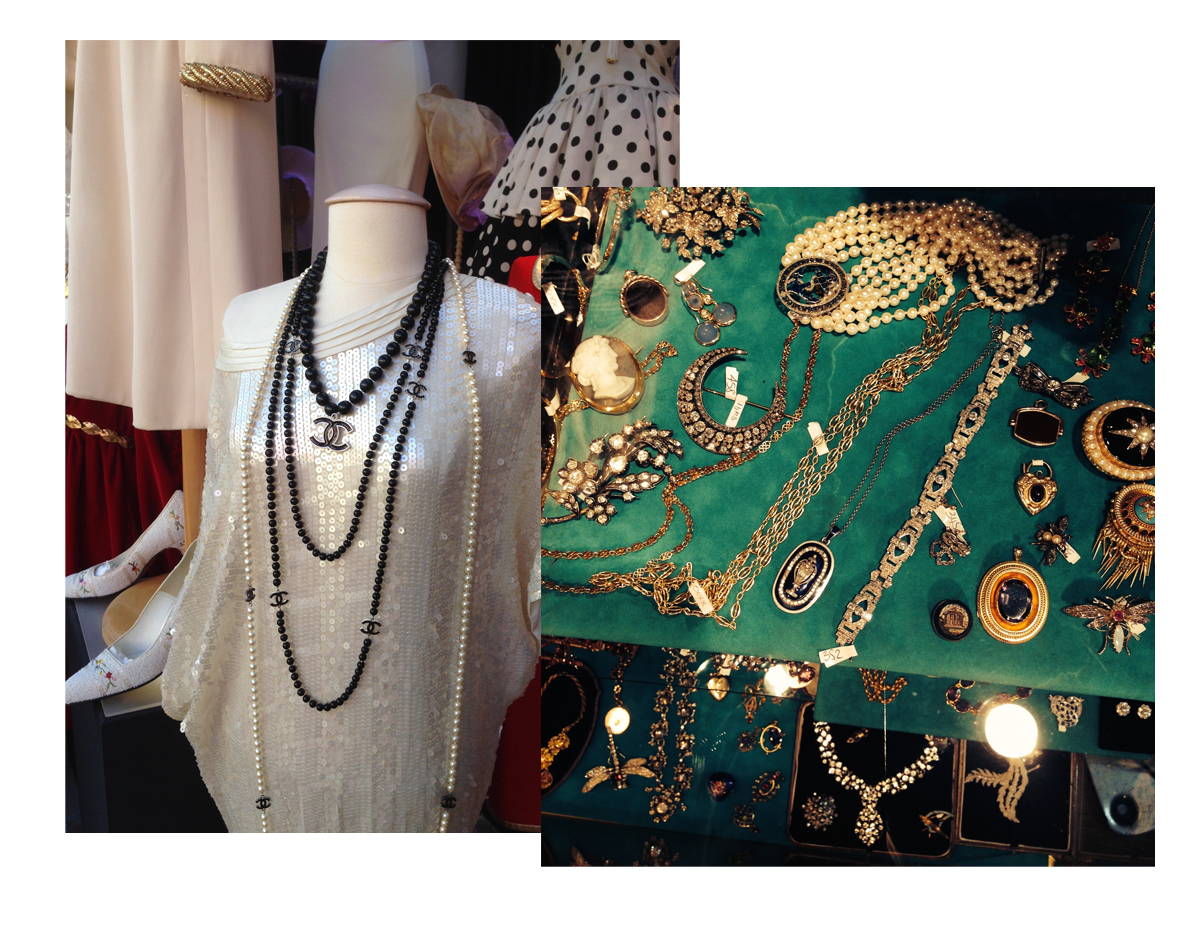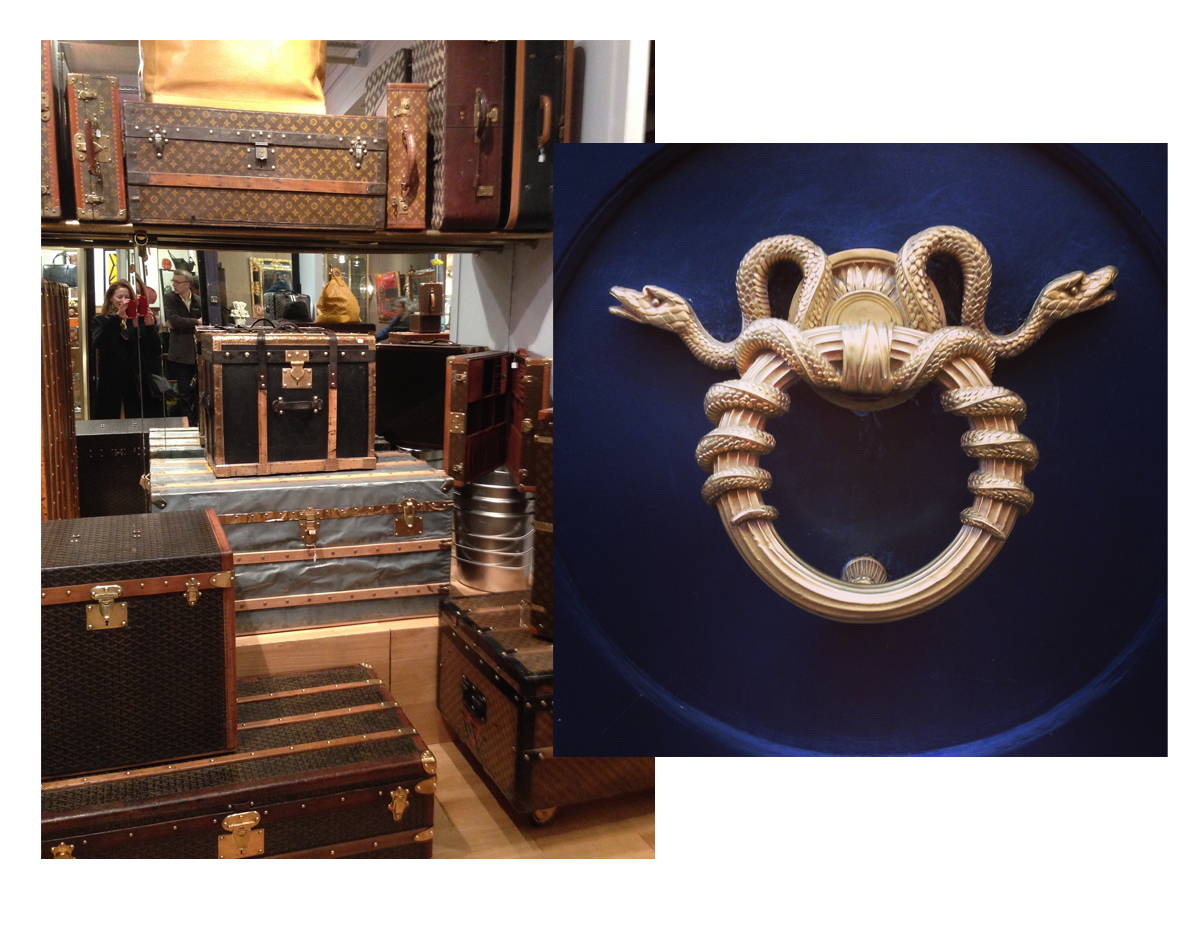 How Vintage Style Inspired My Lockets
But then, ever present in my mind were lockets. As a photographer, I was fascinated by them. I loved the vintage lockets from the 1800's and collected many of them over the years. So, after launching my "image cases", it was only natural for me to start to design a line of lockets. All that really existed then were lockets that seemed to be designed first and foremost, for grandmothers. They weren't cool or modern. And there I was, collecting vintage lockets and thinking, "wait, lockets are sexy! …. They are a woman's secret message holder." I kept asking myself, "why isn't anyone designing beautiful pieces of jewelry that a woman can wear and find empowering, with something special inside (maybe a secret) that she can reveal if she chooses to?"
And so, our jewelry collection was launched. It all started with lockets.
But the stage was now set to go further. In my flea market travels I always loved and collected old watch fobs and watch chains, which men would wear hanging from their vests in the early 1900's. You can still find trays of these vintage fobs and chains at flea markets. Alongside of them you will see lots of pocketwatch keys, which were used to wind those watches 100+ years ago. These fascinated me as well, along with vintage charms which I especially loved. It was all of these different pieces that inspired me to begin creating new collections of jewelry. Charm necklaces, pocketwatch key necklaces, design your own charm bracelets and chains, and a multitude of charms with grand themes and meanings.
I remember watching Grace Kelly in the movie Rear Window. The clinking sound of her pearl strand charm bracelet and the glamour it evoked never left me. It was beyond chic. I wanted to recreate that charm bracelet for a new generation of women. The charms would always embrace larger themes. They would be empowering. No tennis rackets or ice skates, but rather Carpe Diem, Adventure, Dream, Wish …. The list is long. I wear my charm bracelet and necklaces everyday and it always starts conversations with people. "What are the meanings?" "Where did your travels take you?" "I see you love dogs. I am a dog person too." How a woman creates a charm necklace or bracelet from my collection is a story telling journey, one that I always hope will bring inspiration.
And so it all began with that first "vintage cigarette case" inspired style. Whether it was vintage style in general, vintage clothing, or vintage accessories, they all played their part in my journey. Below is a resource guide to some of my favorite flea markets, antiques markets and vintage shows. If you visit any of them and find your own inspiration, please let me know! Enjoy the journey!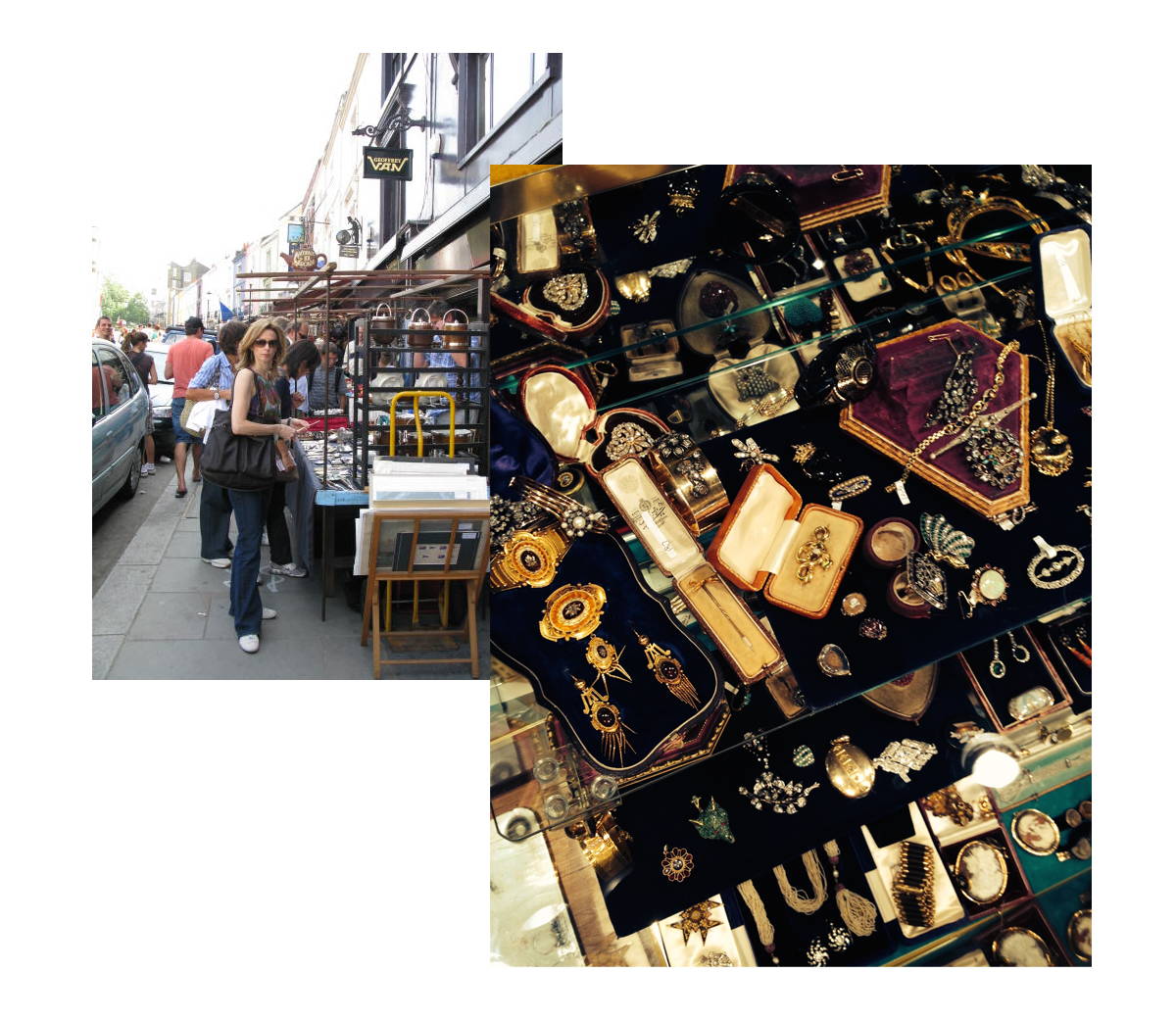 A RESOURCE GUIDE TO MY FAVORITE FLEA MARKETS AROUND THE WORLD
Thoughout my journey to find my favorite places for vintage style, I've enjoyed so many days wandering through a variety of flea markets and antique shows. Here are some of my favorite events, happenings and places around the world.
United States
Brimfield Antique Flea Market – the grand dame of all things vintage and antique. This market is an almost week-long event held three times per year in Brimfield, Massachusetts.
New York Antique Jewelry and Watch Show – held a couple of times per year in New York City. One of our favorites.
The Winter Show – held in New York City and featuring some of the finest dealers, The Winter Show is an annual benefit for East Side House Settlement, a community-based organization serving the Bronx and Northern Manhattan.
Maine Route 1 and more – I spent many days traveling the Antique trails of Maine in the summers. There are so many wonderful stopping points along Route 1. But here's a fun link.
Miami Beach Antique Show – a wonderful show for vintage jewelry.
United Kingdom
Portobello Road: London – I love to get lost in the stalls and shops along Portobello Road on the weekends. Just a tip, get there early!
Gray's Antique Center: London – I love this market in Mayfair. The first thing I ever bought there was a Victorian era Housemaid's pin that read AGNES, my middle name and brand alter ego.
France
Marche Aux Puces: Paris – I have been visiting this incredible labyrinth of streets, markets and stalls since I was an exchange student in Paris. There are no words!
Brocante D'Arles – held monthly. I went once and it was wonderful!
CHINA
Beijing Antique Market: also known as The Dirt Market, is Beijing's biggest and best-known arts, crafts, and antiques market. The Chinese name is "Panjiayuan". When I visited here, I got lost for the entire day.
THAILAND
Chatuchak Weekend Market: Bangkok, another enormous market where you can just get lost all day.
HONG KONG 
Hollywood Road: Whenever I visit Hong Kong, I take off for Hollywood Road. Just get there and start wandering. There are so many wonderful shops to visit.