We're so excited to give you a little bit of a behind-the-scenes look into the inspiration behind a few of our favorite new pieces from this year. From our new Venus charm inspired by one of the world's most famous paintings, to a Blue Sapphire locket that Elizabeth Taylor would have loved, here is a glimpse into Monica's creative process...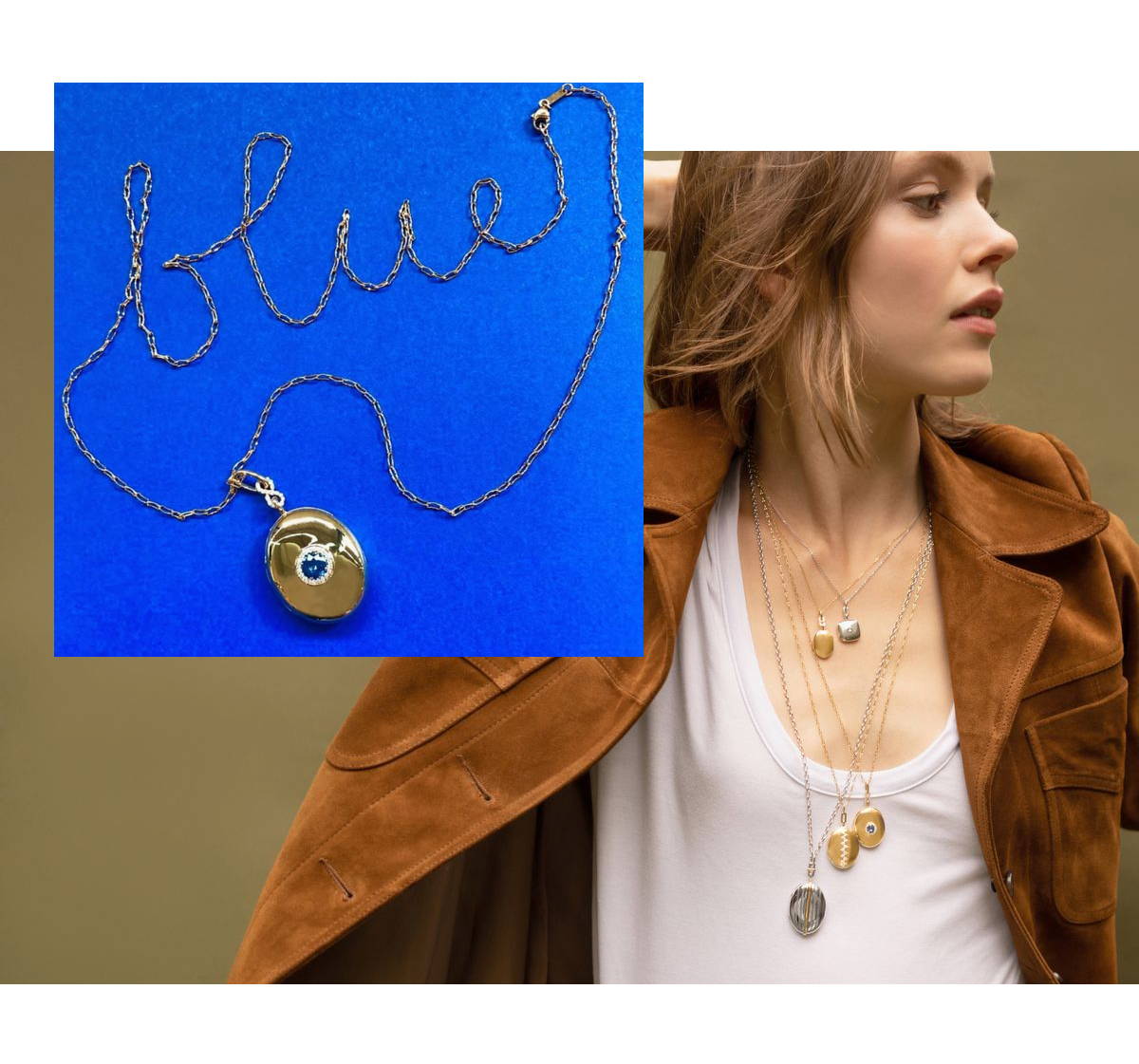 The Sapphire Infinity Locket Necklace
Our new Sapphire Infinity Locket necklace was inspired by our deep love for the color blue. There are so many songs about the color blue. Blue Moon, Suite Judy Blue Eyes, Blue Ain't Your Color, Blue Bayou, Blue Suede Shoes…and the list goes on. It's no mistake that we are all a little obsessed with the color blue. Designers use it in homes on walls, textiles, furnishings; we flock to the beach to sit seaside and enjoy the blue ocean, looking at a blue sky brings us serenity, and blue as just a color is known to relax us. Blue is also a color women love to wear - think of your blue denim jeans! So it is no surprise that the blue sapphire is one of the most coveted gemstones after a diamond. Elizabeth Taylor loved her blue sapphire necklace, and people all over the world wear blue sapphires. It's known to bring huge success, protection from negativity, and keeps your outlook positive.
Our Design Your Own Pearl Charm Chain is one of our favorite new necklaces this year. We were inspired by the eternal elegance and classic nature of the pearl. Pearls are really a modern classic and never go out of style. There are so many ways to style them. Pearls were some of the most iconic pieces of jewelry notable women in history wore. Think Jackie O, Elizabeth Taylor, Princess Di, Coco Chanel. Mother Of Pearl is a perfect complement. They also come from the oyster shell, although a different part, and their colors look so beautiful together. You can't go wrong wearing a string of pearls - especially when you can customize it with charms that tell your story.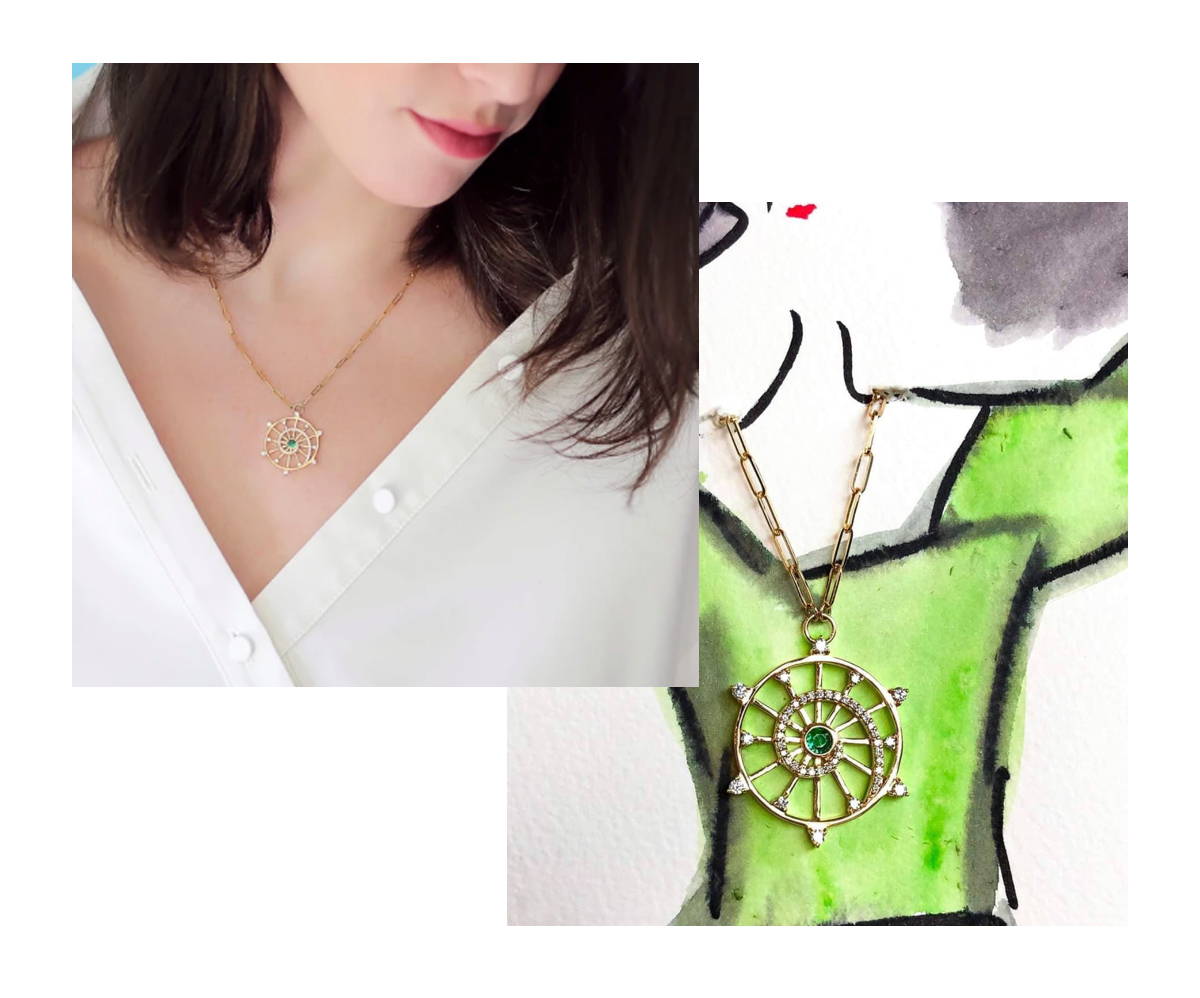 Venus was the goddess of beauty and love, and our Venus charm is inspired by one of the most iconic paintings, The Birth of Venus by Botticelli. Painted with her hair flowing as she arrives on shore, emerging out of a seashell. Monica remembers vividly standing in front of this painting in Florence. It clearly represents her beauty and fertility, but is also symbolic of renewal. The design of this charm necklace is inspired by the seashell with an Emerald; a calming stone, front and center, symbolizing balance and peace. Venus is known to inspire romance, hope, and fertility.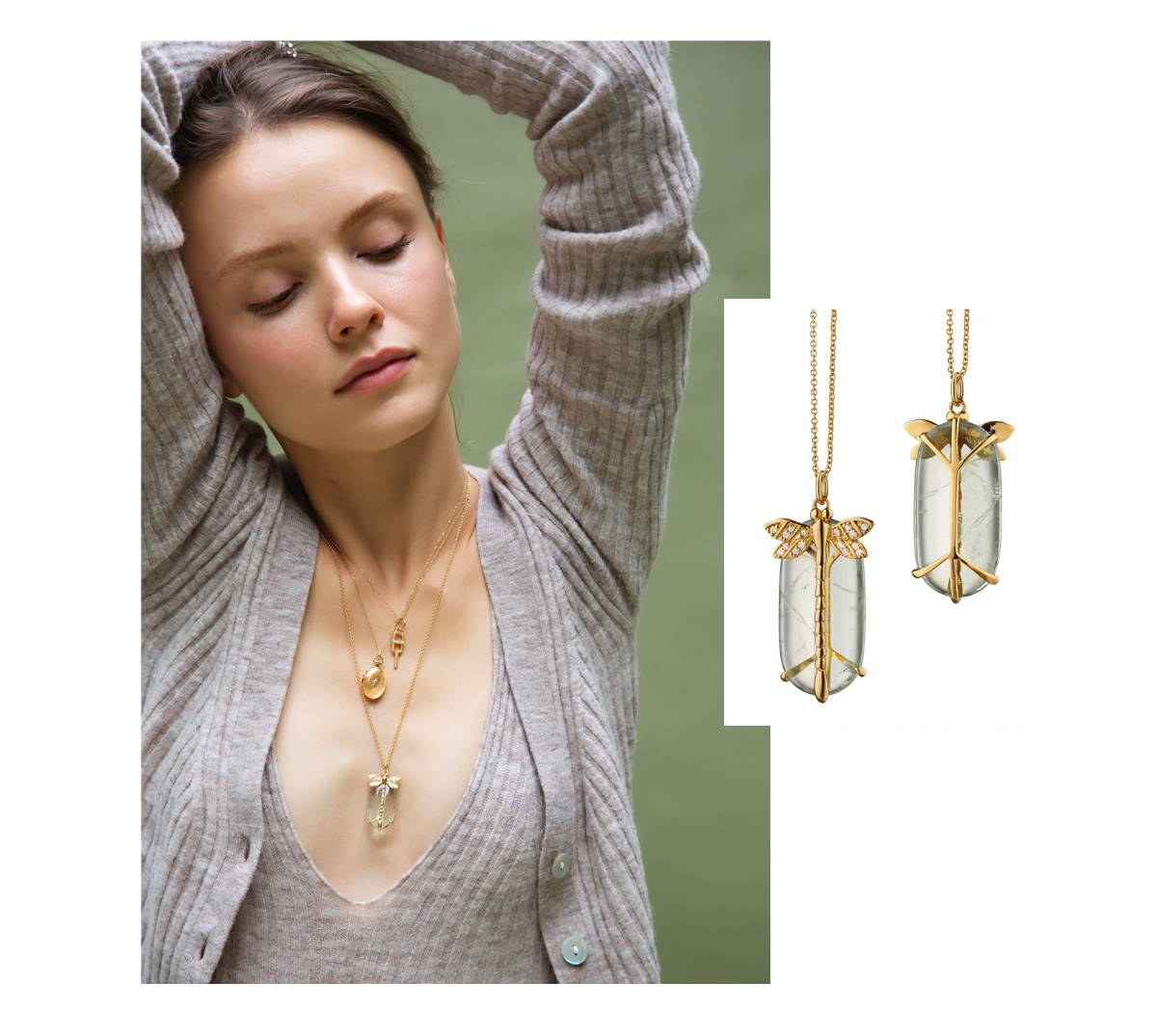 Monica had wanted to create a dragonfly charm for years, and finally was inspired to make our 'Grace' Dragonfly Charm Necklace so after reading this poem.
Today I saw the dragonfly
Come from the wells where he did lie.
An inner impulse rent the veil
Of his old husk: from head to tail
Came out clear plates of sapphire mail.
He dried his wings: like gauze they grew;
Thro' crofts and pastures wet with dew
A living flash of light he flew."
-Alfred, Lord Tennyson

This poem Tennyson wrote is all about hope and about finding the right direction in life, maybe not consciously but letting it just happen naturally. Monica and her team created our prasiolite dragonfly necklace to help empower you to find your direction!
Our Sun, Moon and Stars Collection has been evolving over the last few years, and this year we're thrilled about the addition of the Sun and Star Locket, in both 18k gold and sterling silver. Did you know that the Sun is a star? It is the closest one to Earth and is the center of our solar system. It is also crucial to everyday life and affects our moods as well. It represents passage of time, the end of a day, beauty, energy, and mystery. It also symbolizes having a clear sense of self. The sun also represents Happiness. We call this in our office our "happiness" locket. It just brings so many good feelings into our lives, and of course when the locket is filled with something meaningful to the wearer, it becomes even stronger and a beacon of light for our day!