We were so thrilled to launch our much anticipated collaboration with FEED. FEED, an incredible company founded by our friend Lauren Bush Lauren, makes incredible lifestyle products (and basically the most durable and well-designed tote bags around) designed to help feed children around the world. Every purchase you make provides school lunches to children who need them, and the brand's mission is to show us as consumers that what we buy and wear can have the power to change the world. We could not be more proud to support this sentiment with our collaboration.
We created a limited-edition compass charm necklace (available in both 18k gold and sterling silver) which reads 'Cultivate Kindness', a message that is very important to the FEED brand, and one the resonated with us tremendously. The Cultivate Kindness Compass Charm Necklace is designed to empower, encourage kindness, and most importantly, to help fight childhood hunger in the US. With every purchase of this charm necklace you will help provide school meals to children. This kind of initiative is incredibly important to us as a Certified B Corporation, and we could not be more excited to share these beautiful pieces with you!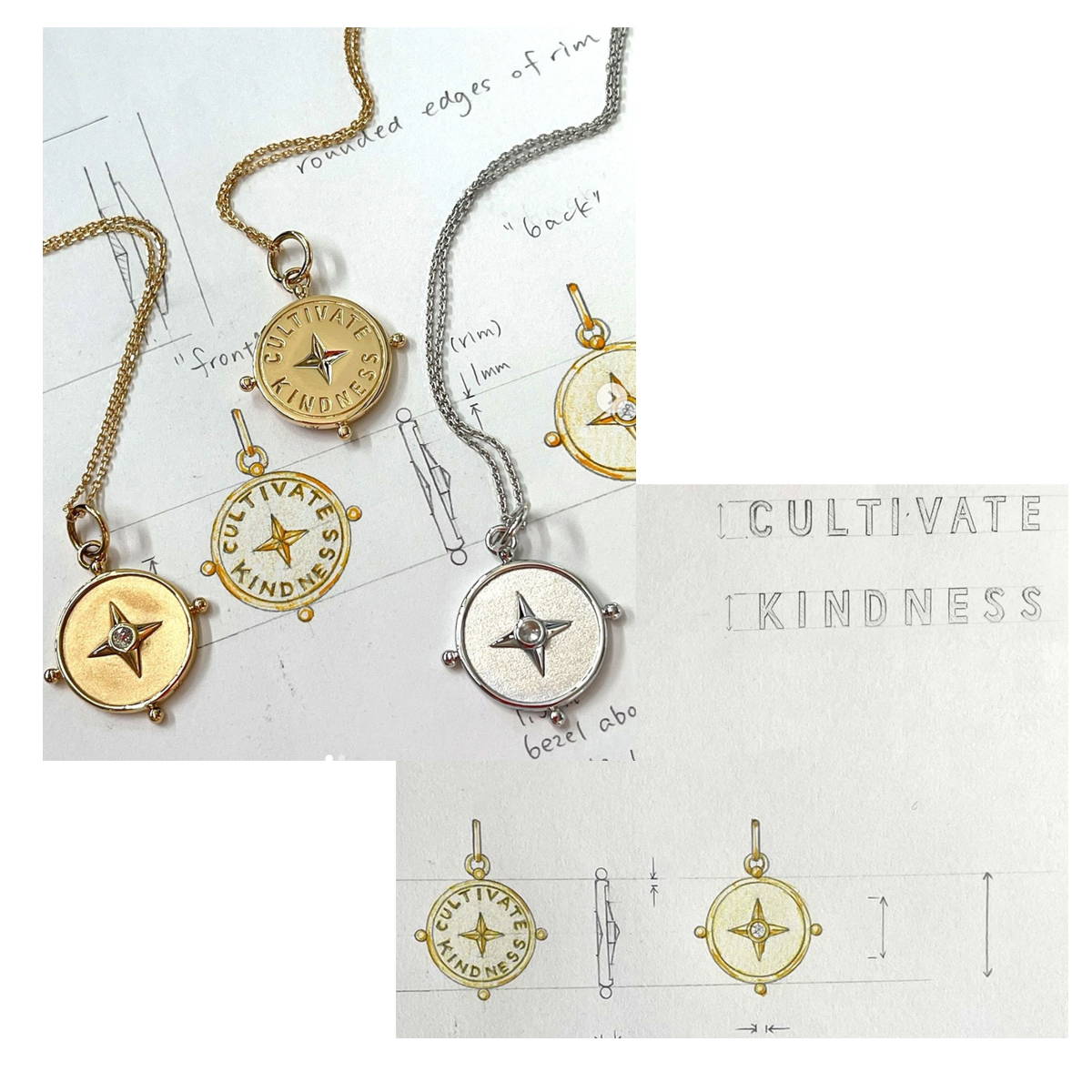 The design process of these pieces was a true collaboration with Lauren and her team. When we were looking at how best to create something that embodied our brand and theirs, the compass charm necklace was the first thing that came to mind, given that the mission of FEED is so global and inspired by Lauren's travels to vulnerable areas around the world. Even FEED's tagline 'We make products that FEED the world' immediately brings to mind the empowering message of our compass necklace, which always inspires us to really open our eyes and hearts to what is going on all over the world. We looked closely at how we could develop the design and message to create the perfect piece that represented the FEED brand, and are so proud of what we all created together.
Here are some words from Monica on the collaboration...
"I have always admired what Lauren has been building at FEED - it does so much good work through a simple and vital idea – feeding children. Every product sold helps provide a clear number of school meals for kids in need, through their nonprofit partners. I am so proud to collaborate with Lauren and FEED, knowing that each purchase of the "Cultivate Kindness" Compass Necklace we've created together will help in this urgent cause. For every 18K Gold "Cultivate Kindness" Necklace sold, FEED will donate 5,000 school meals, and for every Sterling Silver one sold, they will donate 1,000 school meals!"