As many of you know, we are all about lockets here at Monica Rich Kosann. The gold locket necklace is what we consider to be a true forever piece. You can wear it every day and night, with absolutely anything, and it can be passed down from generation to generation. We specialize in these timeless necklaces, and are constantly coming up with new ways to make the locket necklace modern and new, like we did with our slim locket collection.
We even created the locket bar, a technology on our site which allows you to easily fill your locket necklace at your office or home with photos sized perfectly to the locket you choose. The application also allows you to create notes to put inside your gold locket necklace and we sometimes jokingly think about those special moments, people, words and places you might choose for a locket as being "locket worthy."
If you don't already own a gold locket necklace, it's never a bad time to consider adding one to your jewelry wardrobe. You might want to explore a locket that is slimmer, cleaner and more modern than what you've always seen; you may want a locket with a unique design - like our compass locket, which combines our most popular charm with a locket necklace to maximum effect. If you have several children and or grandchildren, you may be ready to splurge on our 4-image locket. Our classic diamond infinity locket is extremely popular as it is incredibly chic and classic. Whether you're looking for a classic locket, a unique gold locket, or a gold diamond locket, we have the locket necklace for you. We've included more about each of these pieces below.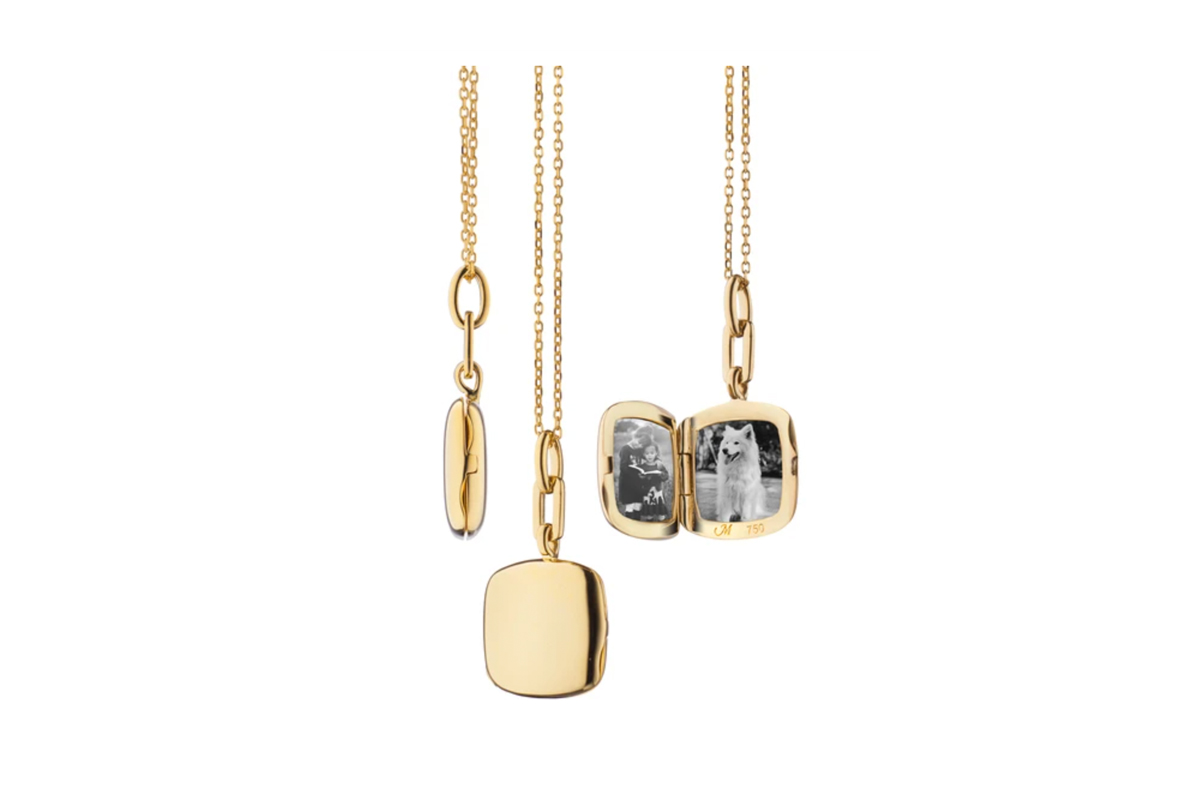 Slim Cushion "Viv" Gold Locket Necklace
The slims are one of our favorite locket collections. A few years back we set a mission for ourselves to design the slimmest lockets that could be worn every day. We wanted something that felt like a fine jewelry basic, much like a diamond solitaire necklace. The slim locket collection is just that and the "Viv" Gold Locket Necklace is a foundation piece in the collection and arguably the most popular. Its petite sizing and thin profile allows it to layer with any other classic necklace in your jewelry box.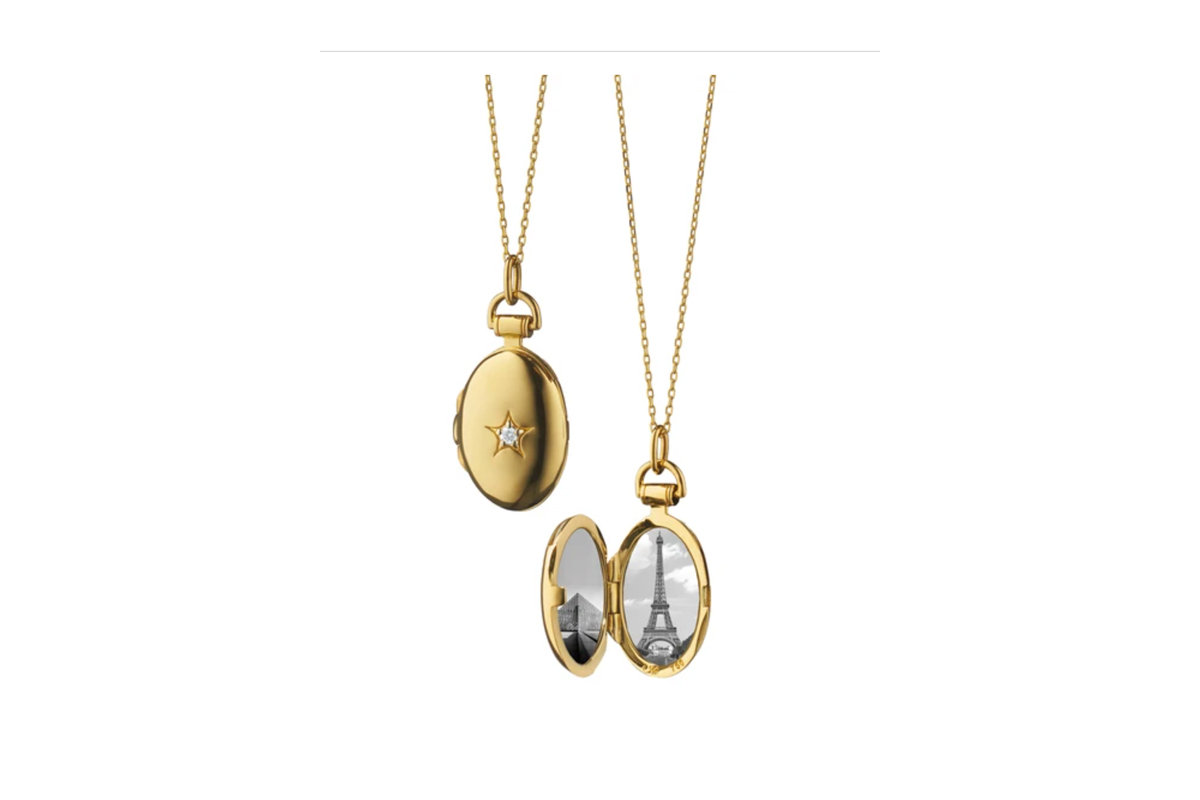 Petite Oval Diamond Locket Necklace
We took the simplicity of a diamond star and merged it with one of our most popular gold locket necklaces – the Anna. The diamond is placed in a star setting, which takes a timeless motif in jewelry dating back to the nineteenth century and merging it with a modern, contemporary design. The Anna Star necklace has a fuller profile than our slim collection, but allows for that same everyday styling with your other short necklaces. Alternatively, when worn alone, it creates an understated, but elegant look.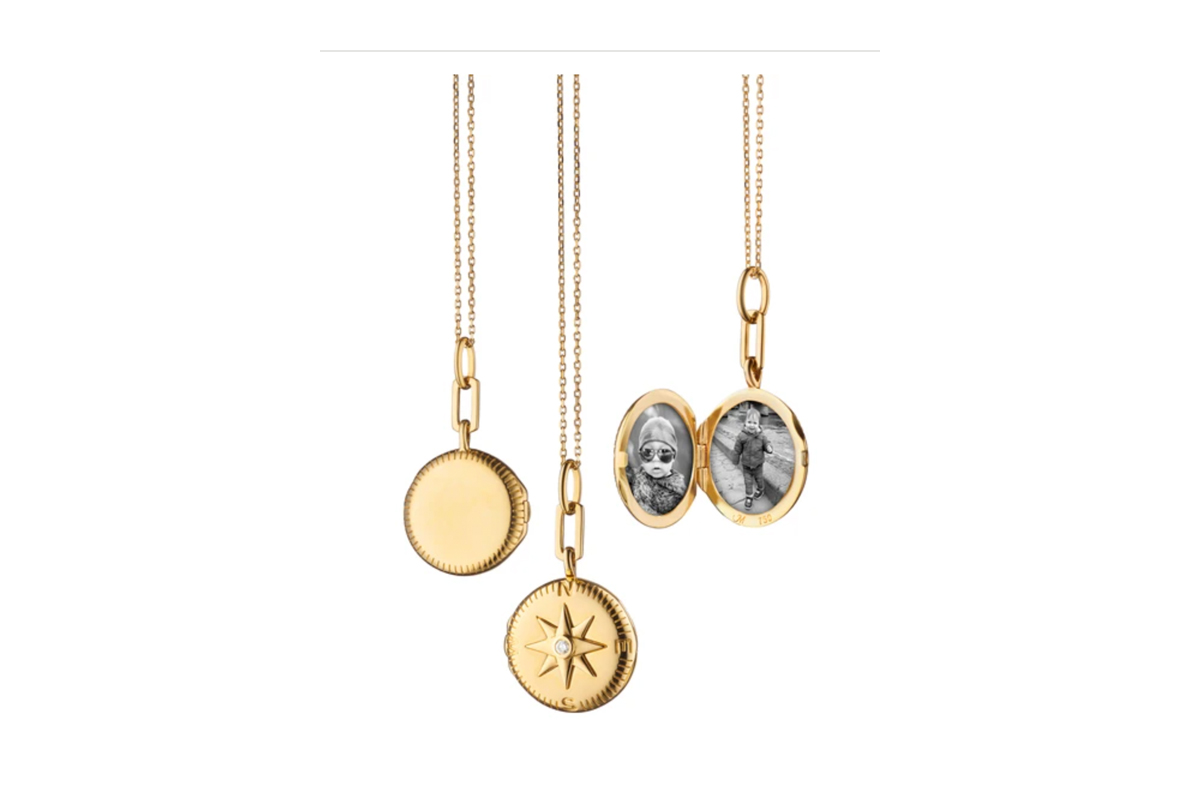 Adventure Compass Locket Necklace
Two of our most popular collections are our gold locket necklaces and gold charm necklaces. With that in mind, we merged the two and created our Adventure Compass locket necklace. A compass for us signifies new roads not yet taken and at the end of those roads we hope to seek out new adventures. This locket necklace is served to be an inspiration and what one chooses to put in this necklace should be as empowering as our next adventure.
Catherine Staggered Diamond Locket
This locket is a statement piece. Whether it is worn short or long, the half carat of staggered diamonds allow for just the perfect amount of sparkle to deliver an every day look. This gold locket necklace is larger than the ones above, so when worn alone it will be a design that draws attention.
The Four Image Diamond Locket
Locket necklaces are complicated pieces to create. There are many hinges and moving parts, and to make them with the necessary precision to last a lifetime requires superior craftsmanship. We have long been proud of our heritage creating these pieces, and the four-image gold locket necklace takes this craftsmanship to an even higher level. The four image lockets have even more hinges and micro hinges that will keep more of your stories safe for years to come.
The Anna Locket
The Anna is the inspiration for the petite diamond locket featured above. It is one of our best-selling gold locket necklaces. It features a unique barrel bale design that gives the traditional oval profile just the right element of contemporary design.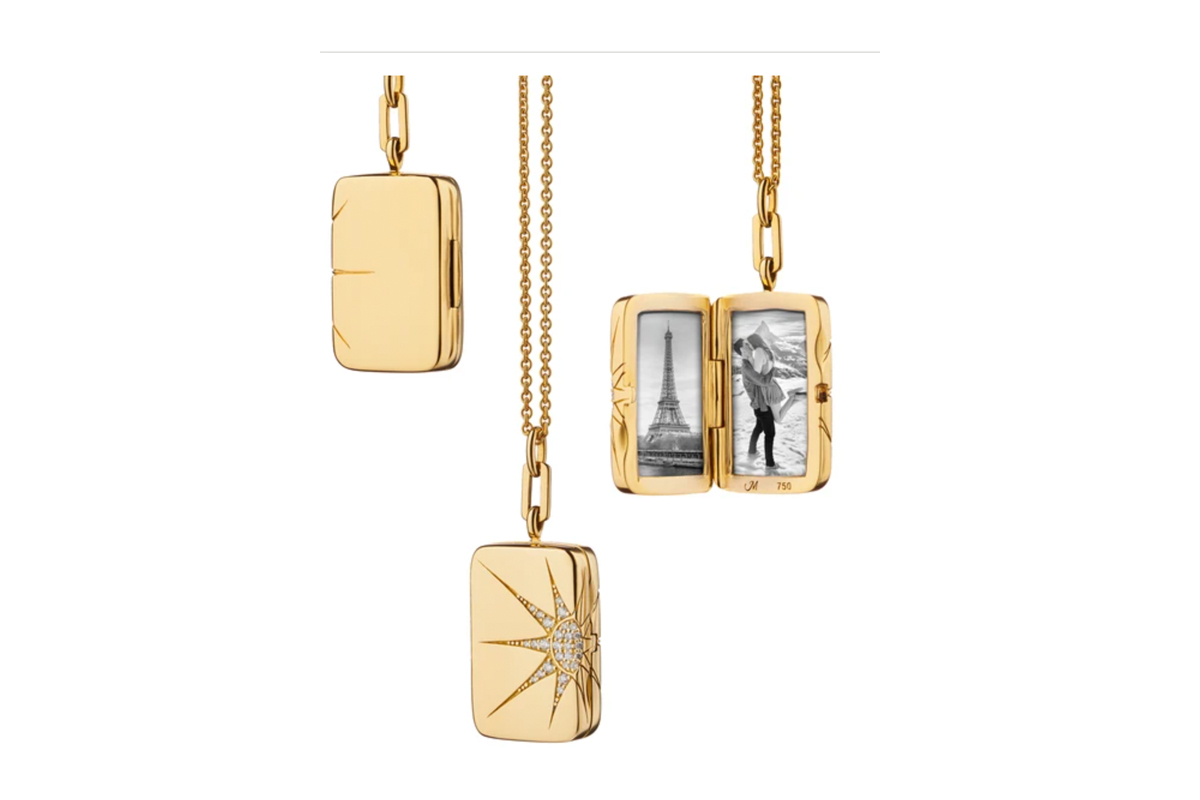 Sun and Star Locket Necklace
The Sun, Moon and Stars is an important collection for us. For centuries, we have looked towards the sky for empowerment and inspiration. When we created the various empowering styles in this collection, we looked towards the heavens as well. As with our charm lockets, we wanted to merge this collection with our lockets as well. The Sun and Star Gold locket necklace is the result. The star motif is set with diamonds, and we offer the style on a 30" chain so it can be layered with your other long necklaces or worn alone to create a simple, but modern statement.
The Infinity Diamond Locket Necklace
This locket is not quite as streamlined as those in our slim locket collection, but it does have an almost equally thin profile that gives it a truly contemporary feel. We added our infinity inspired bale and a rose cut diamond in a bezel setting to create another gold locket necklace you can choose for every day.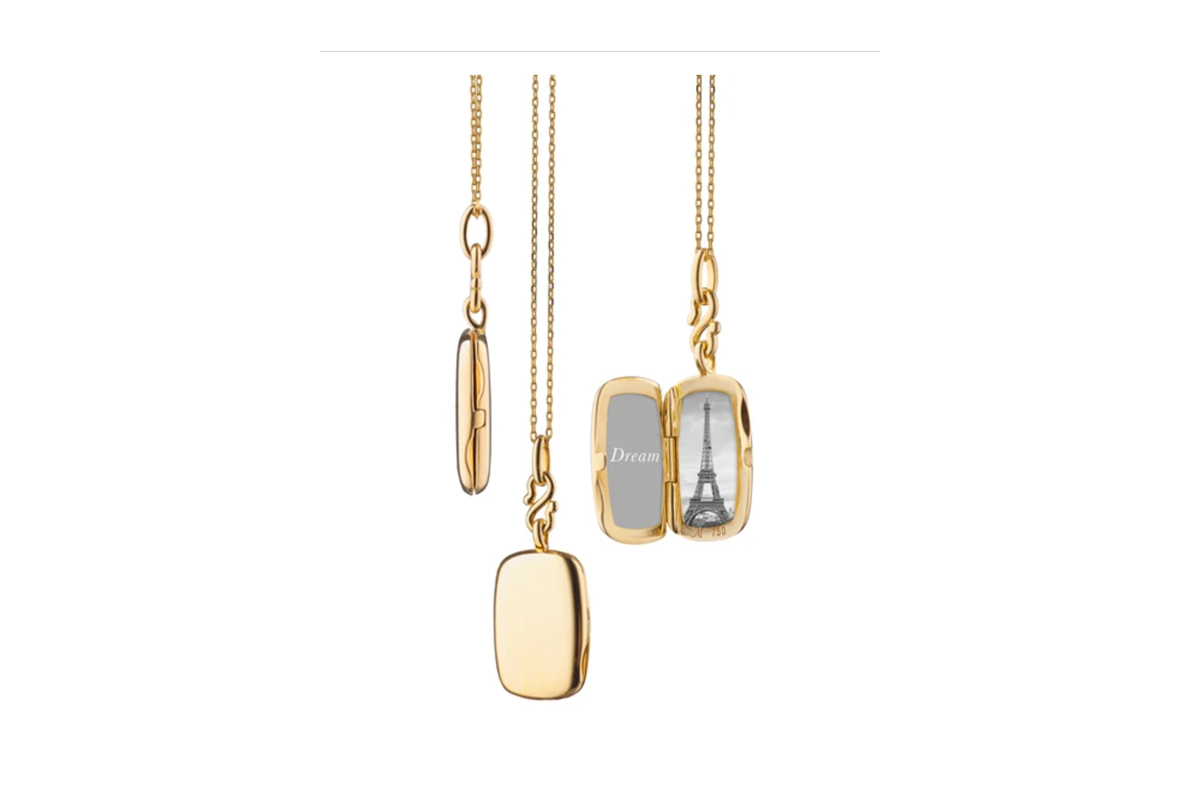 Slim Britt Locket Necklace
While the "Viv" above is inspired by a classic cushion shape, the "Britt" is an elongated cushion that adds just a bit more presence when worn short. It has all the modern elements of the slim collection, and the "S" bales adds a unique element to this gold locket necklace.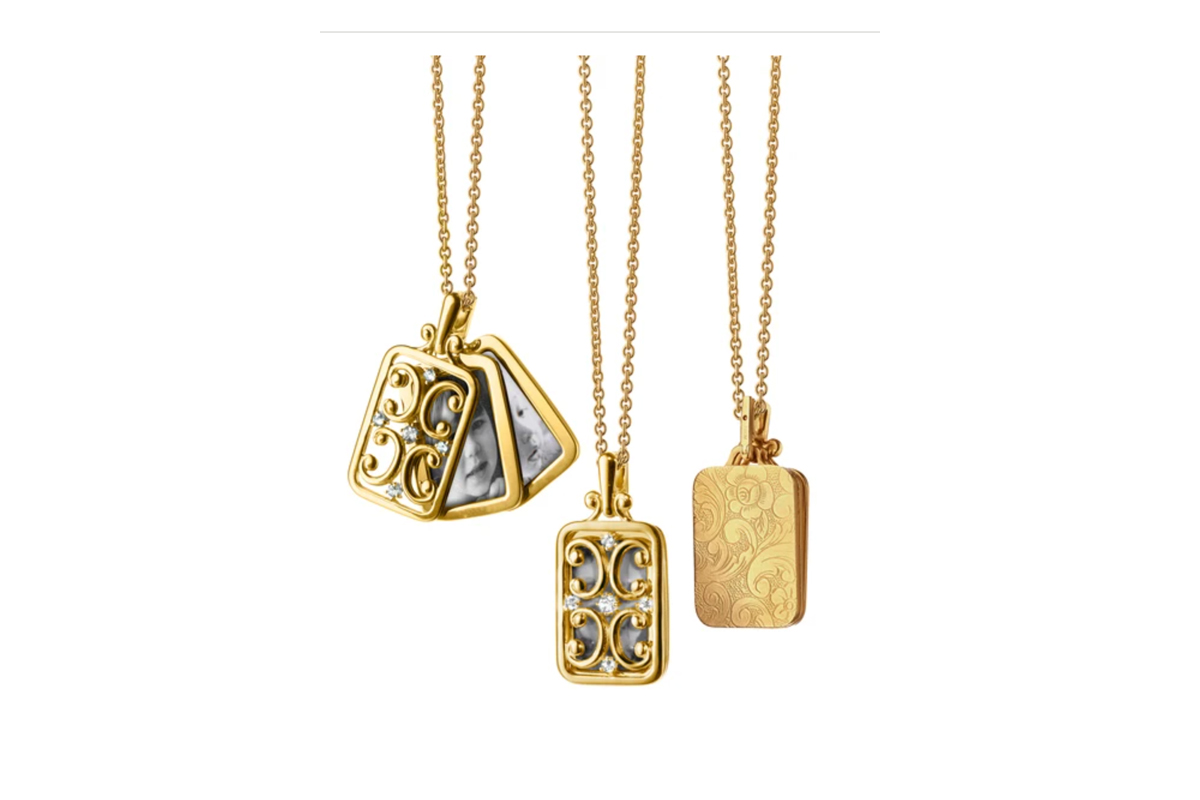 Gate Locket Necklace with Diamonds
Before she launched her fine jewelry collection, Monica began het career as a fine art portrait photographer. Along the way, she had photographed a young girl gazing through an iron gate. This photograph ultimately became the inspiration for one of our iconic gold locket necklace styles. The unique locket design incorporates two image cases behind the gate front that can hold either two or three photographs.