START WITH THE METAL ITSELF: STERLING SILVER RINGS
When shopping for silver rings it's important to understand the difference in the various options available. "Silver" rings can be found in countless shapes and sizes, but the differences in their quality and how they are made can be significant so we thought an introduction into this jewelry category and how we approach it at Monica Rich Kosann might be helpful.
The very first decision is about the metal itself and what that choice means for you. That initial step can affect how long you will have that ring as an important and treasured part of your jewelry box.
There are generally two types of silver rings you might find. Sterling silver, which is a precious metal used in fine jewelry for centuries, or a silver-plated ring that is found in fashion jewelry or costume jewelry collections. Let us look at the differences.
Fine Silver is the purist form of the precious metal: silver. Because silver is a soft metal when it is fabricated into a ring (or any other other style) of fine jewelry it is mixed with other alloys to create sterling silver. Sterling silver is comprised of 92.5% fine silver. That is a legal requirement in order for it to be called or sold as sterling silver and the piece of jewelry is always then stamped as 925 or Sterling to let the customer know it's fine jewelry composition. The other 7.5% of alloys in sterling silver are usually metals like zinc or copper.
A silver ring of costume jewelry is a silver colored metal (sometimes but not always actual silver) that is plated on top of a different base metal like brass or a mix of other base metals to then give it a silver color. That is why fashion and costume jewelry silver rings are much less expensive than an equivalent style in sterling silver. Over time, especially with rings which are constantly removed and put back on, one may find that the silver plating can wear off, exposing the color of the base metal underneath.
Because Monica Rich Kosann is a fine jewelry collection, we only use sterling silver in our collection and of course in all of our silver rings. You will always find the 925 marking stamped inside each MRK ring.
BUILD A SILVER RING THAT WILL LAST A LIFETIME
The next step is literally building the best quality silver ring we can step by step.
Again, silver is a softer metal, so even in sterling silver it is very important to create a ring that won't warp or bend after extensive wear. With that in mind, we carefully examine all the dimensions and specifications in our ring styles to be sure they are built to last. We are always trying to create ring styling with the most streamlined modern profile, while being sure the right thicknesses and proportions are maintained for endurance and strength. Our Poesy rings are a greater example of this principle. They are modern and contemporary, great as stackable rings as well, streamlined and elegant, but are built for a lifetime.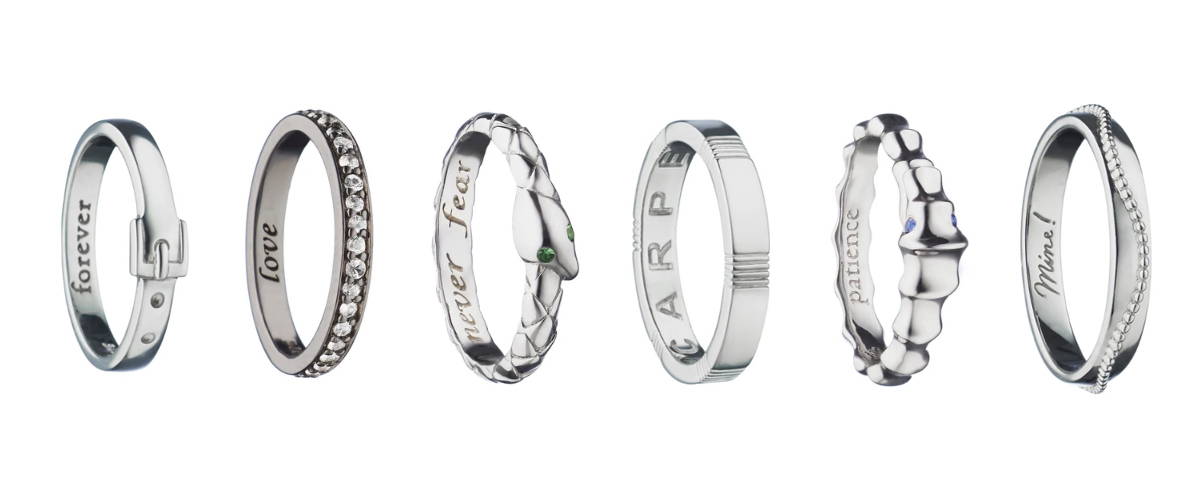 When designing larger statement rings, the dimension and scale can take on different considerations. Certain larger rings can be very comfortable as solid sterling silver, but as some point the ring can become heavy if the solid metal weight just becomes too much for a woman's hand. At that point, when designing one of our statement rings, we determine that the ring should be built out of multiple part so the inside can be hollowed out and the weight will be more manageable. However, when one removes a fine jewelry ring from their finger, they don't want to look at a hollowed out inside as it won't impart the same quality as the beautifully finished outer parts. In our Monica Rich Kosann rings, like the Giraffe Ring pictured below, we actually create a patterned second ring that fits inside the band section of the ring. That second inner design element is often beautifully pierced and patterned and is known as an azure. On the larger statement rings, it is this method that creates the best quality ring – from both the inside and out.

One last note on building our silver rings. We often combine the sterling silver with 18k gold to make a two-tone ring. These rings are predominantly sterling silver, but when combined with gold accents or elements the gold is always solid 18k gold. It is never plated. So, each part of the ring is individually finished, polished and then joined together through a soldering process.
FINISHING THE RING
The next part of a silver rings' journey is the finishing and polishing process.
Sometimes you might find silver rings that have a rough and more organic surface or appearance. This can be part of the designer's intention and it is an appearance that may not require as high a degree of hand finishing. All of our MRK sterling silver rings are meticulously finished and polished down to the smallest area and detail. It is a painstaking process, but it creates a beautiful high-quality finish everywhere that will meet the eye. It is a process that takes more time and attention, but one that delivers that bright fine jewelry finish we are known for.
Once the ring is finished, it is ready for its final step. Rhodium plating. Rhodium is a precious metal from the platinum family that is more expensive than gold (at this time of publication rhodium is $7700 per ounce vs $1700 for gold). Rhodium resists tarnishing and will keep a fine jewelry piece looking brighter for many years. One thing to be aware of with rings is that the frequent slipping on and off one's finger will cause the rhodium to wear off more quickly over time as it rubs against the finger. This is found with white gold bridal rings and bands which are also often rhodium plated. The good news is that a ring can be re-plated with rhodium after that period of wear.
HOW TO WEAR YOUR SILVER RINGS
What we especially love about our sterling silver rings (or all our rings for that matter) are their versatility in styling. As Monica always says, "there are no rules." We should all have fun with our rings, moving them between fingers, sometimes wearing them as midis - mid finger - or stacking them together on the same finger. The looks can be as varied as your own individual creativity. If you are looking for some ideas, you can find fun styling tips and looks for our rings in our HOW TO WEAR IT guide.