How Much is too Much? … Not much!
We all have ten fingers. They can get lonely, whether on a summer or winter day, warm or cold, those fingers need accompaniment (and in winter protection…gloves are just a covering really!). We look at our hands so much and they really are so expressive of who we are, so in that respect they are like a blank canvas waiting for us the artist to create a masterpiece.
So, when it comes to sterling silver rings as items of adornment, the logical question is, How much is too much for those ten fingers? In my book, not much…is too much. On any given day, I will have five to six fingers covered with rings, and whether they are gold rings, sterling silvers rings or some combination of both the styling ideas that guide me on how to wear my rings remain the same.
In an earlier post on our blog, we spent some time exploring how we build our silver rings, their quality, design and construction. In this post, I wanted to share my How to Wear It tips on sterling silver rings.
In general, I like all my rings for different reasons. Some inspire me, some have sentimental value and others are just so pretty!
The History of Rings
I just love the history of rings so first a word about that. Rings date back centuries to the beginnings of time. In their own way, they are like talisman pieces that can have symbolic and deeper meanings than meets the eye. They are circles, representing the cycle of life and the power we have to live it. Rings are also symbolic of love and devotion; their closed circle binds us together (think engagement and wedding bands) and capture the romance in our lives.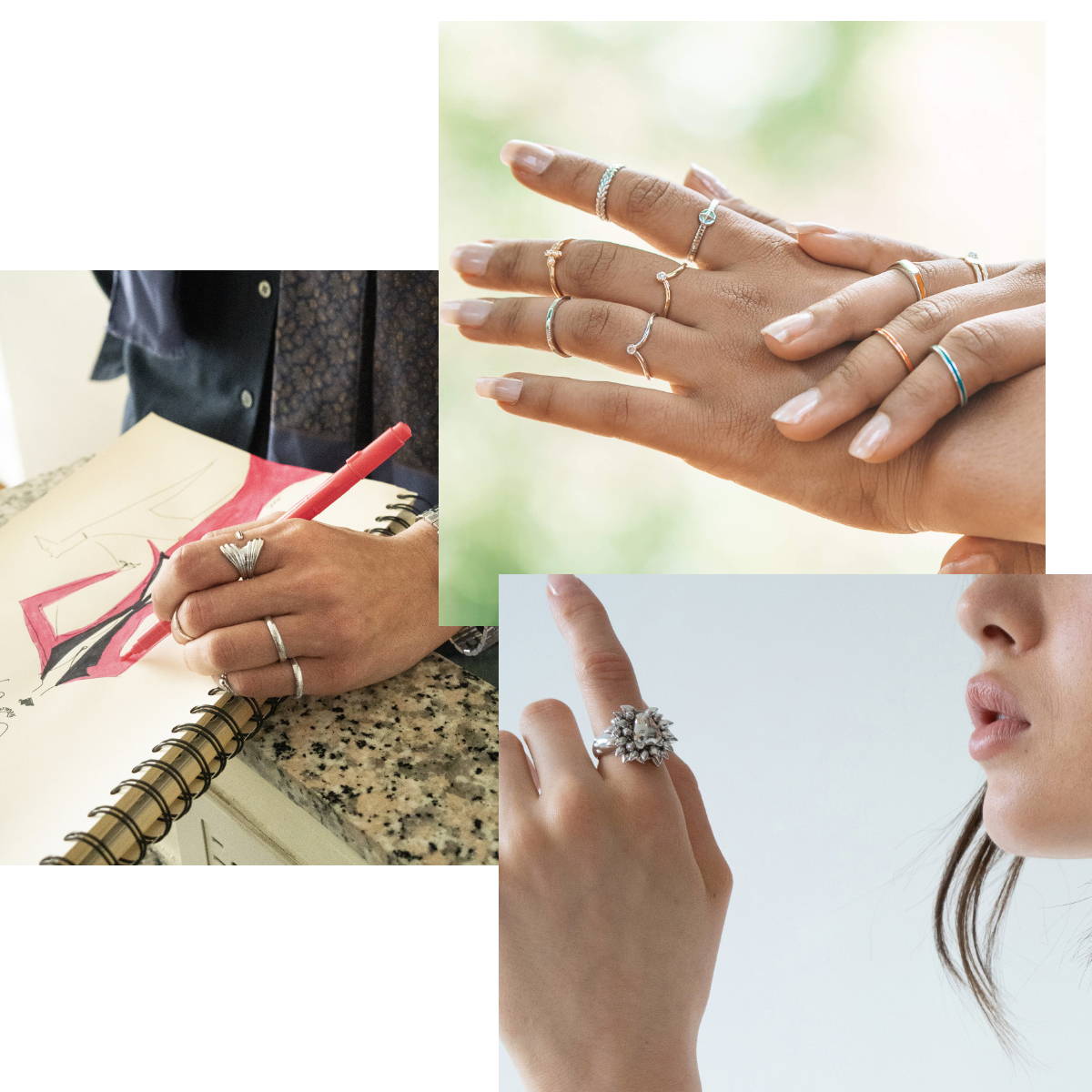 Rings as Stackable Rings
My first favorite look is to take all my different bands and create a layered stacking ring story. Mixing and matching solid rings with those featuring stones and unique band designs can create the most multifaceted looks. Individual stacking rings that might not have a match are then great as midi rings, worn higher up on the finger where they fit. Personally, I have always loved poesy rings. They were rings dating back to the fifteenth century given as tokens of love and devotion with little short poems (aka Poesys) engraved inside. The poesy stackable collection we offer have words of empowerment and inspiration inside them so the more you stack the more courage and perseverance you will have for the day. We offer so many of the poesy stackables as sterling silver rings, so there are endless combinations possible.
Statement Sterling Silver Rings
I also love large chunky rings like our lion ring or fish ring. They let someone know you are there, and their bold look draws attention with a great design. I tend to love animals as a natural motif for our statement rings as they allow for so much fun when it comes to the design process. Once I have a great design, I like to hide an inspiring word in those rings. My lion ring is inscribed with Courage. My Fish ring says perseverance inside; why? because fish always swim forward. Fish ring styling alert: I double them like a puzzle, as they look really good on my overused hands (think dishes, dogs, babies, photographer).  
This Little Pinky
As a final accent to my styling story, let's not forget the pinky. I do love a good pinky ring. I would tend to choose one of my poesy rings that has a bit more thickness and presence. (If you are shopping in gold, you can also look at my mask rings).  
Mixing all the Looks
Finally, because there are no rules for sterling silver rings, please take all of the above and mix them together across that ten-finger canvas. It is not only fun, but your hands will be a joy to look at, and – with the right styles – make you feel inspired each day by allowing you to tell more stories of your life.