Monica's Process for Designing Jewelry
People will often ask me how I come up with my designs and concepts. Where does it come from? Is jewelry designing the same for all collections, and how does the journey start with an idea and then turns into a piece of jewelry?
First and most importantly my jewelry is created for a woman to tell her stories. It is meant to empower and inspire her, and hopefully make her feel courageous and strong. But at the same time, yes….every piece needs to be beautiful. And at least for me, that is my starting point. For every idea and creative inspiration I have, that is the first group of questions I ask myself before embarking down the design path. Whether it is a necklace design, a bracelet design, a locket design or a charm design, it is always the same time question. Will the design I am considering accomplish those ideas above?
Most of the time the concepts for a jewelry style or collection come to me from everyday inspirations … art, books, history, old movies, architecture, or something I see in nature. I never quite know when the moment will hit me. My poesy ring necklaces for example came to me as I was walking down lower Broadway and some cool young girl in a printed tee shirt and ripped jeans passed me wearing an old family ring on a long necklace chain. And yes, it was so quick that I never got to thank her for that necklace design idea!
I also love to revisit my collection of vintage fashion magazines from Europe. I will grab a stack and sit for hours leafing through them never quite knowing what might inspire me next. I also dream about ideas and wake up in the morning ready to run with it. I will talk to my team and see how the concept can fit into our current collections, or possibly lay the foundation for a new collection. They sometimes tell me I have too many dreams and remind me we can't make everything I love!
We then start sketching. We will often do very loose sketches, just to set a direction, or possibly create a mood board with swipes of all my inspirations. We dig in and keep challenging each other about what it really is we want to say. Then of course we get into finer sketching and when a style is ready to move into sampling the technical aspects of design will begin. That involves very detailed specifications on all the aspects of a design.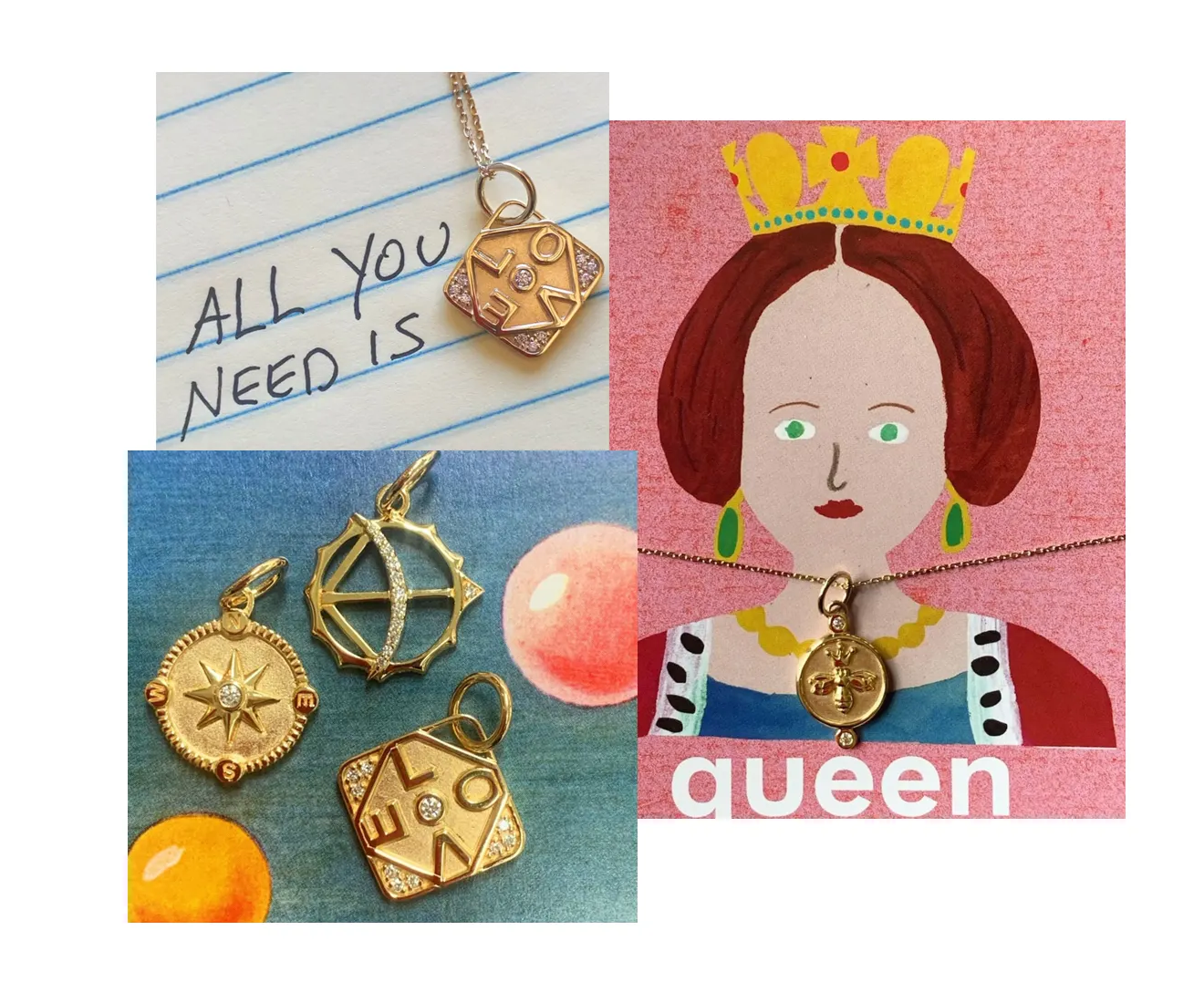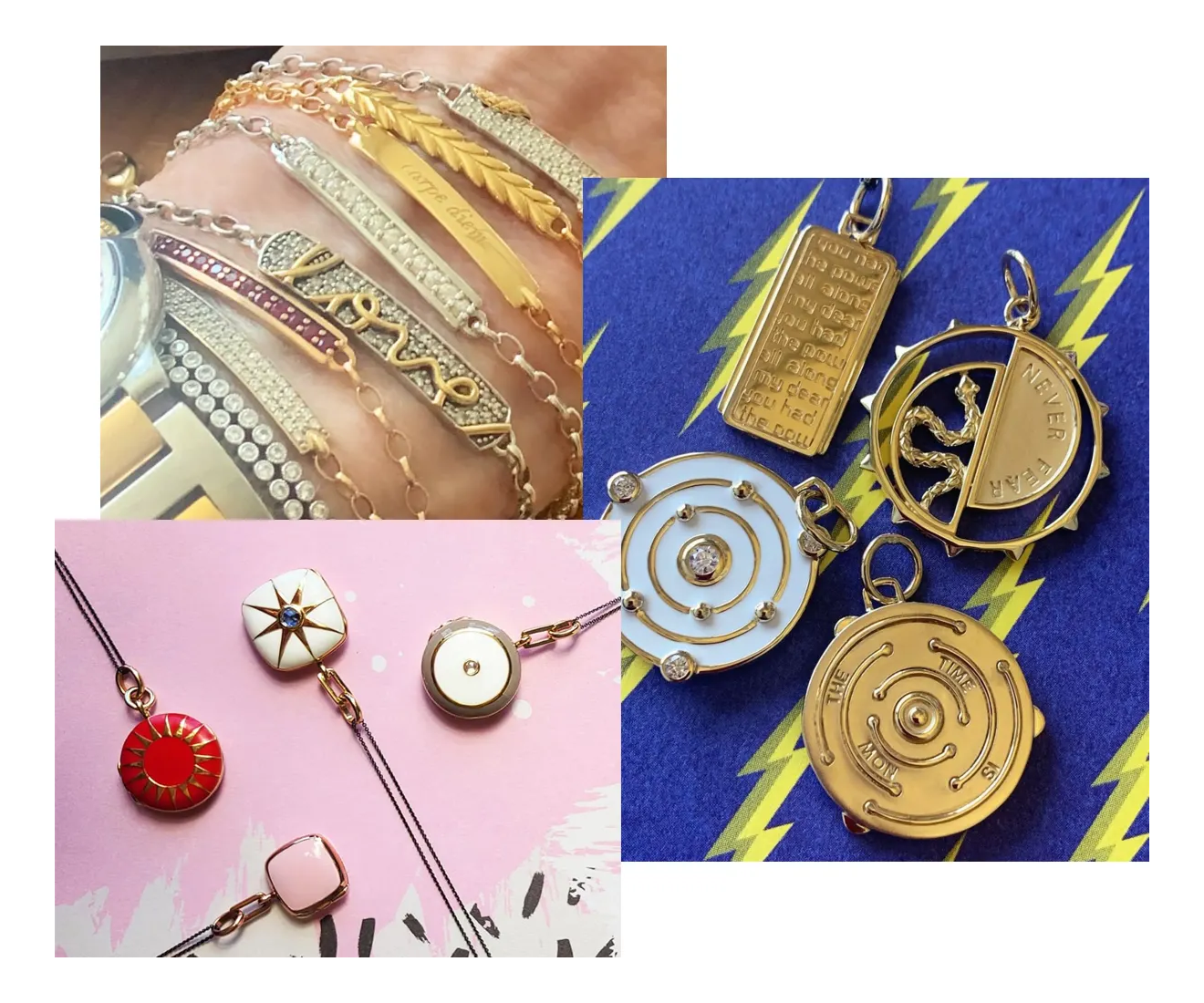 Your Story is at the Core of Our Jewelry Design
Whether it is gold jewelry design or silver jewelry design, my pieces are never about a fashion trend but rather a different way for a woman to share her celebrations and milestones in life. I always ask if I am being contemporary and timeless at the same time, as I want to design jewelry for both a lifetime and for generations. But sometimes a fashion look will inspire the jewelry. For example, I always loved how girls layer string bracelets and seem to stack them so effortlessly on their wrists. That bracelet design trend inspired my poesy bracelet collection, which are thin, fine jewelry bracelets with secret messages that can also be stacked and layered.
When I design one of a kind pieces usually that is a bit different in the approach. Here, I get inspired by the stones. For instance, I had come across these incredible Australian boulder Opals where for the entire grouping the colors (amazing azure blues and greens) looked like they were cut out from the sea. I then designed pieces inspired by life in the ocean, wrapping seahorses, turtles, coral, octopus etc. around each stone. What I loved so much is that each animal surrounding the stone had characteristics and a personality that I was able to play up in each design. In that respect, these kinds of special stones create a unique jewelry design process, where a custom ring design or custom necklace design is the final product. I once found this marvelous cat's eye stone that became the eye for an owl who also had a monocle in a one of a kind gold ring design.
In the end, my philosophy is always the same. The piece must mean something, allowing a woman to express her personal journey and wear pieces that will always be meaningful to her.