By Beth Bernstein
Chains to dangle your treasured charms, your protective talisman, keepsakes and heirloom pieces have become as ubiquitous and versatile as the little black dress, a white
T-shirt, white shirt or your favorite worn jeans, although you can wear them even more interchangeably then your cherished fashion items.

Today's chains are of varied length—the more enhancer or extender links to which you can add on different sentimental and significant fine jewelry tokens and charms—the better. And take note, the old adage, "whatever old is new again" is definitely ringing true when it comes to 18K gold chain necklaces. Although the mechanisms of the enhancers are more substantial and ingenious, like everything in jewelry, they are based on styles from the past that influence the looks of today.
At MRK, these details and elements lead to a collection of 18k gold chains that has a heirloom quality, the type you would want to pass down to your kids and their kids and the exact pieces you want to wear now.
Monica is often inspired by the past and it's unique and intricate craftsmanship but she has found her own distinctive way of keeping it alive and moving it into the present. What is so alluring and covetable about Monica's collection is that any influence she borrows from jewelry's history becomes her own aesthetic.   Here most recent evolution are the 18K gold chains that she continues to include in her fine jewelry collection. The influences from the Georgian era through the vintage 70s are all rolled together in these chains and their accoutrements but those that inspired her most— are the Georgian through the Art Deco period—meaning the 18th century through the first part of the 20th century.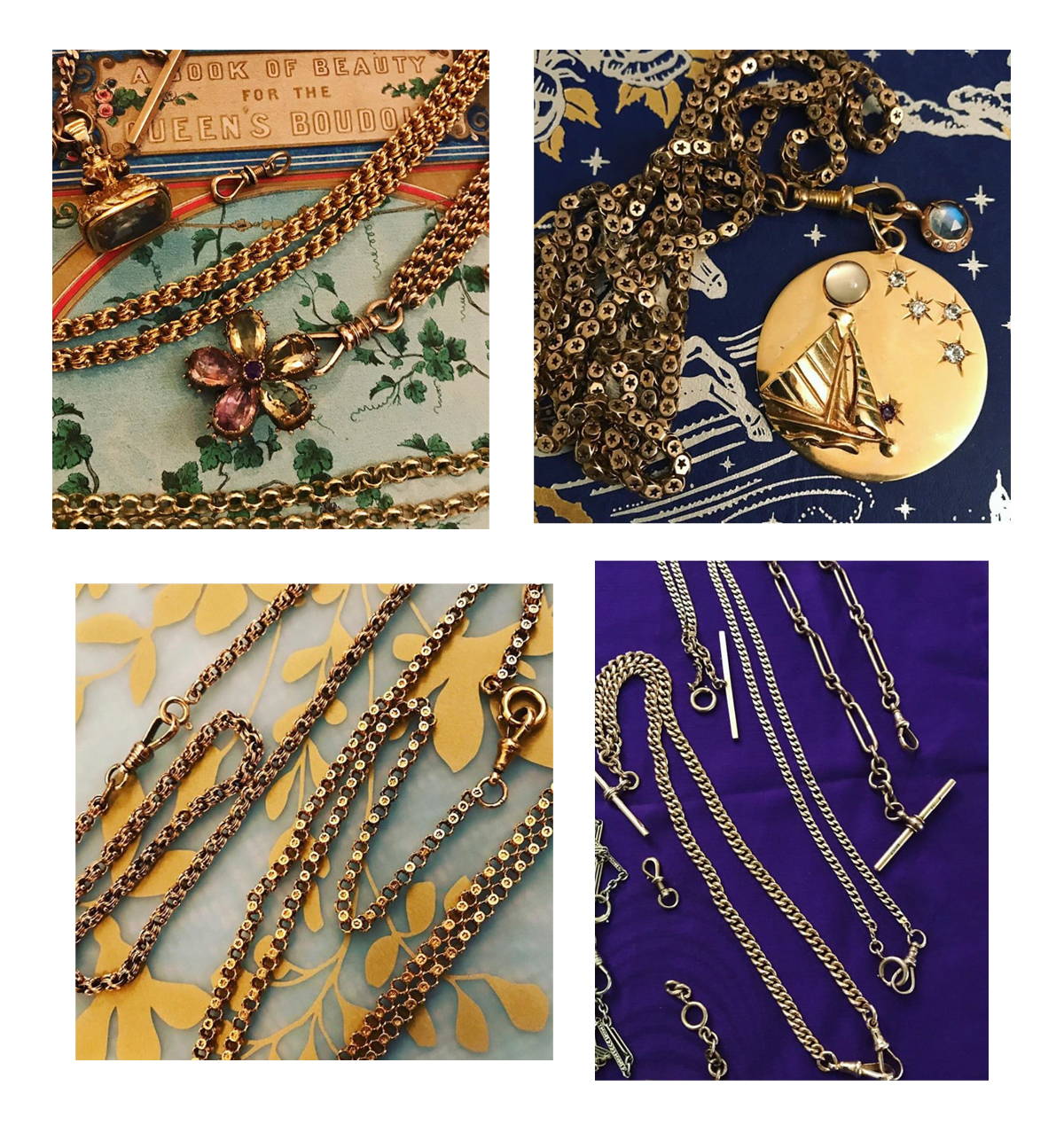 Various chains from the author's collection. From top left: Victorian chain with pansy flower cut down from original length somewhere in time;
Star pattern Victorian guard chain with sailboat pendant; Mix of Victorian chains; Heavy paper clip and curb watch fob chains with additional clasps
The Georgian Influence on 18K Gold Chains
Since Georgian times, jewelers knew that every woman needed at least one chain that would become part of their armor or uniform. These include such styles as the lightweight but beautifully handcrafted links of Georgian chains to the ultra-long guard chains and men's watch fob chains of the Victorian era and turn-of-the-century to the sophistication and elegance of early 20th-century French chains. We are also seeing a return to signed and unsigned but beautifully crafted heavy curb and solid oval links from the mid-20th century and vintage rectangular and elongated ovals from the 1970s.
Here are some of the most popular chains from the 18th century onward.
"Georgian chains are some of the most sought chains today," says Lisa Stockhammer-Mial, owner and president of The Three Graces Fine Jewelry. "They are lighter and delicate in their construction and their price points reflect the rarity of finding one in its original length and with its original clasp." Many were cut down over time, to give to two different daughters or to sell in multiple pieces. Lisa continues, "In their original length they are traditionally 60-64" and higher karat, either 15K or 18K yellow gold chains." The links were hand stamped, designs that were impressed into fine gold sheeting and then fashioned into different styles of chains that were joined together end to end with gemstone studded barrel or charming hands clasps, decorated with its own miniature jewelry—a gemstone ring on the finger or a bracelet of the wrist of the tiny hand.
Some of these were designed to hold watches on dog clips which swivel open," Lisa explains. "They were originally worn with the chain tucked into a woman's belt, and the watch dangled from there."
Muff chains also refer to long chains of the 18th century onward, created to string through a muff of fur that kept a woman's hands warm when she was outside, and hold it together with different fasteners which passed through and held the chain in place when she was inside. These chains were traditionally 54" and are also rare to find in their original length. They also featured outstretched hands as clasps.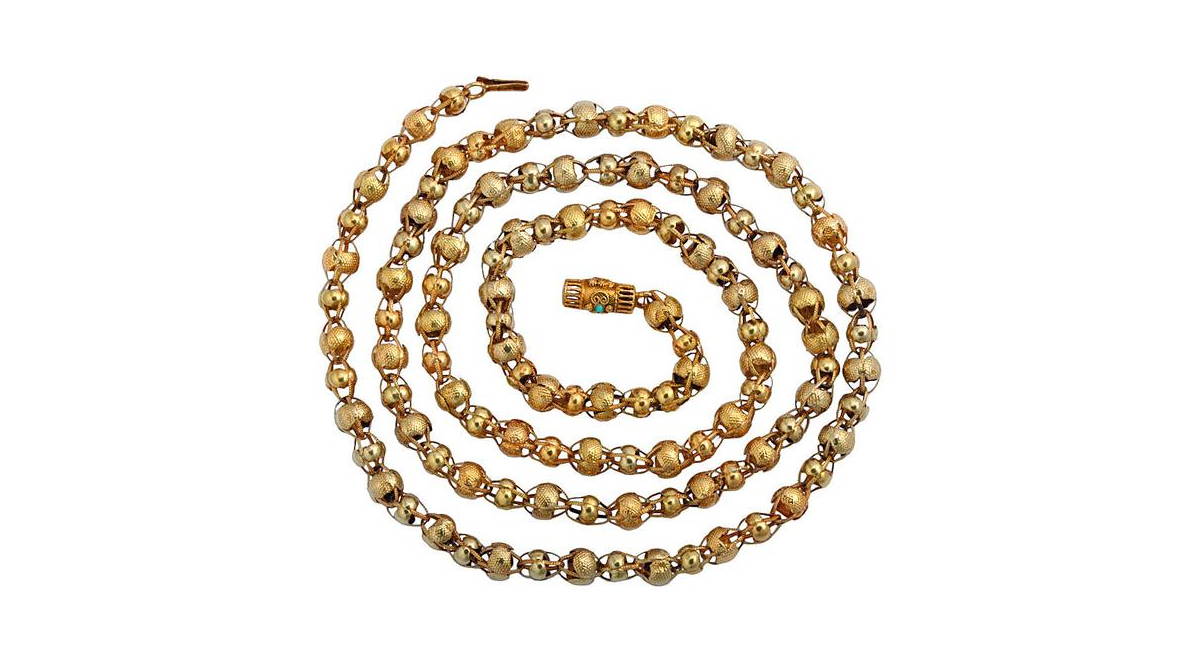 Glorious Antiques' Georgian 15ct gold chain comprised of orb-like links and lightweight wire work with a decorative clasp set with turquoise cabochons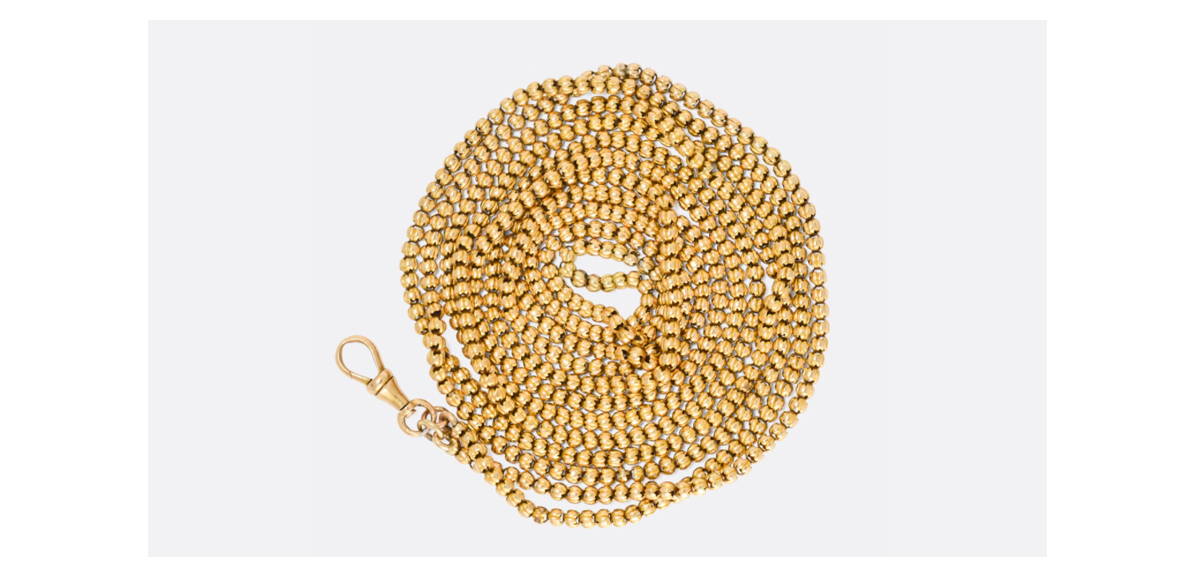 Chains During Victorian Times
"Long chains also appeared during Victorian times and were called 'guard chains' These were popular throughout the 19th and early 20th century," explains Elizabeth Doyle of doyledoyle.com. Unfortunately many of these were also cut down but some definitely lasted throughout time in their original condition. They were produced in the U.K. in everything from 9ct to 18ct yellow gold and were the chains for women of the time. Many had swivel dog clasps and bolt rings from which a lockets, watches or padlocks could be hung."
These chains also featured lightweight links—in the styles of belcher chains (in which the loops of the chain go in opposite directions), double rollo chains, chains that displayed cut out stars, granulated ball stations, lover's knots and other motifs. There were also long buttery rope and ultra-slinky snake chains, which were also used for decorative slides in such shapes as hearts and clovers, to name just a few. These slides, which frequently were set with small gemstones were part of the chain and would move up and down to create a focal point that was longer or shorter. Quite a number of these chains were also used for quizzers and  lorgnettes 
to ensure they would not get lost. As an aside (the rope and snake chains have a completely different texture and construction then then those of the mid to late 20th century—they have almost a velvety feel when you run you hand over them ).
Book chains were also a style of the Victorian period and featured links that were in the shape of, yes, books. This design continued to be popular through the Edwardian period. These are the length of pendant or locket chains.
On left: French Turn of The Century Filigree Chain by Keyamour, On right: Keyamour Swiss enamel chain, circa 1830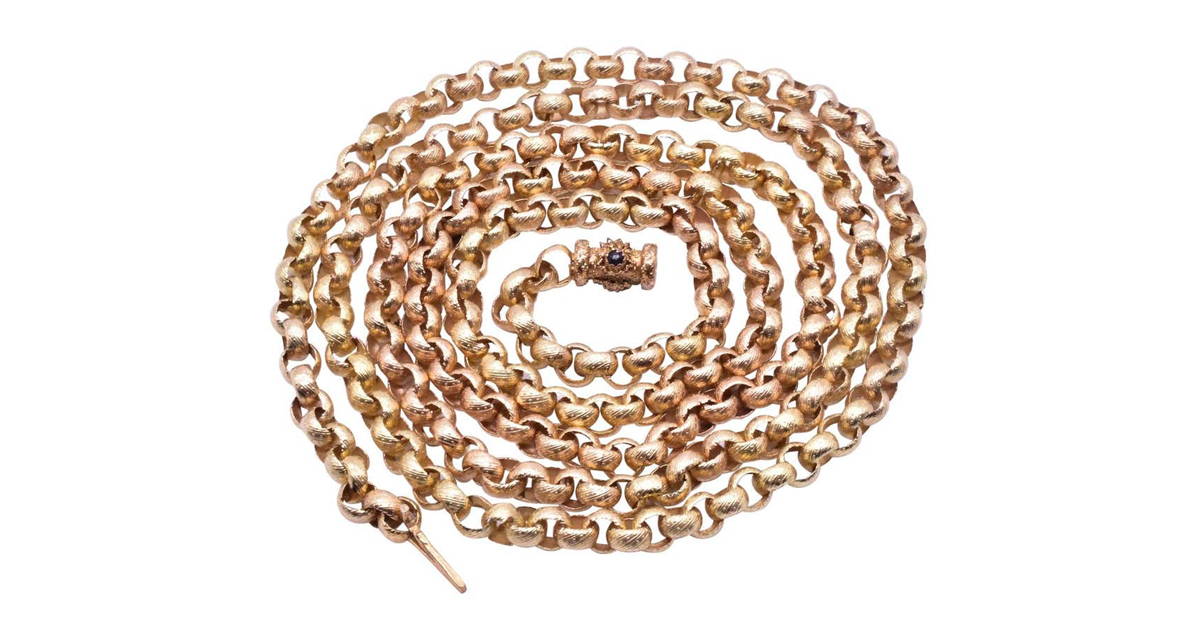 Spare Room Georgian Muff Chain with gemset barrel clasp
Watch Fob Chains Influence 18K Gold Necklaces

But let's go to the chains that are most desirable today for charm necklaces and locket necklaces: the watch fob chain. These were created for men to hang their watches. Some are too short to wear as necklaces on their own 12"-13" but they can be as long as 17", depending on the girth and height of the man for whom they were designed. These were also created in a range of different karat yellow golds but most women today who are purchasing them prefer 18K gold necklaces. These are heavier than any of the women's chains as they had to hold a man's pocket watch and watch fobs that traditionally displayed family crests and seals that could stamp and sign documents. Women wore watch fobs as well. Those we find on the market today reveal beautiful repousse work and tri-color floral designs which house the hardstone or translucent stone seals with intricate motif and mottos that ranged from love to friendship to imagery of protection and luck.
These watch fob chains are weighty and are available in a range of styles such as the trombone, paper clip and curb chain—all of which we also see later in time and are being machine made or as cast links today.  
Charms of luck, love and protection are added with different dog clasps, bolt rings and spring clasps for the antique styles, creating a truly personalized look. To lengthen a short chain you can add extra dog or swivel clasps, but the most interesting is to mix two antique or vintage short chains together, even if they are completely different such as curb and trombone links. This individualizes the chain and also is a creative way of wearing your most significant pendants and lockets together or one as a statement piece.
"Other highly collectible chains include turn-of-the-century, long French filigree chains which have a delicate look with openwork patterns, but they often come with a heavier irresistible weight in rich 18K gold. They can be worn long, double tripled or can be layered with other time periods," says Elizabeth Doyle.
Lisa Stockhammer-Mail agrees, "the long Art Nouveau chains, which are heavier than the Georgian styles, have become more and more desirable. It is the length and the design," Guilloché enamel panels of flowers and naturalistic leaves in-between the links are also highly coveted in these chains. Some of the most awe inspiring and glorious of these chains were hand crafted by Austrian and Swiss makers in 18K gold and enamel links.
Like the Georgian chains, the Art Nouveau styles should be worn without anything dangling from them so as not scratch or pull on the intricate links. They are stunning on their own or can be layered with a charm necklace on a watch fob chain as long as the look is graduated so nothing is clanging up against the more ornate chains. Mixing time periods is contemporary and relevant for the modern woman.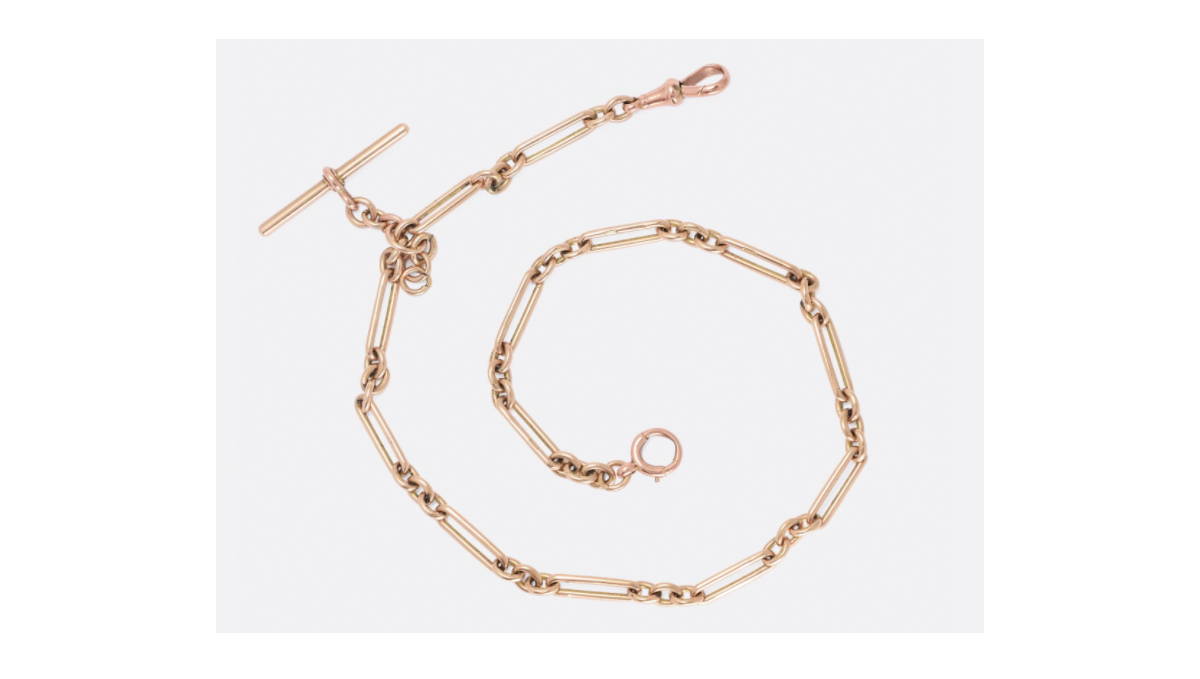 Butterlane Antique's trombone watch fob chain
Modern Chains for the Modern Woman
Speaking of modern, let's jump ahead to the mid-20th . We begin to see the same styles such as curb links and snake chains again, but these are machine made and in heavier weights. Once we move towards the vintage '70s through the '80s, we see bold, oversized links in oval and rectangular shapes and newer versions of the paper clip styles which are frequently hollow and when they aren't, they tend to be so weighty, they could put you in traction.
This trend went along with the "Mr. T" craze of heavy, piled-on gold chains with a definite Midas touch. Although the trend seemed to take over the streets and the nightclubs and became a favorite of Karl Lagerfield for Chanel during the 1980s, it was not for the faint of heart, nor the consummate collector, but for those who favored fades and fast fashion and was most often shown in gold plated base metal with the exception of those that the major rap stars wore during this time period.
The 21st century ushered in a new found desire for the earlier antique chains, clasps and hooks to hang your most significant, sentimental, symbolic and/or spiritual charms.
Designers like Monica Rich Kosann quickly saw this trend on the verge when it began to happen and started to design her own 18K gold charm necklaces. She has created a chain and different links that can affix your MRK lockets, medallions and talisman at different lengths so that they can all be seen and can be worn with comfort and confidence. As with all of Monica's pieces it's a way of telling your story and continuing your journey, adding on—always adding on to your life with jewelry that represents it.
Beth Bernstein is a jewelry historian, collector of period and modern jewelry and a purveyor of all things sparkly. She has penned three books—'My Charmed Life,' a memoir; 'Jewelry's Shining Stars,' a modern jewelry design coffee table book; and 'If These Jewels Could Talk,' an in-depth look at celebrities and the stories behind their legendary jewels on the silver screen and in real life—with a fourth one in the works. She has written and continues to write for major print and online magazines on all subjects pertaining to jewelry and style.