Legends, Lore and Star Studded Diamond Jewelry and Cuts
By Beth Bernstein
There is no stone more mysterious, more beloved or more celebrated than a diamond. They have been immortalized in film, are 'a girl's best friend', have been bargained for, stolen, have cemented relationships for centuries, and have been the gem of royalty across cultures and continents from the 15th century through modern day. From the famed diamonds to those we wear every day, they add the sparkle to our lives and the stories behind them are sometimes equally as symbolic or significant as the gems themselves.
Whether you are attracted to the historical, sentimental, or the legendary stories behind the sparkle of diamonds or you love old rose cuts or new emerald shapes, there are stories for each. Let's start with a little background on diamonds. They are the most durable of all stones and have the ability to resist fire. The Greeks called diamonds adamas, meaning unconquerable. All of these facts led to diamonds meaning of permanence and stability which then led to diamonds being the gemstone for engagement rings and the epitome of enduring love (which really hit its stride in the 20th century with a brilliant advertising campaign by). But more on that later…
Basic History of Diamonds
Primitively cut diamonds existed during the 14th-16th centuries; the table cut, which was an unpolished octahedral with the top ground down into a square reigned through the 16th century. It was during the 17th century that loose diamonds became more obtainable, when the jewelers of King Louis XIV of France brought them back from the famed Golconda mines in India and cutting techniques were advanced by gem cutters in Antwerp and Amsterdam. Fast forward to the 18th century and diamonds became a symbol of societal status and wealth and power.
DIAMOND JEWELRY
From tiaras to engagement rings, diamonds have long been a stone that has a diverse and intricate history. Their popularity is unparalleled by any other gem and it's use in all classifications of jewelry changed in styling with the different Kings and Queens of England and with each artistic movement in France and the rest of Europe, which influenced jewelers in the U.S. The influx of diamonds from different mines also impacted the evolution of diamond jewelry, particularly when it was no longer just the gem of the privileged class but became accessible to the masses during the industrial revolution and beyond.
Speaking of societal changes, over the last 20 years the most notable trend in diamond jewelry buying is that women learned they didn't have to wait for a man to buy them diamonds. They could buy them for themselves. From diamond hoop earrings and diamond studs to a variety of diamond pendants and different styles of diamond bracelets, women have been self-purchasing their own jewelry and modern day designers are continuing to cater to diverse tastes and individuality.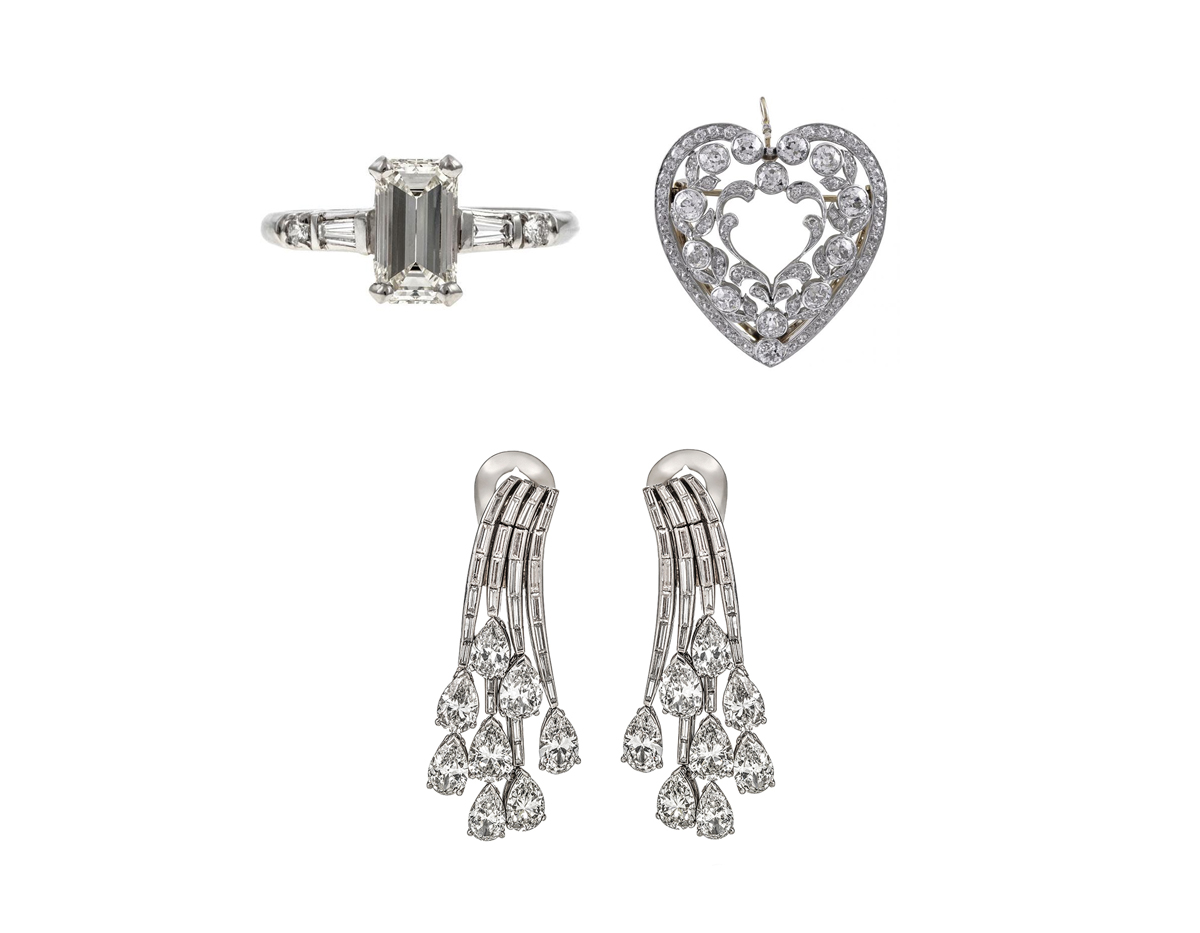 A FEW FUN AND EDUCATIONAL FACTS THAT IMPACTED DIAMOND JEWELRY
One of the major events that change the course of the cuts of diamonds, styling, the ability to sell diamonds to the rich and famous was the auction of 'The Diamonds of the Crown of France' at the Louvre in Paris in 1887. Jewelers from around the globe attended the sale. Many of the jewels in the collection reflected the popular style of the times, set by the Empress Eugénie of France, whose style leaned towards motifs which included bows, ribbons, flowers and other formal and regal flourishes. Tiffany & Co. bought the largest number of lots— approximately a third of the collection for £480,000 and then sold the items on to New York's elite. Other renowned houses who attended the sale included Bapst, the French jeweler who created many of the original designs and bought back some of his own pieces; the co-founder of Van Cleef & Arpels, Alfred Van Cleef. Frédéric Boucheron acquired a host of diamonds at the auction, among them the celebrated Mazarin diamonds, and one of Empress Eugénie's most celebrated diamonds, which Boucheron bought to set in a ring for his wife. Due to the sale, diamonds began gracing the fingers, wrists and necks of renowned socialites, heiresses and eventually Hollywood stars.
The Edwardian/Belle Epoque era focused on more delicate versions of garland and floral motifs, bows and scrolls, but with a much finer hand than in previous styles of the Empress Eugénie. It was influenced by the elegance of King Edward VII and French Rococo décor. It was the time when designers created styles with the look and hand of the finest of lace in white on white diamond bracelets and dog collars and embroideries. Platinum was now the metal of choice. The most durable and malleable metal, it could be used for much smaller settings and delicately detailed pieces. Although some of the most intricately detailed designs were created during this period, it was one of the shortest due to the early death of King Edward VII.
The first decades of the 20th century saw Boucheron, Cartier and Van Cleef & Arpels and other innovative jewelry houses exhibiting at the 1925 Exposition des Arts Décoratifs et Industriels Modernes. The linear geometry of the Art Deco movement (named after the Exposition) was complemented by technological advances in diamond and stone cutting, and was influenced by the streamlined shapes in everything from fashion to architecture. The jazz age and the new found freedom of women who hiked up their skirts and piled on the diamonds bracelets while dancing the night away at speakeasies added momentum to diamond styling.
Legendary film stars lent an air of allure to diamonds and created interest for movie goers to go out and purchase what they saw on film. Mae West embodied the feeling of the early 1920s, dripping in diamond on and off screen, stacked and layered to the hilt. Marilyn Monroe's smoldering blonde bombshell 'Lorelei' Lee was and still is iconic in famed film Gentlemen Prefer Blondes (1953) singing "Diamonds are a Girl's Best Friend", dripping in imitation diamonds as she belts out: 'Tiffany's!... Cartier! Black, Starr, Frost, Gorham! Talk to me Harry Winston. Tell Me about it!" All names that were associated with bejeweling the rich and famous in the dazzling gem.
Throughout the 20th Century, Cartier, Bulgari and Harry Winston, Van Cleef & Arpels to name just a few lent diamonds to myriad films and there were also the diamond jewels that actresses actually owned and wore in the movies, including Grace Kelly. She wears her Cartier emerald cut diamond engagement ring in the 1956 film, High Society that she received from Prince Rainier. It worked for the film as Kelly's character is a newly engaged socialite. Another wonderful Cartier moment was in an Alfred Hitchcock film Lifeboat (1944) based on a John Steinbeck story. In the first scene, 'Constance Porter' (Tallulah Bankhead) appears in a lifeboat, amid a group of other survivors from a torpedoed ship, wearing a Cartier diamond bracelet. Her possessions gradually turn into necessities for survival. Eventually, she offers the castaways—who are at this point starving— the diamond bracelet. A gift from her first husband, it had functioned as a good luck charm for fifteen years. The survivors want to catch fish, but realize they do not have anything to use as bait. 'Connie' removes the bracelet from her wrist and says: "Sure we have bait—by Cartier!"
Elizabeth Taylor and Anna Magnani and Gina Lollobrigida wore their own Bulgari diamonds in films, while Harry Winston lent diamond jewels to such films as Notorious for Igrid Bergman's character Alicia Huberman and to The Graduate for Anne Bancroft's Mrs. Robinson.
Pop culture also played a role in jewelry in the later part of the 20th century. One example is Tennis legend Chris Evert who was engaged in a long rally during the 1978 U.S. Open when her bezel-set diamond bracelet went flying across the court. She asked to have the match stopped until she found the bracelet, which was her signature. From then on, the name "diamond tennis bracelets" became indelibly linked to the thin, lightweight, flexible diamond styles that were originally known as line bracelets during the Art Deco period up until the time of that tennis match.
During the 1970's the social and political climate changed and there was a more subdued mood when it came to diamonds and lavish jewelry. These stripped down streamlined approach was challenging for the big design houses but Tiffany & Co. was savvy enough to bring in fresh designers, including the renowned Elsa Peretti, who had started her career as a model and designer for fashion designer Halston. She ingeniously created what Halston named "Diamonds By The Yard" which could be worn by every woman with literally every type of clothing. The first version was stationed at uneven lengths on a 36 inch chain. She varied the style by adding different sizes of diamonds and lengths of chain. Peretti made diamonds wearable, versatile and popular when women were more interested in equal rights then jewelry.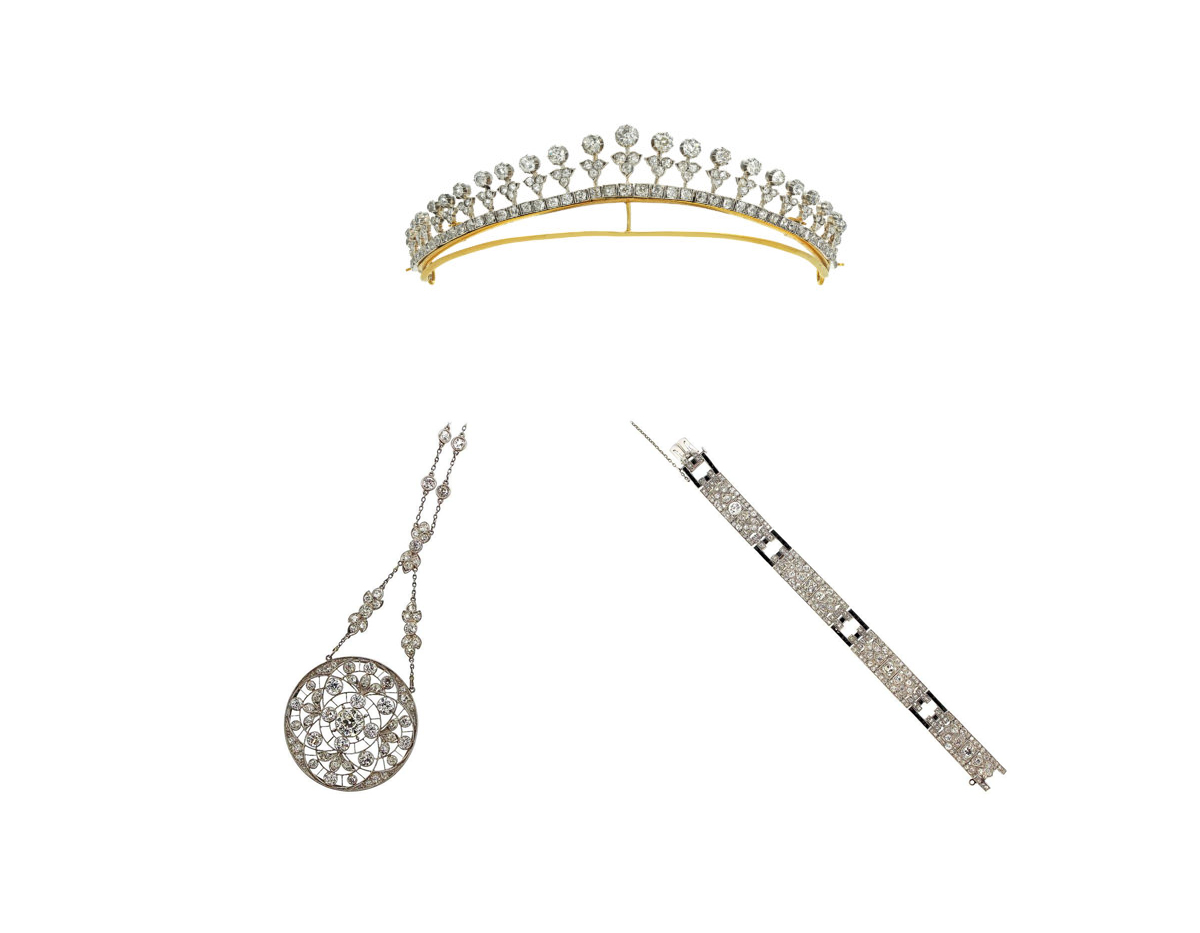 DIAMOND CUTS NOW AND THEN
All of these past styles mentioned have been a source of inspiration for modern jewelry. Over the years there have been various interpretations. There are also a range of different diamond cuts and shapes which are inspired by the imperfectly beautiful hand cut Georgian rose cut and juicy mine and cushion cuts of the 18th and 19th centuries. During the 19th century, the discovery of the South African diamond mines at Kimberly and then in South West Africa led to hundreds of thousands of carats being brought into Britain and Western Europe creating demand and accessibility that resulted in antique designs we still covet today. The diamonds that launched in the Art Deco era such as the emerald cut, trillion cut, half moon, baguette, pear shape, marquise and princess cut diamonds have also become popular styles again. The rose, cushion and old mine cuts are being recut again primarily in India. While they are perfected, when you can find these older cuts you should consider opting for the original and upcycled vintage diamonds.
When we talk about diamond cuts, we might wear those we self-purchase, but we can clearly enjoy the backstories to some of the world-famous diamonds. Harry Winston was known for his diamond collection 'The Court of Jewels', which boasted famous diamonds such as the 'Hope' and the 'Jonker', among others. These museum-quality historical gems were part of a touring exhibition the jeweler created during the 1950s, to help educate the general public about diamonds and show off some of the world's most important gems.
The Duke and Duchess of Windsor bought one of the most famous diamonds in Winston's 'Court of Jewels'. The Golconda diamond was originally named the 'McLean Diamond' after its previous owner, mining heiress and socialite Evalyn Walsh McLean (who also owned the Hope Diamond, the Star of the East and the Star of the South). Winston purchased Evalyn's collection in 1949, and then sold the cushion- shaped, D-colored 31.26-carat diamond to the Windsors. It became an important part of The Duchess's collection.
One of my all-time favorite royal stories is how a huge diamond brooch – one of the most valuable came to called Granny Chips. Many of the diamond pieces that Queen Elizabeth II owned been passed down from her grandmother Queen Mary and her great-grandmother Queen Victoria. This is a gift from 'Queen Mary, it consists of the Cullinan III and the Cullinan IV—a 92-carat pear-shape diamond hanging from a 62-carat square-cut diamond, both of which were taken out of Queen Mary's tiaras.
There are many stories in the world of diamonds, but it's difficult not to be captivated by and want to discuss Elizabeth Taylor's diamonds.
For Taylor's 40th birthday, her gift from Richard Burton was a heart-shaped yellow diamond from Cartier. Burton purchased the diamond mounted as a pendant in a gold-braided tassel necklace, which was originally a gift from the Shah Jahan in 1621 to his favorite wife, the queen who inspired the Taj Mahal. Which is how it became to be called the Taj Mahal diamond. Burton joked with Taylor that he intended to buy her the Taj Mahal but it was too big to move to their home in Switzerland. He got her the jewel instead.
Burton purchased quite a number of jewels for Taylor at auction, but the one with the most lively auction backstory was a 69.42 carat pear shaped diamond ring which was cut from a 241 carat rough that Harry Winston had purchased. It was the twelfth largest diamond in the world and Burton was bidding again some huge competition. It was purported that Aristotle Onassis was also bidding. Burton gave his representative at the auction a limit of $1 million to spend. But when the hammer went down, the ring was sold to Cartier for $50,000 more. Burton was not happy and instead of walking away he negotiated with Cartier and bought the ring from them for $1.1 million, with the agreement to allow Cartier to display the stone for a limited period in their Chicago and New York stores. Eventually the ring was renamed the 'The Taylor-Burton Diamond', and it was the plotline for an episode of Here's Lucy, entitled 'Lucy Meets the Burtons', that focused on Lucy trying on the diamond and it getting stuck on her finger. The episode featured brilliant comedic timing by not only Ball but Burton and Taylor as well.
The history of diamonds is broad with diverse lore, legends, tales and information. Just like the brilliant advertisement, which was created to sell more engagement rings, produced by advertising executive Frances Gerety of N.Y. Ayers in 1947 for diamond distributors De Beers…"A Diamond Is Forever."—enduring, powerful and always enchanting.
Beth Bernstein is a jewelry historian, collector of period and modern jewelry and a purveyor of all things sparkly. She has penned three books—'My Charmed Life,' a memoir; 'Jewelry's Shining Stars,' a modern jewelry design coffee table book; and 'If These Jewels Could Talk,' an in-depth look at celebrities and the stories behind their legendary jewels on the silver screen and in real life—with a fourth one in the works. She has written and continues to write for major print and online magazines on all subjects pertaining to jewelry and style.
*Header image also featuring Sandra Cronan Art Deco wide mixed diamond bracelet