By Beth Bernstein
Before we launched our jewelry collection, Monica was fascinated by the history of vintage charms. When she found them in antique shops or stalls at markets around the world she would hold them in her hand, and was intrigued by questions like; who had owned them? What stories could they tell? Where had they been? At some point along the way, Monica became a collector of vintage charms, and the allure of these wonderful pieces was an important part of the inspiration for our collection. With that in mind we asked jewelry historian, Beth Bernstein, to prepare this guide to Collecting Vintage Charms with great tips from experts in the field. – the Editorial team at Monica Rich Kosann.
There is an excitement, a magical feeling that comes from finding an antique or vintage charm that captures a part of your own personality or past. This might be why I have countless numbers of charms, from 18th century intaglio fobs with engraved rebuses (puzzles of images and letters or words which form a message) to mid-20th century charms including an 18k gold, ruby and diamond accented propeller plane which I gifted myself when I conquered my fear of flying.
For those of you are interested in the character, wit and romance of vintage charms and how to collect them, you are in luck; there are numerous ways in which to find them. You can scan sites like Ebay, Ruby Lane or 1st Dibs with the keywords closest to what you are looking for. Instagram has become a prime online spot for purchasing charms but you have to get up early and be quick to DM. Seeing something that not only speaks but shouts to you and then receiving a DM back that the piece was already sold will send you searching all over the internet to find something similar, but sometimes to no avail.
Personally, I find the most rewarding way to hunt for charms is to see and play with them in person. Scour flea markets and antique/vintage shops in your hometown, attend the big antique fairs where all periods and styles made throughout Europe and the US are represented and ask for recommendations on the some of the best antique/vintages stores online and you are sure to find some charms that speak to you and your personality.
The Experts Share How to Start Collecting Vintage Charms
For this article, I have interviewed some wonderful dealers, stores and online shops where I have found many of my own favorites. They talk about the time periods and styles you can find and give advice on how to build an antique/vintage charm collection and in turn a charm bracelet or necklace, or two or three…
Dana Kiyomura of Keyamour, expert and vintage dealer aptly explains "there are so many different styles and periods from which to choose and within the eras, a countless number of looks, particularly when you get into the charms created after WWII and throughout the mid-twentieth century."
Alice Kwartler, whose eponymous Park Avenue boutique deals in everything from high ticket signed pieces to engagement rings, and is a must-stop for charms of all time periods explains, "There is so much character and personality to these small objects. I have been in the business for over 40 years and I still get a kick out of finding vintage charms that open, move or surprise me in different ways." Her sentiment is confirmed in an afternoon spent sifting through her back cases filled with charms that are just waiting to be discovered by the person who identifies most with them.
Styles from different periods you might find include a French 18th-century heart locket that opens to reveal a note with the saying Mon Amie, a small Victorian engraved notepad with floral engraved pages, Art Nouveau charms that depict the flower, birthstone and the month you were born spelled out in French, large 50s style charms that bring good fortune, or moveable charms that open and close to reveal hobbies from gambling to sports. And that's just a small sampling.
Vintage Charm Types and Time Periods
Please refer to our three-part history of charms to learn more about the different time periods.
A brief overview:
Victorian charms tend to be lighter and smaller. They are motif driven with an emphasis on the symbolism of the day which continue to inspire modern designers. Available in three-dimensional motifs, raised symbols on discs or small lockets popular styles include hearts with engraved and enamel flowers for all types of love, snakes for eternal love, anchors for hope, swallows for safe home, compasses for direction and guidance, horseshoes, wishbones and stars for luck.
There were also other European charms during this era. Greece's most renowned talisman, the evil eye for protection is also reinterpreted with a contemporary feeling today. From ancient Rome to 19th century Italy, horns (first derived from horns of plenty), and different styles of hands with a host of meanings, most of which ward off the bad and bring good fortune to the wearer are among the most collected today. "These protective talismans reappear throughout the different periods up until the present day but the earlier they are, the more intriguing the design," says Diane Richardson of The Gold Hatpin in Chicago.
Another popular fashion in jewelry in the 19th century was based on communicating through flowers, which caught on throughout Europe in 1819 when Louise Cortambert, under the pseudonym Madame Charlotte de la Tour, penned what was reported to be the first dictionary of floral meanings, Le Language des Fleurs. The book was translated into English in 1820 and, by the early Victorian era, illustrated dictionaries were also published and were translated from petal to metal. Enhanced by gemstones with similar symbolism, the language of flowers blossomed into charms that would come to represent various types of love and affection and continued into the Art Nouveau period.
Elizabeth Doyle of Doyle & Doyle in New York City notes another style of charms, "There are quite a number of the smaller delicate and unique charms today started out as Victorian, Art Nouveau and Edwardian stick pins which have since been converted into magical little three-dimensional styles. These are wonderful if you want a delicate scale bracelet."
"French tokens during the naturalistic Art Nouveau period were beautifully made and tended to be in 18K gold," explains Kwartler. These tokens featured French words and mottoes, with floral motifs often relating to the meanings of what they said. A Vous Toujours (Always Yours), Amitie Sincere (True Friendship), Sempe Fidelis (Always Faithful), Je Porte Bonheur (I bring Happiness) were just some of the sayings with beautiful plique-a-jour enameling.
Perhaps the most famous of the French tokens and highly in demand today was created by A. Augis, known as medaille d'amour and reads "plus qu'hier, moins que demain." This French phrase translates to "more than yesterday, less than tomorrow." The phrase references a 19th-century love poem that poet and playwright Rosemonde Gérard wrote to her husband, Edmond Rostand, the author of Cyrano de Bergerac. The medallion traditionally combines words and symbols "more than" represented by a plus sign and "less than" represented by a minus sign. Genuine or synthetic rubies or sapphires and genuine diamonds often were set into the medallions.
"As we move into Edwardian and Art Deco periods, the charms were platinum over gold and then pure platinum," says Benjamin Khordipour, 2nd generation and son of Michael Khoripour, co-owner of the companies M.Khordiour and Estate Diamond Jewelry. "They were small but weighty and filled with personality. All were gem-set and represented numerous hobbies, sports, occasions and symbols."
The 40s through the mid-20th century saw heavier larger charms emerge. "During the 50s mechanical and moveable charms were the fashionable charm to own," says Dana Kiyomura. "There were also large disks with good luck symbols and every conceivable celebratory charm imaginable commemorating all of life's small and significant moments."
"We also saw a return to those original symbols of love, luck, protection and faith but re-interpreted in discs with applied motifs in bold medallions" says Alice Kwartler.
How to Create an Antique or Vintage Charm Bracelet or Necklace
Now that you have an overview of the charms from different time periods, let's talk about creating an antique or vintage charm bracelet or necklace:
Creating a vintage charm bracelet or necklace is similar to building a modern one –it can act as a timeline which journals your life, recalling significant times, people, or emotions. It can also be a talismanic piece that resonates with your beliefs or a travel log of all the places you have seen or reminders of those you still want to visit. Or it can be a mix of all the above, commemorating sentiments and events that speak to you on an intimate level.
Elizabeth Doyle says, "Charm bracelets have always been the one form of tangible adornment which offers women a way to share a lifetime of special moments and express themselves, start a conversation and reflect on their own memories. Add to that the history and technique behind antique and vintage charms not only tells of your own experiences but one that is filled with history and a storied past."
Diane Richardson who has built her own personal charm bracelets (which she wears often) as well as bracelets for customers for the past 30 years adds "you can start a charm bracelet with one or three charms and it might take you years to complete the bracelet and that is okay. The beauty of vintage charms is when you find those that speak to your heart and soul, it will feel like you have uncovered buried treasures."
Benjamin Khordipour explains, "we have customers who relate to the theme for an entire bracelet and purchase it as is. We tend to buy those that have common themes: wedding and marriage, travel and popular hobbies."
Find Your Starting Point:
"Charms are like chocolate; you can't just have one—you immediately want more. But you will need to start somewhere," says Kwartler. "It could be an heirloom handed down that you love and want to add to or the first charm you found and fell for and want to build your story around."
Unlike modern charms, it could take a long time before you find the right vintage charm to represent a moment or memory. Richardson recommends that you start with one or three and space them out evenly and add on as you continue to locate those that most appeal to you.
Build Your Bracelet or Necklace:
"There is no 'wrong' way to build a charm bracelet or necklace; it is such a personal expression of a woman's life," says Doyle. "The one thing I will advise clients is that they might want to stay away from mixing the lighter weight Victorian charms with, say, the heavier weight charms from the 40s and 50s. When they clang against each other the heavier ones might damage the more delicate versions from earlier times. Other than mixing those time periods, it's fun to combine charms, from different eras, in different metals as long as they speak to you."
Richardson agrees with keeping the weight relatively close to each other and she is also a proponent of mixing different metals, but she also likes to keep the proportion and scale the same. "This is also helpful when you go to find a chain. If you are choosing smaller charms you can go for a more delicate chain and vice versa. Personally, I go with what is aesthetically pleasing and anything important or part of my everyday life. I try to guide my customers to do the same. Find wearable miniatures that represent the important aspects of life that you love or give you joy and build around that."  
Themes:
"Creating a bracelet or necklace around a theme is the main goal of my clients," says Kwartler. "Do you love the cha-ching of the Casinos in Las Vegas? Then, why not create a gambling charm bracelet? Are you a hopeless romantic or deeply in love with your soul mate? Then build a necklace which you wear close to your heart. There are myriad themes from which to choose and the good news is you don't have to select just one. Throughout your lifetime you could wind up with multiple bracelets and necklaces."
"Bracelets and/or necklaces that reflect a women's hobbies, adventures and accomplishments are always important themes and the 40s through mid-century charms are perfect for these types of stories you are creating on your wrist." says Kiyomura. She continues, "Charms that reflect your family (husband and children) with their zodiac signs, birthstones, monogrammed discs that you are lucky enough to find with loved one's initials also make wonderful personal heirloom pieces—those you can wear now and hand down throughout generations. You can also split them up and gift each person represented, once you are ready to pass it along."
Khordipour adds, "travel is always a huge theme. "Right now, we have several full Art Deco style platinum and gem-set charm bracelets and many of them feature charms which represent where a previous owner has been and where they might have wanted to go." The inherent charm and beauty of these bracelets is that women will want to buy the entire piece rather than starting from scratch—there is the history behind the designs and it also tells a story that might be close to the new owner's heart."
Clients consistently ask Doyle to help build talisman style bracelets and necklaces. "Charms that represent love, luck, protection and guidance are a huge part of our vintage charm business. Some women have a specific time period they would like to collect but others want the best styles we can find from any era. Additionally, each woman we work with has a different set of talismanic charms they are interested in, even though there is a cross-over of the more traditional symbols for luck."
Doyle and Kwartler both report that they help their clients build bracelets and necklaces that act as a timeline or journal of their life, "it could be the most special and momentous occasions or the smaller sentimental times such as a first date the man who has now been your husband for twenty-five years." Says Doyle "One of my clients continues to add to hers, we have commemorated her engagement, marriage, her children. We have even added in a cocktail shaker, because she told me, 'after kids you need to drink… a lot'. And we have celebrated the progression through anniversaries, different stages in her career and in her life."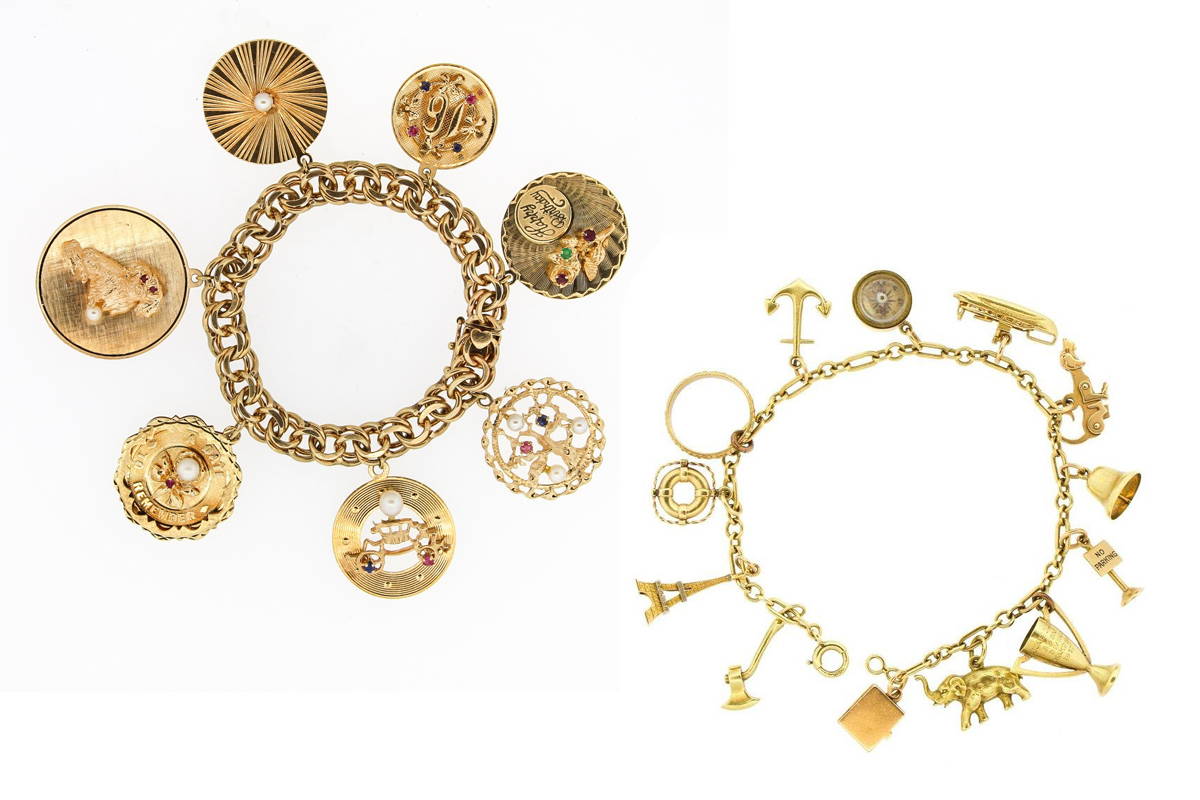 Expert Tips to Style Your Charm Bracelet
Once you have figured out the scale, proportion and theme of your bracelet and have at least one charm, you should start looking at chains. There are myriad antique and vintage chains. You want a chain that offers an added touch of personality but not one that takes over the charms you choose. You can definitely mix periods—a 40s thin curb chain with small Victorian charms or a heavier watch fob chain with dangling large mid-20th century charms from it. If you have mixed your metals in your charms, it would be complementary to choose a tri-color yellow, rose and white gold chain. The possibilities are but you could always go with the ease of a traditional 50's style double flat link bracelet if you are collecting from that era.
The most effective way of finding the perfect backdrop for your charms is taking them to a store that carries a lot of different styles of chains, laying them out and seeing which looks best with them.
You might also take some inspiration from a 40's trend. Khordipour explains, "After WWII wide gold cuffs became the popular fashion. Bigger was better, therefore, to modernize the smaller get set charms of the 1920s, women took them off their delicate chains and had their jewelers solder these miniature charms on to the cuff, creating different stories. Right now, we have one that is a wedding theme but we have seen an amazing array of these styles with different tales to tell."
Whether building a vintage or modern charm bracelet or necklace, it's all about your individuality and how you want to express and celebrate yourself and your life.  
Summing up, Kwartler says, "Don't wait for someone to buy a charm for you if you can buy it for yourself. It's wonderful to receive them as gifts, but if you are acknowledging an accomplishment or moving in a different direction in your life, purchase that charm for yourself. It will be a continued reminder that you achieved your goal or followed your dream."
She continues, "If you find more charms you would like to include, it's easy enough to move them around. As our life keeps unfolding, there will always be new charms to add."
Beth Bernstein is a jewelry historian, collector of period and modern jewelry and a purveyor of all things sparkly. She has penned three books—'My Charmed Life,' a memoir; 'Jewelry's Shining Stars,' a modern jewelry design coffee table book; and 'If These Jewels Could Talk,' an in-depth look at celebrities and the stories behind their legendary jewels on the silver screen and in real life—with a fourth one in the works. She has written and continues to write for major print and online magazines on all subjects pertaining to jewelry and style.