In fine jewelry, one of the purest forms of self expression for centuries has been the charm bracelet. It is a jewelry piece that is built to express our inspirations, and tell our stories and adventures. So many of us can remember charm bracelets from our own personal family histories, oftentimes associating the gentle noise of the charms jingling on a bracelet as a mother or grandmother came towards us.
So how do we create that perfect charm bracelet for ourselves today? How do we determine what are the right charm bracelet building options that best fit our lifestyle while still allowing us to tell our story?
THE BRACELET CHAIN
It all begins with the chain. Do we want a chain that is a major statement, with large links of sterling silver or 18k gold, or would we rather have a chain that is more delicate, which when worn with no charms, or very few, is like an elegant layering piece with the other things on our wrist, like a watch or thin diamond bracelet.
Usually, bracelet chains allow for two approaches to adding charms. They can be permanently soldered on to the chain by a professional jeweler or the chain links themselves can have hinges on the actual links, allowing the users to add and remove a charm as easily as they can slide a ring on and off the finger. One of the great advantages of the hinged link chain approach is that one can remove all the charms temporarily and just wear the beautiful chain as a great everyday piece. The choice can then be to layer that chain, or let it be a sole statement bracelet on the wrist. Finding a great selection of chains with different sized links will give anyone looking to build that perfect charm bracelet all the options they need to build their bracelet.
Below is a great selection of different charm bracelet chain types in both sterling silver and 18k gold.



One added bonus of the larger link chains in 18k gold is that a link can be swapped out for a diamond pave link that can also act as a charm and bring some special sparkle to that luxury charm bracelet.

WHICH CHAIN IS RIGHT FOR YOUR CUSTOM CHARM BRACELET?
One last thought on bracelet chains and lifestyle. So many of us may spend a good part of our day tapping away at a keyboard or working in a quieter environment. In that case we might opt for a charm bracelet chain that is as thin as possible and rather than adding large charms to it that might be a distraction as we are typing away to finish that special project, we might opt for just one or two smaller charms that represent a more subtle approach to telling our story.
But if our day allows for a lot of movement between meetings and places, then let's load up and find a big chunky chain with lots of charms attached.
The Audrey chain in sterling silver and 18k gold is the most streamlined and understated chain for charms we have ever encountered. And it's hinged links allow for the quick adding and removal of charms.
The Marilyn and Rosalind chains on the other hand are bold statements that will allow for a different type of self-expression.
A completely different approach to creating your own bracelet might also be to look at a vintage chain, a piece from the past that can serve as the starting point. Beth Bernstein, the Editorial Director and Founder of BEJEWELEDMAG.COM offers this perspective on choosing a vintage chain. "There are all different types of antique and vintage link bracelets to which you can add charms. There are the classic charm bracelet styles with flat double links in different weights from the mid-twentieth century. But I love a more unexpected look like taking a buttery gold, chunky old watch fob chain from the Victorian era in a paper clip link or curb link and adding charms from all different eras and in different metals colors and karats. There are also great styles from the vintage 70s that feature rectangular or curved rectangular links that can be a little more delicate to which you could add more delicate charms. The possibilities are really limitless when you get started. I also think a great delicate yet stand-out look is to use an engraved bar and loop chain from the 1920s and add charms in between the engraved bars. It's feminine yet bold."
CHOOSING THE CHARM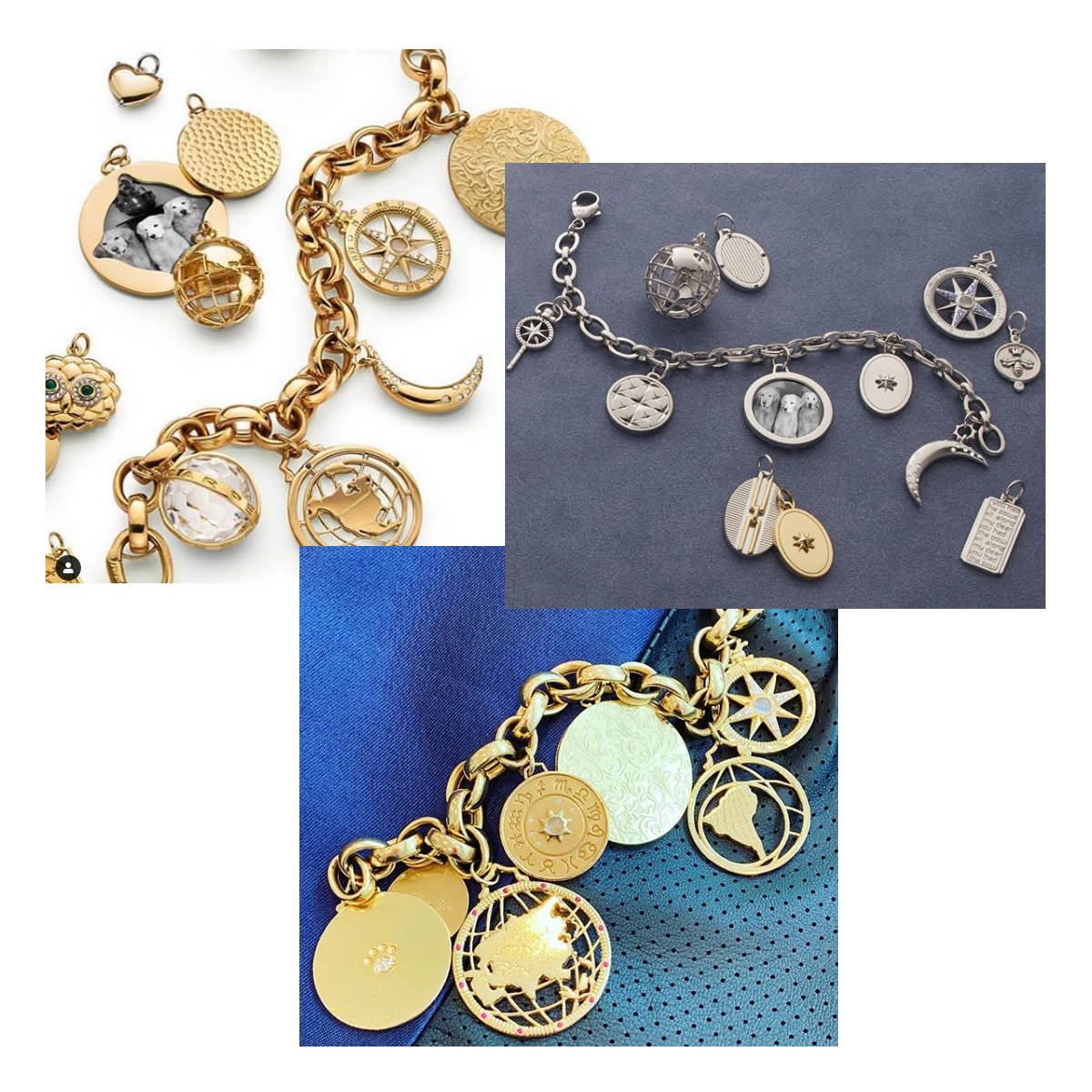 The next step in building a custom charm bracelet is choosing the charms. This is where the true fun begins because there are no rules. If you have some vintage family charms gifted to you by a family member, please get them out and see which you love best. They can be taken to a local jeweler for attention. They can be re-polished, chipped stones can be replaced and the perfect sized jump rings added so that you can attach them to the bracelet you've chosen. Even if they are 9karat, 10karat or 14karat gold, they can still look great when added to your 18k gold bracelet. Their unique vintage patina's will make them an extra special addition to your new wrist story.
When it comes to choosing brand new charms, find the pieces that reflect your passions and personality. If you love to travel, then a terrific compass charm, or an earth where you can actually add stones to the places you've been would be great choices. If you want to find charms where their secret meanings give you daily inspiration then picking pieces that symbolize ideas like carpe diem, empowerment, the time is now, or happiness will make you stronger just knowing you have chosen them for your bracelet. Do you look to the heavens for inspiration? If so, then the sun moon and stars themed charms can be a great place to look. What better expression of creativity and the pursuit of our dreams than a beautiful crescent moon charm hanging gently from your charm bracelet.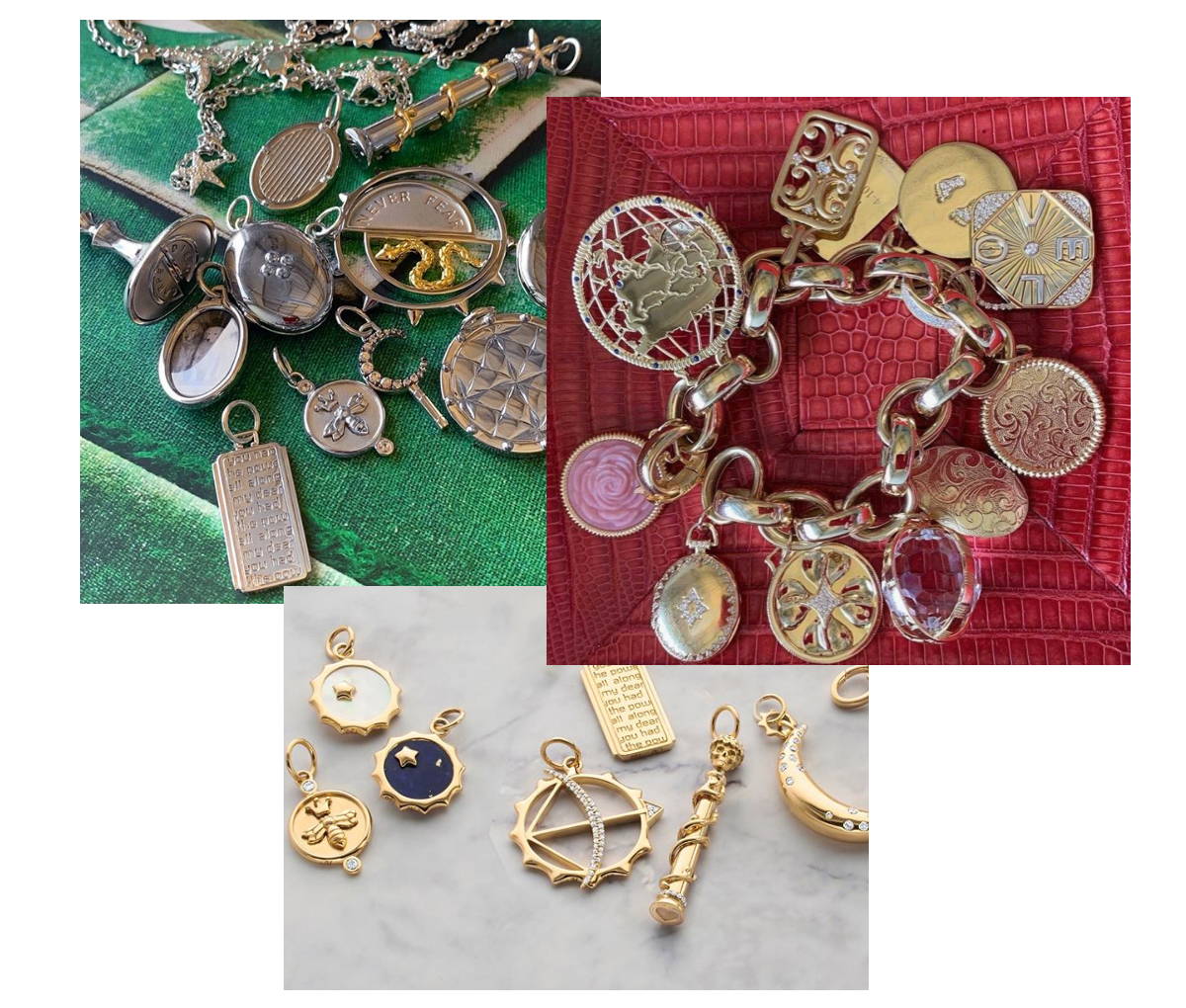 CHARM CHOICES BY...
We asked for insights by people we know about charms and chains they chose for their bracelets. Learning what inspired others is always inspiring to us as well.
Lorraine Wohl, antique dealer & collector, and owner of Elle W Collection shared this. "When I decided to build a charm bracelet, I went for a yellow gold delicate chain and charms set with rose cut diamonds--simple drops, floral motifs, hearts and other pieces that tell of my shopping antique markets in Paris. The sound and movement of the charms are constant reminders of happy times, which is the "charm" of the charms that represent them."
Photographer Jamie Beck of Ann Street Studio explained her choices. "The moon and the stars I chose, remind me to keep gazing up and dreaming, and the earth was an anniversary gift from my husband as a symbol of all the adventures around the world we took together."
Jewelry writer Beth Bernstein shared this about her journey of choosing the right charms. "My great grandmother, grandmother and mom all had charm bracelets. From when I was 8 years old, I used to play with all three of them. I was lucky enough to know my great grandmother on my maternal side until I was 13. Back then all of my mom's friends had similar bracelets that dangled and jangled from their wrists. I asked my mother if I could have one too and she let me pick out some faux charms and I wore that bracelet until my arm turned green. In my teenage years, it felt like a right of passage to own a real one. I started my first charm bracelet with vintage charms that were handed down to me and I've worn and created different themed charm bracelets and necklaces ever since. My favorite one I created out of different antique and vintage book lockets, pens, pencils and typewriter charms--anything that had to do with writing as a gift to myself after my first book was published."
A TOUCH OF ROMANCE
Once you've begun that charm bracelet you can then start the process of leaving subtle hints with that special someone about charms that can be bought as a gift for you. Don't we all love doing that! There are a number of charm options that speak to love, romance and family. Heart shaped charms and lockets are two favorites. The locket can hold not only a photograph but maybe a romantic note from that special person in your life. Another romantic idea we love is a charm that can be engraved, so that a special meaning, date, or sentiment can be captured permanently for generations.
WHAT'S THE BUDGET?
Since building your custom charm bracelet can be done in many ways over time, it can be a great approach to explore all the chain and charm options available before making final decisions on your budget. The beauty of the charm bracelet is that it can be a work in progress. Your first investment can be the chain, and you can wear it by itself before you start the charm selection process. That might allow you to spend more for a heavier silver chain or one in 18k gold. So many people we've met over the years take this approach, adding a new charm each year until they feel their charm bracelet is "done". (If it has hinged links, it's never done as you can easily change charms around to reflect your moods and new adventures.)
This "work in progress" approach allows for maximum budget flexibility. On the other hand, if you are able to do more all at once in building your perfect charm bracelet then seize the day!
YOUR FINISHED CUSTOM CHARM BRACELET
So now you have you finished charm bracelet. For some of us that might mean one charm, for others of us, five, six, seven or eight. Enjoy it as a story telling piece. Share the journey of your charms with friends and family. It will be a great way to share stories about you and each other, as all of us enjoy sharing the things that inspire us. We often find that sharing a story about one of the charms on a bracelet will elicit a story back from the person we shared it with, adding a new dimension to the conversation.
BUT WHAT IF YOU WANT A COMPLETELY FINISHED VINTAGE CHARM BRACELET
You might want to take a different path and not create your own charm bracelet, but instead find a vintage charm bracelet that was created by another decades ago (maybe even over 100 years ago)? The good news is there are a number of great web sites for vintage jewelry where you can find wonderful old charm bracelets. One of our favorite sites is 1st Dibs. On the day we wrote this article there were over 400 vintage charm bracelet listings on the site. One nice aspect of any of these sites is that they can also provide inspiration as you decide how to design your own bracelet. Another site for vintage charm bracelets we love is Doyle & Doyle. There are always new pieces coming up on their site and they have a shop in New York City that one can visit as well.
Picking a vintage charm bracelet might not allow all the pieces to tell your own unique story, but it will be a heritage piece that allows you to imagine the life of the original owner.
HOW MONICA RICH KOSANN BUILT HER PERSONAL CHARM BRACELET OVER TEN PLUS YEARS
If you are considering creating your own charm bracelet we thought it would be fun to share how Monica created the one that is her very own heirloom. It has been a ten plus year journey.
It started of course with the chain. When Monica started building her charm bracelet over ten years ago she wanted a statement chain to be the starting point. It was important to build a bracelet that could become a signature for her and her jewelry brand. With that in mind she chose our Rosalind bracelet to be the chain that she could build upon. It's large link, made in Europe, allowed the perfect level of quality for the bracelet she would create for a lifetime. The bracelet featured a "link" style clasp, one that would visually blend in with the other links so he would be hard to see where the bracelet "began" or "ended." This style of chain and clasp creates a continuous effect to the eye that makes the finished charm bracelet that much more special.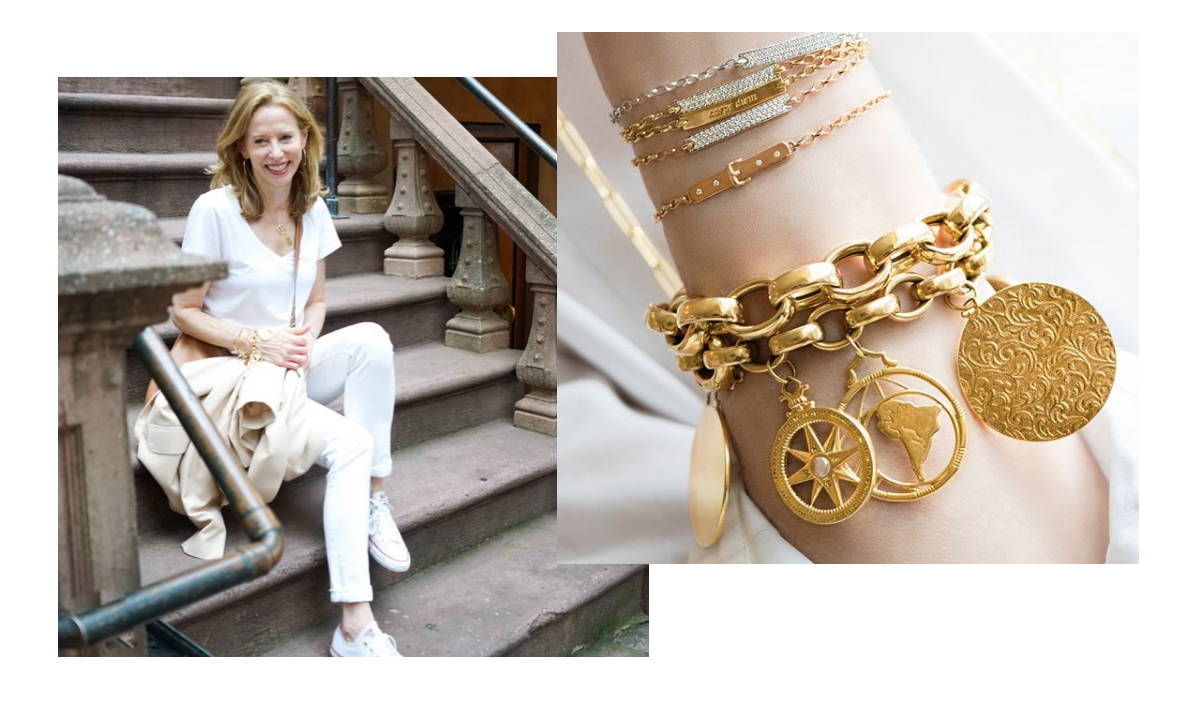 THE FIRST TWO CHARMS MONICA CHOSE AND WHY
The first two charms for the bracelet in some ways needed to be Monica's most special signature choices.
Given Monica's history as a fine art portrait photographer it made sense that her very first choice would be a locket of some sort. Wanting scale to complement the Rosalind chain, she chose a one and one half inch diameter "half locket." She filled the half locket with a family photo, but has changed the photo often over the years as it is so easily done with our locket bar technology. The half locket style had the engraving of an exquisite vine pattern (we still offer that piece today and it comes in sterling silver as well). The vine pattern carried great significance for Monica. When she first started her brand the very first piece she made was not a jewelry style. It was a photo case that was actually stamped from an old cigarette case mold and then fitted to hold photographs. The case was hand engraved in Florence with an intricately detailed floral pattern. It became a hallmark engraving motif that is still used in some of her jewelry styles to this day. The vine pattern was one of the first jewelry interpretations of this signature hand engraving.
The second charm chosen would have equally special significance. Before launching her jewelry collection, one of Monica's great sources of inspiration were vintage pocketwatch fobs that men would wear hanging from their pocketwatch chains in the late 1800's and early 1900's. It was easy for a man to grab the fob between two fingers and gently pull their pocketwatch from a waistcoat, pant or jacket pocket. The fobs were often set with stones that would be engraved with initials or a family crest. The stones in the fobs ranged from materials like onyx, lapis, bloodstone or carnelian. One of Monica's first charm styles was a large fob, set with a big, oval carnelian stone and engraved with the word "Love" in a beautiful script. It would remain in our collection for ten years, and was only retired a year ago to make room for new styles. It had the same scale as the half locket. Because she was starting with only two large charms, Monica hung them together at one end of the bracelet to make them both feel more special. It is an approach she recommends often to clients who are starting a bracelet with one or two charms.
THE NEXT PHASE OF MONICA'S CHARM BRACELET JOURNEY
The next charms in Monica's bracelet grew from thoughts of travel, family history and her furry family friends.
She chose our Compass charm (available in 18k gold and sterling silver). The charm was set with diamonds and it embodied her lifelong love and appreciation for travel, something instilled in her by European parents who traveled extensively with her as a child, oftentimes. The Compass charm also embodied the idea of pointing the way, an idea with special meaning for all of our lives. One of her favorite aspects of this charm is it's unique engraving on the back: "there are no foreign lands, it is the visitor who is foreign."
The next charm would be a continent charm of South America. Monica was very close with her Uncle, who had survived the Holocaust (along with her parents) and moved permanently to São Paulo, Brazil. In fact Monica had lived in Brazil as a very young toddler. As an homage to her Uncle, she chose the South America charm and recently began thinking of having a diamond set in Brazil to make it even more special.
Next up for Monica was a large charm of Asia. A number of years after the launch of her brand, Monica had the opportunity to travel to Asia for the first time. It did not take long for her to fall in love with cities like Tokyo, Hong Kong and Bangkok. What better way to celebrate these new travel experiences than by adding the Asia charm to her charm bracelet. It's large diameter made it perfect to balance the large half locket in size and allowed the overall proportions of her bracelet to take shape.
Once Monica started adding these other charms to her bracelet, she also began rearranging them on the chain. She spread them out so that they were evenly spaced, and arranged their order so that the different sizes would complement and balance each other nicely.
It is common for customers to reach out to us to inquire about creating custom charms. A custom charm designed specifically for the client is the ultimate bespoke experience. For her own bracelet, Monica chose to create a custom charm as well. In her collection was a small three quarter of an inch disc charm with a single paw print set in diamonds. Monica decided to create a larger version of this paw print disc, almost doubling its overall measurements. On the back she engraved in script the names of all the dogs she had over the years: her golden retrievers Watson and Ody and her chocolate Labrador, Buddy.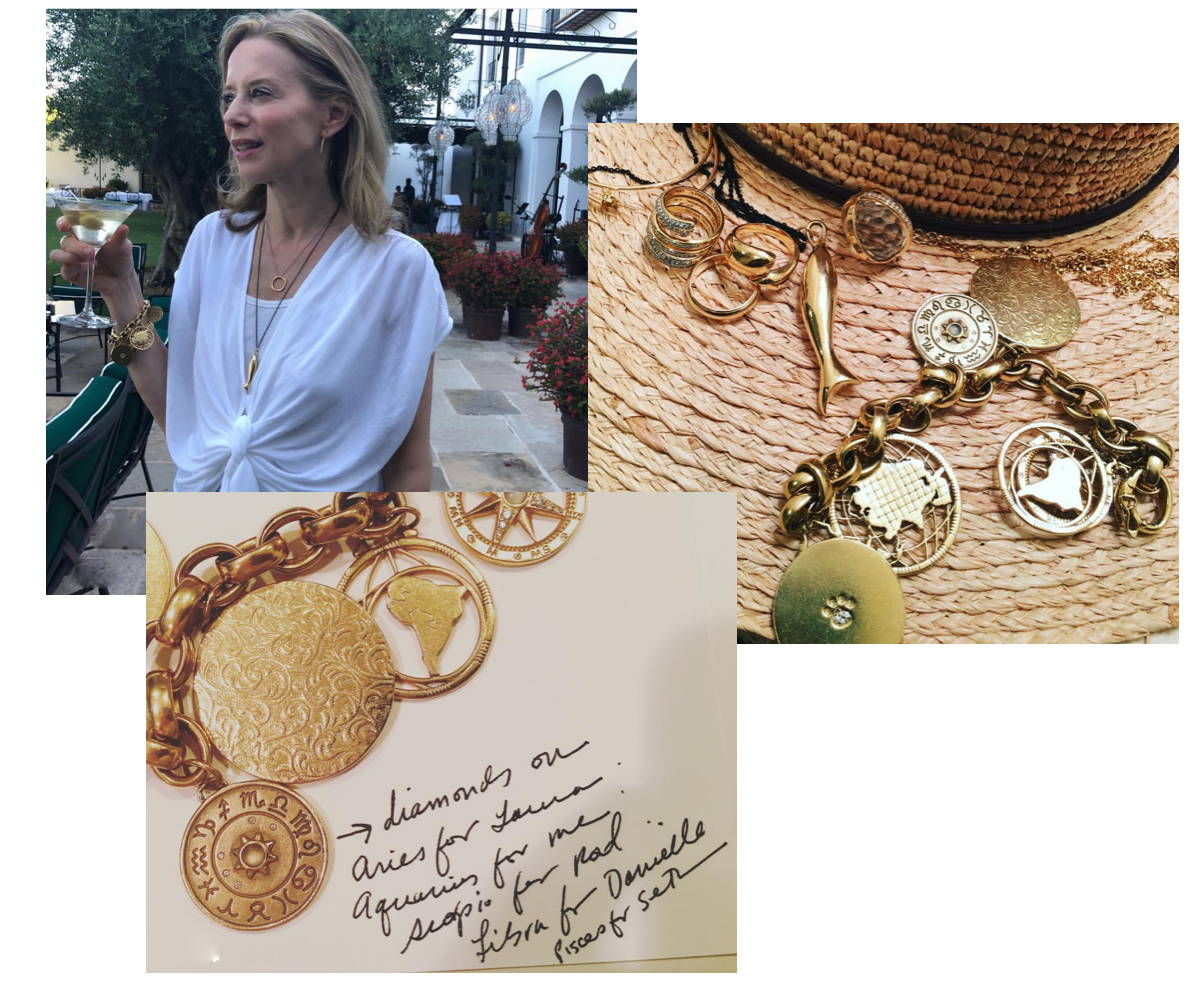 MONICA'S FINISHED BRACELET AND THE FINAL TOUCHES
At one point over the years a charm that had made an appearance on Monica's Bracelet was the Carpe Diem engraved globe that has become a signature piece in her collection. After being on the bracelet for a few years, Monica removed it from her bracelet and put it on a long chain to wear it as a necklace. Because of the way the rest of her bracelet was taking shape, Monica had decided she wanted her bracelet to feel like a continuous series of discs, a look that was popular with charm bracelets wearers in the 1940's and 1950's. With that in mind, she also removed the large Love fob, knowing it would also work when worn on a long necklace chain.
The next piece she chose was a horoscope and astrology charm that had all the constellations representing the zodiac on one side, and the individual symbols of the zodiac on the other side evenly space around the edge of the round front. Next to each of the symbols that had meaning to her (her own sign and those of family members) she set a small diamond, which added a nice touch of personalization to the style.
The final piece for Monica's bracelet was a vintage charm she received as a gift from her husband. Vintage charms were always inspirational for Monica so it would only be fitting  to add one to her bracelet. As we had discussed earlier, a vintage "family" charm should always be considered as an addition to any custom charm bracelet, but a "found" vintage charm can be equally special. Keep your eye out for pieces that speak to you when browsing a flea market or the shop of any vintage jewelry dealer. The vintage charm Monica added to her bracelet was actually one that was seen often in the early to mid 1900's. It had the romantic theme - I love you more today than yesterday, but less than tomorrow. That message appeared on small disc charms in either French or English and incorporated the + and – symbols to express the message. It was one of these wonderful pieces that Monica was able to add as a finishing touch to her bracelet.
Monica's charm bracelet has become a signature part of her wardrobe. She wears it every day layered with a variety of other chains and bangles. The bracelet has accompanied her on all her travels, and it is common to see it posted on the Monica Rich Kosann Instagram page with all manner of cityscapes, landmarks, or countryside views in the background.
While it is finished, Monica's bracelet will always be a work in progress and undoubtedly she will make other additions and changes in the future. After all, that is the essence of treasuring and enjoying a personalized charm bracelet.