and Incorporate Them Into Your Daily Look
Simultaneously classic and modern, are the new wardrobe essential that allows a woman to capture and carry her most meaningful personal stories. When created with the right combination of technology and refined artisanship, lockets are that beautiful piece of fine jewelry that keeps close life's most significant moments, ideas, and inspirations.
Regardless of their age, women are choosing lockets because they offer a contemporary, yet timeless sensibility coupled with their inherent mystery, intrigue, and – once the wearer makes them her own by choosing what to put in her locket – unrivaled exclusivity. Much like a watch, lockets are a new wardrobe basic. They are an everyday complement to casual or business attire, but the range of extraordinary styles available allows lockets to accent even the most beautiful designer gowns. As such, today's woman may choose to own several lockets for different occasions. She might include a sleek, polished, classic or an exquisite, one of a kind design so breathtaking that the locket itself proves a worthy match for the priceless secrets inside.

The Everlasting Charm of Lockets
A popular accessory for centuries, lockets have a unique charm and appeal that has given this jewelry staple a staying power few other trends have enjoyed. Perhaps it's a woman's ability to hold her most cherished memories close to her heart that draws both women and men to lockets. For women, lockets are an ideal gift for herself or someone close to her, and for men, lockets serve as the gift that shows a woman how much she means to him, whether a gift for his mother, daughter, partner, or a dear friend.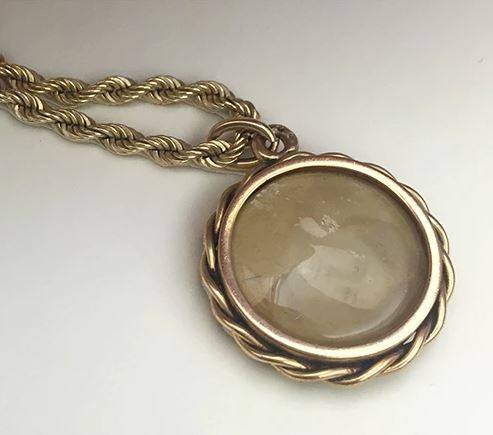 Vintage jewelry has been a growing trend for a number of years, and vintage lockets have a particularly special appeal as they represent someone's most meaningful personal story from a time long since passed. Today's women personalize these timeless pieces with photos of special significance, and new lockets are being designed with vintage appeal to capture the essence and intrigue of these timeless classics. Vintage jeweler Annina Vogel, for instance, began creating vintage charm necklaces in 2007. Suddenly, her one-off designs became coveted by "the super-stylish boho set" and have been "worn by everyone from Helena Bonham Carter to Kate Moss" after Vogel received a call from Vogue.
Vogel, who has a love for Victorian pieces, points to the appeal of "pieces that evoke emotion," and now collaborates with Alice Shirley, an emerging artist who creates miniatures for vintage lockets that Vogel sources and redesigns. To make these lockets even more personal, women may choose to showcase Victorian images, a portrait of a loved one, or an image drawn by Shirley on the inside. Vogel herself collects antique lockets for their sentimental value and the endless possibilities for personalizing these unique pieces of fine jewelry.
The History and Meaning Behind Lockets
Lockets, due to their ability to tell a woman's unique, personal story, found a place centuries ago as mourning jewelry and continued evolving to become the height of fashion during Queen Victoria's reign. Often during the period, sentimental pieces were lockets with a lock of hair inside.
Interestingly, fashionable women in ancient Rome were known to wear pieces containing a lock of hair from a person they cherished. Today, celebrities like Katy Perry carry locks of hair in their lockets, representing one of the most personal ways to hold someone dear close to the heart. Placing locks of hair inside vintage lockets is again a growing trend.
Of course, lockets evolved to hold more than a lock of hair from a loved one. The idea of showcasing portraits inside lockets arose after Charles I was beheaded in 1649, according to historian and art director Hayden Peters, when royalists and others wore lockets containing portraits of Charles I in various poses.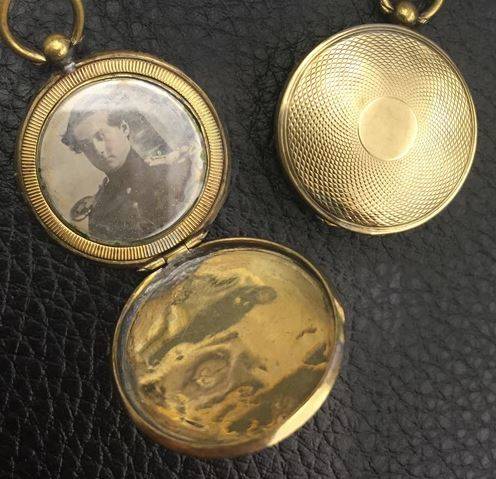 One especially heartwarming story involves George IV. Prior to becoming King, he fell in love with a Catholic widow, Maria Fitzherbert. Sadly, their marriage was annulled under the Royal Marriages Act. George, so in love with his former bride, had the court miniaturist create a portrait of Maria's eye and part of her nose, which he wore in a locket underneath his lapel "to hide his passion." As the portrait didn't show Maria's full face, the locket allowed him to keep his precious story close at heart while simultaneously keeping the woman's identity a secret known to only a select few. It was this story that began the eye portraiture that gained such popularity between 1790 and 1830, yet continue to be powerful in today's world, epitomizing lockets as both sexy and mysterious pieces of fine, personalized jewelry in the modern era. Containing personal stories that belong only to the wearer to tell, you never know who is inside someone's personal locket.
Today, women recognize vintage lockets as the sentimental pieces that were so popular between 1860 and 1880, often worn underneath clothing, close to the heart and rarely noticeable by anyone other than those with whom the wearer chose to share her personal story. As Peters explains, "It's closed, compartmentalized, and if you want to put someone in there you love, you can do so without breaking any social conventions. Lockets were popular during the '20s and '30s, and they still are today."
The Significance of Wearing Lockets Today
Ulla Johnson, a shoe and fashion designer, is one of many modern women who choose lockets for their unique ability to carry romantic significance. Johnson says romantic pieces, like the exquisite lockets that can be used to express love for someone dear to the woman wearing them, "carry warmth and spirit, like Edwardian lockets and rose-cut diamonds."
To Johnson, a beautiful, personalized locket is the perfect finishing touch to add sentiment to her look. Designers are not alone in their appreciation of the timeless, classic, yet modern appeal of lockets. Jennifer Aniston, Reba McEntire, and Sandra Bullock have been spotted adorning gorgeous lockets in recent months, and celebrity moms Katie Holmes, Halle Berry, and Britney Spears also have been seen wearing stylish, modern lockets in which they reportedly showcase cherished photos of their children.
Women naturally are drawn to lockets ranging from the simple and classic to the artistic masterpiece, for their ability to carry sentimental value and tell their most meaningful unique stories. From celebrities working red carpets in Hollywood to brides walking down the aisle and the everyday woman dressing for a day at the office, there's a locket for every kind of woman who wants to wear those she holds near and dear close to her heart.
The 21st century locket is just as fashionable as it is sentimental. Modern Jeweler's Jeff Prine and Staci Kline say the value of a locket isn't just the outside or the inside – it's the combination of the stories held inside and the aesthetic appeal of a locket that makes it both unique and memorable. Modern lockets are adorned with refined, glamorous touches such as engraving, diamond pavé, and enamel. The sleek, updated designs of some fashion-forward lockets may not even be immediately recognizable as jewelry pieces that hold photos, giving them a unique edge; they essentially hold a secret that is the wearer's to share… or not.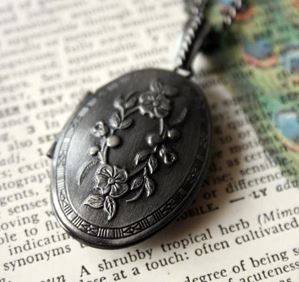 Today, lockets are fine jewelry pieces, particularly when they're created by luxury brands. Uniquely customized and personalized, the modern locket is available in various metals, including sterling silver, yellow gold, white gold, rose gold, and platinum, or include customizable gemstone accents, including sapphires, mother-of-pearl, blue topaz, and diamonds.
A locket's secret-keeping power lends it a special charm and gives it a powerful appeal in a highly social era in which everything seems public. In a social world in which people are sharing photos and updates chronicling all of life's moments, privacy seems a thing of the past. Yet, lockets provide the wearer with a personal sanctuary in which she can keep her most valuable moments, special messages, engraving, and photos to share her story. The appeal of lockets is that they empower women to choose whether to share their stories with the outside world.
The universal appeal of fine lockets is undeniable. Pennsylvania jeweler Annette Brandt says lockets have become increasingly popular since she first started her business two decades ago. Today, Brandt struggles to keep lockets in stock due to their incredible popularity with women everywhere. Lisa M. Stockhammer, an online retailer of antique and vintage jewelry, shares a similar experience, noting, "They've been a perennial favorite." Stockhammer sees some customers grouping several unique lockets on a chain, as a living keepsake of sorts which can grow and change with the wearer's stories as she experiences life. Others, Stockhammer says, put smaller lockets on a charm bracelet, pointing to the overall versatility of lockets as a staple in the modern woman's collection of fine and meaningful jewelry.
And, Elizabeth Doyle, who co-owns a New York boutique, has noticed younger girls layering petite lockets with their other favorite pieces, while others opt for larger lockets for making a statement at the end of a long, chunky chain, ribbon, or cord. Celebrities fuel the trend by wearing trend-setting pieces for photo shoots with leading women's magazines. Lauren Conrad, for instance, recently wore an exquisite locket in a shoot for Cosmopolitan, and Jordan Dunn wore a petite locket in a July 2015 shoot, both designed by jewelry designer Monica Rich Kosann. For women of all ages, including grandmothers and young girls, lockets remain a coveted staple for her jewelry collection.
While they are certainly experiencing a resurgence, lockets have long been a popular piece of jewelry for the collections of women everywhere. The longevity and widespread appeal of these classic pieces are a nod to the sentiment, romance, and personalization only a locket can provide.

Locket Styles, Customization, and Personalization
Some inexpensive, locket-inspired pendant companies take a design-your-own approach to the creation of each piece, allowing the wearer to choose charms that represent important people, objects, and moments that tell her story, such as a toe shoe to represent a love of ballet, a dog or cat charm to represent a beloved pet, faux birthstone gems, and others. These charms are showcased on the inside of the locket or, in some cases, may accompany the locket on a chain. The inexpensive cost of this locket style led to the success of Origami Owl founder Isabella "Bella" Weems, whose custom jewelry company now does hundreds of millions of dollars each year in sales.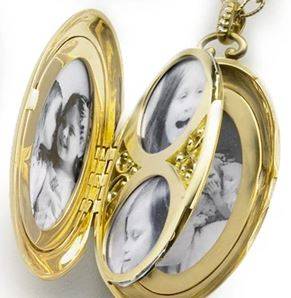 Women enjoy customizing and personalizing fine lockets in a variety of ways to tell their personal stories, lending to the sentiment and romance that have underscored fine locket necklaces for many years. Options such as engraving a name, meaningful phrase, personal message, initials, date, or even a quotation, Bible passage, song lyrics, or a favorite literary passage can make a locket even more unique and personal. Personalizing a locket in such a way that it uniquely represents the woman who wears it, in a way that no other piece of jewelry can, is just one reason that personalized lockets are such cherished family heirlooms.
For the woman who may desire to change a featured quotation or phrase from time to time, a quotation printed on paper, like a photo, can easily be changed to reflect the words and phrases that are most meaningful to her at any time. Some women choose to wear an initial locket with her own initials or the initials of a loved one, similar to the classic design worn by Hayden Panettiere in a 2013 shoot for Glamour magazine.
The various shapes, sizes, and materials in which fine locket necklaces are available provide even more ways for a locket to carry a deeper meaning while reflecting the wearer's personal taste and style. Heart-shaped lockets, for example, are often associated with romance and love, but today's locket necklaces come in a variety of options ranging from the traditional oval to the more contemporary round, rectangular, and square.
Gate lockets are a relatively new fine jewelry design, created by Monica Rich Kosann and available in rectangular, round, and oval shapes. Typically holding two or three photos, a gate locket may be accented by precious gemstones or diamonds.
Lockets are not limited to being worn on a necklace, but are also available as rings, bracelets, and brooches. Celebrities who sport different styles of lockets include Ali Landry, who prefers a locket key chain, Nicole Richie, who wears her locket as a ring, and Michelle Williams, who prefers her lockets as brooches. Fine lockets offer truly endless ways to reflect a woman's personality and, whether worn in a traditional or alternative style, will always tell a personal story.

When to Wear a Locket? Any Occasion Can Be a Locket Occasion
For the modern woman, locket necklaces are a wardrobe essential, much like earrings and watches. Offering a variety of styles and personalization options, locket necklaces are the perfect accessory for any special occasion. But for many women, a locket carries such personal significance that she feels compelled to wear and share her unique story every day.
Modern lockets come in many designs for different occasions. Some are more formal, like a gold locket necklace, or one with diamonds and fine gemstones for a black-tie event or night out, others more casual and understated, suitable as an accent for every day. For this reason, many women have more than one locket, opting for different styles so they can share their personal stories no matter the occasion.
Lockets Provide the Finishing Touches for Special Days
Lockets have become quite popular for weddings, for brides, mothers of brides, and bridesmaids alike, as well as guests. Many brides wear their lockets as necklaces in a subtle tribute to a loved one who is unable to attend the ceremony, as a way to honor the people who matter most to her on her special day. A bride may choose to place a photo of herself and her groom inside her locket for her wedding day, giving the piece a special significance that she will cherish for many years to come.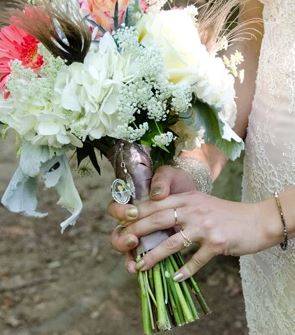 Modern brides, of course, are increasingly breaking tradition in many ways, and how they choose to wear their lockets is no exception. In a growing trend, today's brides sometimes adorn their bouquets with a special locket, known as memory charms, as a way to create a unique look or to honor loved ones who are unable to be present on her wedding day.
To commemorate taking her new groom's name, a bride may add initial lockets to her bouquet reflecting her new initials, or she may opt for initial lockets engraved with her own first initial accompanied by her groom's first initial.
Among other wedding-day locket trends, lockets also are engraved with the couple's wedding date, an important Bible verse, or some other memento of this special day that both bride and groom will treasure forever. A bride who chooses photo lockets to carry with her bouquet may showcase wedding photos inside her locket after the ceremony to provide the perfect finish to a personalized locket designed especially to tell her wedding day story long after it becomes a memory.
Lockets are an excellent choice as gifts for the family and friends who stood by a bride's side as her bridesmaids on her wedding day, as well. Bridal parties often wear similar jewelry accents to create a consistent look for the wedding party, and locket necklaces are a creative as the bride can place carefully chosen photos of herself with each bridesmaid inside the lockets – a gift her bridesmaids will treasure forever as a symbol of these meaningful friendships. Bridesmaids, later, may add photos to tell their own stories of their friend's special day.

Choosing the Perfect Locket
A woman purchasing a locket for herself should be prepared to evaluate a wide variety of options. Locket necklaces today can be as unique on the outside as they are on the inside, giving the modern woman many to consider. One of the first considerations is how much she's able to invest in a locket. Price considerations narrow the choices, but with flexibility in design, opting for a sterling silver locket rather than a gold locket or a gold locket adorned with gemstones rather than diamonds are among the many style options that influence the cost of a locket.
The desired style and feel of a locket is another consideration. A woman wanting a classic design may choose the traditional round or oval locket, whereas a woman desiring a more contemporary look may consider a rectangular gate locket. Often, the reason for choosing a locket – the secret, inspiration, or occasion – can steer women to the locket most suitable for sharing their stories.
Gifting the Perfect Locket
Receiving a locket as a gift is often just as rewarding for a woman as selecting and purchasing a piece for herself, as the gift carries deeper meaning based on the relationship between the gift giver and gift recipient. A mother may give her daughter a precious locket to commemorate her 16th birthday, for example, or a husband may choose to give his wife a locket to celebrate the birth of a child. Lockets, with their ability to share personal, unique stories, make memorable gifts for practically any occasion, including birthdays, Christmas, weddings, anniversaries, new homes or jobs, graduations, baptisms, or any other occasion that calls for a story.
Much like a woman choosing a locket for herself, anyone considering a locket as a gift for a friend or loved one has a few considerations to weigh. A locket for a special occasion, or even as a just-because gift, should be selected carefully and with great thought.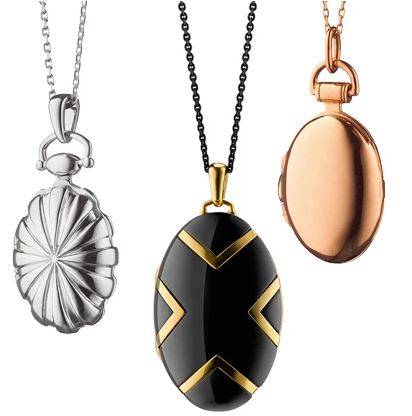 In addition to choosing a shape and style to match her taste, a woman's preferred metal is another choice to consider; often, a locket matching the metal she wears most – a gold locket necklace, silver, or platinum – is an ideal choice.
The aesthetic design of the locket is another consideration, and one with nearly infinite possibilities. While some lockets are especially intricate and delicate, others are bolder with larger stones and precious metal designs. Knowing the personal style of the intended recipient will steer a locket buyer to the design that will both suit her personality and melt her heart.
Today, nearly every woman has at least one piece in her jewelry collection that holds a special meaning to her. Whether it's a family heirloom, an inexpensive pair of earrings given to her by a close friend, or a bracelet obtained during a memorable trip abroad, it's these memories that give a piece of jewelry deeper meaning beyond its outward appearance. It's for this reason that locket necklaces make a perfect addition to any jewelry collection, as their very nature allows the wearer to share the stories that are most meaningful to her.
Locket Essentials

The ability to personalize a locket with a unique story lends a special significance to the woman who wears it. These basic, yet essential, tips will help women personalize their lockets to share their personal stories with ease.
• How to size photos for a locket: Modern technology makes it simple to size photos to the perfect dimensions for any locket. Some fine jewelry sites feature locket photo sizing applications allowing women to experiment with different images to determine whether they're a good fit for a favorite locket. These sites resize images and convert them to a PDF, making them easy to print from a home computer. When sizing photos for a locket that she already owns, today's woman can choose from a variety of computer software programs, such as inserting an image into a Microsoft Word document and using the program's tools to resize and shape an image to the perfect fit for her favorite locket.
• Choosing the right paper to print a photo for a locket: To preserve their lockets' stories for many years, women should print their photos in black and white on plain paper, because photo paper tends to fade more quickly. While photo paper ink sits on top of the glossy surface, non-glossy paper absorbs the ink, allowing for a longer-lasting image and an enduring story.
• How to insert photos into a locket: Many modern locket necklaces allow for simply sliding photos into the top of the frame. To replace the photo to share a different story, women can easily remove photos from these lockets with a bit of friction, by pushing her fingertip onto the photo's surface and sliding it up and out of the locket's frame.
A steady hand and a bit of patience is all that's needed for a woman to insert photos into an older or vintage locket. Some older or vintage lockets have a plastic insert where the photo should be placed; others do not. If a locket does have a plastic insert, the wearer should reinsert it after gently wiggling the photo into place, as it serves to protect the photo that plays such an integral role in sharing the wearer's unique story.

Additional Great Locket Articles & Resources
More information on the timeless beauty of lockets, their history, and the fine craftsmanship that goes into creating a unique and aesthetically pleasing locket is available by visiting the following resources:
• Antique Lockets
• Lockets: A Historical Glance
• The History of Lockets
• Relics, Portraits, Ashes & Poison: A Brief History of The Locket
• Antique Spotlight: Lockets
• Locket, 1706, at the Heilbrunn Timeline of Art History
• Discovering Family History in a Photograph Pendant / Clara Wilkinson 1851-1867
• An Overview of the History and Industry of Hairwork
• Lockets, Pendants, and Wearable Vessels
• How to Make a Vintage Locket
• Photos for Lockets
• Photo contact sheets contain perfect tiny locket pictures
• How to fill a locket
• Photo Locket How-To
• Dove Cameron Explains the Special Meaning Behind Her Signature Locket
• 500 Pendants & Lockets: Contemporary Interpretations of Classic Adornments
• Agnes's Ring and Locket: Symbolism, Imagery, Allegory
• WWII Sweetheart Jewelry
• Love after Death: The Beautiful, Macabre World of Mourning Jewelry
• Early-Victorian Period Jewelry – 1837-1860 – The Romantic Period
• Mother's Day Jewelry: Birthstones, Lockets, and Charms for Mom
• The Secret Life of Antiques: Lockets
• What are the top 10 pieces of jewelry every woman should own?
Learn About Our Lockets
On their own, lockets are beautiful pieces of jewelry that can be worn purely for aesthetics or as sentimental status symbols, but yet, they are so much more. Bespoke and personalized, lockets empower women to take control of their stories in a unique way – no two lockets, by nature of what they hold inside, are alike. Monica Rich Kosann reimagines this traditional jewelry staple with a luxurious line of the finest lockets available.
The striking, refined craftsmanship of Monica Rich Kosann has brought locket necklaces into the modern era with refined craftsmanship, modern technology, and elegance not found anywhere else. Truly a force behind the resurgence of updated, modern lockets, Monica Rich Kosann is among the few jewelry designers to have a 400 square foot shop-in-shop at Bergdorf Goodman, one of the most highly visible and trend-setting retail outlets in the world.
Browse the fine locket collection by Monica Rich Kosann to experience the traditional locket, reimagined:
http://www.monicarichkosann.com/collections/lockets