The Continued History of Charms
By Beth Bernstein
From the jewelry featured on the silver screen to the pieces celebrities, style arbiters and our first ladies wore in real life and publicity stills, the '50s and early '60s heralded the return of celebratory and sentimental charms. After WWII, there was a new lighthearted feeling that spread throughout the country. Actresses continued to influence what real women wore and mother's inspired their daughters. In effect, every female wanted to commemorate life's special moments with charms.
Additionally, suburban life with its cocktail parties and activities that revolved around family (including family vacations) led to charms that reflected an abundance of styles that represented everything from vacation spots to hobbies to sports and different birthdays and anniversaries.
First Lady Mamie Eisenhower was the embodiment of the optimism of the '50s. She was cheerful an lively and fashionable in mink stoles, fitted hats, fit and flare dresses and charm bracelets like the one that commemorated her life as a first lady and her marriage to Ike. The bracelet sold at Christie's Magnificent jewels in November 2017.

From Queen Victoria to Elizabeth Taylor, We All Mark Our Milestones with Custom Charm Bracelets
Alice Kwartler of Kwartler Antiques (Alicekwartler.com) explains, "We came full circle from Queen Victoria's time back to marking all the significant occasions in our life, particularly the sentimental ones. However, the charms were much different. They were bolder, bigger, and many of them were designed with moveable parts that rendered them meaningful but also unique and playful at the same time. Some of my personal favorites were tongue in cheek." She continues, "some our most famous actresses were also wearing them at the time which made them all the more desirable.
In the 1950s even before she became a princess, women everywhere wanted to possess the style and elegance that Grace Kelly evoked in her films. In addition to the classic pearl strand that Kelly sported with a regal sophistication, she also wore a chunky, jangly multi-pearl charm bracelet as high- society fashion model 'Lisa Fremont' in Hitchcock's Rear Window.   After the film was released, these bracelets were copied and women purchased them at a variety of price levels.
Natalie Wood, Sophia Loren and Elizabeth Taylor all were famous owners of charm bracelets who collected bespoke charms that had true emotional value and also provided a dose of high style in the '50s and early '60s. Elizabeth Taylor wore her own charm bracelet in the film Giant in 1956. Taylor had worn charm bracelets as a girl and then well into womanhood.
One of Taylor's charm bracelet that sold at her famous sale, The Collection of Elizabeth Taylor: The Legendary Jewels in  New York in December 2011 represented myriad mementos—gifts from directors she had worked such as Franco Zeffirelli, keepsakes of love from Richard Burton, pieces that represented her children and rare charms such as a Henry VIII gold half-sovereign of 1544-57 and Napoleon Bonaparte medallion. Heart-shaped lockets and charm and a locket inscribed with the names of her children
One of Elizabeth Taylor's most important sentimental pieces of jewelry was given to her by her longtime friend, the famed costume designer Edith Head. The two worked together on numerous films, building a closeness that went beyond a mere working relationship. Taylor thought of Head as a second mother, and she, in turn, took Taylor under her wing. When Edith passed away she bequeathed Taylor her ivory, turn-of-the-century Victorian theatre-ticket-charm necklace (seen in the top image on this post, courtesy of Christies), the charms which she collected during her lifetime and which she wore every day. This was also a part of the sale in 2011.
For young girls and teenagers, the charm bracelet was the big craze of the '50s. To own one began a rite of passage. And many of those girls added as they grew into adults.
"The number of charms that were made during the two decades between the 50s and 60s was amazing," says Elizabeth Doyle of Doyle & Doyle (Doyledoyle.com). "You could have a charm that represented every minor to the major occasion. You could find smaller styles for young girls that represented friendship, birthdays, graduations, hobbies, summer vacations, school supplies, sweet sixteen and much more. For women, it was marriages, anniversaries, honeymoons birth of children, travel, career-related charms."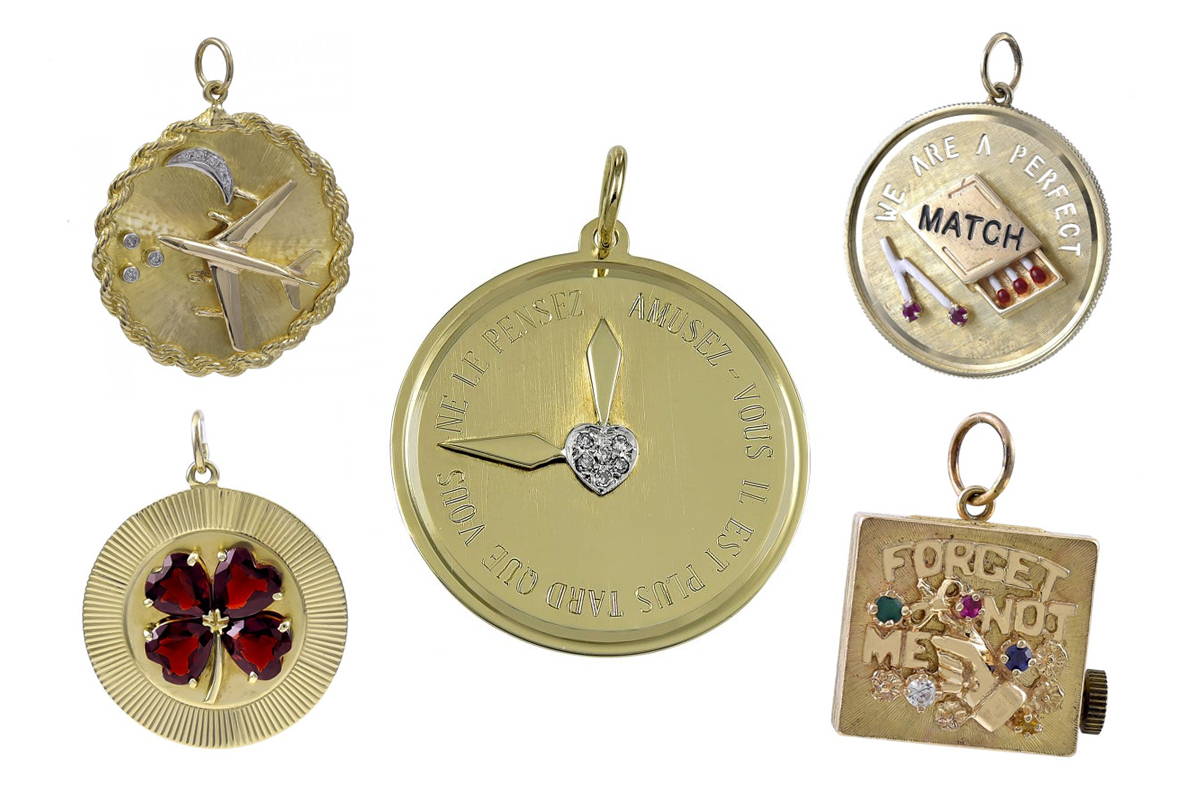 A Look At Charm Bracelets Over Time
Dana Kiyomura of Keyamour (Keyamour.com) agrees. "I see such intricate and wide range of charms and some of my all-time favorites are those that are moveable or huge and three dimensional and those that are most desirable are always the styles with the most meaning."
Kwartler cites dimensional sailboats under moon and stars and those which have mechanisms that allow them to open to reveal a secret inside. And adds, "But the jewelers of the time were also re-imagining charms that had to do with luck and protection in addition to romance and love which never went away. There was also a big push in the '60s and early 70s to zodiac charms."
The designs of renowned houses of the day that created charm bracelets that bespoke true emotional value and also provided a dose of high style and also a dash of wit and whimsy. Such houses included David Webb, William Ruser, Paul Flato, Cartier, Van Cleef & Arpels and Tiffany & Co. But women could also find the charms at various price points. There was something for everyone at that time.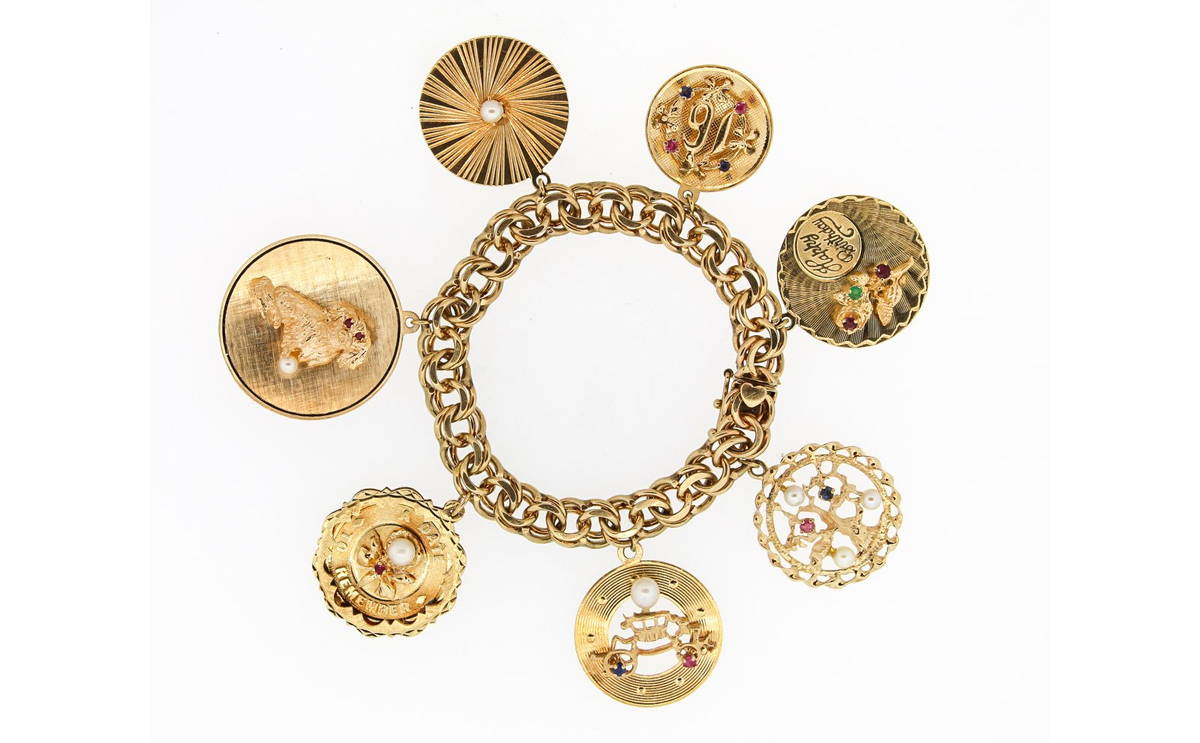 Henry Dankner & Son's was one of the major players in the charm market and well known at the time for its large intricate charms and particularly those with moveable parts. Three of the company's distributors included Cartier, Van Cleef & Arpels and Harry Winston. After fleeing Nazi Germany in 1944 after everything was seized from Henry Danker's Budapest workshop, he relocated to New York City and in the 1950s restarted the company. He brought his two sons Robert and George in to learn the business and they kept it going until 2014, after six decades of design. The company donated all its archival sketches and molds to the jewelry department at The Fashion Institute of Technology (to preserve its legacy).
Although the big houses continued to design charms, the feminist movement and political uprisings coupled with the new fashions of the day saw the decline of sales in charm bracelets and those that were owned were stored in the dark recesses of jewelry boxes or sold to savvy vintage dealers who kept them in their safes. They understood the idea of fine jewelry's cyclical nature.
By the time the '80s rolled around, charms were back and those that were stored by vintage dealers were circulated at fairs and flea markets to be purchased by new generations of women. The 90s saw the resurgence of charms and prices climbed for those that were in good condition and signed pieces continued to rise in price and demand.  
Fast forward to the new millennium, and after many of the legendary house brought back archival designs and began to create new charms, while an infusion of new talent in fashion houses such as Louis Vuitton, Dior and other fashion brands began creating 'high' jewelry collections based on these little works of art and sentiment, luck and protection, charms became the gold standard of style once again.
The charms of the Victorian era through the mid-twentieth century all command tony prices and can go way up, depending on where you buy them. But whether - when you create your own charm bracelet - you wear them attached to bracelets or necklaces, buy the vintage pieces, from the MRK collection or combine old and new, they are the markers of a lifetime—reflective of a woman's past, present and future—where she has been, where she is going, and a way to pass all of her treasured keepsakes down to her loved ones who will add their own memories and mementos.
Beth Bernstein is a jewelry historian, collector of period and modern jewelry and a purveyor of all things sparkly. She has penned three books—'My Charmed Life,' a memoir; 'Jewelry's Shining Stars,' a modern jewelry design coffee table book; and 'If These Jewels Could Talk,' an in-depth look at celebrities and the stories behind their legendary jewels on the silver screen and in real life—with a fourth one in the works. She has written and continues to write for major print and online magazines on all subjects pertaining to jewelry and style.