By Beth Bernstein
Charm bracelets continued to enchant and capture the hearts of women in the early 20th century. Due to the advent of platinum, brilliant diamonds and advanced gemstone cutting technologies, charms during the late Edwardian/Belle Epoque periods and Art Deco movement took an elegant, sometimes whimsical and highly imaginative approach, with daintier shapes, forms and/or expressive motifs at such houses as Boucheron and Cartier.  
Among Cartier's revolutionary Art Deco pieces, the house was known for its small but highly stylized platinum charms sparkling with diamonds and artfully placed baguette and square cut emeralds, rubies or sapphires. Often the bracelets had themes such as "The Jazz Age" with musicians and instruments. There was also romantic themes, with flowers, hearts and letters of love, or bracelets which represented hobbies, such as the sporting life and/or travel. Other bracelets dangled with charms which were completely tongue-in-cheek, inventive and playful. Charms were sold separately for clients to create their own stories or were custom made to tell a woman's tale.
Alice Kwartler of Alice Kwartler Antiques (www.alicekwartler.com) explains, "Signed charm bracelets from the renowned houses command extremely high prices today. Even the bracelets that were broken up to sell the charms separately are at a premium. But you can also find bracelets that were made by the superior jewelers of the time that are just as beautifully crafted and which you can buy more accessibly," she adds.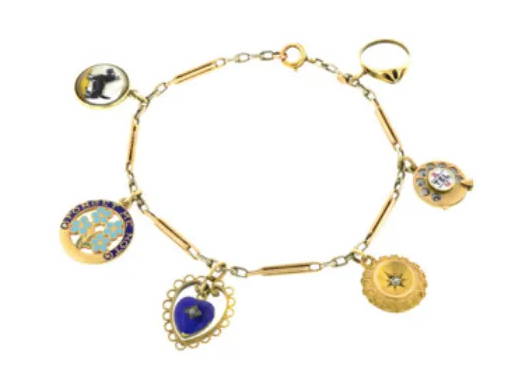 From the Doyle & Doyle archives, a mixed time period charm bracelet featuring love and cherished memories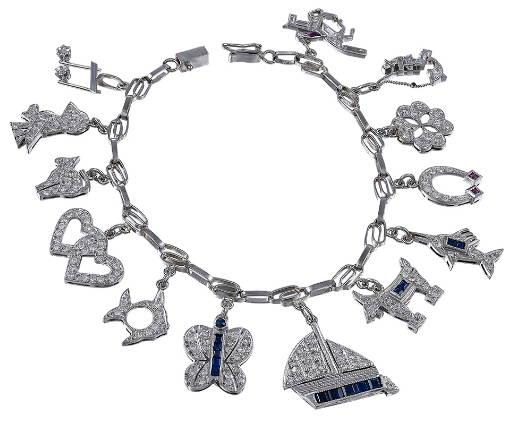 One-of-a-kind antique platinum charm bracelet, set with thirteen platinum charms encrusted with diamonds, rubies and sapphires from Alice Kwartler Antiques.
Celebrity Charms
The most famous Cartier platinum and diamond charm bracelet was the one that Wallis Simpson, received with secret messages that told the story of the king who abdicated his throne for her. In November 1934, The Prince of Wales' presented Wallis with a gift of a platinum Latin cross pendant bracelet bearing the engraving 'WE are too 25-XI-34'. The 'WE are too' inscription appeared on other pieces later in their life together. Eight more Latin gem-set crosses made by Cartier would follow. It was one of the pieces that The Duchess of Windsor wore almost every day. Each of these crosses was given to her by The Duke of Windsor to mark milestones in their life together and were set with rubies, sapphires, emeralds, amethysts, aquamarines and diamonds which shone brightly. But the language of their love came through in the messages with which each cross was inscribed and which traces their romance and their union in all of the circumstances they faced.
Many legendary women wore their sentiments on their wrists. Actresses of the silver screen Gloria Swanson and Joan Crawford were two of the first of Hollywood's royalty to appear in films in the 1930s wearing the charm bracelets they owned. This helped propel charm bracelets to the height of fashion during the early to the mid-20th century. During the '30s and '40s, the styles that these actresses and other stars such as Ginger Rogers, Betty David and Vivian Leigh wore in films and publicity stills inspired women to want to go out and wear the same type of pieces.
Celebrities from pre-World War II through the '50s and '60s (including Elizabeth Taylor, Grace Kelly, Natalie Wood to be discussed in Part 3) renewed the same type of interest in charm bracelets that Queen Victoria once sparked. "The jewelers of the day again were able to mass produce the most desirable styles so that people who wanted to emulate their favorite stars could create similar looks for themselves," says Elizabeth Doyle of Doyle & Doyle (www.doyledoyle.com).
Iconic French fashion designers Coco Chanel and Elsa Schiaparelli also did their part in cementing the trend. Coco Chanel who was said to be deeply superstitious wore her own lucky symbols including her number five, her camelia and her interlocking initial charms on a regular basis. She also mixed in faux coins, Maltese crosses and other lucky symbols such as a four leaf clover and shooting stars, which would go on to inspire her first high jewelry diamond collection.
Elsa Schiaparelli wore a charm bracelet of gilt seals with glass and hardstone intaglios engraved with different messages and coat of arms, which was reported to be reminiscent of her grandfather's watch chain. She added other symbols that were characteristic of her design and personal style.
Charm Gifts
During WW II, charms were produced at various price points. American soldiers found charm gifts abroad to be sent back home that would express how they felt about their sweethearts or become keepsakes that would represent the places they were stationed. The women at home also purchased their own charms with patriotic motifs and military insignia. When the war ended, the soldiers came home bearing gifts of charms which were now being produced in mass quantities. The war years were the precursor to the fifties and sixties boom in charms.
But before we journey on to Part 3—let's talk a bit about...
Travel Charms
There are two types of travel charms, those that represent places you visited and those that act as talisman to keep you safe on your journey.
Dana Kiyomura, owner of Keyamour antique and vintage jewelry (www.keyamour.com) explains, "The charms you collect as souvenirs evoke the memories of your adventures and the different cities, countries and continents you have visited."
Alice Kwartler agrees, " I have seen many collectors assemble global charm bracelets of vacations and exotic locales. When you commemorate your travels with charms, you are allowing the memories of those places to live on."
"The most popular for the charm bracelets and necklaces that are assembled as talisman are the ubiquitous St. Christopher medals which watch over us for safe travel." Says Kiyomura. "But the wearer of the charms often choose their own 'protective' charms which give them a feeling of comfort and security when they travel," she adds.
Marlene Dietrich was reported to be terrified of flying. She would take out her charms for the flight and put them back after she landed safely. She also was said to have given a charm to her friend Ernest Hemingway when the war broke out so he would be safe.
Socialite Nan Kempner held tight to her charms, particularly on airplane take-offs and landings. Her protective charms included a red chili pepper from Italian designer Valentino, a coin blessed by the Pope and a charm her daughter made for her.
There are many other stories about famous people who fly with charms. Next time you are on a plane, check around and see what people near you are wearing on their wrists, necks or clutching in their hands.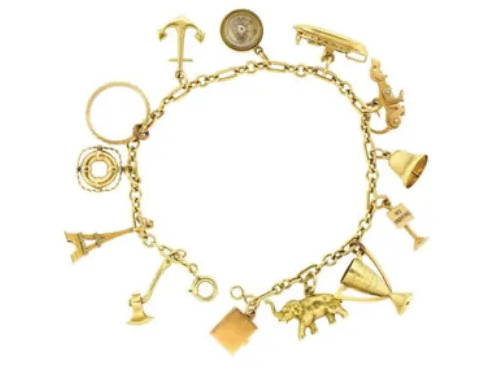 Charms continue to reflect, protect and guide us to the next chapter of our life's and will take us into Part 3 of our series in September 2019. Read here for Part 1 of A History of Charms.
Beth Bernstein is a jewelry historian, collector of period and modern jewelry and a purveyor of all things sparkly. She has penned three books—'My Charmed Life,' a memoir; 'Jewelry's Shining Stars,' a modern jewelry design coffee table book; and 'If These Jewels Could Talk,' an in-depth look at celebrities and the stories behind their legendary jewels on the silver screen and in real life—with a fourth one in the works. She has written and continues to write for major print and online magazines on all subjects pertaining to jewelry and style.