By Beth Bernstein
I'll never forget my first stack of eternity bands. I was drawn to antique and vintage jewelry and found an Art Deco marquise and princess cut all around diamond band. When I put it on my finger alone it looked like a wedding band, so I asked to see two more thin geometric style bands and the three made on statement on my right hand. It was the 1990s and I began to slowly collect antique jewelry and unknowingly stackable rings were part of my daily style. Whenever I found a unique shaped band, I added it to my stacking rings collection. Eventually I wore seven Art Deco platinum and diamond geometric eternity bands encircling my right-hand finger. It was the start of a theme for me—I then began piling rings up on my pinky and my index fingers too – a Georgian five stone ring with deeply engraved or repousse bands and original poesy rings mixed with modern bands and ruby and sapphire eternities from the mid-twentieth century. I mixed metals, gemstones and time periods. Once while waiting online in a supermarket a devilishly sexy man in front of me turned around, started chatting and looked down at my hand and asked, "is that how many times you've been married?" To which I answered. "No that's how many times I haven't." I got a huge laugh and a date."
Although I'd like to think I was a pioneer in wearing stackable rings on one finger, the concept was around long before me. However, unlike combining multiple charms and talisman, which date back to ancient times, the wearing of diamond stacking rings and gold stacking rings with a few exceptions in the 18th and 19th centuries is relatively new in an historical sense, becoming popularized for different occasions in the 20th century.  

The stacking rings trend began to explode during the early part of the new millennium and it's one that continues to grow stronger. Just go onto Instagram and you will see 'hand selfies" and rings stacked high with hashtags that read #stacksarethenewblack, #stackemhigh, #onefingerstack and #twofingerstack. These include everything from stackable birthstone rings to stackable diamond rings and even stackable name rings worn on any finger.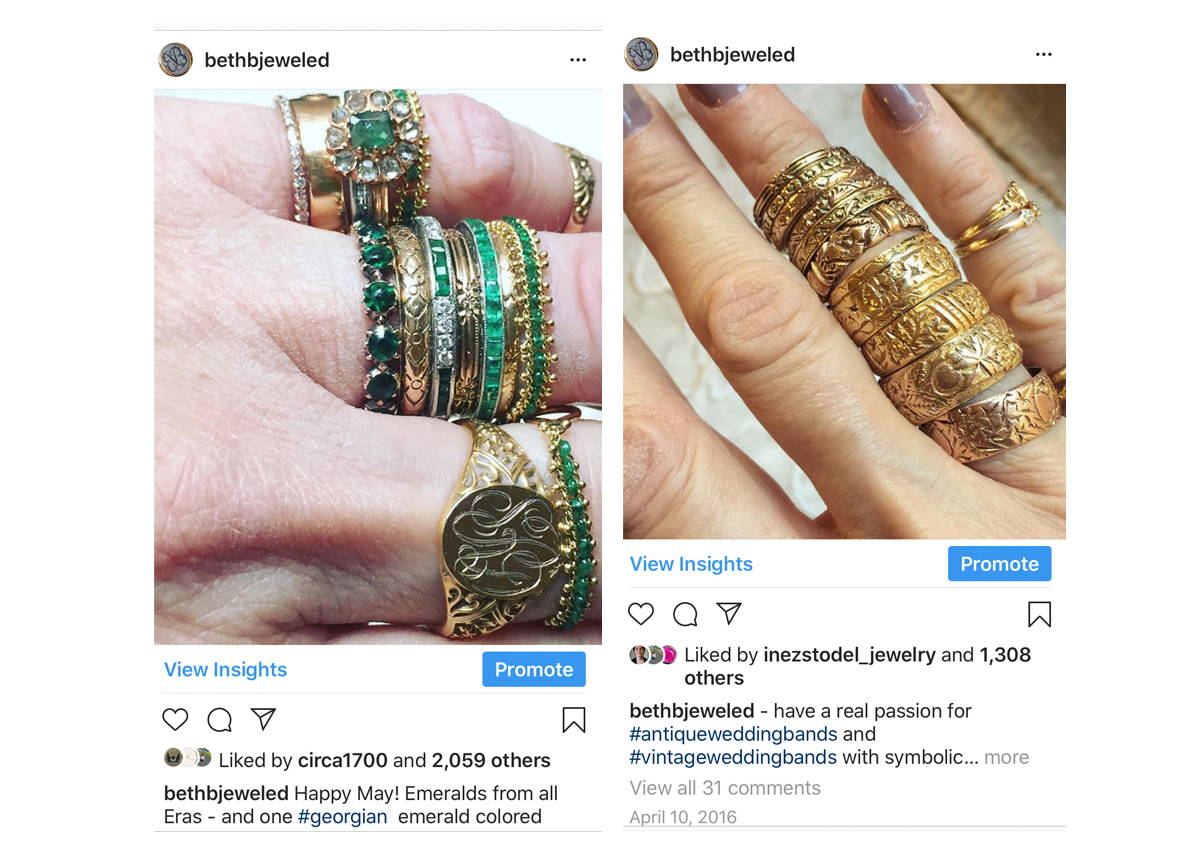 Images from left: Beth's exaggerated stacking for IG, Beth's hashtag of #onefingerstack on Instagram of gold stacking rings
The Origins of Stacking Rings & Stackable Wedding Bands

But let's get back into the history of stacking rings.
If you look at old paintings from the 16th through the 19th century, they tell you a lot about the fashion and jewelry of the times in which they were painted. For example, many royals who set the trends during these periods preferred a ring on every finger rather than stacking rings high on one finger.
The earliest stackable rings were created as bridal jewelry, which was also the way women traditionally wore more than one ring through the mid 20th century with a few exceptions.
The 16th and 17th centuries' gimmel rings provided the inspiration for later gold stackable rings. They were interconnected and featured two or three hoops that fit together to form one complete ring. Designed as wedding bands, the interlocking rings would come apart. The bride and groom-to-be each wore one ring during their engagement. Then at the wedding, the groom would transfer his ring to his beloved's finger and interlock it back into its original state, which represented being locked in love. It was sentimental and symbolic and a small stack.
Harem rings were similar in that all of the hoops of the ring were connected by a thin piece of unassuming metal in the back. The first harem rings were reported to be created as wedding bands in Turkey and then were interpreted in Western Europe and became popular during the 19th century and very early 20th century. They can have anywhere from three to twelve rings and often have the same gemstone into the front of each band of the ring (like half hoop or half eternity bands). They are also designed with different gemstones such as a combination of emerald, ruby and sapphire with larger diamonds or larger stones set in between the smaller stones, and arranged so they would all sit slightly apartment when worn on the finger. 20th century styles were often created with all diamonds, or diamonds and pearls. "They made a brief comeback in the mid-twentieth century, a revival of the antique style but they didn't have the beauty or craft of the originals and didn't last (although some are on the market again and are being sold as Victorian so be careful when choosing these)," explains antique and vintage expert Lorraine Wohl of Elle W collection.
During the 18th and19th century 'guard' or 'keeper' rings, which were often simple hoops of gold or silver, (sometimes engraved and also sometimes with inscriptions) were worn on each side of the wedding, engagement ring or another important ring to secure it from slipping off (for example in the cold weather). "At some point in Georgian times, narrow old rose or mine cut eternity bands, flat cut garnet or amethyst bands were a more decorative way of securing the middle rings." Explains Jacqueline Smelkenson of The Spare Room Antiques.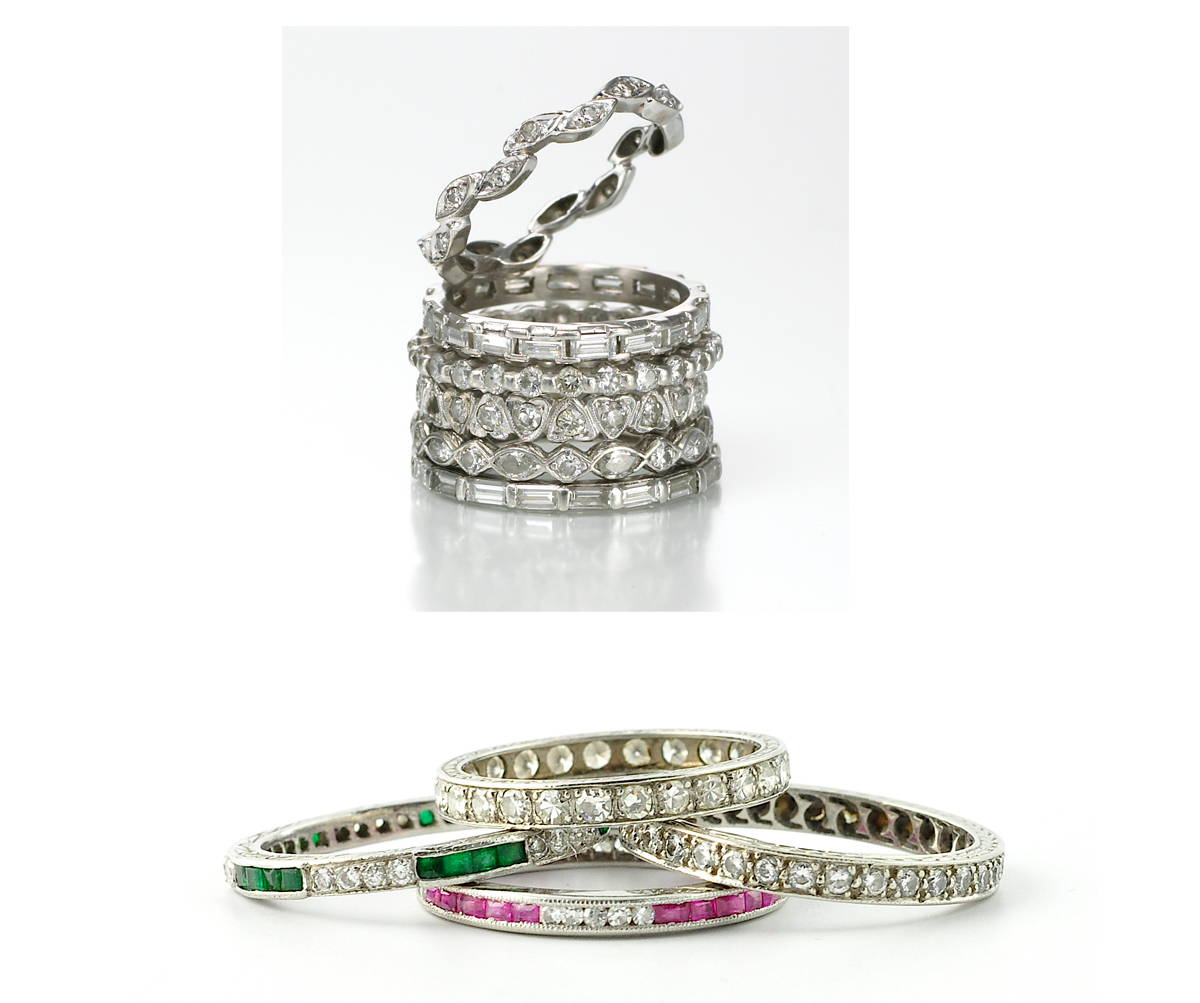 From top: Stack of geometric platinum and diamond eternity bands (from the collection of Beth Bernstein), Different cuts and mixed gemstone and diamond wedding bands (from the collection of Beth Bernstein)
Stackable Rings in the 20
th
Century
Throughout the early to mid 20th century stackable rings were still primarily popular in bridal rings. You wore your engagement ring with a wedding band. Guard bands accented with diamonds that outlined the shape of the center diamond ring came back into vogue and were worn on each side of the engagement ring.  
The more creative eternity rings or narrow stackable wedding bands became—square cut colored gemstones with round cut diamonds, geometric shaped eternity bands of baguettes and round cuts or marquise and princess cuts—they were presented as new gifts to give for birth of child, anniversaries and other important holidays. Women would switch their engagement ring to the right hand to stack the eternity styles altogether or if they had enough room, they would stack them around the engagement ring.
On an interesting note, when one of our favorite style icons, Audrey Hepburn was in a relationship with actor and director Mel Ferrer, he understood that her personal taste was on the more classically refined side. While vacationing in Switzerland, Ferrer presented her with an engagement ring—an eternity band of baguette-cut diamonds from the House of Gübelin of Zurich. Hepburn received two wedding bands that she could wear with the diamond eternity band: they had a faceted texture and one was in white gold and the other in rose gold. However when Hepburn was photographed and you could see the rings, she was only wearing one at a time. It seemed that Hepburn traded off instead of tripled up.
Another celebrity story recalls when Richard Burton purchased a different type of diamond for Elizabeth Taylor then what she was used to. In her book My Love Affair with Jewelry, she reveals that both she and Burton liked to engage every now and then in a good match of ping-pong. During one game, Burton told Taylor that if she could get ten points off of him, he would give her a perfect diamond. He lost. She won. It was time to go shopping. Burton found the smallest perfect diamond ring weighing an eighth of a carat, along with two other small diamond rings to be worn together or alone. At the Christie's sale in 2011, all three diamond rings Taylor won in that ping-pong game sold way above their $5,000 to $7,000 estimate, garnering $134,500.
Current Trends in Stacking Rings
The trend towards stacking rings that we are still seeing today started with small motif rings in the 1990s with independent designs creating small delicate hearts, flowers, horseshoes and other motifs in mixed metals or all around three-dimensional shapes such as daisies and roses and wearing them together in three different colors: rose, yellow and white gold or platinum. There were also some great silver stackable rings that could be mixed in with the gold.
As we headed into the new millennium, women learned it was okay to buy jewelry for themselves and designers and marketing campaigns began targeting the self-purchaser.  
When large companies such as DeBeers launched their "Raise Your Right Hand" campaign in 2003 with copy that read "Your left-hand rocks the cradle. Your right-hand rules the world," or "Your left-hand says 'we.' Your right hand says 'me,' " it let woman know it was also cool to buy diamonds stacking rings and other diamond rings for themselves and it peaked women's interest in eternity bands. If they already were married, they might have one wedding band and one for an anniversary and now they could mix those with narrower styles in all different settings and looks.
Tiffany & Co. ran ads with three eternity bands worn together in different shapes in glossy consumer magazines and their iconic blue book. It was a look that resonated with women from a variety of demographics and they continued to build on this with 'Celebration' rings which can range from gifts from loved ones to gifts to yourself to commemorate different occasions.
The stacked eternity band look was so popular, many of the well-known bridal companies and stores began to sell them as self-purchase, go-anywhere, must-have and add-on stackables as well as the traditional category of wedding rings.

Since then the trend has evolved, particular due to the jewelry community on Instagram's posts of modern and vintage mixes and the variety of widths, metal colors, cuts and types of stones and settings, and those with inspirational messages, more and more women are trying their own hands at designing different combinations. They have caught on to how creative it can be when you are choosing styles from all different periods and seeing how they all fit together to create a look that is all your own.
Beth Bernstein is a jewelry historian, collector of period and modern jewelry and a purveyor of all things sparkly. She has penned three books—'My Charmed Life,' a memoir; 'Jewelry's Shining Stars,' a modern jewelry design coffee table book; and 'If These Jewels Could Talk,' an in-depth look at celebrities and the stories behind their legendary jewels on the silver screen and in real life—with a fourth one in the works. She has written and continues to write for major print and online magazines on all subjects pertaining to jewelry and style.