WE START WITH THE FINEST STERLING SILVER JEWELRY FOUNDATION
Necklaces are a foundation of our brand. The very first piece of jewelry Monica ever created for the collection was a sterling silver half locket necklace on a heavy link chain with a toggle clasp. It held two half locket pieces that would knock together when one moved and produce the most pleasant "jangle."
What was important about that first style was that it was created in sterling silver by a New England silversmith whose family had created fine silver pieces for over 100 years. What Monica learned from that first experience was the value and history of sterling silver. It is a metal that has been part of fine jewelry history for centuries.
Sterling silver is 92.5% fine silver mixed with other alloys. Pure silver is a soft metal, so combining it with small amounts of metal alloys like copper and zinc to create sterling silver is important to give the finished jewelry piece strength and durability. It is that 92.5% that allows your piece of sterling silver jewelry to be stamped 925 or STERLING. Those stamps are an FTC legal requirement that allows you to know the foundation for your jewelry is built from the highest quality metal.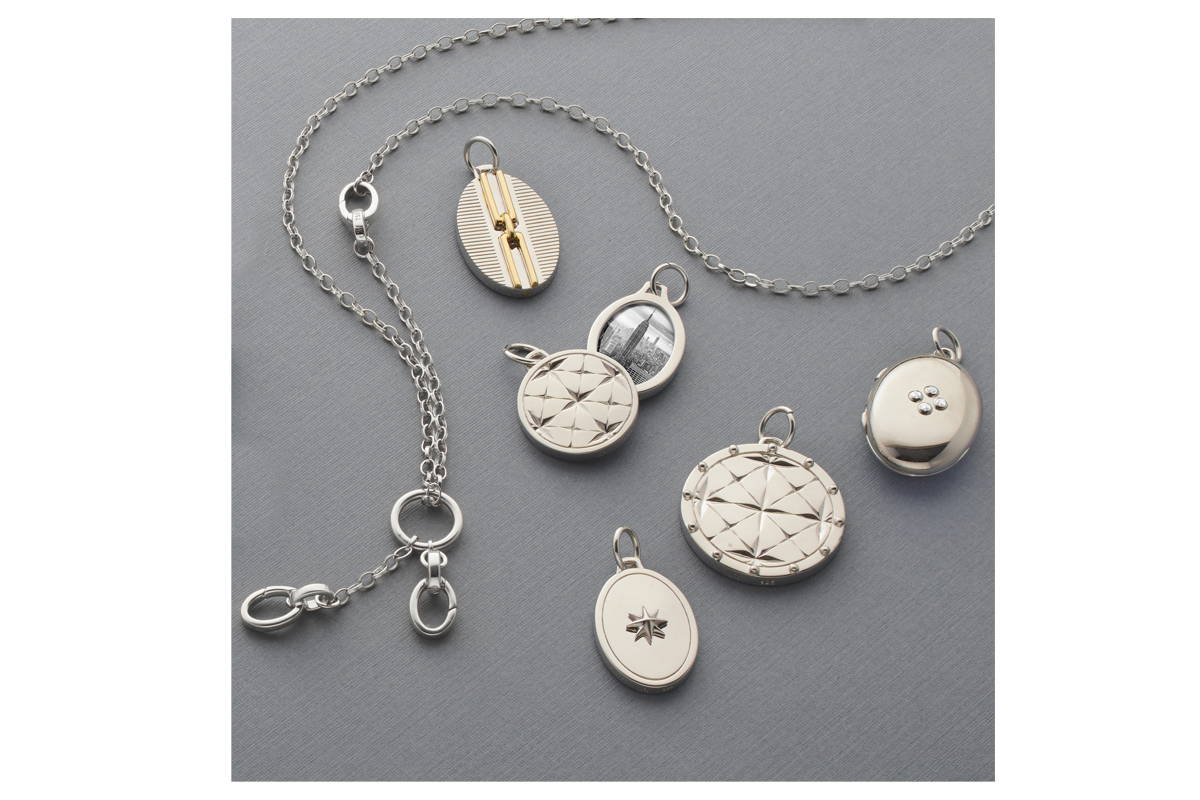 BUILDING THE HIGHEST QUALITY LOCKET, CHARM OR PENDANT FOR YOUR SILVER NECKLACE
The fine jewelry piece that will go on the chain for your necklace (we will talk about chains later) is designed by us to the most detailed specifications. We always want to ensure that the final sterling silver jewelry piece has just the right weight so it will sit perfectly on the long or short chain we designed it for. That requires specifying just the right thicknesses at every part of the design.
When creating these sterling silver designs to be added to chains, we use a manufacturing technique known as casting. Jewelry casting is a process wherein a wax piece is encased in a jewelry mold and then filled with melted metal (in this case silver) to create a finished piece that is then ready for filing, assembly and polishing. The process is also called lost wax casting because the wax is "lost" during the casting process. We only use cast pieces in our sterling silver jewelry as it enables us to create component parts that have greater thickness and weight.
Once these pieces are cast, the craftsmanship begins. Every piece is finished in a series of steps that allow for a brilliantly finished silver necklace design. The pieces might be filed, soldered to other components and assembled into a finished style that, in our case, often has hinges and intricately precise moving parts. The process of getting to that final design can often take many hours of handwork, filing, polishing and final assembly.
Among our most popular sterling silver necklace designs are our lockets, charm necklaces and poesy ring necklaces. As an example, our lockets have many hinges and internal movements that require the highest level of craftsmanship so that they open and close precisely and endure for years to come. We reinforce all the hinges and clasps in our sterling silver lockets with gold wire, providing the metal strength needed to be built for a lifetime. The same techniques are used in many of our charm necklaces and other pieces where the design calls for that additional strength and reinforcement.
NEXT COMES THE STERLING SILVER CHAIN
We want to choose just the right chain for our sterling silver necklace designs. We have a variety of chain links and constructions that we consider when picking the chain that will have just the right scale and strength for the locket, charm, Poesy Ring or other pendant it is holding.
Our philosophy in choosing the right sterling silver chains doesn't stop at the link itself. We always design right down to the clasp. After all, what part of the chain will you touch, open, and close every day? The clasp. With that in mind, we use only the highest quality lobster claw clasps, as they are the closures best built to last.

One other level of quality and versatility that we build into our sterling silver chains is the ability to adjust their lengths. Depending on the top you might wear, or the other necklace styles you may want to pair with one of our necklaces, this ability to adjust the length can be very important. With that in mind, we build extra loops into most of our silver necklace chains so you can find just the right length.
If you are choosing a silver necklace chain from our design your own necklace collection, you will discover a series of precisely constructed hinged links that allow you to effortlessly add and removes charms and lockets to the chain. We are especially proud of the workmanship that goes into creating these extraordinary hinged links.
THE FINAL TOUCH – OUR RHODIUM FINISH
Once they are completed styles, all of our sterling silver necklaces are finished with Rhodium. Rhodium is a precious metal that belongs to the platinum group and is more expensive than gold per ounce (as of this writing for example, rhodium is $7700 per ounce, versus $1700 per ounce for gold). The rhodium finish on our sterling silver resists tarnishing, so that properly cared for, our silver necklaces will remain bright for many years to come. The best way to care for our necklaces is to gently remove fingerprints and scuffs with a soft cloth to maintain the rhodium finish. Polishing or hard buffing of the piece will remove the rhodium over time, allowing the piece to tarnish more easily.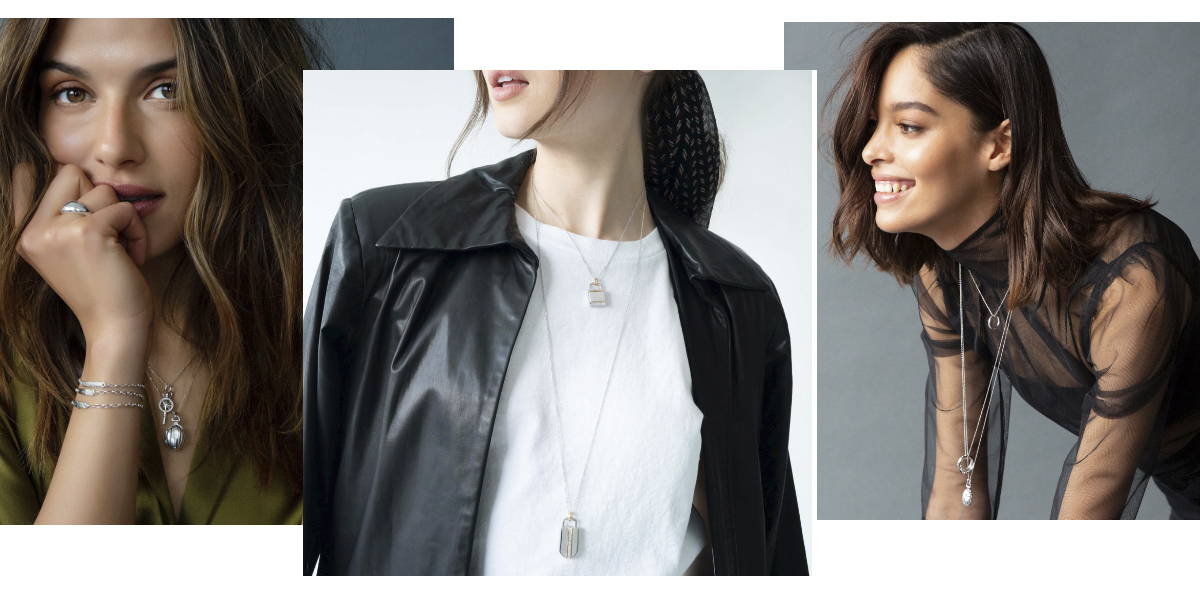 HOW TO WEAR OUR SILVER NECKLACES
Once you have chosen the right sterling silver necklace, the fun of how to wear it begins. We think of our designs as both statement pieces and ones that are perfect for multi layered look.
Worn short, all of our designs can easily be hero pieces that look great by themselves. But at the same time, we love them in a short layered or "neck mess" look as well. With that in mind you will find that many of our short necklace styles are adjustable to 16", 17" or 18" so you can easily play with how they will all work together. The same can we said of our long silver necklaces. Great on their own, or even better when layered with others. The opportunities are expansive and with that in mind we created a library of HOW TO WEAR IT short and long layered looks for your reference.
We hope this was a helpful introduction to our sterling silver necklace collections. To learn more about how we build all of our MONICA Rich Kosann collections please visit the pages on OUR STORY, OUR QUALITY and SOCIAL RESPONSIBILITY.