Mother's Day is a special occasion that is celebrated all around the world to honor the incredible women in our lives. It's a day to honor not only our own mothers, but also other strong women who have inspired us in our lives, from grandmothers and aunts to friends who have become moms themselves. And there is no better way to celebrate these amazing women than with a beautiful and sentimental piece of jewelry.
Jewelry has long been considered a timeless gift, perfect for commemorating special occasions and milestones. As such, it makes for an ideal Mother's Day gift, offering a tangible symbol of appreciation and affection that can be cherished for years to come. With the right thought and attention to detail, jewelry can also be transformed into a highly personal gift, with an array of styles and designs available to suit any woman's style or even stand as a symbol of their unique story. Whether it's a classic gold locket, a modern diamond pendant, or a sentimental charm bracelet that symbolizes their motherhood, jewelry is an excellent way to express your love and gratitude for the maternal figures in your life in a way that is both thoughtful and elegant.
With so many options available, it can be challenging to know where to start when choosing the perfect Mother's Day jewelry gift for the mom in your life. To assist you in finding a gift for her that she's sure to love, our team of jewelry experts have worked to create the ultimate guide for selecting a Mother's Day jewelry gift. In this Mother's Day gift guide, we share a few tips to help you choose the perfect jewelry gift for Mom, along with some hand-selected choices we know she would love.
How to Choose the Perfect Jewelry Gift for Mom
Choosing the right jewelry gift for Mother's Day requires careful consideration and attention to detail. Indulge in the art of gifting the perfect piece with our Mother's Day gift guide, where you'll discover some tips on choosing something just right for the extraordinary woman in your life. Whether it's your wife, mother, grandmother, or any other special mother figure, you'll be guided on how to find a Mother's Day jewelry gift that will leave her inspired and serve as a timeless token of your love and gratitude.
Make it Personalized
When it comes to finding the perfect Mother's Day gift, we believe that a piece of personalized jewelry is not only beautiful but also inspires Mom and tells her unique story. Personalized jewelry is a great way to add a personal touch to your gift and make it even more special. You can opt to have your mother's name or initials engraved on a pendant or a bracelet, or you can choose a piece of jewelry that represents her unique interests or experiences. No matter how you choose to make the piece a reflection of her, she's sure to appreciate the thoughtfulness behind your choice.
Embrace the Power of Birthstones
Birthstone jewelry is another great option for a Mother's Day gift. Each birthstone has its own unique history and significance, and giving the mother in your life a piece of birthstone jewelry can show that you appreciate her individuality and unique spirit. You can choose a birthstone necklace, bracelet, or ring that features your mother's birthstone or the birthstones of her children or grandchildren. It will be a deeply sentimental and personalized piece that will remind her of who she is as a woman and of those who made her a mother.
Go with Something Classic
When searching for the perfect piece for her, choosing something classic is always a timeless and elegant option. Classic jewelry pieces exude a sense of enduring beauty and sophistication, making them the perfect gift for a mother who appreciates timeless style. From exquisite pearl earrings to a simple yet stunning gold pendant necklace, classic pieces never go out of style and can be cherished for years to come. They are a symbol of everlasting love and appreciation, reflecting the enduring bond between you and the special woman in your life.
Make a Statement
For the bold and confident mother in your life, a statement piece can truly capture the essence of her unique and remarkable personality. It's a gift that reflects a mother's confidence, strength, and individuality. Whether it's a dazzling cocktail ring adorned with precious gemstones, or a colorful statement necklace that demands attention, a statement piece is a gift that stands out from the crowd. It will serve as a symbol of appreciation for a mother's unwavering presence and unique spirit, and is sure to leave a lasting impression - a truly unforgettable gesture on Mother's Day.
Design a Just-For-Her Piece
For an unparalleled Mother's Day gift, consider the art of bespoke jewelry - a meticulously crafted piece designed exclusively for the special mom in your life. With the option to personalize each detail, from the precious metal to the gemstones and charms, you can create a custom jewelry piece that is made just for her. This deeply meaningful gesture will undoubtedly leave her in awe and serve as a testament to the immeasurable love and appreciation you hold for her.
Our Top Picks for Mother's Day Jewelry Gifts
To help you find a gift she'll absolutely adore, we've gathered our top picks for Mother's Day jewelry gifts. Our carefully selected pieces are a culmination of timeless elegance, exceptional craftsmanship, and personalized beauty, designed to reflect the unique and cherished relationship between you and the special mother in your life.

Our list of top choices for Mother's Day jewelry gifts wouldn't be complete without the Infinity Locket, one of Monica's own go-to pieces that's perfect for celebrating the woman in your life. The 18k gold locket is embellished with a simple, yet brilliant, diamond accent - a gift that's truly exceptional. The locket serves as a personal canvas where a mother
can keep her dearest stories close to her heart, whether it be a cherished photograph or a sentimental note. It will become a keepsake that captures her most precious moments, and a staple piece of jewelry she'll reach for each and every day.

A birthstone necklace makes for the perfect Mother's Day gift for endless reasons. The inclusion of birthstones, from January's garnet to December's turquoise, can reflect her birth month or the birth month of her child, making for a deeply personal piece for her to hold close to her heart. And, the celestial motif of the moon adds a special layer of storytelling to the necklace, capturing the universal symbolism of the moon as a shared experience for all who are born under it. It is a thoughtful and meaningful way to honor a mother's individual story and express the shared connection you have with her, a gift that holds both sentiment and style. We are all born under the same moon.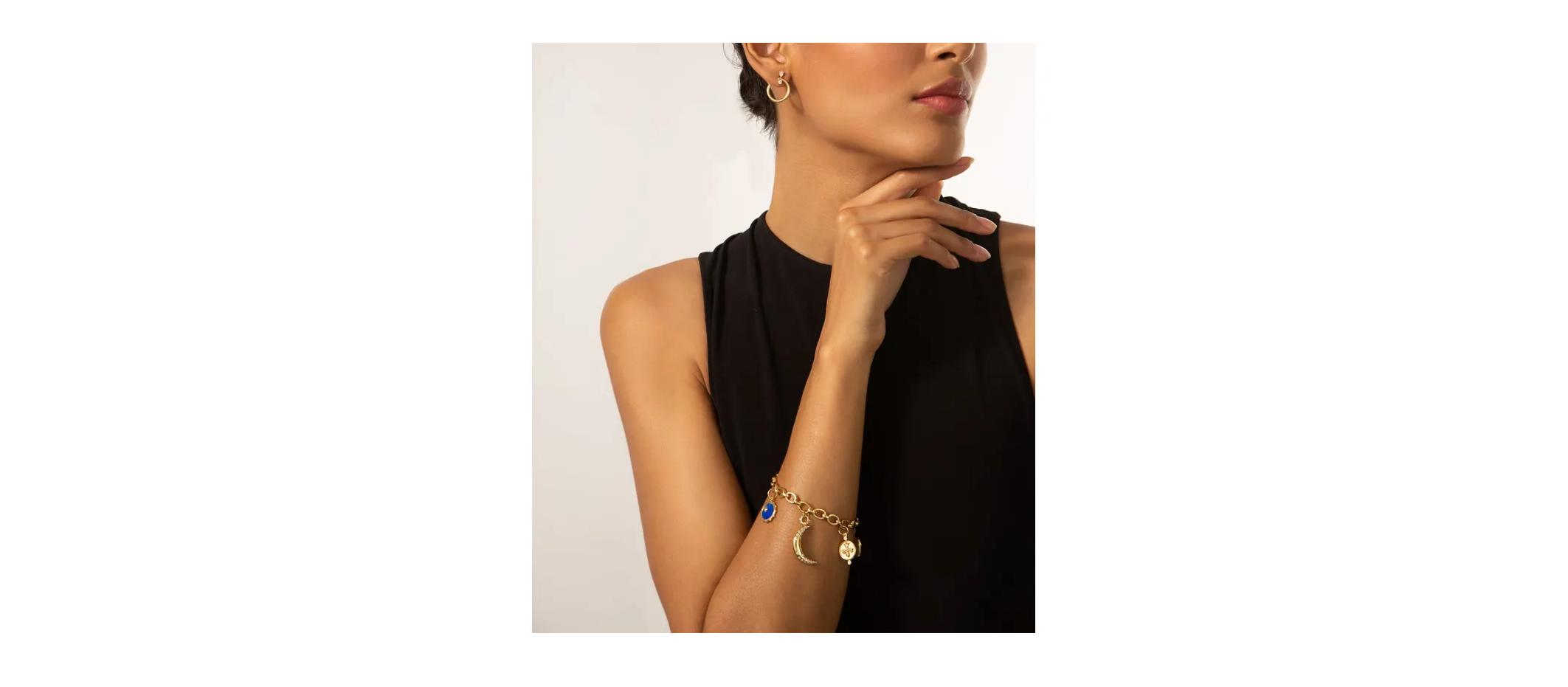 A personalized design-your-own charm bracelet is the perfect Mother's Day gift, allowing Mom to tell her own story through jewelry. The charm collection offers a creative palette for thoughtfulness and customized storytelling, where birthstone charms, empowering words, and charms that share her unique travels and experiences can be added to create a one-of-a-kind piece for the wearer. It's a gift she's sure to cherish forever, and is one she can continue customizing as her story continues to unfold.  
Mother's day is a time to celebrate the special women in your life. But, searching for the perfect Mother's Day necklace, bracelet, or other piece of jewelry can be a challenge. Whether it's a gift for a new mom or for another special woman in your life like your mom or wife, you'll want to select a piece that shows just how much you appreciate and celebrate her as a mother. Use this Mother's Day gift guide to gather some inspiration for a gift that she'll cherish for years to come. No matter what you choose, your jewelry gift will be something special for her to hold close to her heart, a constant reminder of the beauty of her motherhood experience.