Laura Kosann (One of Monica's daughter and 1/2 of The New Potato, our brand ambassadors) takes us through her personal journey using the Monica Rich Kosann locket bar. Get ready to laugh and cry (but mostly laugh!)...
In this new age of iPhones, being able to build and customize a locket right from your computer or tablet in three steps still seemed an impossibility to me. I'm an old soul; I get it from my parents, founders of course of Monica Rich Kosann. They are old souls themselves, and therefore found a way to meld what's old and new by creating The Locket Bar; a digital phenomenon that feels a bit like 1920's Hollywood and Silicon Valley had a baby. But that's just me.
Anyway, the process is actually as easy as it sounds; such is the genius of it. But I still wanted to take a crack at it myself. Plus I really wanted a locket. Win, win!
The first step is selecting your locket. Let me preface by saying, your locket is like your jeans: It says everything about you, and can easily be the staple of your everyday uniform, so choose wisely. I chose the Anna Locket. It's petite, and has always felt like skin whenever I've tried it on.
Now the real dilemma comes with step two: What image would I put inside? Would it be my dog Scout or my husband Matt?
The answer of course was in my heart, speaking to me loudly and clearly:
Scout.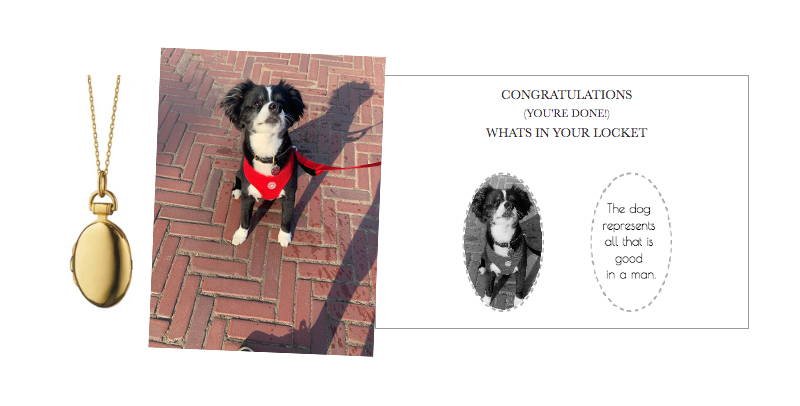 It was time to upload my photo, and I've got about one million of Scout so this was not a hard part of the process. The good news is, MRK's custom sizer makes it incredibly easy for you to scale it yourself and then print it at home perfectly sized for your piece. While you can do another image on the other side of the locket, you can also - instead - do a custom quote from the genius that is you, or a famous one to select from.
I wasn't feeling particularly eloquent that day, so I decided to go to their great selection of quotes from the likes of Audrey Hepburn, Oscar Wilde, Dr. Seuss, my contemporaries.
I chose a perfect one from Etienne Charlet: "The dog represents all that is good in a man."
All that was left to do was print my image, print my quote, and put it in the Anna Locket I had so excitedly selected. No scrunched images, no muss, no fuss. Just a Locket Bar fit for a romantic soul (this Meet Cute was Canine) walking around in 2019...