By Beth Bernstein
Sentimental antique and vintage jewelry with its poignant meanings and messages of affection evoke love and friendship while telling a lasting story of romance that still tug at our heartstrings today. Many of the original pieces from the Victorian era through post WWII into the mid-20th century have captured the attention of collectors enamored by the emotions, enchanting motifs and secret sayings. And, in a time when personalization continues to become more popular than ever, it's no wonder that sentimental pieces, steeped in significance and symbolism are favorites among jewelry collectors. Yes, I love you more jewelry has a unique story to tell.
I Love You Bracelet

Before we go way back in time, let's fast forward to the early 20th century, when the story of the romance between King Edward VIII and Wallis Simpson was told though jewelry. Not only did the King abdicate his throne for his true love, but each piece of jewelry he gifted Wallis Simpson, before and after they married and became the Duke and Duchess of Windsor, was inscribed with intimate and secret codes that recalled different times and private emotions that punctuated their romance. The jewels themselves, including some notable I Love You bracelets, may have shone with the finest of emeralds, rubies, sapphires and diamonds; but their language of love came through in the inscriptions on each piece tracing their romance and union in all of the circumstances they faced. In November 1934, The Prince of Wales's younger brother, George, was due to be married, and Edward presented Wallis with a gift of a platinum Latin cross pendant bearing the engraving 'WE are too 25-XI-34'. The 'WE (Wallis and Edward) are too' inscription appeared on other pieces later in their life together. Eight more Latin gem set crosses, made by Cartier in 1935, and with inscriptions reflecting different moments, would follow. It was one of the pieces that The Duchess wore almost every day, and each of the many crosses given to her by Edward marked milestones in their life together. Each cross bore an inscription. The inscriptions are beautiful: One reads 'WE'— (again denoting Wallis and Edward) —'Our marriage Cross Wallis 3.VI.37, David'. Other inscriptions on Wallis' jewelry - and in particular a spectacular bracelet -document their romance. The couple often used the expression 'HOLD TIGHT' to comfort and support each other in difficult times. This was the inscription Edward VIII had engraved on a Van Cleef & Arpels platinum, ruby and diamond bracelet around the time that he first approached Ernest Simpson about seeking a divorce from Wallis. The rest is history.
Ancient Communications of Love
Speaking of history, wearable expressions of affection take us as far back as ancient civilization. Love, after all is a timeless emotion to which we all can relate and was communicated through Egyptian Hieroglyphics, as well as emblems in Roman times. But it wasn't until the 18th century that jewelry bespoke every type of love, given on different occasions and throughout the cycles of life, says Alexandra Hutchings from Metier Paris.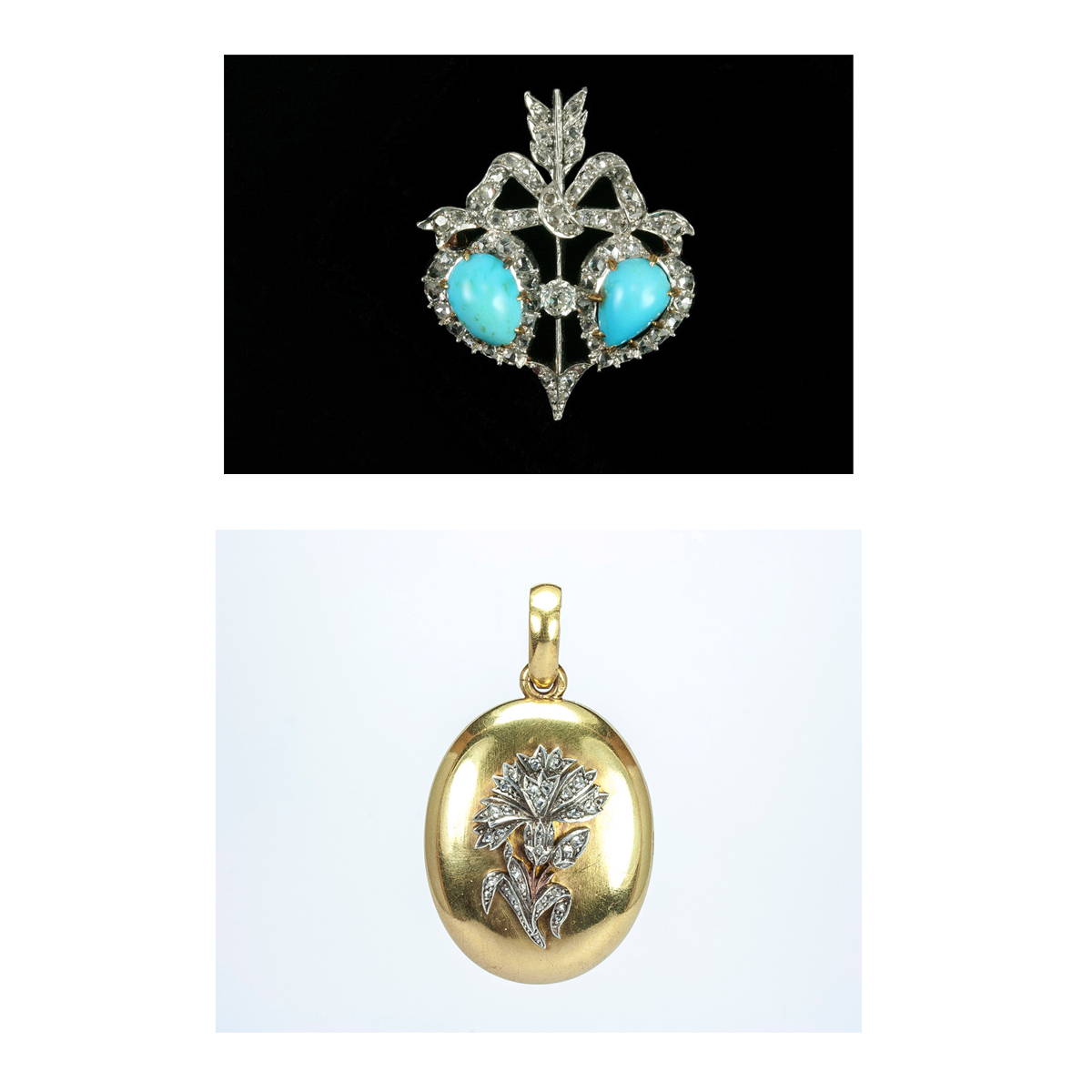 From Top: Metier Paris Double turquoise hear with rose and mine cut diamonds with a arrow going through the center, Metier Paris carnation locket with overlay of silver and rose cut diamonds on gold locket
Ring Around The Poesy
From medieval through Georgian times, heart-felt, religious and witty emotions were expressed through mottos or sayings in rings which held special meaning for the giver and the recipient. Popular through this period were poesy rings which derived their name from the French 'poésie,' (poetry) which were inscribed with short verse, mottos and sayings. Many of the earlier versions from the 13th century and then the Medieval and Renaissance styles displayed symbols and sayings engraved and enameled on the outside of the band.  
Poesy rings were described in at least two of Shakespeare's plays and sometimes heightened the comedy or tragedy. Hamlet asks "Is this a prologue or the poesy of a ring?" And Ophelia answers, "Tis brief my lord, as a women's love." In The Merchant of Venice, the drama is played up with a poesy ring, which is inscribed with the words of the end of the scene, "Love me, and leave me not".
Eventually popular poesy rings took the form of a plain gold band on the outside, inscribed on the inside with declaration of love making them a great example of I Love You More jewelry that stands the test of time.
Tokens of Affection
As we entered the 19th century, in Georgian and Victorian times, motifs and words and sayings that spoke of passion, romance and friendship abounded and continue to evoke heartfelt meaning. These included padlocks, keys, hearts, flowers, snakes, and acrostic jewelry which spelled out terms of endearment with the first letter of each gemstone. Since this was a time when ones intentions or affection were not commonly spoken, a person's feeling were related through gifts, like I Love You jewelry. Many of the jewels displayed a range of magical motifs, hidden compartments and secret ways of declaring ones intentions or feelings. Gemstones added to the romance and spoke to friendship, courtship and a range of meanings that evoked hope to loyalty and every emotion in between. The Victorians in particular were a romantic lot. Love in this period of jewelry knew no bounds.
Romantic Keepsakes
Cupids came out to play with one's affections, swallows led the husband sailors safely home from the seas and came to mean ('safe home'). They were also known to mate for life since they always find their way back to their nest. Turtle doves signified a happy marriage, arrows represented cupids dart. True lover's knots were what sailors tied on the ship into rings to give to their loved ones once they got home which then translated in to silver and gold. Ribbons, an update on the knots were woven together with other motifs and lyres represented harmony in love. Hands clasped in friendship, held in affection, or reaching out with a token of love in courtship have all been captured in this expressive imagery in Victorian jewelry and were re-interpreted in the mid-20th century.
Floral Jewelry
The language of flowers was one of the most relevant and prevalent ideas that translated into jewelry. During Victorian times, the notion of 'saying it with flowers' was interpreted in gold and precious stones. This was said to be inspired by selam – a Turkish custom of communicating through flowers and other objects. However, this tradition decoded messages based on words that rhymed with the objects. After the 1763 Turkish Embassy Letters of Lady Mary Wortley Montagu (wife of the British ambassador to Constantinople) were published describing this secret language, the idea of communicating through flowers caught on throughout Europe. In 1819, Louise Cortambert, under the pseudonym Madame Charlotte de la Tour, published what was likely the first dictionary of floral meanings, entitled Le Langue des Fleurs. The book was translated into English in 1820 and, by the early Victorian era, sourcebooks and illustrated dictionaries were also published. Enhanced by gemstones with similar symbolism, the language of flowers blossomed into I Love You More jewelry that would come to represent various aspects of love and life. 
The jewelers of the day used floral and foliate motifs to add extra meaning to antique rings, lockets, brooches and earrings. Elizabeth Doyle of Doyle & Doyle explains, "The main floral motifs during this time period include forget-me-nots for remembrance and pansies for "think of me" (or "Pense A Moi", in French)". Other botanicals that blossomed into key motifs for Victorian times were tulips for a declaration of love, ivy leaves for fidelity, orange blossoms for everlasting love, wheat sheafs for prosperity, violets for faithfulness and lilies of the valley for a return to happiness. There was meaning for almost every bloom. These eloquent flowers were then added to lockets, charms, rings and brooches in colored gemstones, diamonds and acrostics, reflecting romanticism at its height.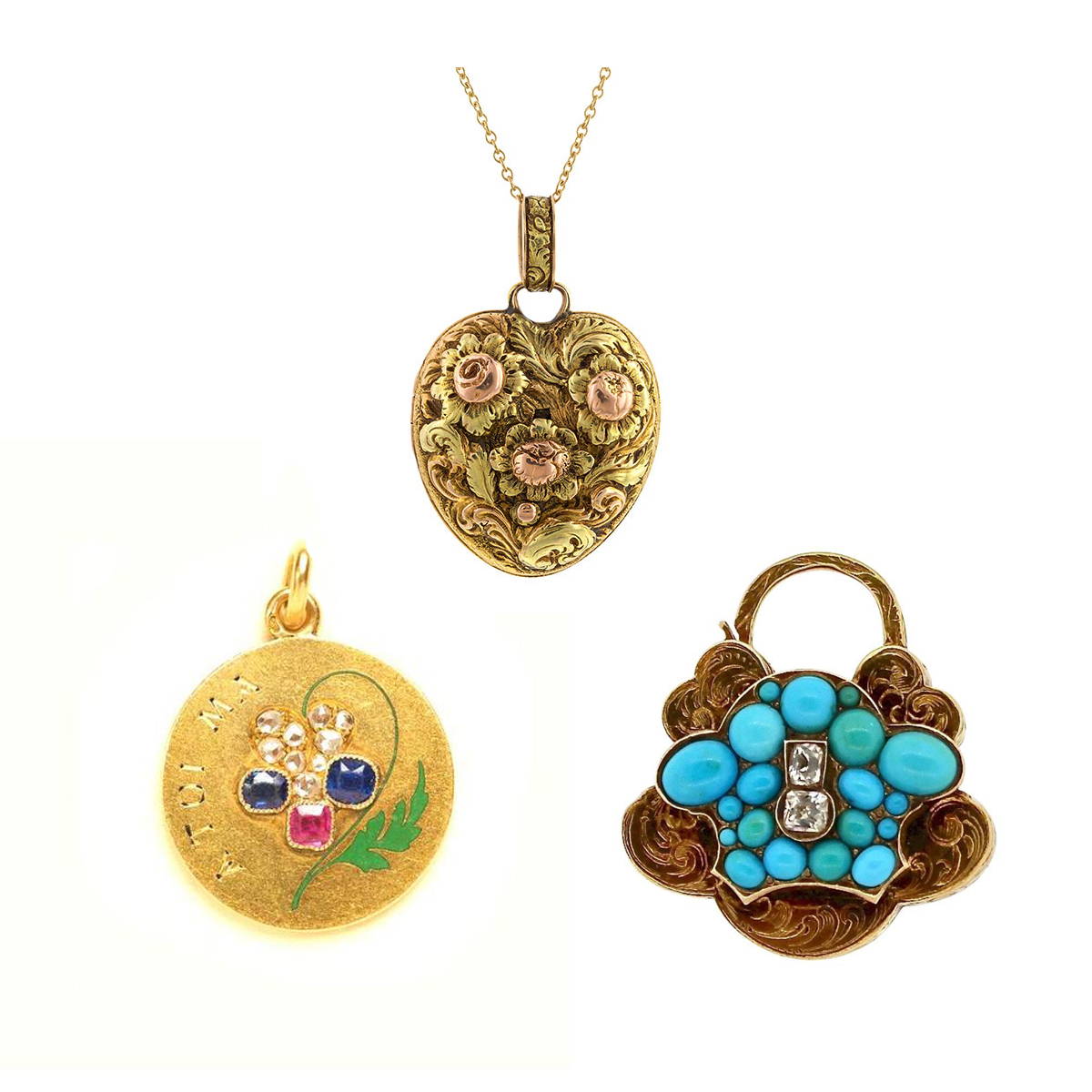 From Top: Doyle & Doyle heart locket with rose design and tri-color, Inez Stodel Pansy pendant that translates with engraved saying to "think of me',
Keyamour Victorian turquoise padlock
A Gem Of A Jewel
During Napoleon's reign, acrostic jewelry, in which the first letter of each gemstones spelled out a name, date or term of affection became popular. For example, a REGARD ring or heart locket was spelled out in ruby, emerald, garnet, amethyst, ruby and diamond. These pieces spread throughout Europe after French jeweler Jean-Baptiste Mellerio designed acrostic jewelry for Napoleon and his wives. "In today's market, the earlier pieces and those with rare designs command higher prices such as heart padlocks and lockets with pansies or forget me nots, set with gemstones that spell out the words REGARD, DEAREST, LOVE, ADORE" Alexandra Hutcings reports. These acrostic pieces were carried over into Victorian times and English jewelers quickly began to create pieces that were more affordably priced as gemstones became more accessible.
Other gemstones added yet more I love you more symbolism to pieces—such as turquoise set into forget-me-nots, and stones with meaning such as ruby for passion, sapphire for faithfulness and loyalty and emerald for hope and prosperity.
Iconic Engagement Rings  
Another famous love story launched a trend that has been a part of jewelry's iconography for over 200 years and is still going strong. Snake motifs were perhaps the single most recognized symbol of Victorian times. Although they had been featured in jewelry for centuries as one of the earliest historical and mythological symbols that had significance in almost every culture, it wasn't until Queen Victoria received the first known British engagement ring from Prince Albert, a serpent with her birthstone, an emerald set in the head, that its popularity took off. Symbolizing eternal love, when it was placed on Queen Victoria's finger in 1839, the snake soon became the motif that would set a trend throughout England, then throughout Europe and the United States. Snakes soon showed up in every form of jewelry and in different styles: gem set, enameled, engraved with crossed hatched patterns, double headed and entwined. In all its many incarnations, the serpent motif continues to influence modern day designers and and entice collectors today.
Heart Jewelry and Charm Heart Necklaces
Hearts have always enjoyed a popularity among poets, novelists and playwrights, and are featured in great literature dating back for centuries. It's one of the most universal symbols of love recognized by different cultures and has been for centuries. A short history: The creation of the heart shape to signify love was first reported at the end of the Middle Ages. It gained popularity in the 15th and 16th centuries and became widely used in jewelry design throughout subsequent times. From France to England, the allure of love took the form of hearts in a range of "I Love You More" motifs from betrothal rings to pendants to earrings. Some of the myriad meanings include double hearts (our hearts beat as one), witches hearts (to bewitch), hearts pierced with arrows (love conquers all or lovestruck), winged hearts (protector of love) crowned hearts (love triumphant), double hearts with ribbons, bows or knots (two tied together as one), padlocks (locked in love) and with a key (you hold the key to my heart).  
Hearts as lockets, pendants and charms were originally set with gems, overlayed with other symbolic motifs like two crossed arrows ("for protecting your loved one" for example) or engraved with imagery that conjures up romance. They continued to be re-designed and re-interpreted from the 19th through the mid to later 20th century. Later in the period they became bolder in size and celebratory to commemorate life's moments and memories.
Love Charms
Renowned designers of the mid-20th century as well as manufacturers borrowed inspiration from the earlier "I Love You More" jewelry and reworked them into larger medallions or love charms. Sometimes mechanical charms which utilized with some of the same motifs such as hands holding out flowers, double hearts or turtle doves. These were to signify every occasion one could imagine.
Many of these love charms produced in the 1940s and 1950s were worn by celebrities on charm bracelets. Joan Crawford sported one that featured charms from loved ones including her last husband. Elizabeth Taylor had at least two charm bracelets that she was photographed wearing and she also donned one of her own in the film Giant. Her charms reflected her life journey from a young girl through her later loves and successes. They also captured her hobbies and relationships with friends.
I Love You More Necklace
One of the most poignant items in Taylor's personal collection was a necklace given to her in the summer of 1957 by her third husband and great love, Mike Todd, whom she had recently married. While lounging by the pool at their rented villa in Saint-Jean-Cap Ferrat, Todd presented her with a small box. Inside was a platinum, ruby and diamond necklace with round, baguette and fancy cut diamonds and nineteen cushion-shaped rubies. Taylor recalled: 'I had no mirror around so I had to look into the water. It was so glorious rippling red on blue like a painting.' She was pregnant with her daughter Liza at the time, and she would later describe her joy and the happiness that surrounded the moment and the gift by saying: 'It was a perfect summer day and a day of perfect love.' Heartbreakingly, Todd was killed the following year when his private plane, The Liz, crashed in New Mexico.
Whether sentimental jewelry, such as an "I Love Your More" necklace, is specific to a flower or a image; whether it spells out a word, is engraved with a poem or is given from the heart, these are the jewels which are universal in their appeal and different meanings. They touch our soul.
Beth Bernstein is a jewelry historian, collector of period and modern jewelry and a purveyor of all things sparkly. She has penned three books—'My Charmed Life,' a memoir; 'Jewelry's Shining Stars,' a modern jewelry design coffee table book; and 'If These Jewels Could Talk,' an in-depth look at celebrities and the stories behind their legendary jewels on the silver screen and in real life—with a fourth one in the works. She has written and continues to write for major print and online magazines on all subjects pertaining to jewelry and style.