By Beth Bernstein
Dating The Times
During different time periods jewelry influenced society and how societal changes affected the fashion for the masses. When we talk about most classifications of jewelry, they often can be traced back to ancient times. When we look at rings, earrings and necklaces, they can reveal the periods in which people lived. For example, rivière necklaces or girandole earrings in mine-cut diamonds or rose-cut diamonds or a mix of gemstones or paste defined extremely popular looks of the Georgian and Regent period with their closed back foiled settings and stones that glowed in candlelight. Those styles spanned the 18th and early 19th centuries. But, pendants and pendent necklaces date back even further, all the way to ancient times.
The First Pendant Necklaces 25,000 Years Old: Ancient Talisman
There is also jewelry that dates back 25,000 years and were worn as talismans or amulets by a variety of civilizations which also used them for healing, spirituality and protection. These talisman pieces evolved into what we now call pendants or charms and evoke diverse symbolism and meaning. However when we think of pendant necklaces, we often think of the late 19th and early 20th centuries when different styles evoked different movements in fashion, culture and art, and ultimately the ability of the general public to wear jewelry styles once only reserved for royalty or the upper crust.
Padlocks and Fobs as Gold Pendants
But before we jump forward to a time when the pendant necklace was an extremely popular style in different incarnations, let's take a look at some of the styles that were worn as pendants during Georgian and Victorian times. The earlier Georgian padlocks were similar to lockets in that they would hold a lock of hair or a photo behind a piece of glass in the back. These early padlocks were decorated with floral engravings with different meanings of love and romance and often were set with foiled back colored gemstones. Sentimental jewelry was a favorite during this time period and into the Victorian era; therefore, hearts were the most common shape for padlocks. Fobs with hardstone intaglios were also worn as pendants on long chains. The most beautiful fobs of this time period were designed in three colors of gold with repousse work and the hard stone underneath which was also a seal was often engraved with significant sayings and motifs. Iberian styles featured high karat gold pendants that were created in the shape of ornate crosses or other large statement ornamental shapes with bows and other flourishes. Some more heavily gold accented elements, and other pieces with open, yet delicate lacework, were set with multiple gemstones that included emeralds, chrysoberyl and pink topaz as the prevalent stones.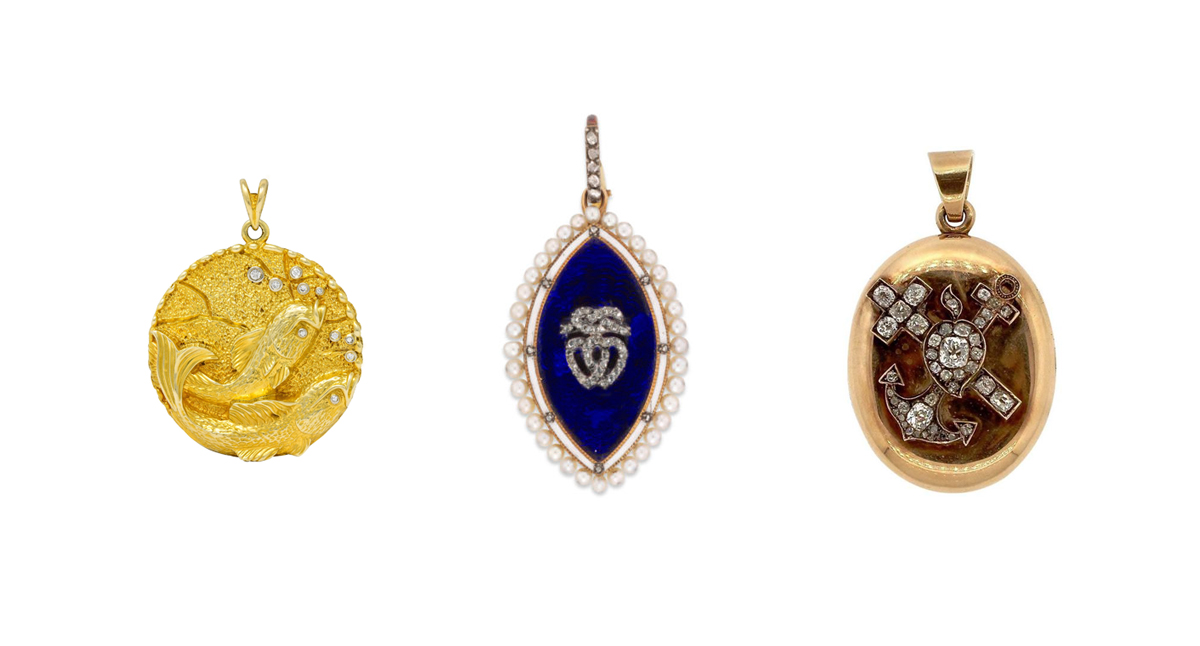 Sentimental Pendant Motifs in the 18th and 19th Century
Victorian times saw sentimental motifs hit the heights of popularity. Many times, brooches doubled as pendants with a pin and a bale-like fixture in the back. Some of the most dominant of the time were crescent moons—which had the magical meaning of "I love you to the moon and back." Also popular were different styles of hearts: crowned hearts meaning love triumphant, bowed double hearts—two hearts tied together as one. There were filigree keys which stood for 'you have the key to my heart, bow and arrows representing Cupid, the god of love, swallows for sailors returning safely home, wishbones and stars for wishing, shields and daggers for protecting ones love, snakes and lover's knots, both which represented enduring love. There was also a whole language of meaning through the use of certain flowers on reverse crystal pendants or created as diamond pendants—the most common of which included lilies of the valley for 'return to happiness', violets for faithfulness, roses for all different phases of love, daisies for innocence and purity and pansies (which was translated from the French pensée'—which means think) and then came to mean 'think of the giver' and perhaps the most common forget-me-nots that were given as pendant styled jewels in a romantic gesture or in remembrance.
These floral motifs often blossomed on lockets which hung as pendants from different styles of Victorian chains. Lockets were considered pendants at the time due to the fact that the latin Pendere and French word Pendr both translated as "to hang down" which meant that any jewel that was suspended from a chain was considered a pendant. Horseshoes, buckles, stars and crescent moons also were applied to lockets. When Prince Albert died, memorial lockets came into Vogue and stayed in style as Queen Victoria led the fashion and was in mourning for the next 20 years. Many of these were punctuated by forget me not engravings with black enamel and the words "In Memory Of" and other sayings that were incorporated onto the front of the pendant with a glass back compartment (like the Georgian padlock) for holding mementos.
Artistic Revolution Sets A New Place in History for Pedant Necklaces
At the end of the 19th century the Art Nouveau movement represented a revolt against the industrial age in pure artistic expression with the rebellious use of precious and non-precious metals, combined with unusual colored gemstones in depictions of nature - primarily insects, birds and floral motifs. Sensual and ethereal versions of the female form were also a recurring theme. Intricate pendants were often suspending from a double chain. Dragonflies almost looked real with the effect of the enamel delicately capturing the veins of the wings in flight. Other motifs were dreamlike, ethereal and sometimes provided darker themes – the female form with flowing hair and wings or with the tail of a serpent. There was an entire series of French sayings with floral motifs in medallion shapes and high karat gold pendants that represented love and friendship and these were imbued with the sentimentality we had seen before but the growing use of the art of enameling in pendants also offered a more sophisticated take. The Art Nouveau movement began in France and influenced all of Europe and the United States, while overlapping with other periods. The pioneers included Rene Lalique, Falize, Maison Vever, Georges Fouquet, and Tiffany & Co.
Diamond Pendant Necklaces See The Light
Art Nouveau (1880-1910) crossed over with Edwardian/Belle Epoque jewelry (1901-1915) The Edwardian & Belle Epoque Era was the shortest period in the history of antique jewelry due to the untimely death of King Edward VII. However, before he died, he captivated his subjects with a sense of elegance as did his wife Queen Alexandra. In France the delicacy and ornamental effects of French Rococo décor provided the inspiration for jewelers. Platinum was introduced and influenced new settings for diamonds. The "garland" style of flowers and leaves, the use of millgrain, pierced and engraved metals all gave jewelry of this period the appearance of airy lace and embroidery. Old mine-cut diamonds and natural pearls offered a monochromatic white look. It was in this time period when fabrics became lighter and airier that different styles of pendant necklaces incorporating all these motifs reigned as some of the most popular looks of the period.
Among the most well-known were:
The Lavaliere Necklace was an early version of a diamond pendant necklace which features an openwork lacy or garland style pendant with a dangling natural pearl or pear-shaped old mine or European cut diamond in the center, hanging from each side of a chain or from two chains that meet and suspended the central pendant.
The Negligee Necklace which is a version of the lavaliere with a center bar or geometric form, usually set in diamonds, which dangled two drops of uneven asymmetrical lengths. The pendant inspired drops consisted of everything from large bezel set cushion cut diamonds to Edwardian cluster motifs set with diamonds, pearls or colored stones.
The Dog Collar choker necklace style which was made popular by Queen Alexandra. This style is tight fitting around the neck and adorned with designs ranging from light and flexible garlands to flowers, and buckles and other motifs held by grosgrain, black velvet, or moiré ribbons. Multi strands of small seed pearls and diamond also were worn with a central garland motif.
Streamlined and Sensual, Pendants Take on New Forms
Sautoir necklaces were similar to ultra-long pendant necklaces of today. They became popular during the Art Deco movement (1920-1939), a period which reached its height in 1925 after the Decorative Arts Exhibition in Paris and coincided with women gaining the right to vote in America. Industrial, linear and sleek, Art Deco captured the new world with streamlined forms - all white diamond and platinum looks, inspired by skyscrapers and women expressing their new found freedom at speakeasies and the ability to dance the night away, oftentimes hiking up their dresses and lowering their necklaces to dip into their décolletage. Jewelers of the time borrowed from a global mix of cultures - Asia, Africa and Egypt – which in the later part of the movement softened the geometric lines with stylized floral motifs and carved cabochons. Pendant styles incorporated vibrant rubies and sapphires as well as onyx, jade, lapis and frosted quartz contrasted against diamonds and produced some of the most influential looks, which continue to inspire contemporary designers. Cartier, René Bovin, Boucheron, Raymond Templier, and Tiffany & Co. and Suzanne Belperron were just a few of the prevailing jewelers.
When we see the ultra-long sautoirs of the Art Deco period, they were first designed in all white versions and featured geometric diamond and platinum pendants at the bottom of a long diamond and platinum chain. Many of these styles were designed with tassels of seed pearls and beads hanging from a stylized top or a tassel at each end of a necklace that could be knotted nonchalantly and worn down the front or back of a dress. The tassel in that respect served as a pendant like design element. Sautoirs were popular throughout the Art Deco period and took on the cross-cultural when carved jade, coral, onyx and brightly colored gemstones were introduced. Often the tassels for this particular style swung from circular rings or enameled pendants on silk cords.
Glamour and Drama and a Whole Lot of Bling In Mid-Twentieth Century Pendant Necklaces
As we moved into the mid 20th century removable pendants from dramatic necklaces like the famed Bulgari emerald suspended from a diamond necklace that Elizabeth Taylor received from Richard Burton were gaining ground. There was a call for more dramatic glamorous necklaces for the cocktail parties of the time period. Everyone wanted to emulate the stars they saw on the big screen. Therefore, many of the styles of the day followed this form. Over-the-top necklaces were the rage until we move int to the freewheeling 1960s.
A Change is Going To Come: The 1960's Pendants are the Message of the Time
The social upheaval of war and protests and "make love not war" slogans and motifs made for strong style statements and were interpreted in peace signs on rainbows of love beads.
Victorian Pendant Redux In London's Most Fashionable Spots
Then in the early 70s, we saw a Victorian revival in UK with Biba, Mary Quant and Carnaby Street recreating styles from the goth and fashioning old into new such as cameo pendants on grosgrain or velvet and other choker styles.
Sculptural and Organic Minimalism Defines the 1970s in The U.S.
But in the U.S., minimalism was taking over as the feminist movement combined with the disco era and the style icons that frequented Studio 54. The jewelry that defined the 1970's was ground breaking in almost a reverse way from Art Nouveau. These were pieces that were equally creative in sculptural forms that relied on primitive organic motifs and interpretations of antiquity. Silver pendants took their place alongside gold particularly in the styles such as the open heart and bean necklace by Elsa Peretti for Tiffany & Co. Equally striking were zodiac pendants and good luck pendants by renowned designers such as Cartier and Van Cleef & Arpels and the famed Bulgari coin Monete Necklace. The Bulgari brand was passed down from generation to generation and in the mid-sixties the new goal was to create jewelry to wear every day that was still elegant. The Monete collection was born in 1966 and continued to gain popularity throughout the 70's as jewelry trends became associated with celebrities such as Susan Sarandon, Candice Bergen and Jane Fonda, who all owned the necklace.
From Lockets To Moveable Charms and Medallions, Pendants at MRK Hit Their Stride
From the 80's through present day—all charms, lockets, and motif driven symbolic medallions and the new talisman are considered pendant necklaces. Creativity still abounds. MRK is one of the pioneers in designing novel and modern takes on familiar pieces we have all come to love and recognize from the past. Monica's spin is always inventive, and trail-blazing while still being versatile and wearable and appealing to a wide demographic of woman. Monica was also one of the first designers to mix contemporary and vintage and to create a look that could be chic and layered without ever outshining the woman whose neck these pendants adorn.
Beth Bernstein is a jewelry historian, collector of period and modern jewelry and a purveyor of all things sparkly. She has penned three books—'My Charmed Life,' a memoir; 'Jewelry's Shining Stars,' a modern jewelry design coffee table book; and 'If These Jewels Could Talk,' an in-depth look at celebrities and the stories behind their legendary jewels on the silver screen and in real life—with a fourth one in the works. She has written and continues to write for major print and online magazines on all subjects pertaining to jewelry and style.