As many of you know, I began my career as a portrait photographer. From the very beginning of that professional journey, it was important for me to try to capture a bit of the soul of the person I was photographing. I always hoped that my imagery would capture both the inner and outer self of my subject.
One day, I photographed a young girl peeking out from behind a wrought iron gate. The final print was incredibly beautiful and touching. There was a mystery about this young girl that encouraged people to always ask … who is she? Where is she? What is she thinking about? How old is she? Was she sad or just thoughtful?

This photo somehow always stayed with me and I remember when I started designing jewelry, and lockets, I felt that I wanted to create a style that was similar in feeling to the girl behind the gate. I wanted to embrace the mystery behind that image. I always found lockets to be so intriguing Throughout history they would hold someone's secrets, stories and inspirations. Almost like a secret message carrier. Within them was something that could only to be shared by the person wearing the locket. If you walk through a museum and see a painting where a woman has on a Locket, do you ever find yourself wondering, what's inside?! I know I do.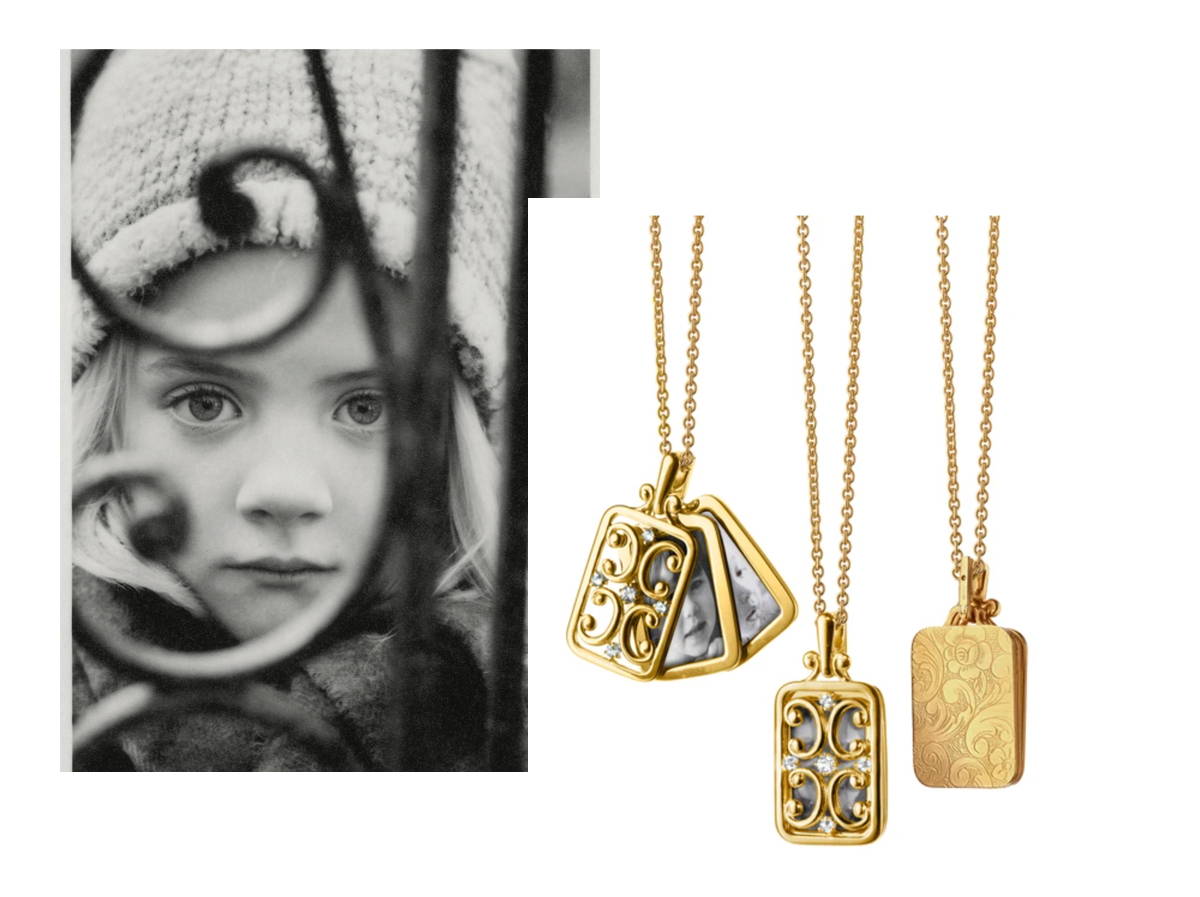 That's how our gate collection began. We created styles that, once the photo was placed inside, looked like someone was peeking out from behind a gate. Like the wrought iron gate in my original photograph, it looked timeless, like maybe something you would find on a terrace in Paris or perhaps along a pathway in a beautiful secret garden. A style that would capture the mystery, and answer the question, "who is behind the gate?"
I designed the piece to be worn casually, allowing the gate elements to hang more like dog tags so all ages could love it. The style was very well received, and we kept adding designs; creating a number of these gate locket necklaces. They were our very first sterling silver locket and 18k gold locket styles, but their timeless elegance has allowed them to stand the test of time. We recently added a Sun, Moon & Stars gate locket as well, and hope to continue building this collection for years to come.