By Kareem Rashed
More than any one silhouette or style, the biggest trend to emerge in fashion of late is sustainability. The most recent round of shows was brimming with mindful designs, from recycled denim suits to vegan leather boots. Greening one's wardrobe is chicer, and more necessary, than ever before. While all these new eco-friendly pieces are commendable (and, better yet, desirable) the greenest sartorial statement one can make is to simply consume less. But fear not retail devotees, there's a loophole: a plethora of vintage fashion that can be shopped guilt-free. Buying vintage and cultivating your vintage style isn't just conscientious; it offers the thrill of finding pieces that stand out from the crowd. If great style is about self-expression, then vintage is the height of individuality.
It's the reason why a growing number of celebrities are embracing fashions past. At a time when most every contemporary brand will gladly gift, or even pay, a star to sport their wares, wearing vintage proves a celeb's inherent sense of style. Recent sightings include Beyoncé celebrating her birthday in an archival Jean-Paul Gaultier blouse, Gwyneth Paltrow at the Emmy's in a 60's Valentino gown, and Miley Cyrus scoring an old Tom Ford biker jacket at a thrift store. In an Instagram post of her find, Cyrus wrote: "Previously loved/owned clothes = most sustainable fashion source." That and — it's one fabulous jacket you won't be seeing on any other starlet. Discussing the A-list's penchant for bygone designs, Seth Weisser, founder of the celebrated vintage style emporium What Goes Around Comes Around, told the New York Post that these style-minded celebs understand wearing a head-to-toe look straight from the runway is "not really as fresh as breaking out a heritage Tom Ford or Gucci look that hasn't been seen in 15 years."
VINTAGE STYLE AND ITS ARCHIVAL REVIVAL
If shopping the designs of days gone by assures a clear conscience and a singular look, why isn't it the norm? One of the most common roadblocks for anyone, celebrity or not, considering adopting a vintage style is the concern that it will look dated or costumey. Great as Gatsby may be, no one wants to unintentionally look like they're headed for a theme party. That is why accessories — particularly jewelry — are key in making vintage fashion feel fresh. Paltrow teamed her mid-century frock with a pair of sleek sandals and sculptural, diamond-studded earrings, injecting a 50+ year-old dress with modernity. "You can either go full retro or, if you go with a contemporary shoe and contemporary jewelry, you can update it," says Natalie Joos, an avid vintage collector and the founder of vintage-inspired knitwear brand Joos Tricot. "It's all about balance."
Joos' tried-and-true trick for ensuring one's the vintage style vibe doesn't look stale is to juxtapose retro clothing with clean, minimal jewels. "Personally, I love hoops — I feel like they make anything feel updated." One of her go-to's is a pair of oversized gold discs picked up at A Current Affair, a vintage fashion and accessories palooza that draws hundreds of dealers to its fairs in Los Angeles, New York, and the Bay Area. "Or, if it's a very simple, more contemporary outfit, I'd put on a more elaborate pair of vintage earrings." The trick is to pair pieces in an unexpected, irreverent way. It's a sentiment echoed by Joe Sundlie, the esteemed vintage dealer behind New York's Vintedge: "I've always loved the idea of menswear with a little sparkly necklace. Think a Katherine Hepburn look with a tennis bracelet…classic with a vintage twist."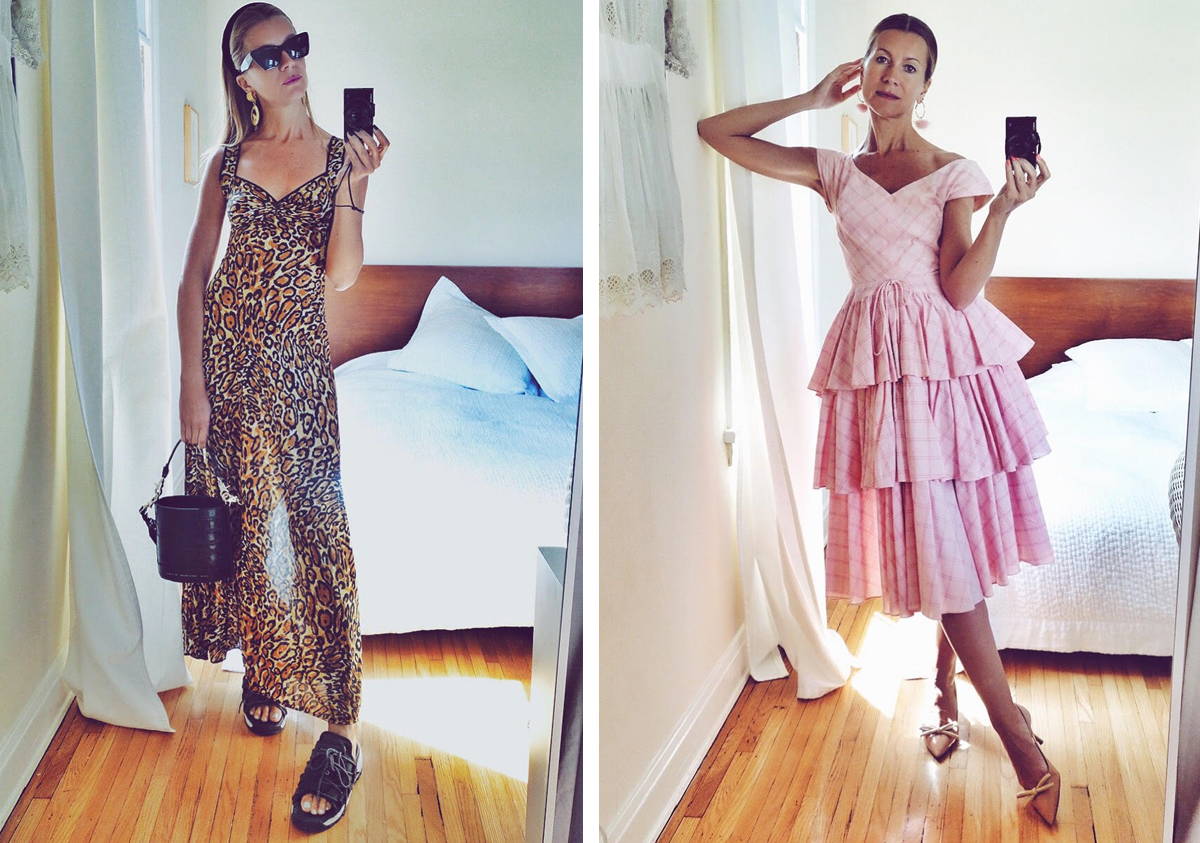 Natalie Joos in a vintage dress from Cannonball & Tilly's, worn with oversized drop earrings and Ganni sandals; Joos in a vintage dress from LA's Golyester, worn with contemporary hoop earrings and Prada slingbacks
VINTAGE FASHION 101
It's helpful to have a basic understanding of fashion history, so one can more deftly remix vintage styles in a thoroughly modern way. The 1920's and 30's — the age of Coco Chanel, Madame Grés, Madeleine Vionnet — yielded streamlined dresses that lend themselves to accessorizing. Christine Cheng, an estate jewelry expert and Gallery Director at boutique Simon Teakle, says the silky slip dresses from this period were "typically paired with diamond line bracelets or cuffs and delicate sautoirs. Just like Art Deco architecture, jewelry was very graphic and monochromatic." The 40's and 50's, particularly the postwar years, saw an array of wasp-waisted, ladylike designs — epitomized by Christian Dior's full-skirted "New Look". Cheng notes: "Those years were all about Old Hollywood glamour: brooches, chain bracelets, gemmy cocktail rings."
The 1960's brought the Youthquake, with Mods in miniskirts and go-go boots. Fashion was revolutionized by radical designers like Mary Quant, Andre Courrèges, and Rudi Gernreich. Jewelry was similarly inspired, with sculptural, futuristic forms that pushed jewelry from adornment to art. It was a time Sundlie considers an especially high point for the synergy between jewels and fashion. "Can we talk about Penelope Tree wearing those Cardin pieces?" he says, referring to the iconic Richard Avedon images of the model in striking silver jewels, photographed for Vogue in 1968. That rebellious spirit carried into the 1970's, with everything from Ossie Clark's bohemian caftans to Halston's louche disco-wear accessorized with bold chains, oversized pendants, and stacks of bangles.
The 1980's saw a turn to more-is-more excess, as seen in the strong shouldered suits of Yves Saint Laurent and the effervescent pouf dresses of Christian Lacroix. Cheng defines the era as "maximal…big button earrings and pearls with lots of yellow gold." In the 90's, fashion made a 180º turn to the minimalist designs of Helmut Lang and Martin Margiela, spurring jewelry to scale down and simplify.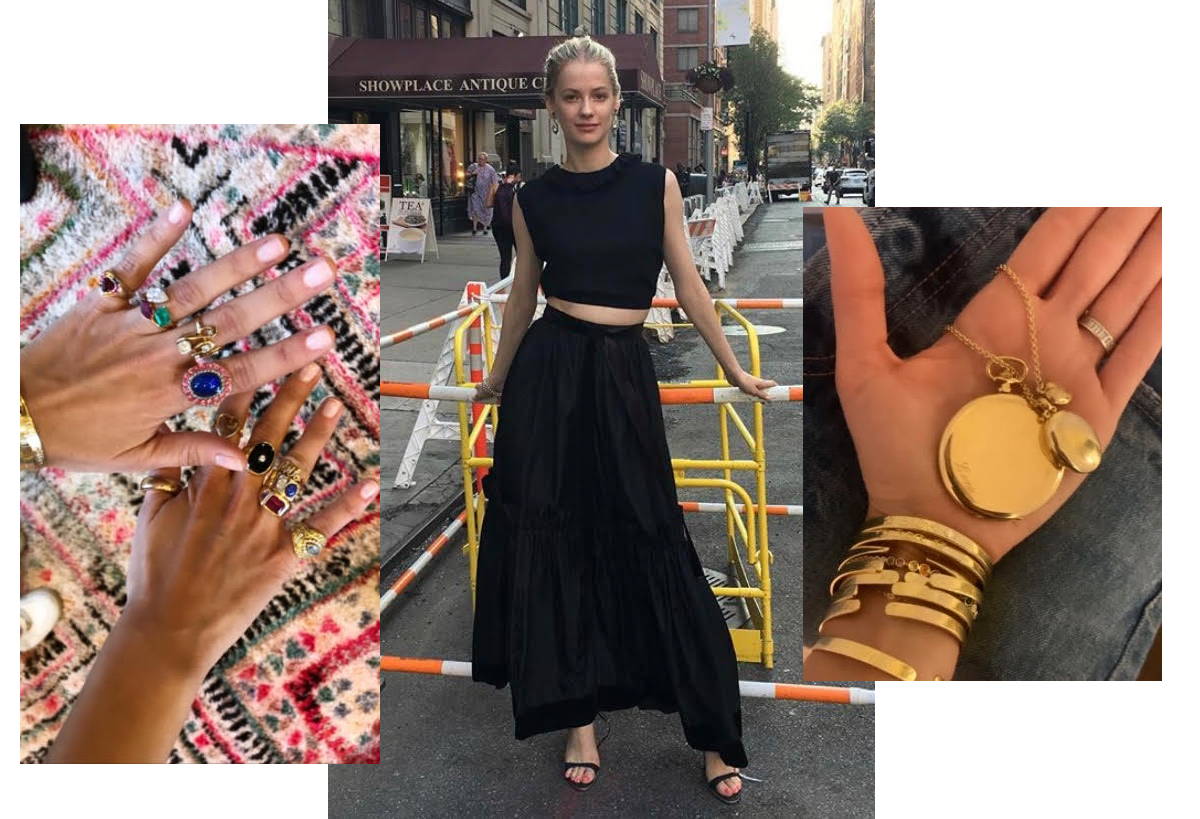 From left: Dueñas Jacobs stacks an eclectic assortment of rings on a daily basis; A 1960's crop top and 1980's taffeta skirt from Vintedge; Maria Dueñas Jacobs' quadruple locket clustered with a vintage pocket watch and heart charm
JEWELS THAT TELL YOUR STORY
Knowing how things were worn provides a roadmap for what to avoid when reviving vintage fashion for today. Nabbed a slinky 70's halter dress? Rather than historically-appropriate jewels, like chunky bangles and chains, try teaming it with a few delicate bracelets or one graphic cuff. Temper the sweetness of a 50's cocktail dress with the kick of a bold earring or an eclectic stack of rings. The art is in the unconventional pairing. "I'm not a fan of OD'ing on vintage or looking like a transported movie extra," Sundlie confesses. "A piece of jewelry can literally transform the look…a simple something can become a major moment, take the Little Black Dress for example. I also like the idea of jewelry having meaning; the wearer can personalize a vintage look with sentimental jewels."
One of the great joys of vintage is unearthing pieces that have had a life before you. But, still, it's much more fun to make them feel like your own — to add a new chapter to a piece's story rather than just going back in time. Any variety of jewelry with some personal significance — lockets filled with photos of loved ones, talismanic charms, family heirlooms — add a dash of individuality to vintage fashion. Even if the clothes belong to the past, jewels provide a more intimate connection to their current owner. It's an approach that Maria Dueñas Jacobs, former Elle Accessories Director and founder of Super Smalls, employs with every outfit, vintage or not.
"Each piece of jewelry I collect or am given holds a memory. I like to find vintage or estate jewels during my travels…it feels like a treasure hunt and that new heirloom will remind me of a specific family trip or adventure," she explains. "Personally, I love layering a whole bunch of everything. I wear my 1920's pocket watch as a necklace and then add my favorite quadruple MRK locket. Both pieces, old and new, are strung together to make one super special statement necklace."
Collecting both jewelry and vintage fashion can be an exercise in self-reflection. Where contemporary clothing is generally guided by seasonal trends, fine jewelry and vintage are about those pieces that will stand the test of time. Rather than shopping for the look of the moment, it's about shopping for what's most you — what you'll wear again and again. It's the biggest piece of guidance Joos can offer to vintage novices: "It's important to find pieces that work with what you already have in your closet. And most all vintage stores specialize in a certain era or style, so you've got to find those stores that cater to your taste. You've got to find your people."
Joos is less concerned with marquee names on the label. It's not just about the blue-chip pieces at vintage meccas like Decades and Resurrection, but also the under-the-radar (and more affordable) gems stocked by more diverse shops. Hunting, after all, is half the fun. A few of her top sources include Paper Moon and Cannonball & Tilly in her hometown of LA, Amarcord in New York, and the Porte de Clignancourt flea market in Paris. While vintage couture is undeniably lust-worthy, museum quality fashion can be harder to make one's own. The beauty of more obscure finds is the freedom to interpret them however one desires. For example, a key the inspiration for the Monica Rich Kosann brand is rooted in Monica's fascination with curiosity in the stories behind vintage charms!
Armed with an arsenal of modern jewelry staples, like hoop earrings and stacking bands, along with more personal pieces, like lockets and charms, the options for reimagining vintage are near infinite. Experimenting with accessories can take the same dress in any number of directions, from casual to formal and every shade in between. "You just can't be too precious about it," Cheng advises. "Don't try to stick to any strict rules. Old, new, high, low, silver, gold, fine, crafty — it's all about the mix!"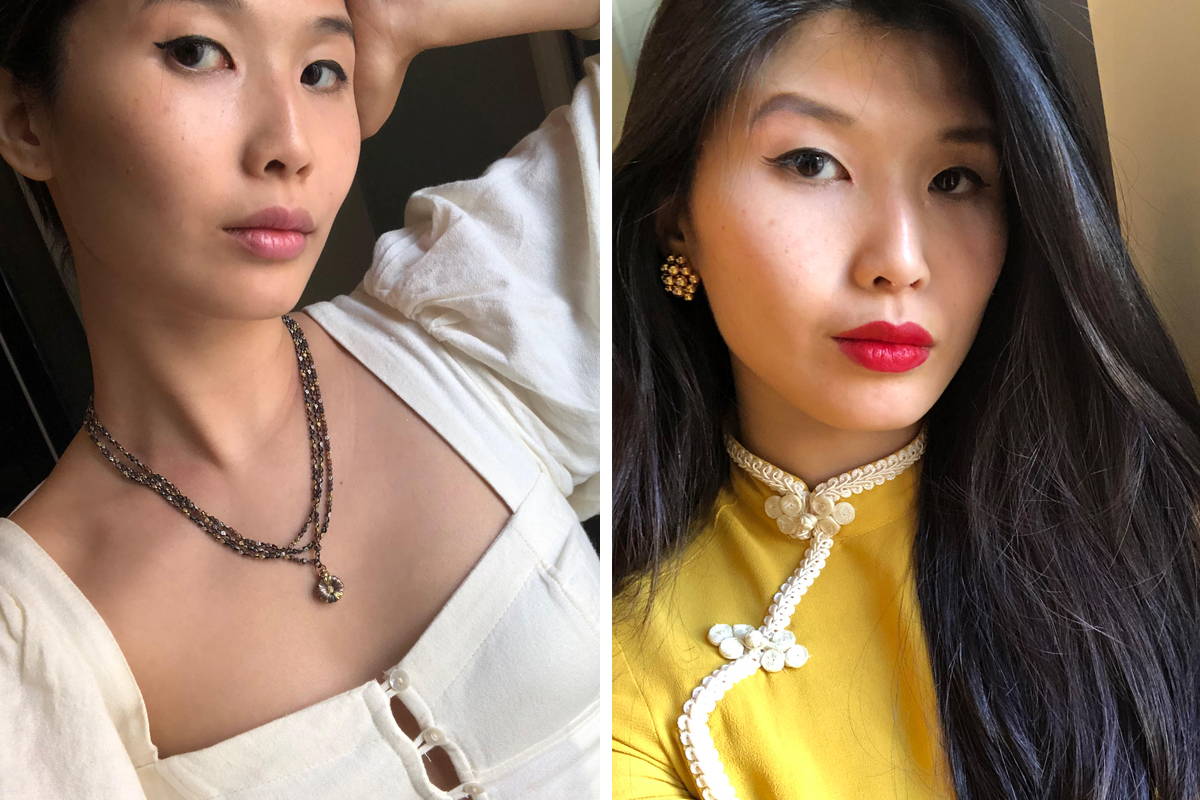 Christine Cheng in a circa 1890 Japanese Shakudo necklace; Cheng in a pair of Cartier gold and diamond earrings from 1935
---
Kareem Rashed is a freelance editor, writer, and stylist based in New York City. He has worked for publications including Vogue, Elle, Interview, and Departures, where he served as the Fashion Editor. His expertise includes women's and men's fashion and accessories, jewelry, and watches.