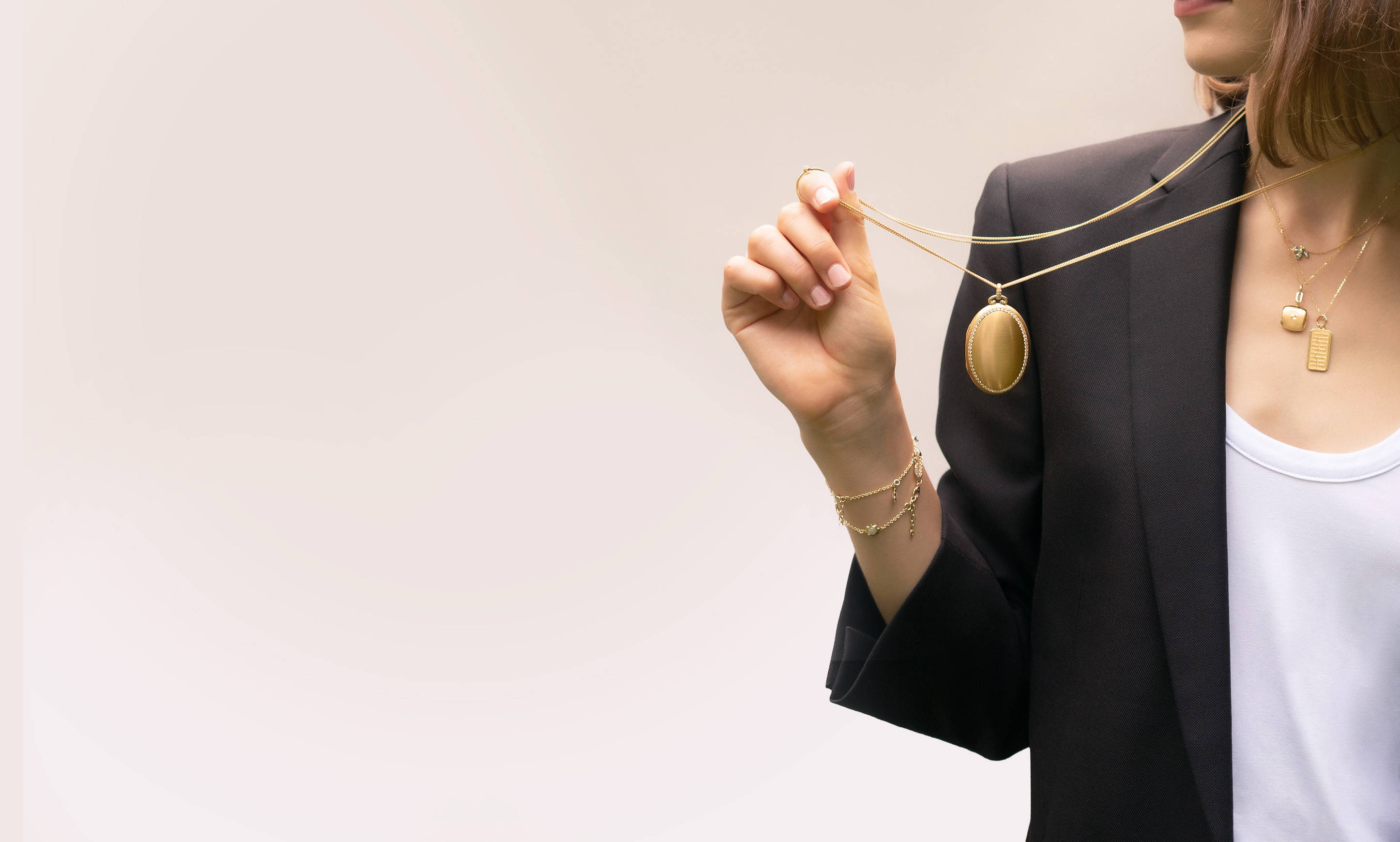 Delivering more quality
in every piece

Delivering more quality

in every piece
We build our jewelry to be a permanent part of your life for generations.
We build our jewelry to be a permanent

part of your life for generations.
Our Design & Craftsmanship
All of our jewelry is designed in the United States and produced with our manufacturing partners in New York, Europe and Thailand.

 

Design and product execution is very important to us so only the most talented artisans in the world bring our collections to life; creating a product that is both beautiful and stands the test of time.

 

We pride ourselves on making jewelry that moves with you. Whether it be a locket with hinges and mechanisms to keep your photos safely inside, a pocket watch key that swivels in your hand or a charm necklace with articulated parts and elements that will surprise and delight, we want our jewelry to move and integrate easily into your daily life.

 

We give attention to all details. For example, when you close our lockets you will hear "the click". This ensures your stories are kept safe. We work to use the strongest, highest quality materials. All of our lockets incorporate gold wire in the hinges and closures ensuring they remain strong for years to come.
 

We use only 18k gold. Quite simply to give you more gold.




18k is 75% pure gold known for a higher level of purity and value. It delivers approximately 29% more gold than an equivalent style in 14k.
 

Our sterling silver jewelry is 92.5% pure silver, mixed with various alloys to add strength to the metal. As an added level of quality, ours is finished with white rhodium, a precious metal that is currently more expensive than gold. Rhodium protects our sterling silver from tarnishing and maintains the finish of our jewelry for years.

 

When we build Two-Tone jewelry, with sterling silver and 18k gold, we never gold-plate, we only use solid 18k gold. The solid gold pieces are attached by master jewelers to the sterling silver during the assembly process.

 

Making jewelry that moves is complicated. We use white gold wire in the hinges and closures of our silver lockets and other select styles to give the jewelry greater strength and durability.
Our Chains

Built up to the clasp
All of our chains are solid sterling silver and solid 18k gold. We build them to the smallest detail, including the best quality clasps and closures. For example, we use lobster claw clasps, the highest quality chain closure, on all of our necklaces to provide the longest term wear and durability.
 

Our Diamonds

Ethically sourced with a

better grade of diamond
 

All of our diamonds are ethically sourced and always have been since the day we began over a decade ago.

 

They are sourced under the Kimberly Process Certification. The KPCS regulates the mining and trading of natural diamonds, preventing conflict diamonds from entering the market.
 
We always use a better grade of diamond no matter what the size of the stone. The color, cut and clarity of our natural diamonds are very important to us. Our diamonds are FG-VS2, delivering better diamond color and clarity in every piece.
Gold Vermeil
[Pronounced: vur-may]
Vermeil is the highest quality of plating that has a thicker coating of gold but is always done over sterling silver to be called Vermeil. It requires 2.5 microns of gold (yes, that's a nice thickness!), and we only use 18k gold in our Vermeil styles - which are available only in our X COLOR collection.