By Beth Bernstein
The Marquise Diamond Is On Point Once Again
A View From The Past: The History of The Marquise Diamond
The marquise shaped diamond has a famed backstory filled with passion and powerful emotion and not without a little scandal which began in the 18th century. It has been reported throughout history that Louis XV whose grandfather, Louis XIV, was called the Sun King, due to wearing head to toe diamonds. His wife was Marie Antoinette, and as well as his penchant for diamonds, he was said to have many mistresses. The nobility of the time often did but Louis XV's favorite lover was Jean Antoinette Poisson who not only won his heart but a key place in court as the Marquise de Pompadour. Thinking that her 'lips were the most exquisite and perfect he'd ever seen', he commissioned one of the royal jewelers to create a diamond that looked most like her lips, hence the marquise shape when shown horizontally was cut and designed. Its name lived on, but it was also often called the navette shape (which means small boat) and later the football cut.
But the jeweler's choice is to call it by its most romantic name—the marquise diamond.
Time for A Change: Marquise Cut Diamonds Get A Makeover
It was seen in different time periods, in Art Deco styles as streamlined rings and in combination with other diamonds that would fit into a particular design, mid- 20th century saw the prominence of marquise diamond engagement rings and then again it had a resurgence in the 1980s and early '90s often in yellow gold settings. Today there are many sustainable choices as many of the mid-twentieth century and later estate rings' stones have come to market to be reworked in modern marquise engagement rings that are being set in modern bezel and flush settings from east to west.
Setting The Stage: The Designs For The Earlier Marquise Rings
Marquise cut diamonds in earlier times were set vertically which elongated and slenderize the finger. It was often set as a solitaire or with side tapered baguettes with simple clean-lined shanks. The cut and the settings allowed for marquise cut diamonds to look larger than they actually were. The marquise diamond's facets were perfected as all diamond cuts have been throughout time. It features 58 facets, but it is a balancing act when cutting this shape. Symmetry and proportion are key to a beauty of a marquise so you don't have a stone that is too long, short or one that has too much of a spread in the middle. When cut properly, they can sparkle almost as much as a round brilliant cut diamond yet the shape is elegant and for brides-to-be who require something more individualistic. The points at each end of the marquise cut diamond must also be symmetrical and those finely pointed ends are often more susceptible to chipping. There needs to be protective prongs or claws to keep the marquise safe in a ring. Bezel setting around the stone can also prove to be difficult but once it is set, it is a diamond that can look antique, vintage or modern depending on the design of the ring. The best cutters and jewelers can turn marquise rings into works of fine art. They will ensure that the precise cut will not produce too much of a "bow tie" effect which happens when there is reduced color in the center of the gem. It is reported that all elongated fancy cuts might have somewhat of this effect, but the better the cut, the more it will hide with the brilliance of the facets.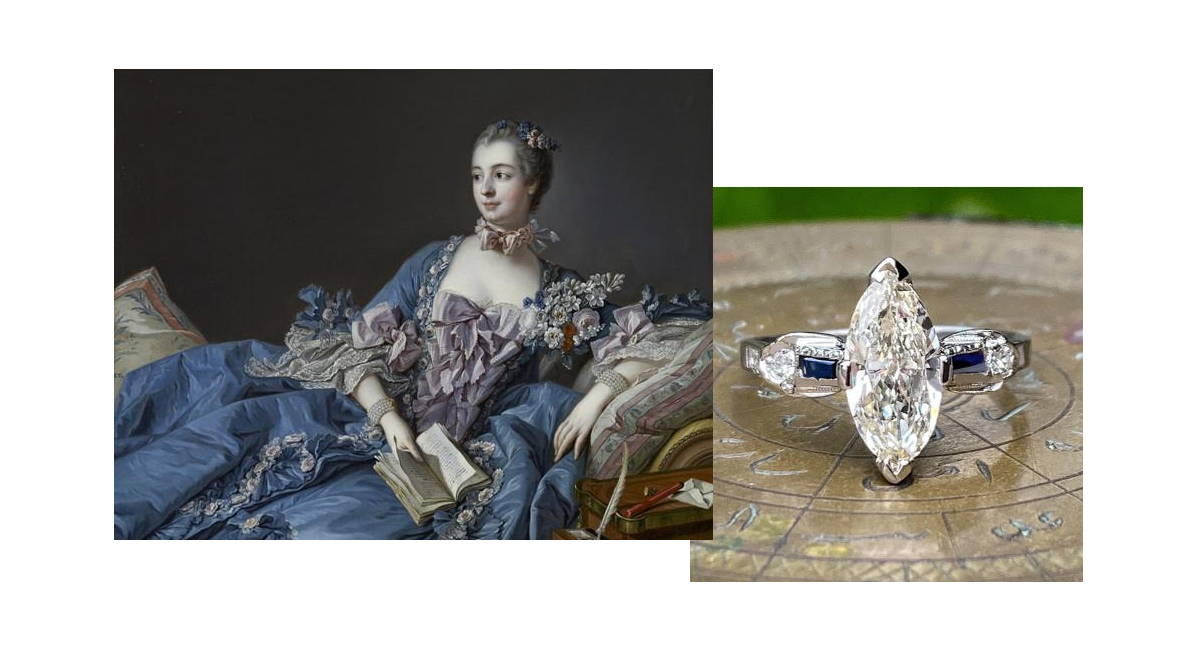 From Left: Madame de Pompadour (Jeanne-Antoinette Poisson, 1721-1764), 1756, Francoise Boucher. Creaative Commons - CC by NC;
Doyle & Doyle Marquise cut  vintage engagement ring
The Marquee Lights Shines With The Stars: Celebrities Who Wear or Have Worn Marquise Engagement Rings
In Hollywood's golden age, actress Norma Shearer and her boss at the time, Universal producer Irving Thalberg, spent their first date at the premiere of Charlie Chaplin's silent comedy The Gold Rush in 1925. Over the next two years, both would be seen with other people, though Shearer was still hoping that Thalberg would propose. Thalberg called her into his office and was sitting across from her when he pulled out a box from his desk drawer. It was a selection box that contained something much more alluring than chocolates—in it was a range of engagement rings. From the box she chose a fashionable slender platinum band, set with a large marquise-cut diamond. They married in September of 1927, and her marquise engagement ring was prominently featured in the movie The Divorcee in 1930.
During the late 1950s and early '60s, diamonds continued to be the favored gem, whether in artfully detailed designs or in big rocks that became almost as famous as the stars and royalty who wore them. Successes of the highly talented were often celebrated with jewelry, as was the case of Maria Callas.
Callas's husband, the wealthy Italian industrialist Giovanni Battista Meneghini, gave her sparkling, gem-encrusted parures and dazzling presents of gemstone jewelry after each triumphant performance. In 1957, an Italian opera that had not been performed widely since 1881 was resurrected. The leading role in Anna Bolena was well suited to Callas and her ability shone in the role of the tragic queen. It was at a party honoring this performance that Callas was introduced to Aristotle Onassis, with whom she soon began a highly publicized affair. Prior to this being announced in the press, Meneghini celebrated his wife's success with a platinum claw-set colorless, marquise-shaped diamond ring weighing 11.7 carats. When the marquise engagement ring went up for auction at Sotheby's Geneva in 2004, it topped the estimate.
Beth Bernstein is a jewelry historian, collector of period and modern jewelry and a purveyor of all things sparkly. She has penned three books—'My Charmed Life,' a memoir; 'Jewelry's Shining Stars,' a modern jewelry design coffee table book; and 'If These Jewels Could Talk,' an in-depth look at celebrities and the stories behind their legendary jewels on the silver screen and in real life—with a fourth one in the works. She has written and continues to write for major print and online magazines on all subjects pertaining to jewelry and style.