Sterling silver jewelry has a long history. It also has a long history with us at Monica Rich Kosann.
When we first launched our designer jewelry brand, it was a locket necklace and matching bracelet in sterling silver that were our very first styles. We are proud of our roots in this wonderful category and wanted to share a comprehensive look at everything we thought might be helpful as one considers a sterling silver jewelry style.
WHAT IS STERLING SILVER?
Let's start with this most fundamental question. Silver is by nature a soft metal. If one were to make a piece of jewelry out of 100% pure silver, the softness of the metal would create a piece that was easily dinged, bent or damaged. As a result, for hundreds of years, sterling silver became a standard for fine jewelry which involved mixing 92.5% of pure silver with 7.5% of other alloys to create a harder metal that would be far more durable over time. If you own a piece of sterling silver jewelry currently, take a magnifying class and look carefully at the style and somewhere you should find a small stamping of 925 or STERLING. This is known as a "hallmark" historically, but simply as a "mark" today, and it is a legal requirement for all manufacturers of jewelry that lets the buyer (or owner) know that their piece is in fact sterling silver.
As a brand we have always appreciated the history and value of sterling silver both across cultures and other product categories like decorative objects and flatware. All of these pieces have been hallmarked for centuries and the markings one finds on older pieces are the most charming and fascinating symbols that often changed annually over that time. In Great Britain for example sterling silver pieces would have a mark denoting sterling content, the year a piece was made, and the city it was made in. It was this grand tradition that evolved into the marking systems used in all our sterling silver jewelry today.
HOW IS STERLING SILVER JEWELRY MANUFACTURED?
While in earlier times silver jewelry pieces (of varying compositions) might have have been created by hand by artisans across various countries, today most sterling silver jewelry is made from pieces that in the first manufacturing step are either die struck or created from a process known as lost wax casting. The latter is most common, but first, a word about the die struck pieces.
Die struck jewelry is the result of silver material filling a hollowed-out mold and being struck together under enormous pressure. The resulting struck pieces are then finished and combined with similar pieces to create a final piece of jewelry. The die struck process can be restrictive from a design level, as the molds can be expensive and time consuming to make and don't easily lend themselves for more intricate designs.
The most common first step in manufacturing sterling silver jewelry is lost wax casting. But first, let's take a step back. In order to cast a jewelry piece, a hand model (or one created from a computer aided design or CAD) is made. That hand model is then used to make a rubber mold that can be used repetitively to create duplicate wax models by injecting wax into that mold. These waxes are then "sprued" as a tree onto a rubber base. The next step is to insert that tree into a metal flask. Plaster (known as investment) is mixed and poured into the flask until it is filled. Once it hardens, the flask is inserted into a kiln, where the wax is melted away and replaced by metal like sterling silver.
Once the process is over and the pieces are cooled, those pieces are then removed from the flask and separated onto individual cast pieces of silver. They are then available to be filed, finished and assembled into a finished jewelry style. Depending on the complexity of the styles, some jewelry pieces require far more hand finishing then others. MRK lockets for example require far more extensive workmanship as there are multiple sets of hinges and moving parts. The finishing process involves a combination of meticulously filing and polishing all aspects of the various parts, so they are free of imperfections. Once this happens, the parts can be soldered and assembled into the final finished jewelry style.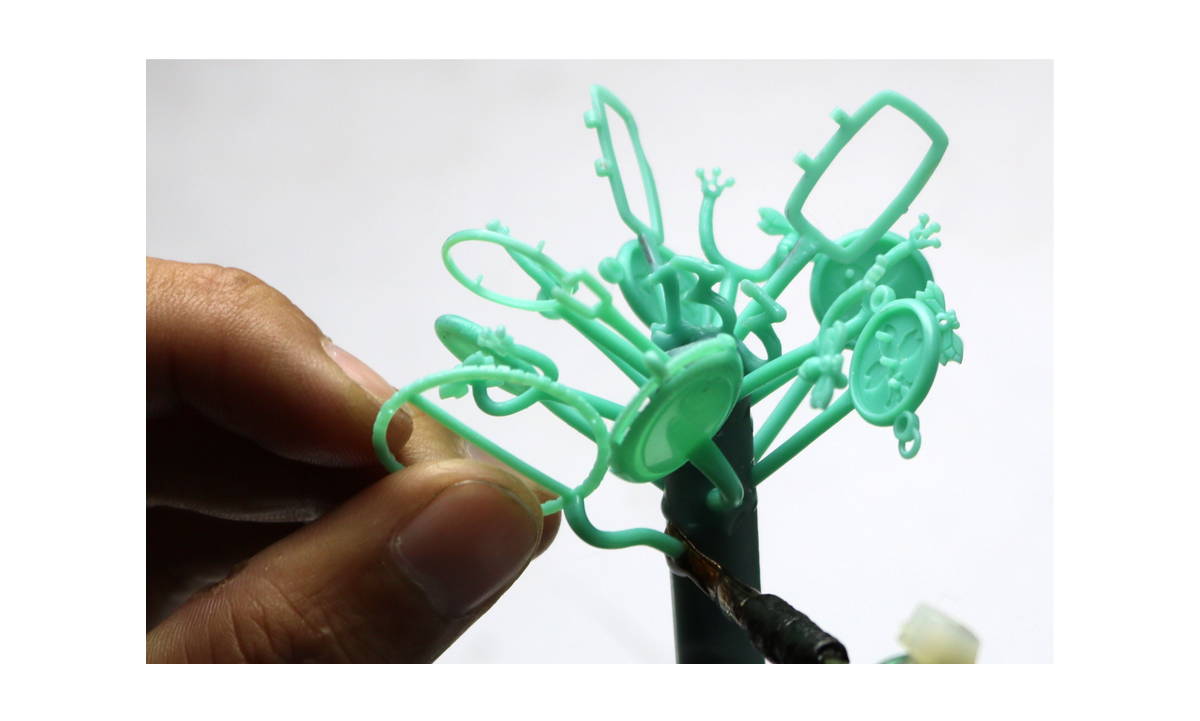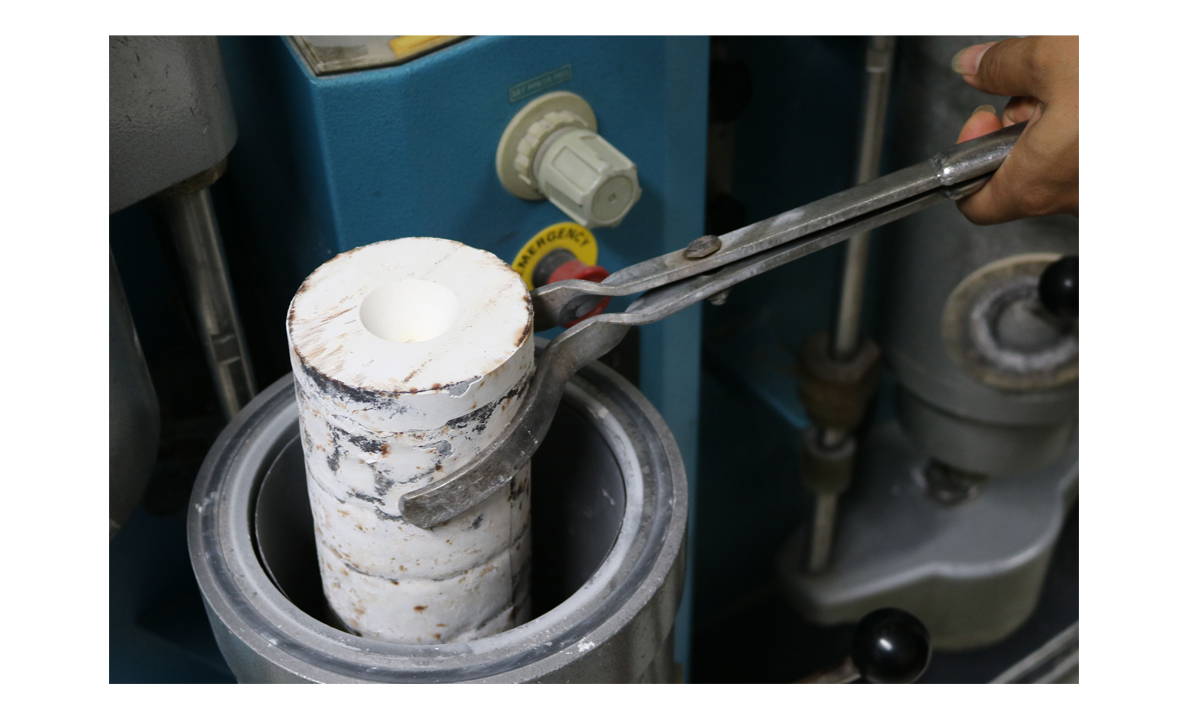 Above from top: Wax Tree prepared for casting and flask being prepared for the casting kiln
FINISHING THE STERLING SILVER JEWELRY PIECE
Sterling silver pieces, whether as jewelry or items manufactured for the home (think flatware, barware or decorative objects) have always been associated with tarnish, a process wherein over time the sterling silver takes on a darker coloration having been exposed to certain elements in the air. Once this happens, the piece would traditionally need to be polished using silver polish and a soft cloth. On all of our MRK sterling silver jewelry pieces we wanted to ensure that this would not happen, so early in our history we began finishing all our sterling silver styles with rhodium.
Rhodium is a precious metal that as of this writing is more expensive than gold. Once any of our sterling jewelry styles emerge from the finishing process above, rhodium is plated onto the design to protect it from tarnish. It can keep one's silver piece looking bright and fresh for years.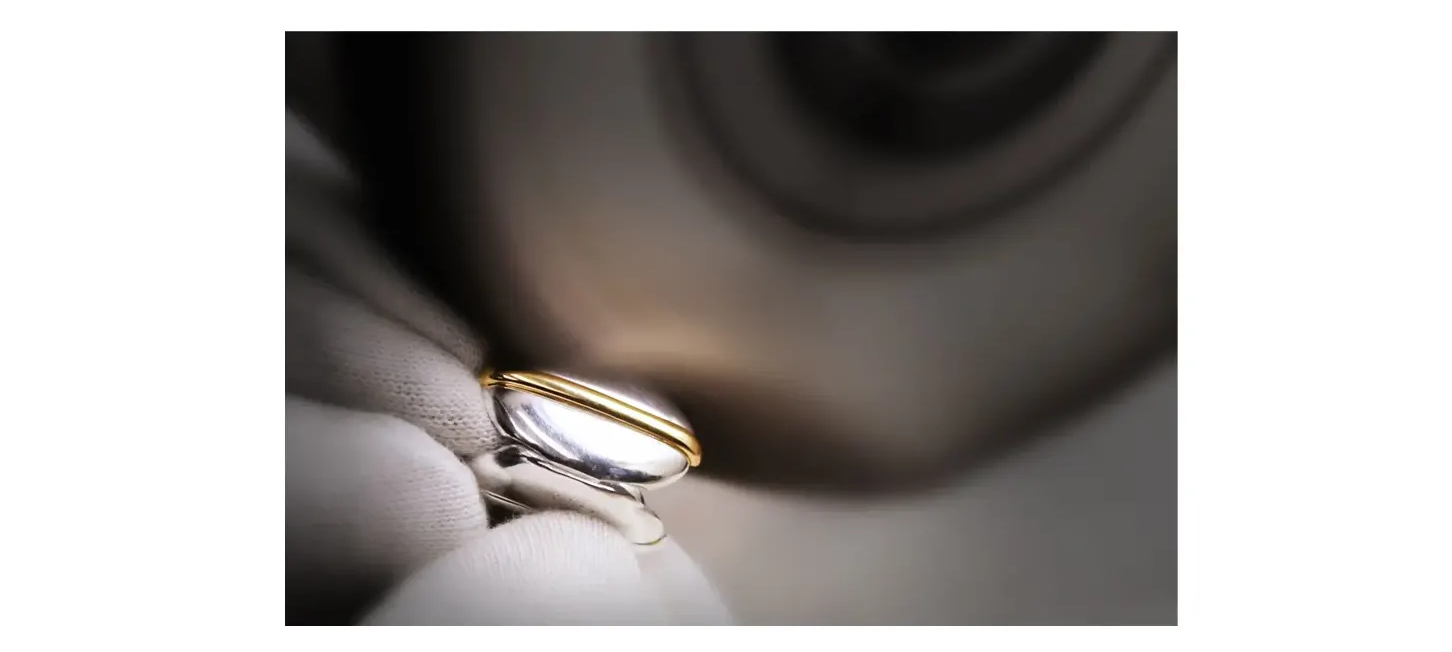 HOW TO CARE FOR YOUR STERLING SILVER JEWELRY PIECE
When caring for these MRK jewelry pieces, one should just buff them gently with a soft cloth. There is no need to polish the pieces, and vigorously rubbing a style will wear off the rhodium finish making the piece susceptible to tarnish.
If one doesn't wear a sterling jewelry style for a prolonged period, it is best to store it in one of our protective pouches or even in a small zip lock bag which will keep the air out.
WEARING YOUR STERLING SILVER JEWELRY
As Monica always says, "there are no rules."
Take the time to experiment, mix, and match how you wear your silver jewelry pieces. Whether worn alone as a statement piece or layered with your other silver styles, you can create endless styling options. Importantly, don't think of your sterling silver pieces as something you wear only with other silver designs. Feel free to mix them with the gold jewelry you own to create a two tone look that can be both classic and contemporary.