Rings are often a staple in our jewelry wardrobes. They're easy to wear and bring an instant update to any look. Whether you pile them on or keep it simple with a single statement piece or a few delicate bands, there are so many ways to wear your rings. You can experiemnt with how to wear multiple rings, how to wear rings on multiple fingers, how to wear rings on both hands...the sky is really the limit! Here are a few of our favorite ways to wear rings...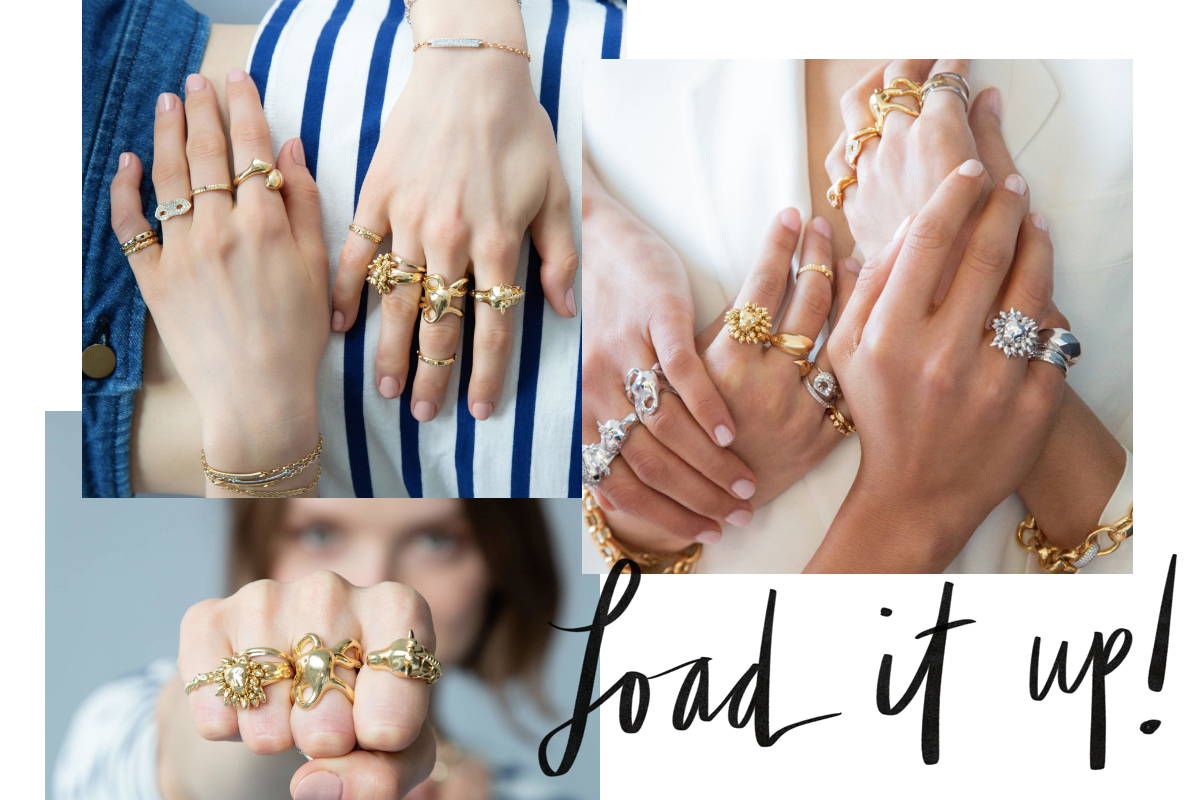 Use the more is more philosophy and pile your rings on! Once you start piling them on, mix and match as many as you can to tell your story in a way that feels like you. Mix larger statement rings with small delicate stacked rings; combine gold and silver; wear smaller rings on your knuckles and pinkies. You may be asking how many rings to wear, but the truth it that when you're loading up on rings, the look is a statement itself, so it's hard to go wrong. This is a great way to experiment with how to wear rings on both hangs, and how to wear rings on multiple fingers. The idea here is definitely more is more.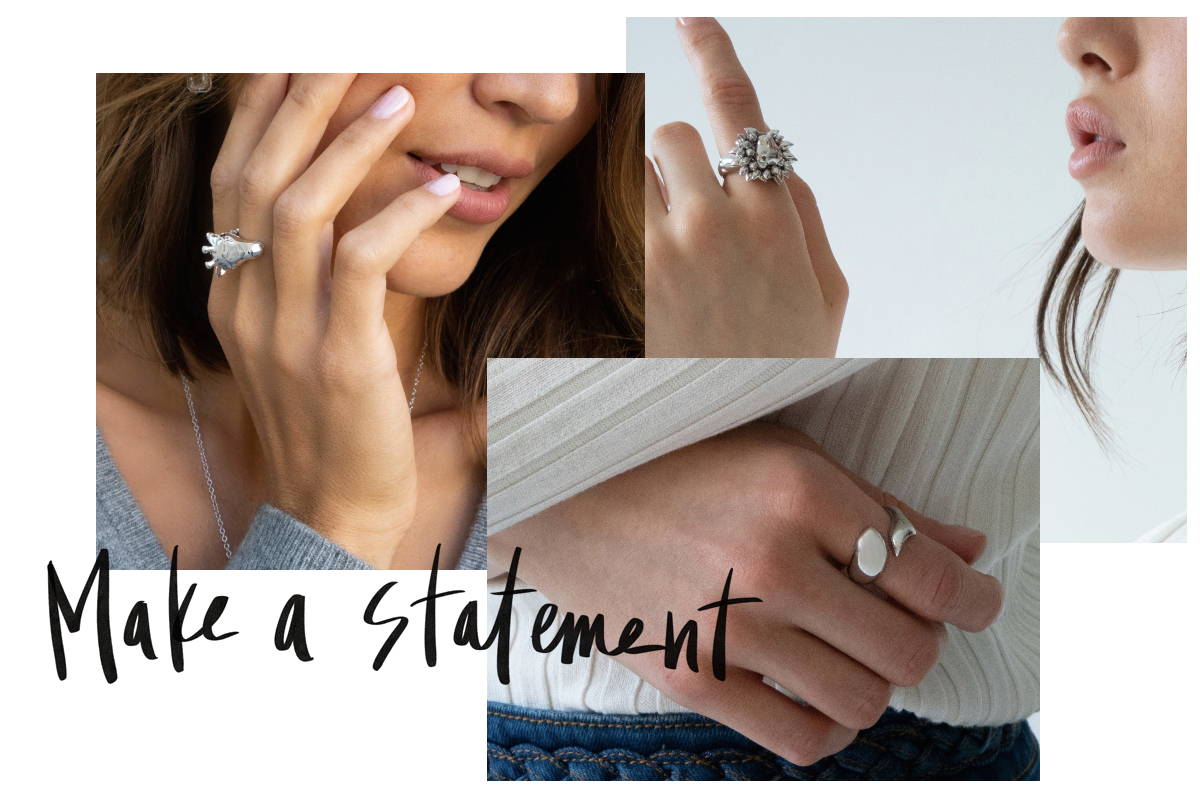 Make a statement with a single, bold ring. Rings like our "courage" lion ring, "perseverance" fish ring and "grace" giraffe ring speak for themselves, and help you tell your personal story. People immediately notice one beautiful ring - and you'll probably find yourself answering questions about the origins and meaning of your statement ring. It's hard to ignore a bold piece, and it's the perfect way to add that special touch to your outfit. Play with your statement ring and see what finger you should wear the ring on. It's usually a question of proportion and seeing how the ring fits each finger. Larger rings tend to look good on a pointer or middle finger, while more delicate rings often look good stacked on a ring finger. Having said this, if the way the ring fits feels right to you you really can't go wrong.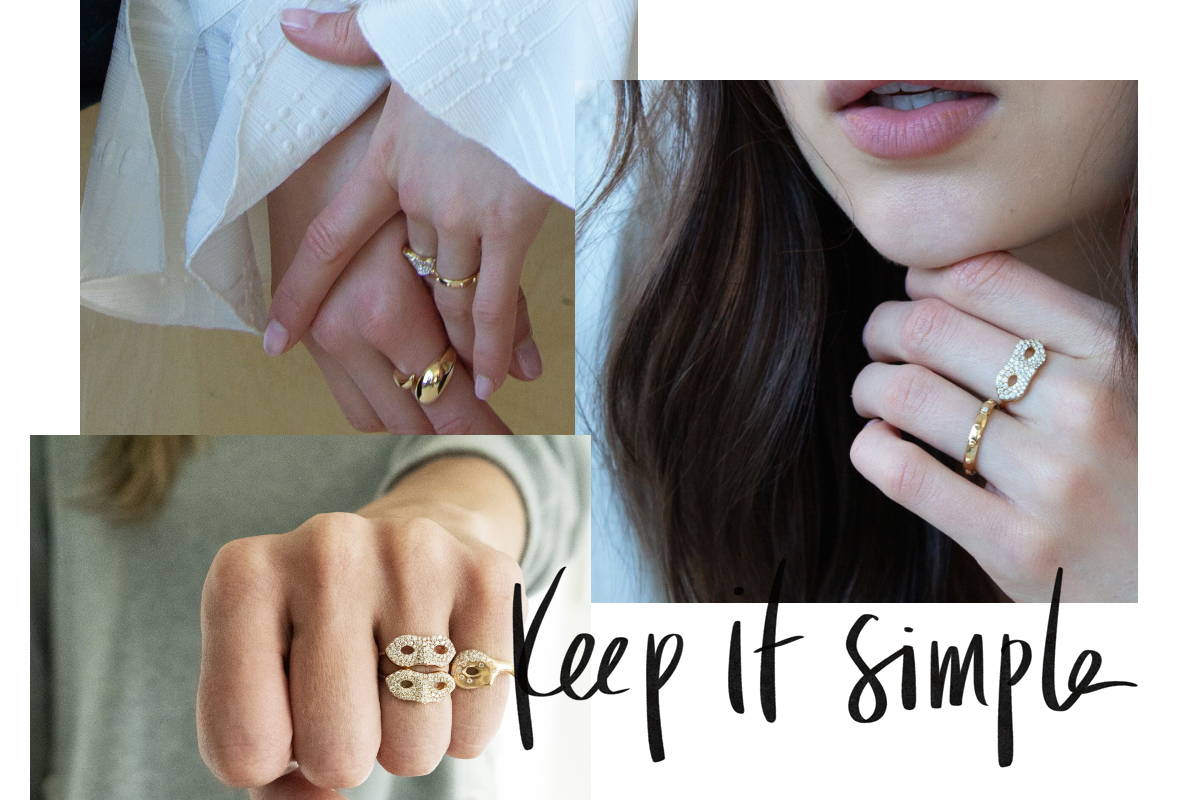 Keep it subtle and simple with a few delicate rings, like our mask rings or our poesy rings (each of which has a special meaning). This is a classic look you can wear everyday, with absolutely everything. Think of it as your ring uniform, and then build from there depending on how creative you want to get. We love stacking multiple rings on our ring finger and then wearing a small pinky ring next to it to make a delicate statement. When keeping it simple, it's best to experiment with how to wear rings on multiple fingers. You could do a bold ring on one finger, and a more delicate ring on the finger next to it for a great every day look that takes you from day to night.