Every time you style yourself, whether that be the clothes you put on, the make-up you apply or the colors you choose, you're saying something to the world about who you are. You may be a minimalist or someone who prefers to make a bold style statement. You may even portray different versions of yourself depending on the occasion or how you're feeling.
But your choice of jewelry goes even deeper than that. Because you can mix and match your jewelry, you can use it to tell your own unique story: where you are in your life, your philosophy, your values and your aspirations.
So, whether its an affirmation piece you're looking for, or a bold statement ring that portrays your animal "twin", here are 10 of our favorite sterling silver rings that'll help you tell your story.
How to wear your ring
You have a few options with both your choice of rings and how you decide to style them.
When choosing your ring, you could choose an affirmation piece with a mantra inscribed on it, such as a poesy ring. Poesy rings date back to the 15th Century when they bore poetic inscriptions of love, friendship and inspiration.
How you choose to wear your ring will also make a difference to what kind of messaging you're putting out into the world. You might choose to wear it on its own, or create a fun look by mixing and matching, creating your own ring stack to display your own personalized story.  
Another style choice is where you choose to wear your ring. If you were to choose a poesy ring on your finger, no-one else will be able to see the inscription - perfect if you want to keep your affirmation a secret.
However, if you wanted to be more conspicuous about telling your story, you could wear your sterling silver ring on a chain around your neck for the whole world to see.
Remember, as Monica says, "There are no rules."
1. "One of a Kind" sapphire poesy stackable ring
There comes a time in everyone's life when you need reminding of your own unique qualities.  
Whether you're celebrating a milestone birthday, or you just need a bit of a lift, our "One of a Kind" poesy stackable ring is simple, yet striking. The stunning white sapphire is a timeless classic, while the jaunty shape of the ring works beautifully in a ring stack alongside other bands.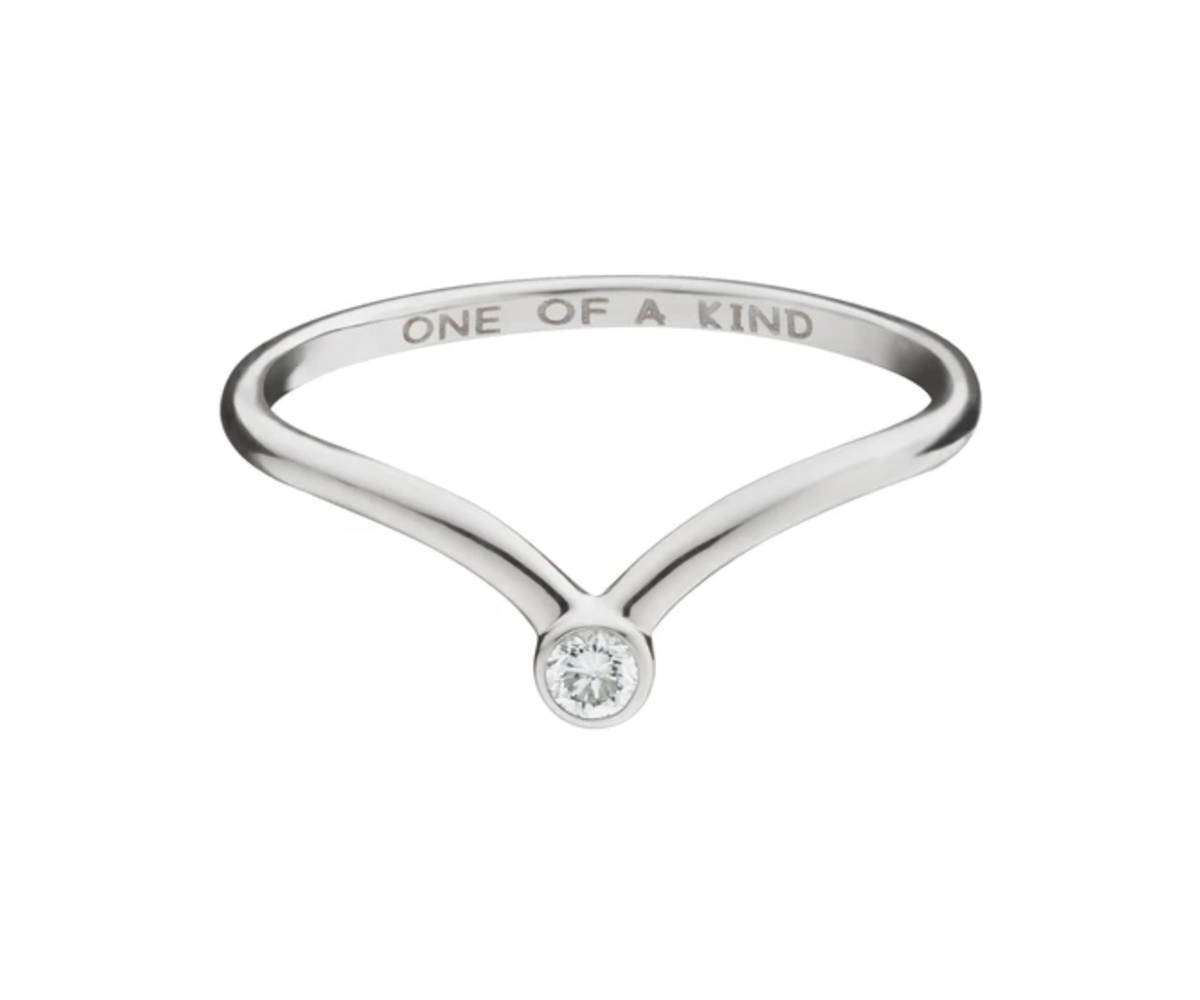 2."Warrior" poesy stackable ring
Every woman has an inner warrior - a part of herself she can turn to for strength and resolve when the going gets tough. In fact, anyone who practices yoga will know that the warrior pose (Virabhadrasana) helps build focus, power and stability.
If you find yourself at a time in your life when you need to rely on your inner strength and stability, you may want a reminder of your warrior side.
Our "Warrior" inscribed stackable ring, available in turquoise, blue or orange, is a simple yet powerful story-telling ring. It works beautifully on its own or layered up with other stackable rings.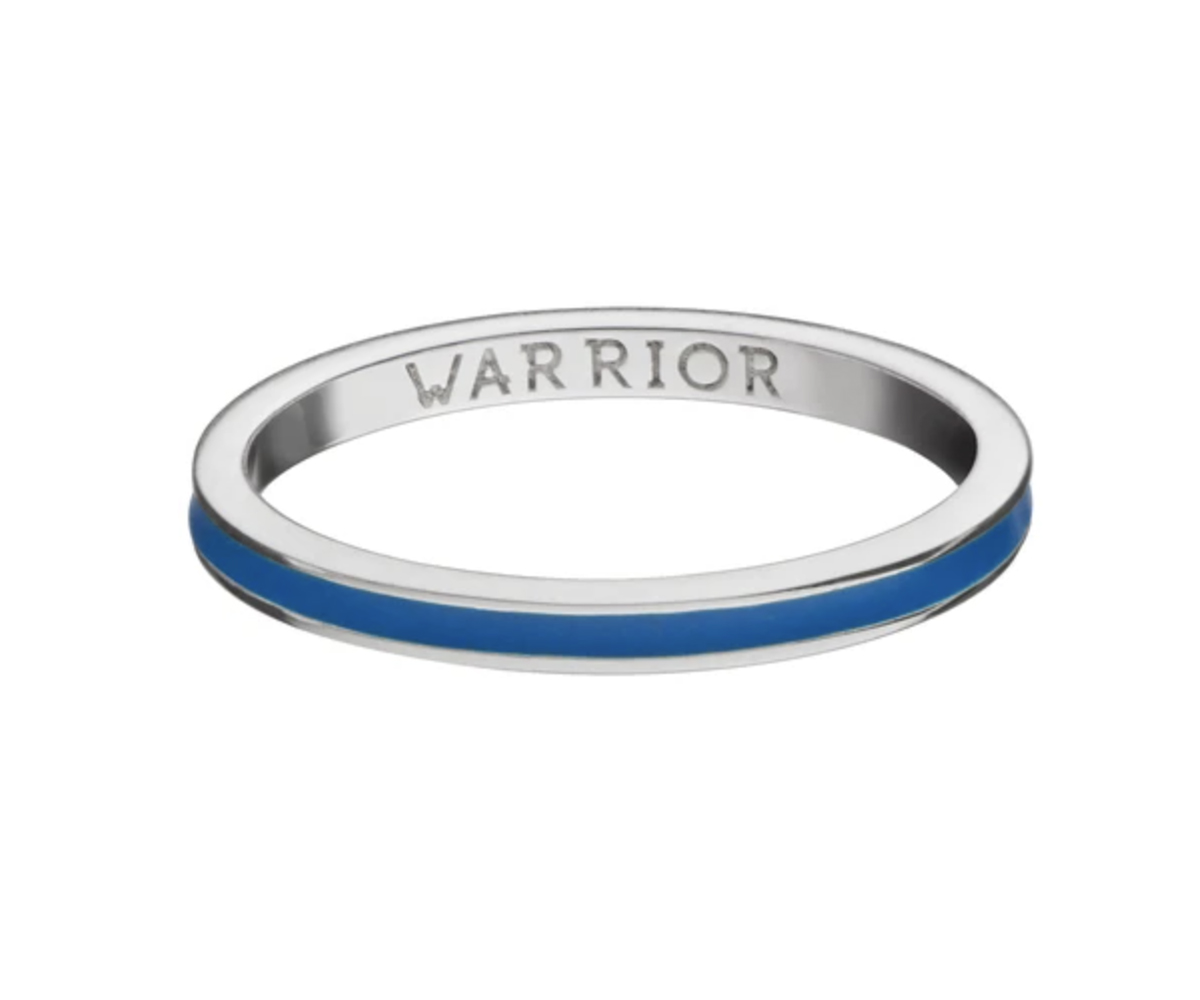 3. "Intuition" octopus ring
The octopus is one of the world's smartest animals. The way it moves through its surroundings, using its senses to keep in constant motion, the octopus has come to represent deep intelligence and intuition.

If you need to trust your intuition - perhaps you're just starting out on your new career path, or maybe you're about to become a first time mother - our sterling silver octopus ring literally wraps its tentacles around your finger, keeping you mindful of your deep-rooted instincts.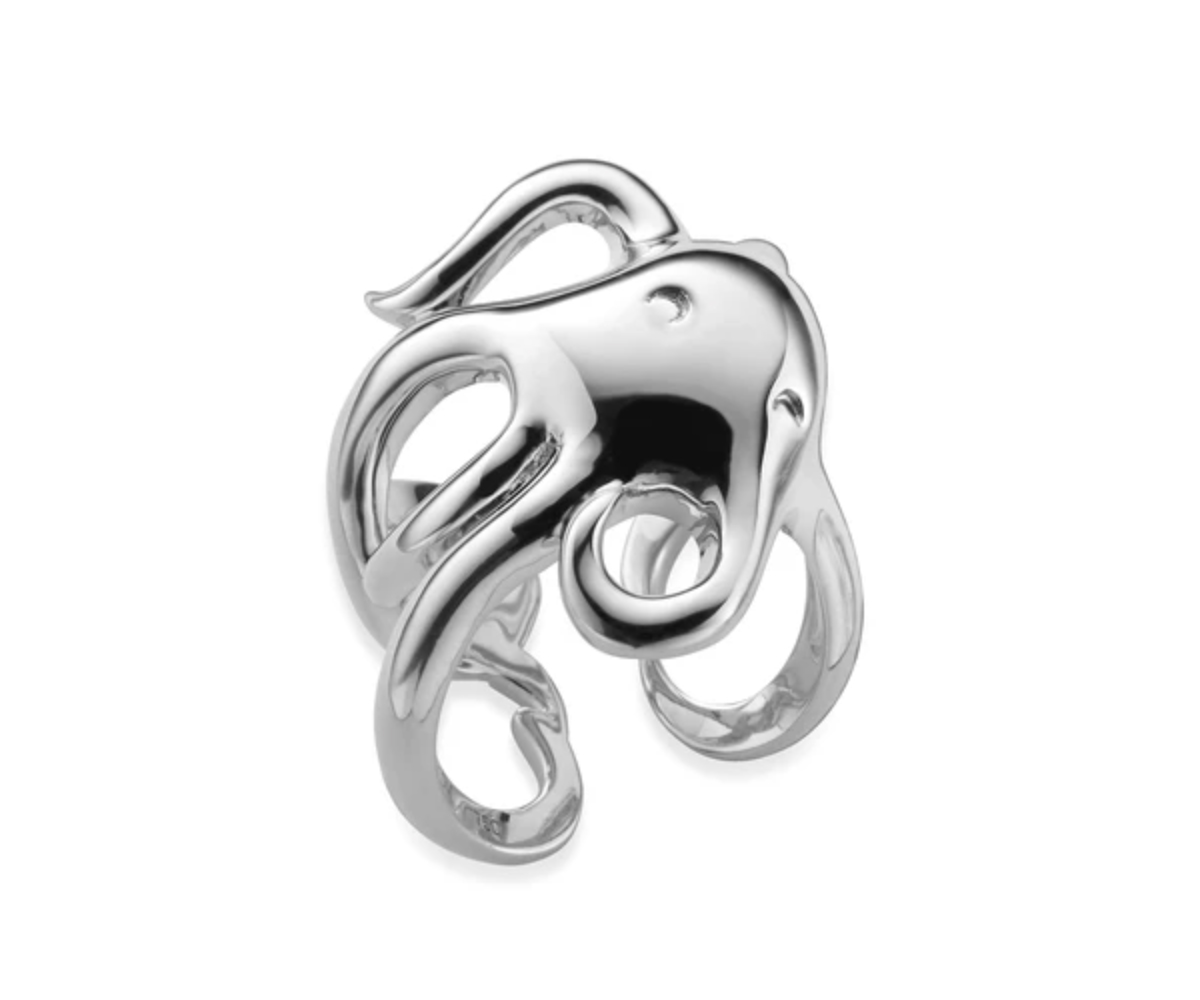 4."Courage" lion ring
Over the centuries, the lion has come to represent all sorts of powerful traits, such as majesty, strength and justice. But more often than not, this "king of the beasts" signifies courage.
There are so many points in our lives when we need a little courage to take on the world. Perhaps you're preparing for your final college exams, undertaking a new promotion, or about to set off on a grand adventure around the world. Whatever it is, your inner lion may need channelling.
After all, in the words of French writer, Anais Nin, "Life shrinks or expands in proportion to one's courage."
There's nothing subtle about our sterling silver "Courage" lion ring. It's a big statement, leaving you and the world in no doubt of your affirmation. While bold, the "Courage" ring is also delicate, beset with tiny white sapphire eyes and a beaded mane that keeps in motion.
Subtly engraved with the word "Courage" on the inside, you get to keep your affirmation secret, whilst proudly showing your statement ring off to the world.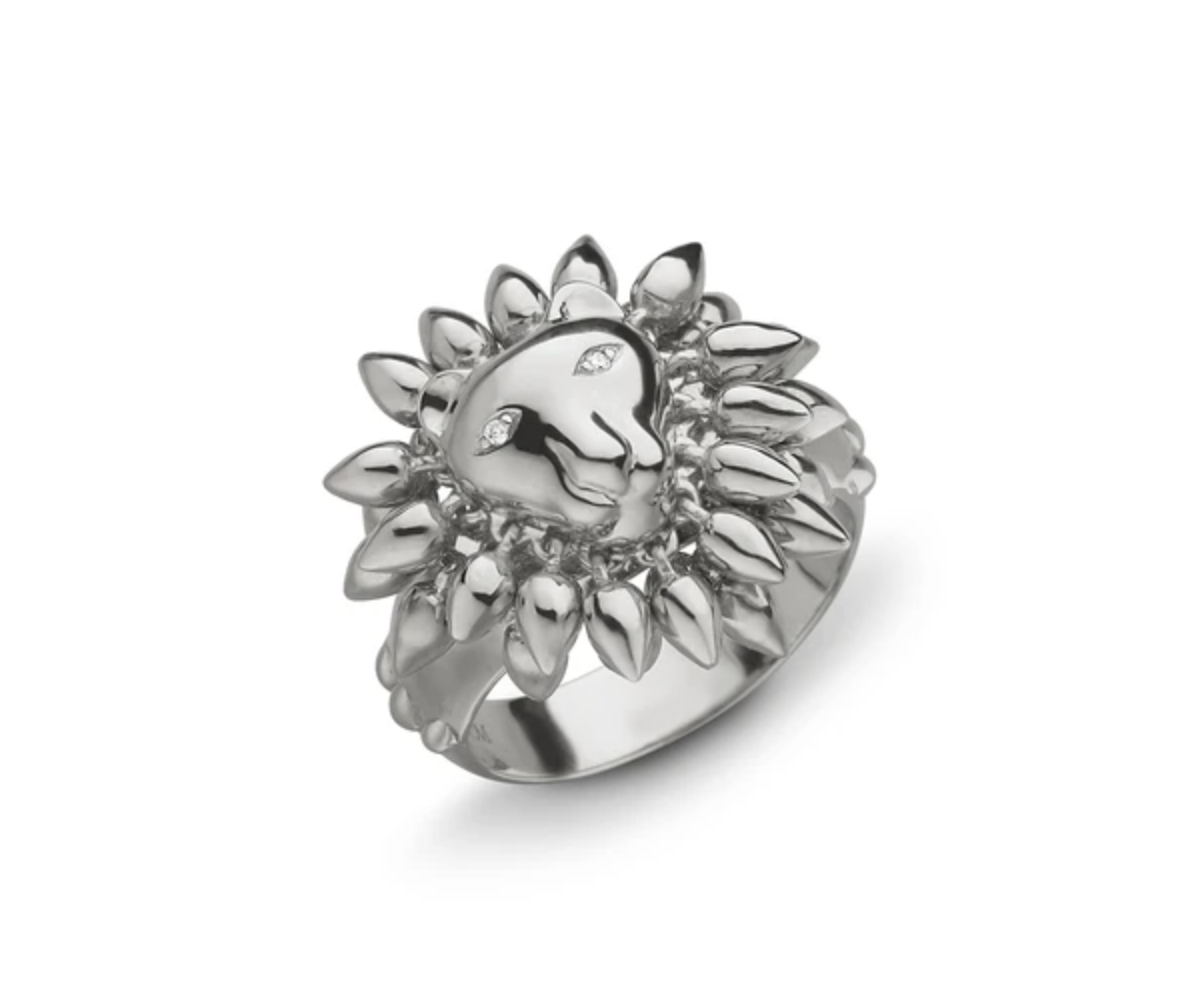 5. "Goddess" mermaid ring
"God may be in the details, but the goddess is in the questions. Once we begin to ask them, there's no turning back."
The words of feminist icon, Gloria Steinman, remind us that part of the empowerment of being the goddess you are is continuing to ask questions, fighting against accepted norms and breaking down barriers.
Your inner goddess is your story. She's there to take you by the hand and guide you through the world, challenging the status quo and carving out a path for yourself and other women to follow.
Our sterling silver mermaid tail ring beautifully wraps around your finger, and has the word "Goddess" inscribed on the inside. It's a statement ring, and can be styled with one or two smaller bands, and even a matching mermaid tail cuff for maximum impact.
6. "Invincible" signet poesy stackable ring
Being invincible means being "impossible to defeat or prevent from doing what is intended." And there's nothing quite so empowering as that feeling of invincibility when you have your heart and mind set on something.
Perhaps you're about to set off on an adrenaline-packed adventure or maybe you've bagged yourself your dream job. Whatever you're going through in your life, remind yourself that you can do anything you set your mind to.
Our sterling silver signet poesy stackable ring is finished with a color-popping orange enamel and is engraved with the word "invincible" on the inside to remind you that the world is your oyster.
And, in the words of Maya Angelou: "I love to see a young girl go out and grab the world by the lapels. Life's a bitch. You've got to go out and kick ass."
Be that girl!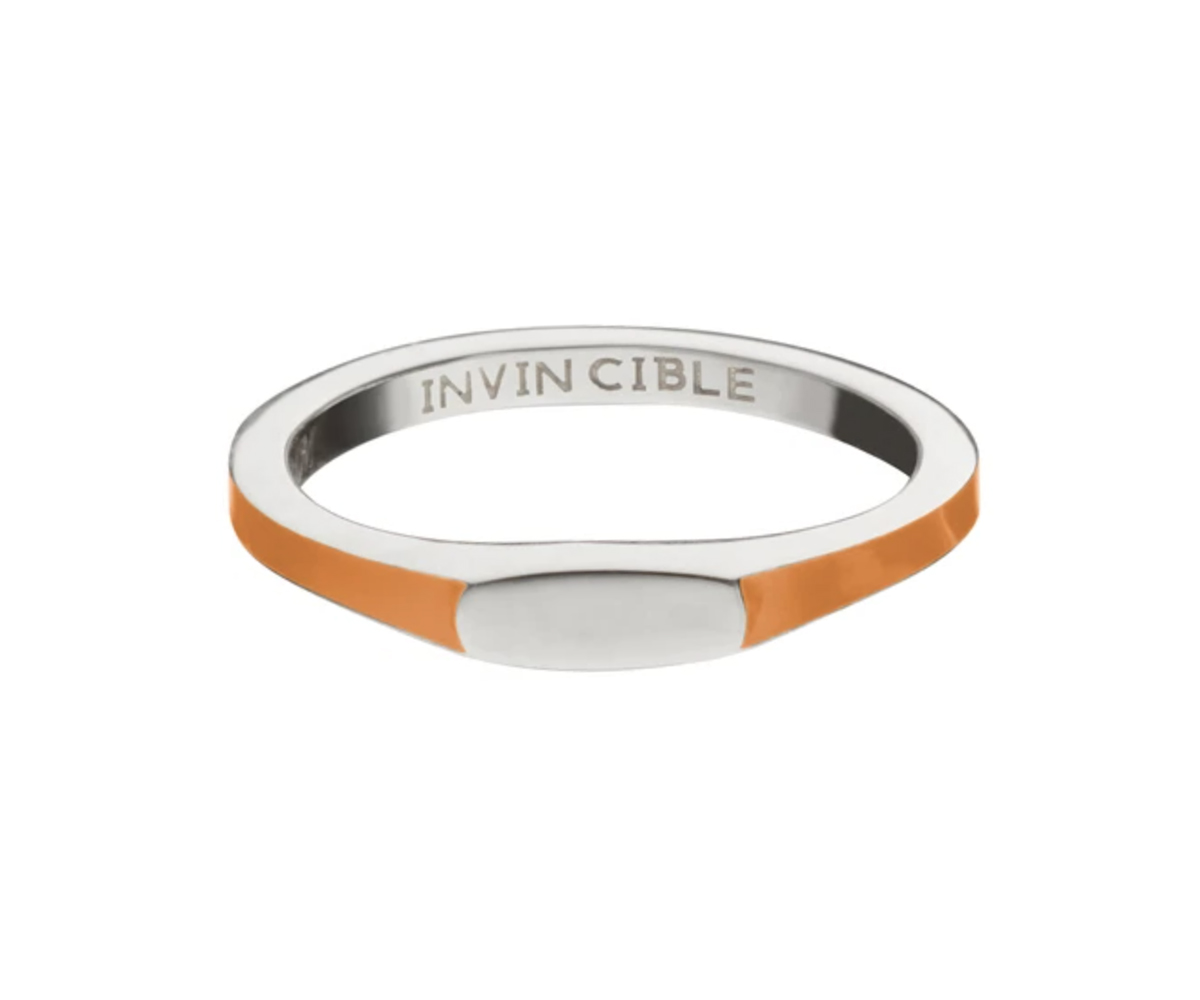 7. "Queen Bee" poesy stackable ring
The honey bee is often associated with femininity, growth and motherhood. But the queen bee isn't just an ordinary bee.
In fact, it's her role in the colony that's pivotal to the very survival of the hive. She might be the only queen within a colony of 60,000 bees, taking on the majority of the egg-laying and, therefore, securing the future of the colony. It is she who will survive cold winter months, and take the role of building the new hive come spring.
In short: the queen bee is the survivor, the mother figure, the central fixture in the family.
Are you the queen bee of your hive? Perhaps you're a mom to little ones at home, the boss at work or maybe you've just bought your first house. It might simply be that you're the one everyone comes to for advice, security and a listening ear.
Our "Queen Bee" poesy stackable ring will remind you of what it means to be the queen bee. Worn alone, it looks great as a statement piece. But layered with other stackable rings, it works beautifully among a collection of other rings to tell your story.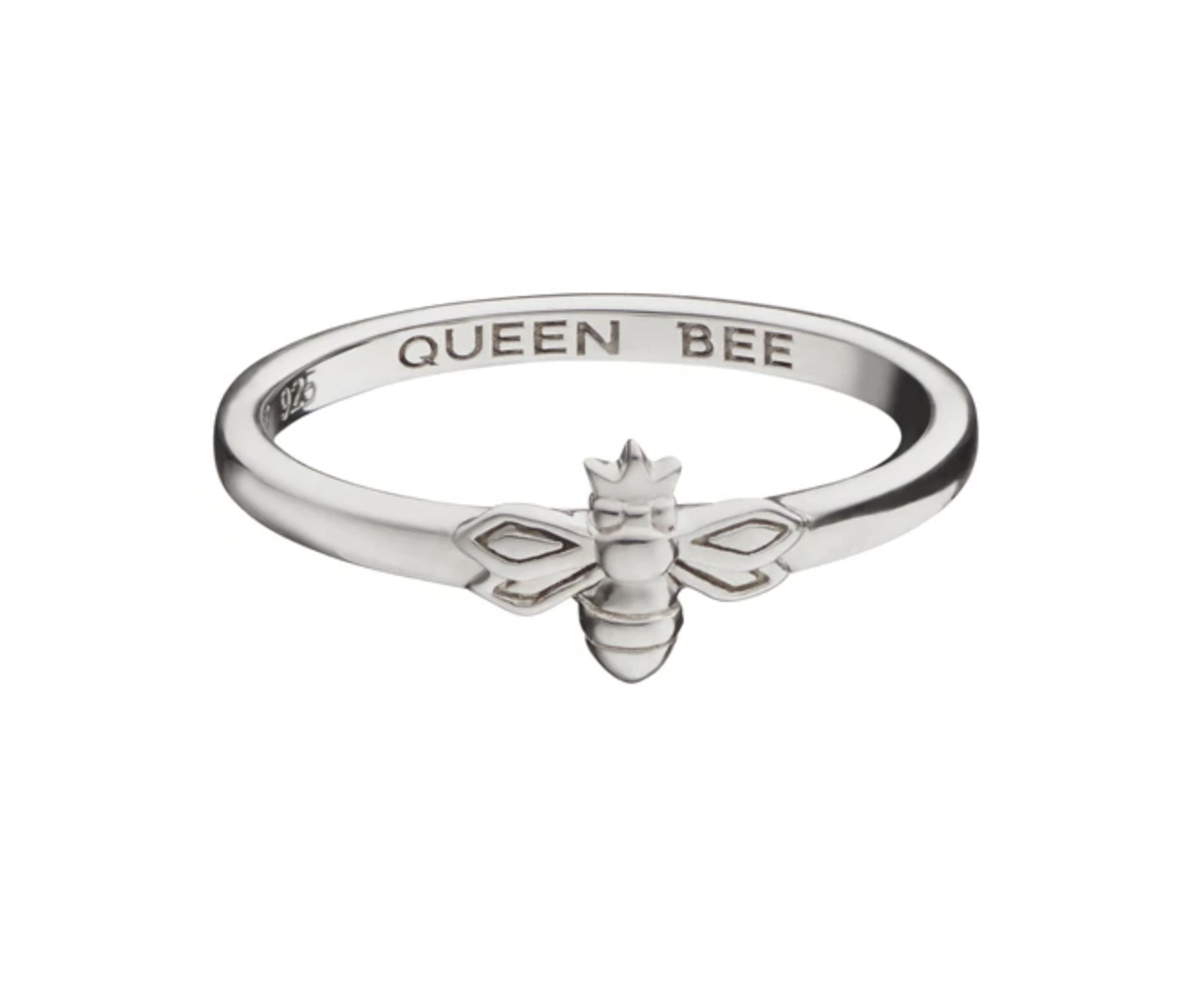 8."Perseverance" fish ring
In various cultures around the world, the fish has come to represent perseverance. In Japan, the koi fish is known for its ability to swim upstream - even up waterfalls - and represents resilience in the face of adversity.
In life, whether we like if or not, perseverance is a choice. When met with adversity, what do we do? Do we crumble? Not an option. Or do we rise to the occasion and just keep on keeping on?
Our "Perseverance" fish ring will remind you of this. It's a stunning abstract piece, with the entire ring band forming the fish shape that wraps itself around your finger. On the inside of the ring the word "Perseverance" is engraved, lest you forget your own resilience.
So, in the words of Dory, fishy friend to Nemo and co. in Finding Nemo: "When life gets you down, you know what you gotta do? Just keep swimming."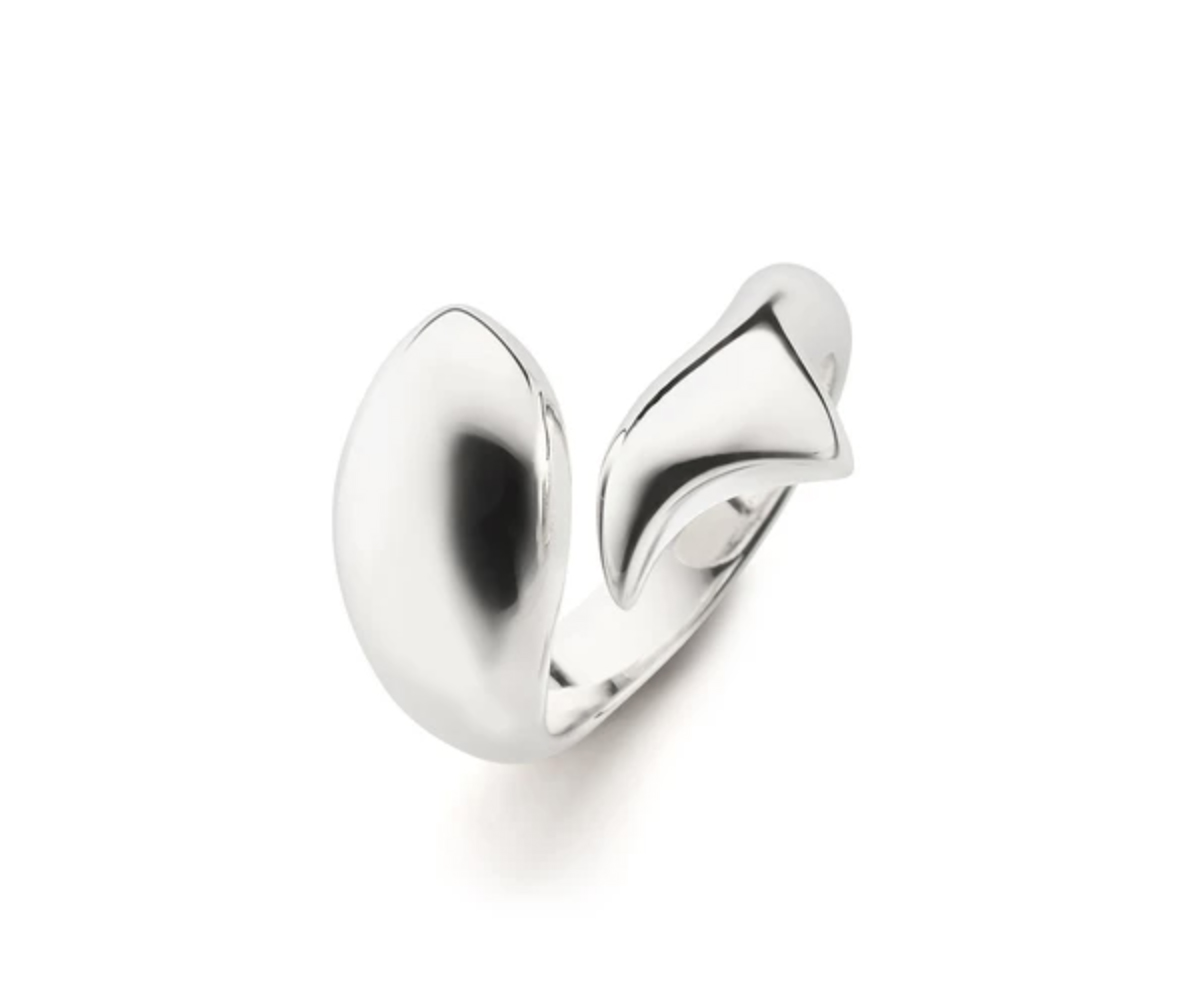 9."Never Fear" snake poesy stackable ring
Life, as we all know, is full of ups and downs. We're all going to face tough times once in a while. Yet, as Franklin D. Roosevelt so succinctly put it, "The only thing we have to fear is fear itself." Fear, in other words, is often a construct of our own imaginations, and we're actually much stronger than we think.
That said, it's natural to need reminding of this every now and then. Perhaps you're about to embark on a big new adventure. Or maybe you're going through a personal struggle like a relationship break-up or a health problem. Whatever it might be, a little reminder of your strength is worth wearing against your skin.
Our "Never Fear" snake poesy stackable ring tells your story of fearlessness as you tackle your challenges. The sterling silver snake wraps around your finger, with tiny beautiful green tsavorites inset as the snake's eyes. The inside of the band is engraved with those important words, "Never Fear," reminding you that you've got this.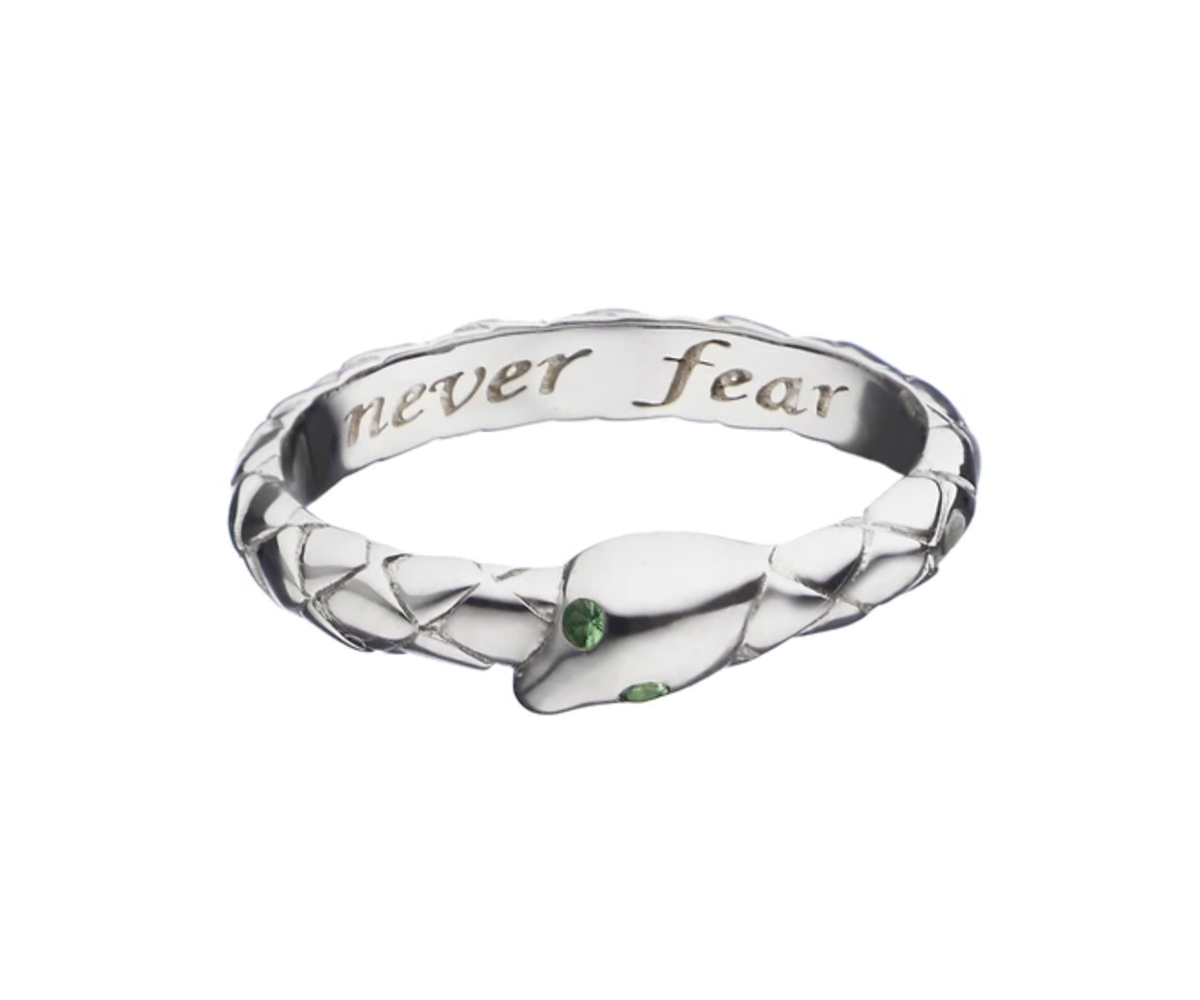 10. "Breathe" leaf poesy stackable ring
Inhale. Exhale. It's been a tough year for the majority of us as we've forged our way through uncharted territory during a global pandemic.
It's been a time of uncertainty, anxiety, loss and stress, and we all have our unique story to tell.
And when life gets most tough, isn't it good just to breathe? Just take a few breaths slowly in… And out...
Yoga teaches us the importance of breathing. Deeply in through the nose, from the top of our heads and the tips of our fingers, right through the body and out through the soles of our feet. Sometimes it's possible to feel like you're pushing the weight of the world away just by the power of the breath.

Our beautiful leaf poesy stackable ring is designed in a branch shape, eye-catching for its simplicity. On the inside is inscribed the word "breathe," all in lower-case, to remind you of the simple act of letting go and trusting in your own breath.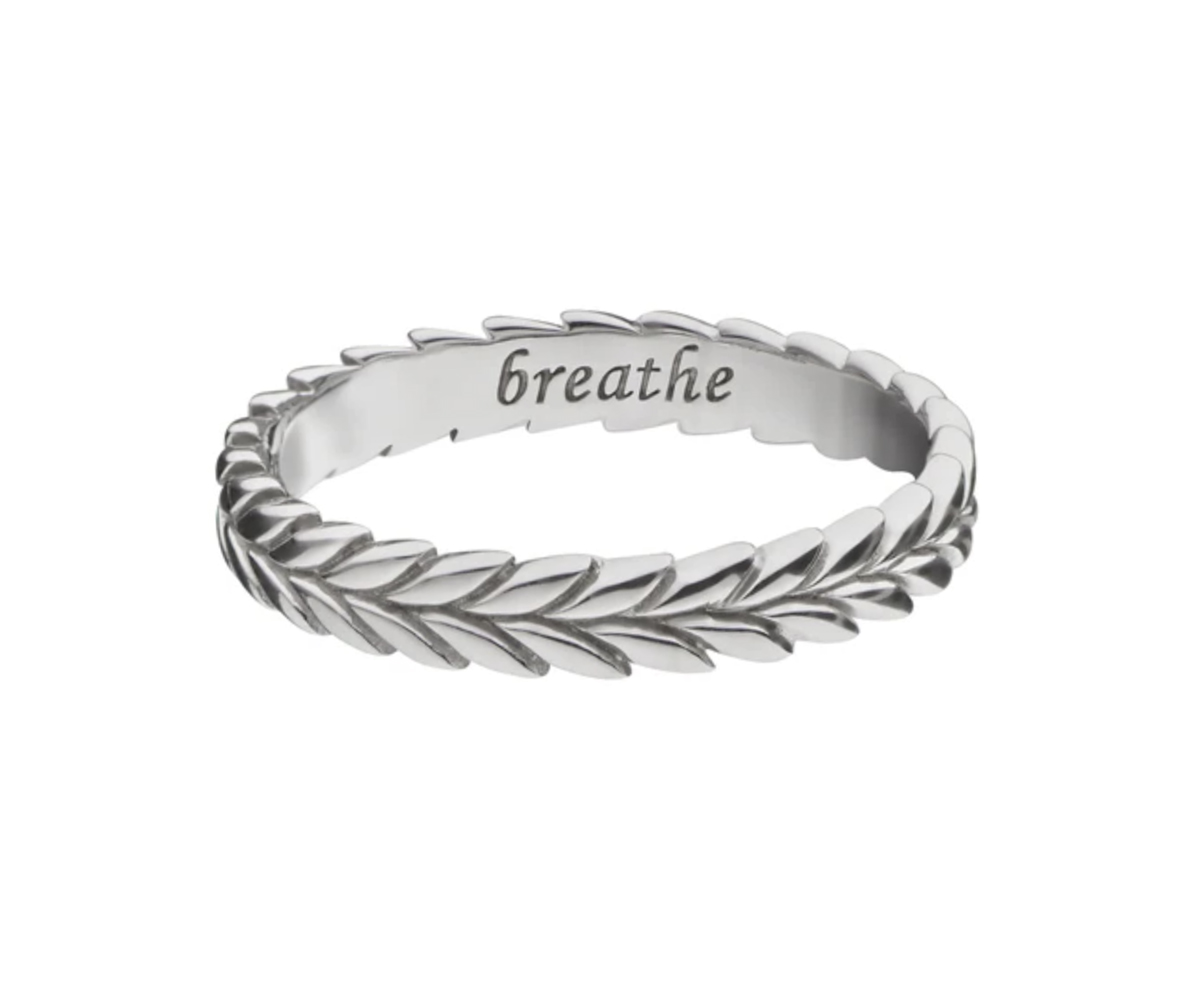 Wear your story with pride
At Monica Rich Kosann, we know that how you style yourself on the outside communicates something of your inner story. We love our sterling silver ring collection, not only because our rings are beautifully made by our expert artisans, but also because of the way they tell your own unique story.
Either worn alone as statements of your journey, or mixed and matched with other rings to create a story-telling stack, let your sterling silver rings empower and inspire you as your story continues.