Ring stacking is one of the hottest jewelry trends of the moment. Whether accessorizing for a dinner date or heading to the office, their versatility speaks to every modern woman.
But the stackable ring fashion is far from new. British paintings from the 16th through 19th Centuries show royals wearing both multiple rings per finger and several on each hand. They then became a bridal staple well into the 20th Century, trickling down to today where multiple rings are worn as day-to-day additions to both dressy and casual looks.
But sizing your stackable rings is not as easy as it looks. Not only do you have to accommodate your fingers for several rings between your knuckles, but you might even consider wearing midi rings between your nail and second knuckle. In fact, there are so many different looks you can go for, it can be tricky to distill your options and find what works for you.
So, whether you want to go big or start with a subtler look, mix metals or match gemstones, in this post we'll share our tips for sizing your rings for your different fingers.  
General sizing tips for stackable rings
When buying standard rings, you would choose a size that reflects your true finger size. Simply wrap your finger with string and measure the string against a measuring tape to find the circumference.
However, for stackable rings, you need to account for how you want to stack them. If the band you're buying is 2mm or thinner, order your true ring size. But for wider bands that you want to stack at least three together, order ½ a size larger. The wider rings stack, the more space you need to give your finger some flexibility.
Typically, midi rings (worn in between your nail and second knuckle) are around 3-4 times smaller than your usual ring size. That said, it's always better to measure your finger and compare against a sizing chart.
A few tips to keep in mind when sizing your rings:
Remember that each finger could be a different size, so make sure you measure fingers on both hands

Measure your hands when they're warm, not cold

Ensure the size you choose will fit over your knuckle

 
Know your budget
How you decide to grow your stackable ring collection will depend on your available budget. If you have the means to purchase a complete set of stackable rings, then great! However, if you're on a limited budget, start with one statement ring around which you can build your collection in the future.
The beauty of stackable rings is that there's something for every budget, and they're a perfect item to collect over time, letting your collection develop as you go through life.
Let your sizing approach reflect who you are
The great thing about stackable rings is that there are no hard and fast rules. Ring stacking is a fun way to express who you are, tell your own story and, above all, to experiment. So if there is one rule, then it is to let your personality and individual style guide your choices.
If you're an organized person, you may be inclined to plan out your look in advance and make purchases accordingly. But if you're more free-spirited, your ring combination may be more organic, developing and changing over time and as you gain new experiences.
For the organic approach
Taking a more organic approach to your look will allow you to tell your own story through your jewelry. So, if you're a laid-back kind of personality, you might prefer not to plan how you purchase but instead start with a ring you love and develop your collection from there.
You may want to purchase a ring when you've hit a particular milestone in your life, whether that's your college graduation, a new job, or the birth of a baby. Whatever it is, you can build your ring stack to represent the evolution of your experiences.
Poesy rings are a great addition to a storytelling stack. Dating back to the 15th Century, poesy rings held inscriptions of poetry and were gifted as symbols of love and friendship.  
Choose a poesy ring that says something about where you are in your life. Are you on a round-the-world adventure? Have you got the keys to your first apartment? Are you in need of a reminder of your strength? Choose a ring with a mantra that means something to you.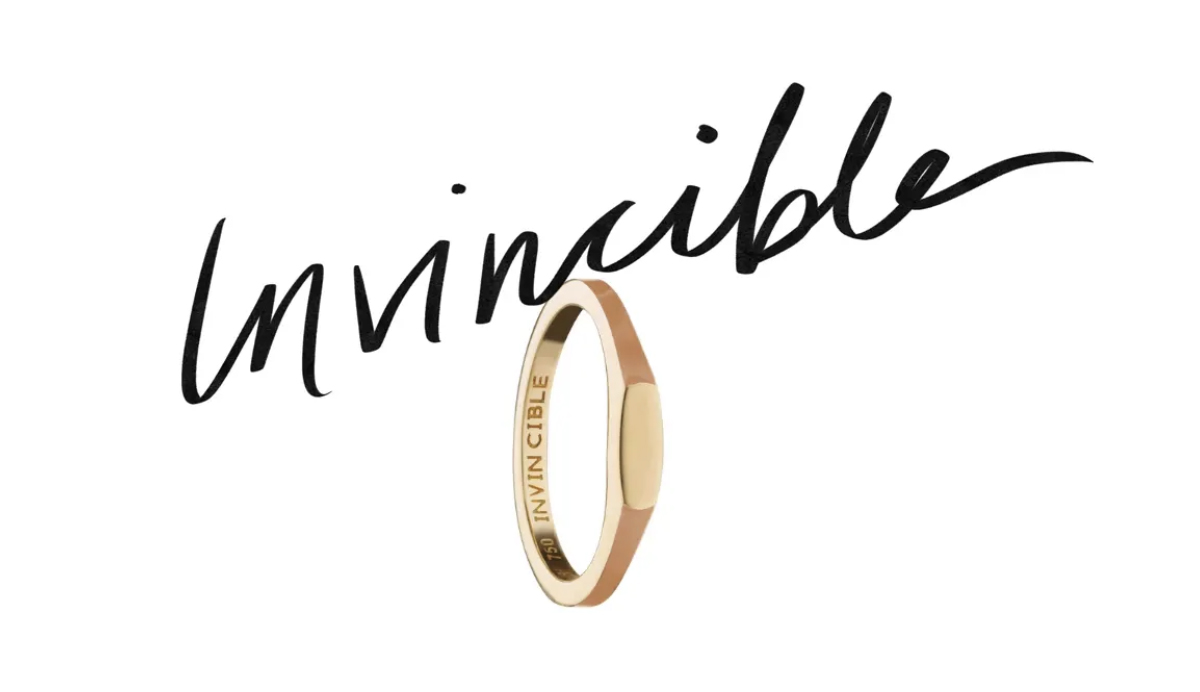 For the organized approach
If, however, you tend to be more structured about how you buy your jewelry, you may want to plan your look in advance.
If this is you, you'd benefit from starting with a particular finger - usually the middle finger - and building from there. Alternatively, you could take the horizontal approach and put similar size and bandwidth rings across four of your fingers.  
Whether you have a relaxed or a structured approach to sizing your stackable rings, or whatever your budget, here are a few styles you could aim for:
Adopt a coherent style
By sticking to the same style and era for your look, you will guarantee that your ring stack will look coherent and impactful. While it's by no means forbidden to mix modern with classic, or chunkier stones with simple bands, sticking to one look will create instant cohesion.
Again, think about what style you want to go for. Do you want a simple elegant look? Are you going for the vintage eclectic vibe?
You can also achieve a simple and coherent look by bringing in contrasting metals. Try a silver band on your index and middle finger, contrasting against a rose gold band on your ring finger.
The simple and classic look
If you're not into the bold look, try a subtler combination of rings that work well on a day-to-day basis. The Unmasked ring or Poesy ring have special meanings attached to them so work well as a basis for your stack.
Ideally, use your middle finger as the basis of your stack. If you imagine your hand as a triangle, with the point at the tip of your middle finger, stack heavier rings at the base of your fingers, and build up increasingly simple bands as you go up, keeping the focus on your middle finger.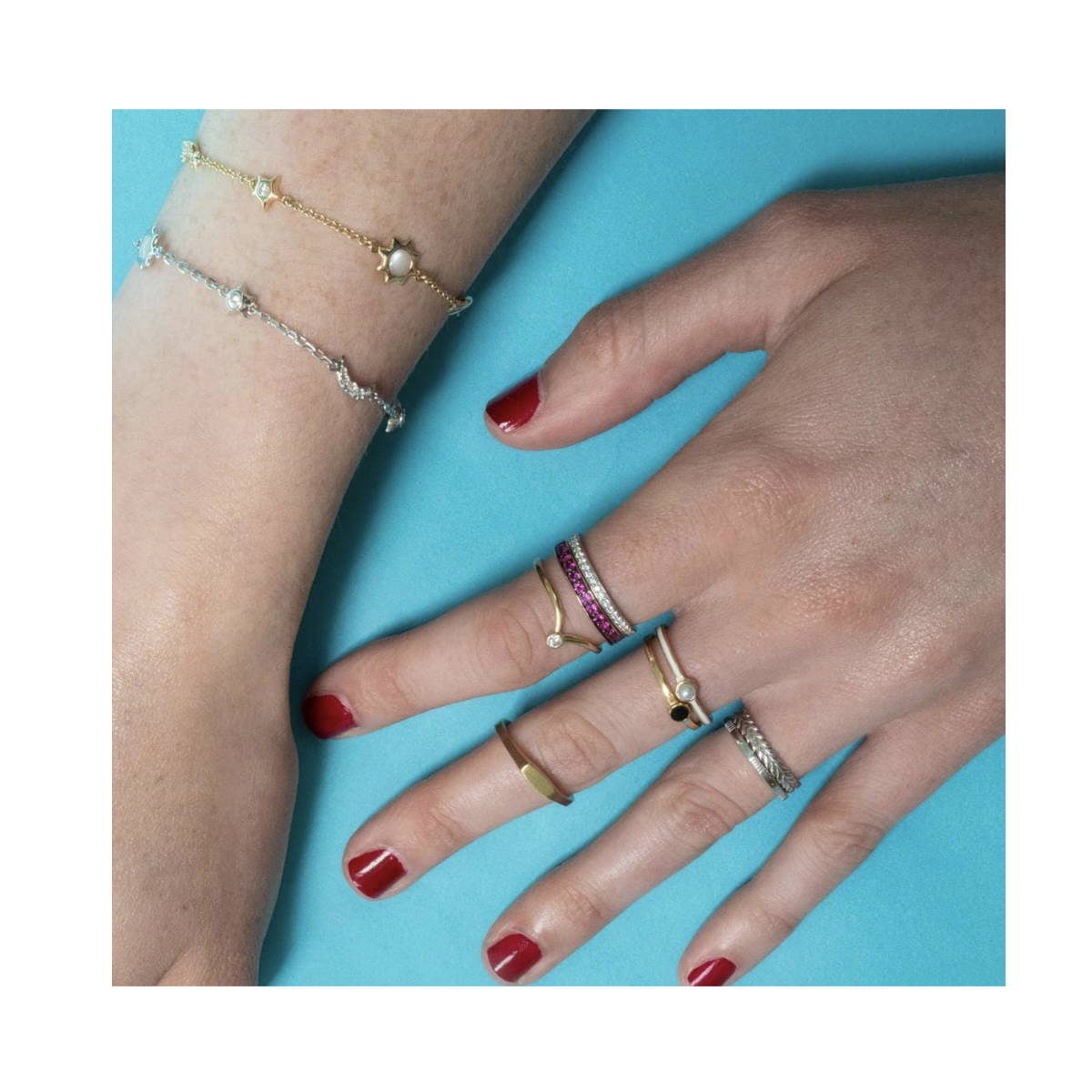 Make a statement
Wearing stacking rings is a perfect way to make a style statement, and there's no better fun to be had when you throw out the rule book altogether.
Mix chunky statement rings with small delicate bands, combine contrasting colors, contrast gold with silver.
Statement rings like our "courage" lion ring, "perseverance" fish ring and "grace" giraffe ring all stand out on the hand, whilst also telling people something about who you are and where you're at in your life. The Unmasked Ring, designed with micro pave white diamonds, also makes a great statement. A symbol of mystery, your unmasked ring represents your special moment you decide to reveal yourself, and makes for a perfect statement piece around which to wear subtler bands.
Choose a finger around which to build your statement look. Traditionally, and in the interest of balance, this would be the middle finger, but that doesn't have to be the case. You can try building a ring stack around a statement piece on any of your fingers.
The sideways stack
When you think of stackable rings, you tend to think of several rings stacking up one finger. But you can make a bold statement by stacking your rings horizontally, dressing each finger at the same point (either at the base of your finger with a standard ring, or between your nail and second knuckle with a midi).  
The sideways stack is a great way to mix and match metals and gemstones, bringing together an eclectic mix of rings. That said, avoid dressing more than one ring per finger. Any more is seriously impractical and you're likely to look over-the-top.
Multi-knuckle layering
If you want to go for impact, it can be fun to layer a ring on the usual base of the finger with a midi ring between the nail and the second knuckle. When creating this look, remember to take both hands into consideration, making sure that the two hands complement (but not necessarily match) each other.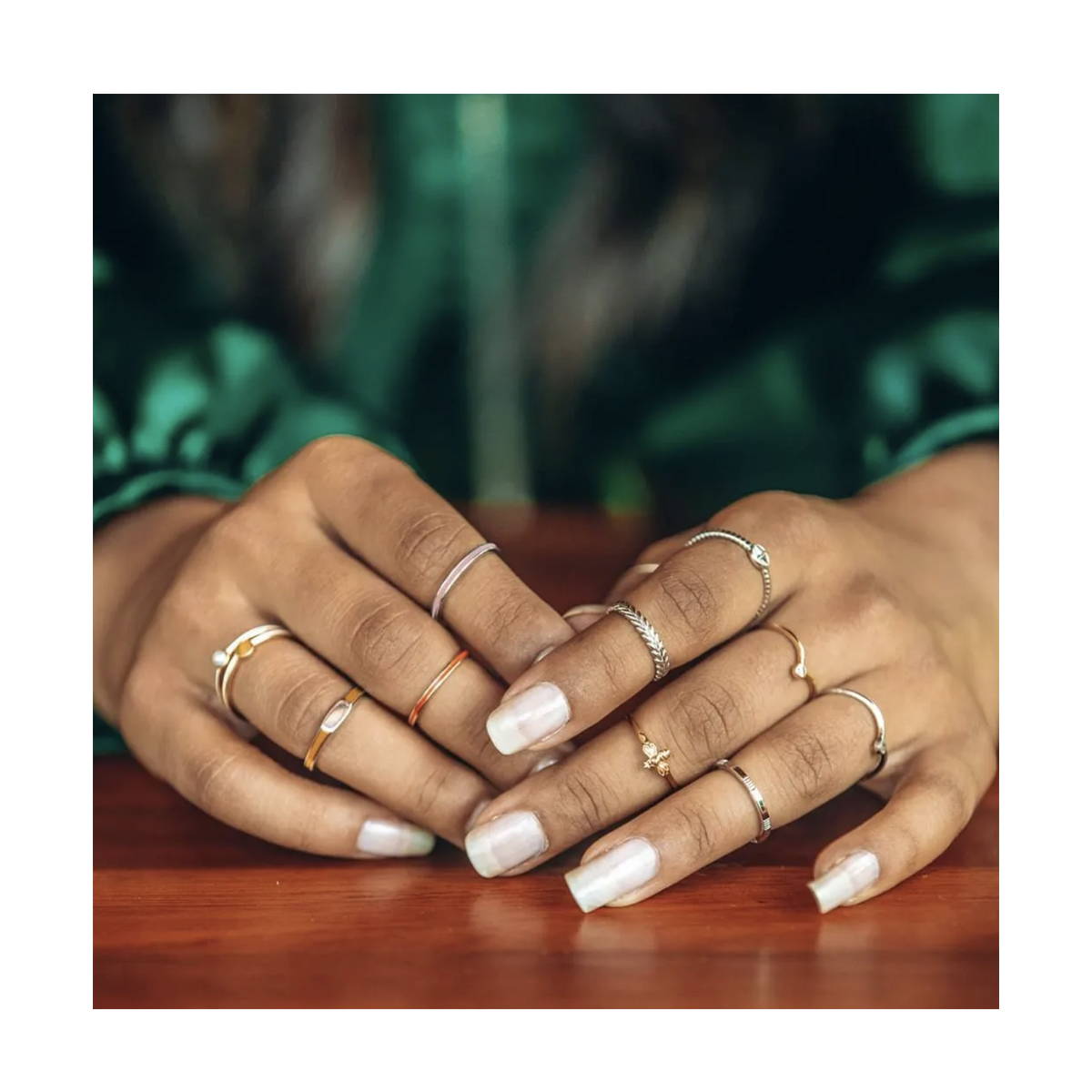 Max out one finger
On the other hand, go big on one finger, stacking different rings to make a coherent look. A middle or pointer finger looks great with rings stacked both at the base and at the top of the finger, especially if it mirrors your other hand.
Vary different metals, mixing gold with silver; try wearing simple bands next to gemstones; inverse geometric shaped rings like our "One of a Kind" sapphire to make bold shapes, and layer interesting shapes, like the "Never Fear" snake ring or the "Queen Bee" poesy.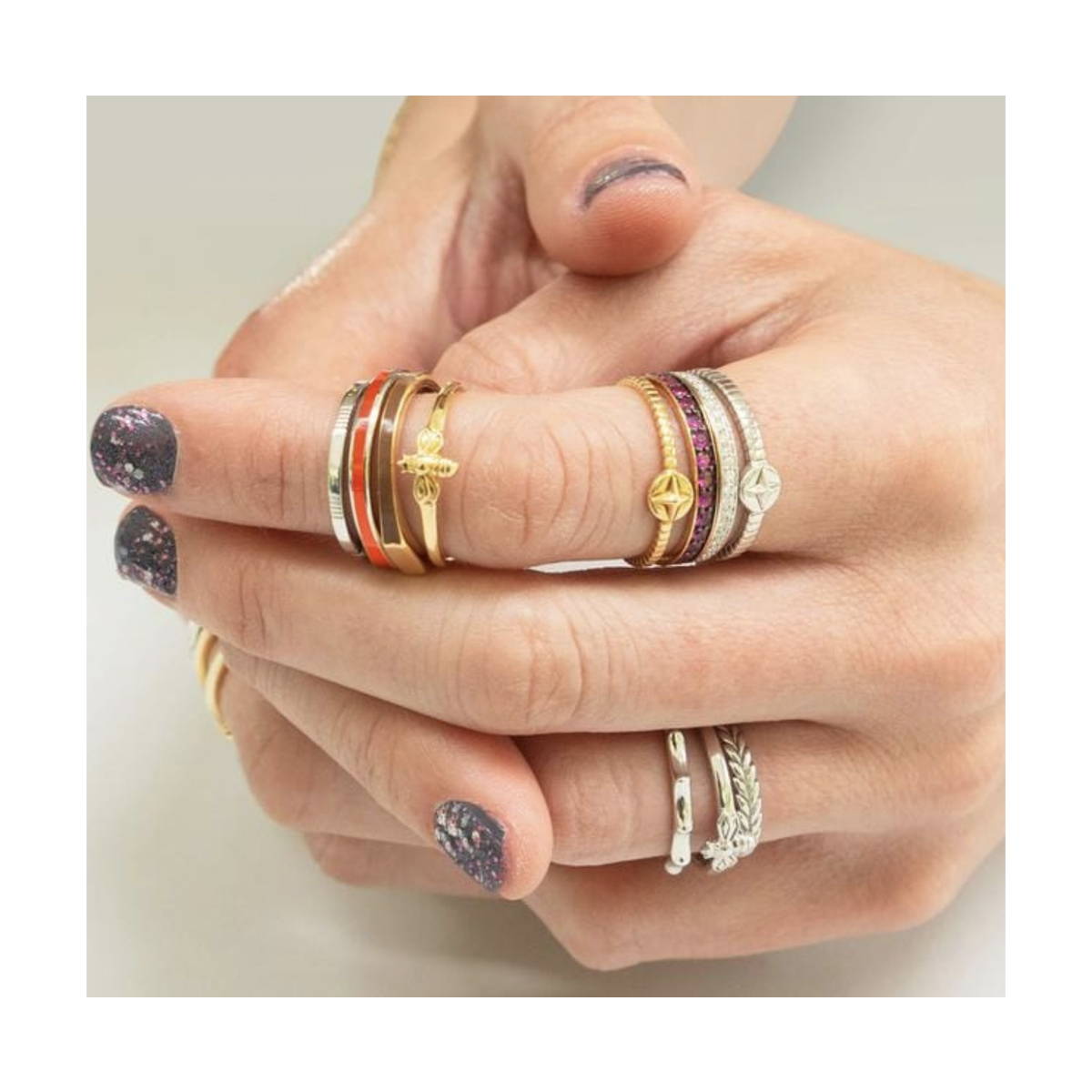 Let your stackable rings tell a story
However you decide to size your rings on your fingers, you'll be telling your story about who you are as an individual. But taken to the next level and our Poesy rings let you bear an inscription on the inside of your ring. So whether you're the "Queen Bee" of your family, or embarking on a big "Adventure," our stackable rings can portray your story to the world.
In summary
Stackable rings are a fun way to bring versatile looks to your hands. Mixing shapes, materials, textures and stones all create interesting styling options to tell your individual story.
But even the most thrown-together look will take a certain amount of planning. So whether you like to plan your look, or let your ring collection develop as you go through life, have fun with sizing your stackable rings and let them show off who you are.
Which stackable ring would you start with?