The best part of our new stackable rings is the creativity that comes with stacking and styling them. You can mix and match colors, styles, 18k gold and sterling silver - not to mention the empowering words inscribed inside each one - to tell a story that is unique to you. Here are some of our favorite combinations to inspire you...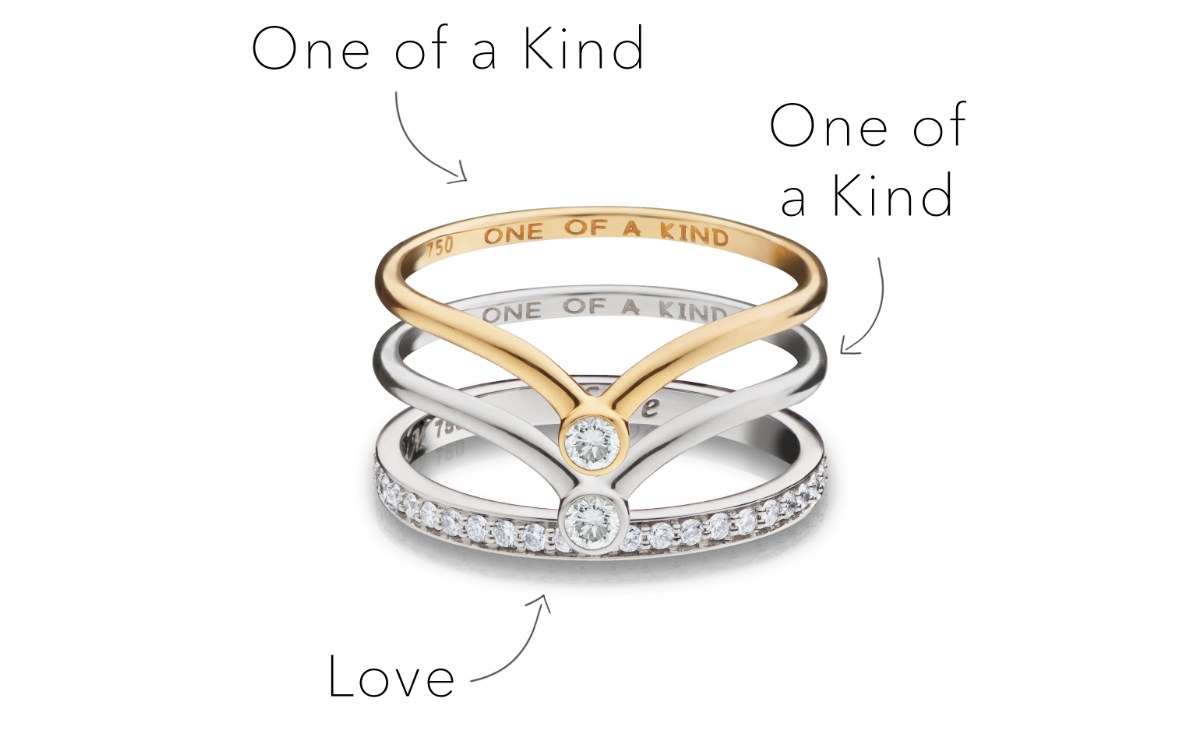 One Of A Kind (x2) + Love
We love mixing silver and gold, and our "One of a Kind" stacking ring comes in both 18k gold and sterling silver, with a single diamond to remind you of its message. Who says you can only have one one-of-a-kind? We love these three diamond stackable rings (including our pave diamond 'Love' ring) paired together.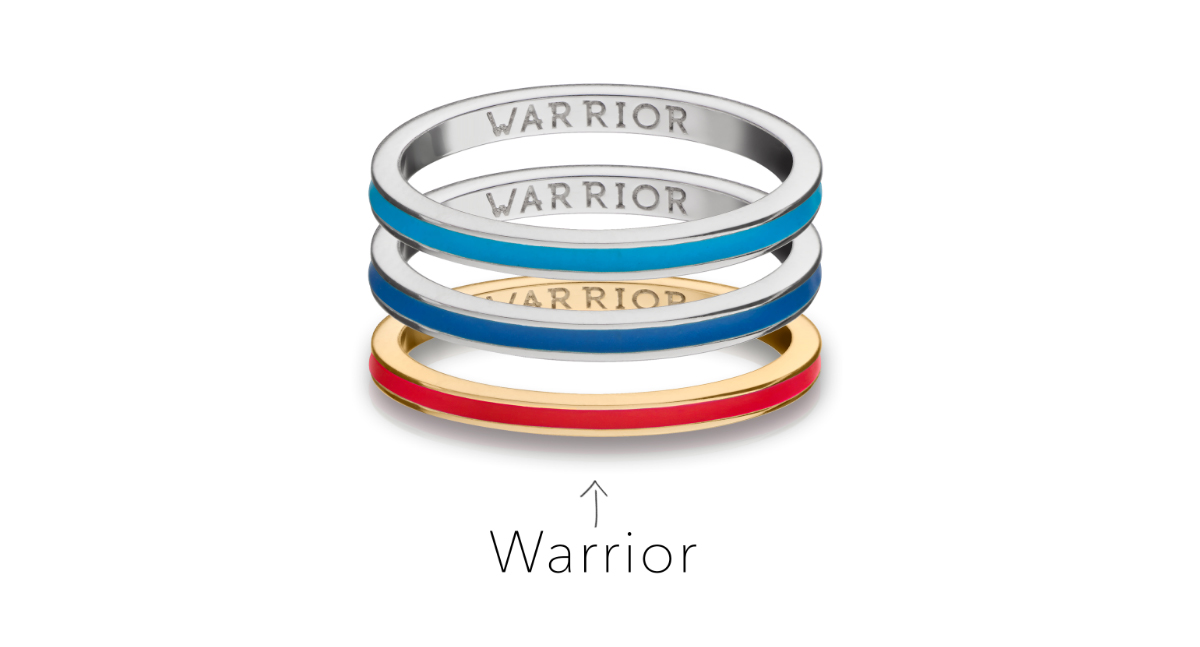 WARRIOR (x 3)
When we designed our stackable ring collection, we really wanted color to be at the forefront of the collection. Pairing different colors is such a fun part of choosing which rings to purchase and style together. Our 'Warrior' ring is just about the most seamless stacking ring you can find, and comes in a variety of hues. We love the turquoise stacking ring paired with blue and red.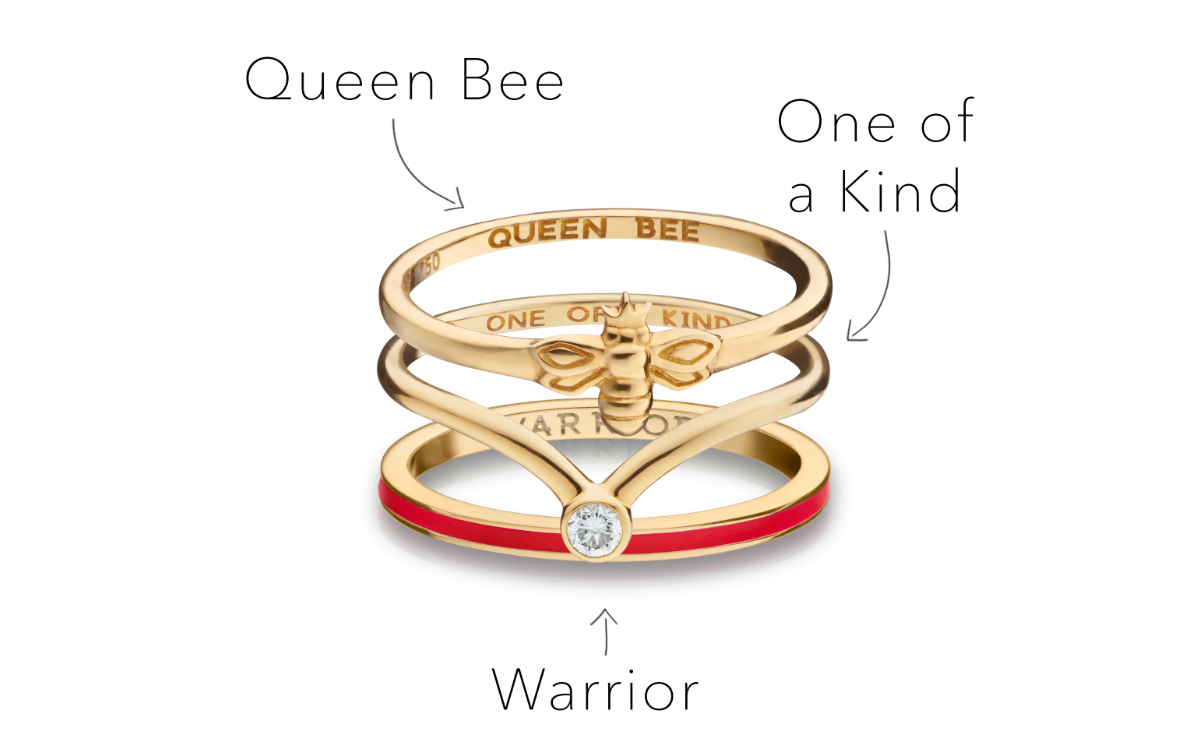 Queen Bee + Warrior + One of a Kind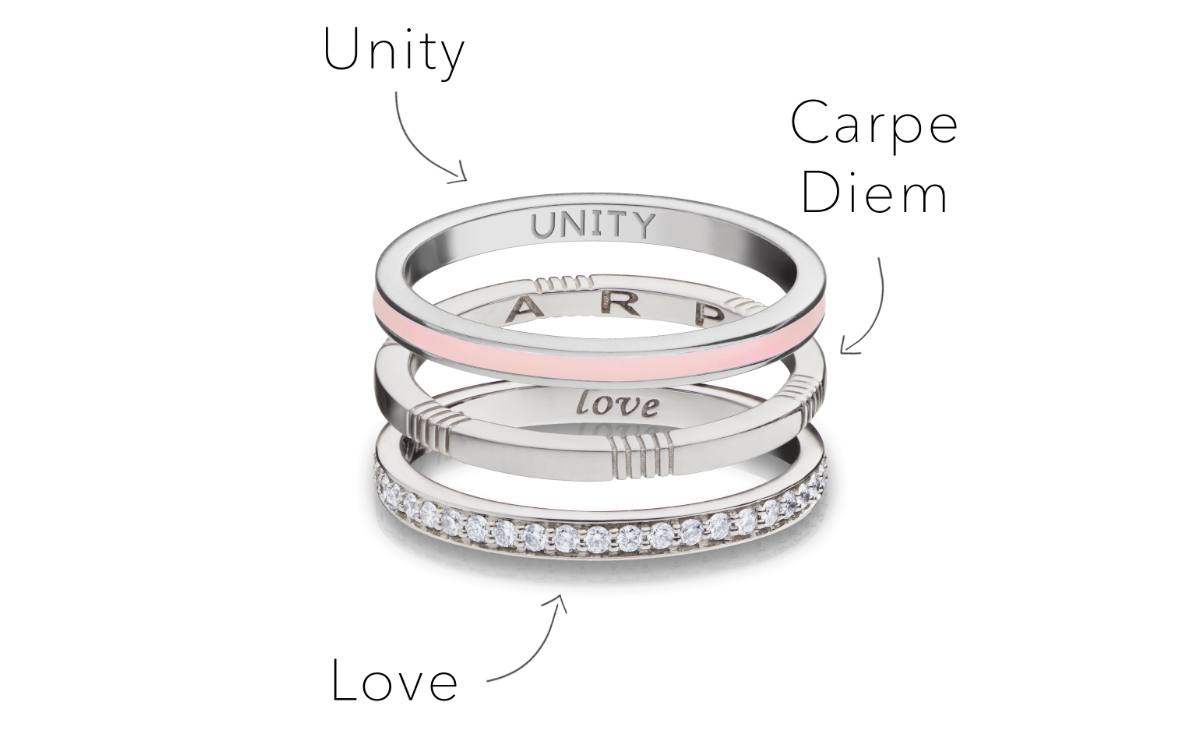 unity + Carpe Diem + Love
Our pink Unity stackable ring has other benefits besides just looking beautiful on your finger. 50% of your purchase on this ring will be donated to Embrace Race – an organization committed to "Raising a Generation of Children Who Are Thoughtful, Informed, and Brave About Race." We believe learning about love and inclusion starts in our schools, homes, and communities with our children's hearts and minds at the forefront, and when we designed this sterling silver stacking ring we could think of no better cause to share its proceeds with, We love it paired with two simple bands - our 'Carpe Diem' stackable and our Pave diamond 'Love' ring.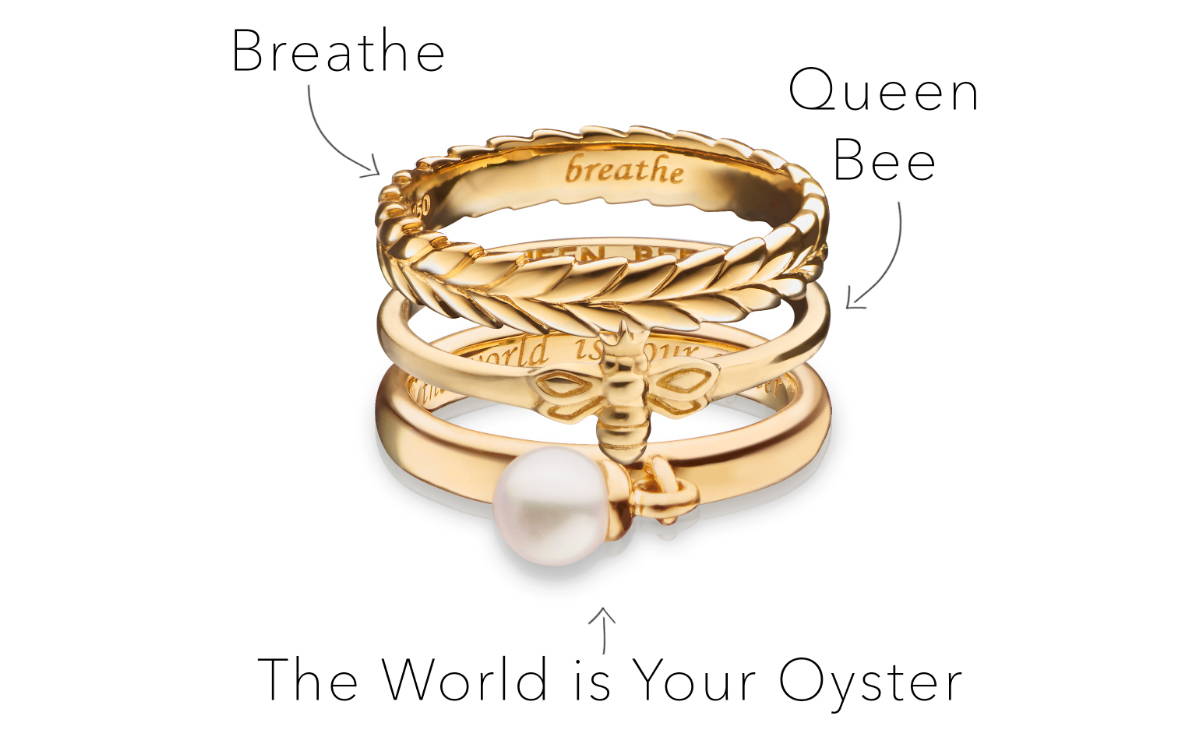 Breathe + queen bee + the world is your oyster
These three gold stackable rings are each engraved with powerful reminders: Breathe, The World Is Your Oyster, and Queen Bee. 'The World Is Your Oyster' pearl stackable ring is one of our favorite styles, and adds something special and original to any stack.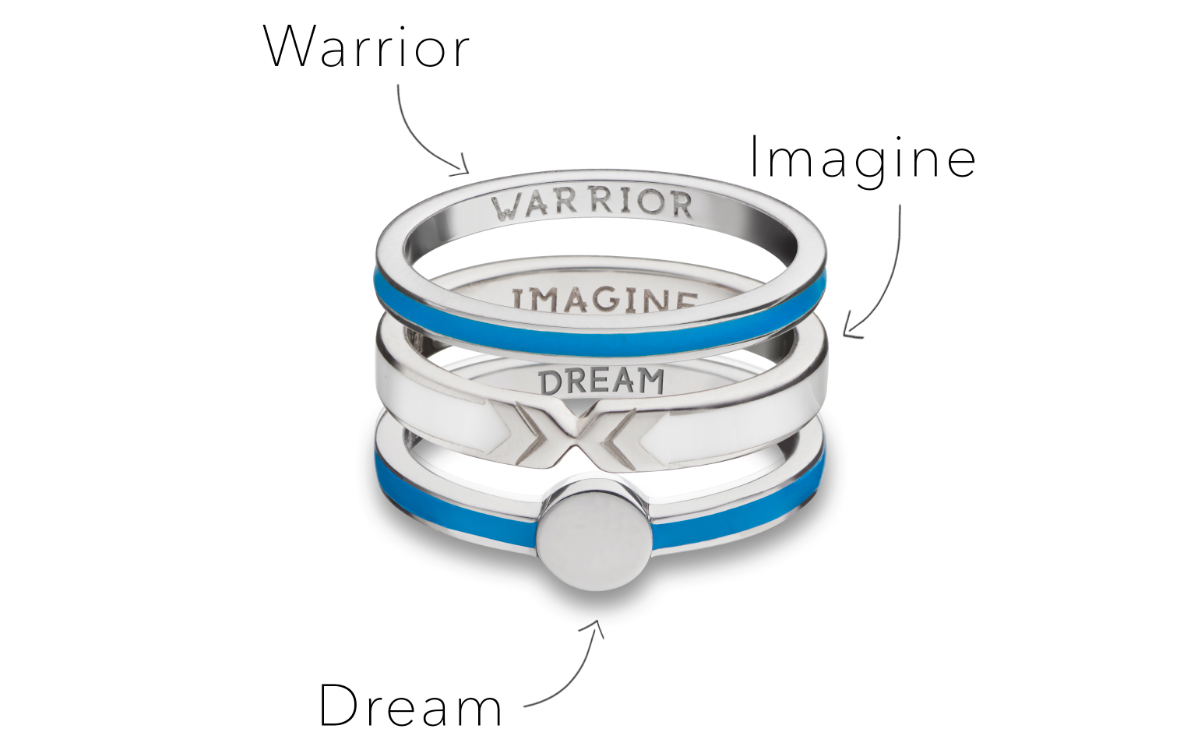 warrior + imagine + dream
Our White "Imagine" Arrow Poesy, pairs beautifully with our turquoise stacking rings: Our Turquoise "Warrior" stackable ring and our Turquoise 'Dream' ring. We love the effortless combination of blue and white, and of course the lovely messages of these three stacking rings.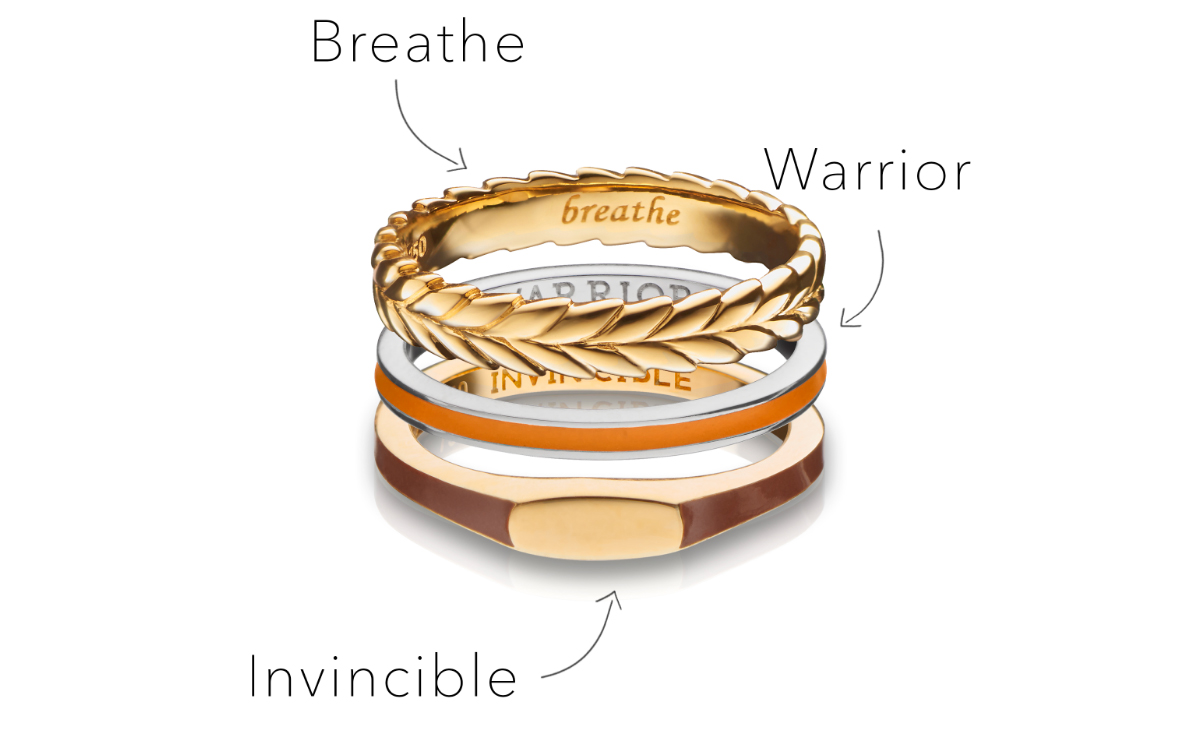 breathe + warrior + invincible
Though we've repeated it a few times, our 18k gold 'Breathe' poesy ring is an excellent way to top any stack. We love the gold paired with our orange 'Warrior' ring and our 'Invincible' signet ring in tan, which we think is incredibly chic.