"Like photographs, lockets capture your personal moments, ideas and inspirations so that each woman who wears one becomes her own storyteller."
Gift-giving is a fun way to show our loved ones how much we care. And there's no better feeling than finding the perfect gift that sums up exactly what you want to say whilst perfectly encapsulating your relationship.
That said, for many of us it can be hugely anxiety and stress-inducing. Knowing what to give your special someone is a hard task, and getting it right can take a lot of creativity and thoughtfulness.
Simply put, lockets are a great gift from the outset. They're traditional yet stylish, they're drenched in historical sentiment, and they look great styled either on their own or layered with other necklaces.
But by far the best thing about lockets is you can make them totally unique by adding something personal inside.
So whether you're buying a gift for your mom, your girlfriend, or any best friend, here's how to reach the next level and find a thoughtful customized locket necklace you know she'll love.
Consider her style
The number one rule of gift-giving: Think carefully about who you're giving this gift to.
When it comes to jewelry, there are a few things you need to consider. First of all, what's her style? Is she into the vintage look, or does she go for a more slick, minimalist design?
Secondly, what colors does she usually wear? If she tends to prefer sterling silver then avoid straying too far away from it. But, if you're confident she likes a mixture of different metals, then you have more choice.
Third, think about what you want to say with your locket necklace. Is it to affirm your everlasting love, or might it be to celebrate your friendship over the years? What you want to say with your gift will directly impact what kind of locket you select, and how you choose to customize it.
Choosing her locket
Once you've pinpointed her style and colors, it's time to start shopping for the locket itself.
In times past, and in spite of their great charm, lockets weren't necessarily built to last. But thanks to new techniques and processes, modern lockets are both more durable and sleek.
Added to this is the way in which one can be involved in personalising their locket by uploading a picture they want to include using our Locket Bar, or providing words or a quote to be engraved, or sized and printed to insert into the locket.
When choosing the style of locket, there are all sorts to choose from. We'll take you through just a few:
Vintage classics
Locket necklaces really lend themselves to the vintage look because of their historical connotations. In fact, it was Monica's own love of vintage that inspired her jewelry collection in the first place, believing that vintage has a modern appeal.
Take our Gate Locket collection, for example. The scrolled gate motif, inspired by a photo Monica took of a little girl peeking through a gate, has an ornate look and feel of a vintage classic.
This oval gate locket is accented with white sapphires and fans out to show off the two or three images you've chosen.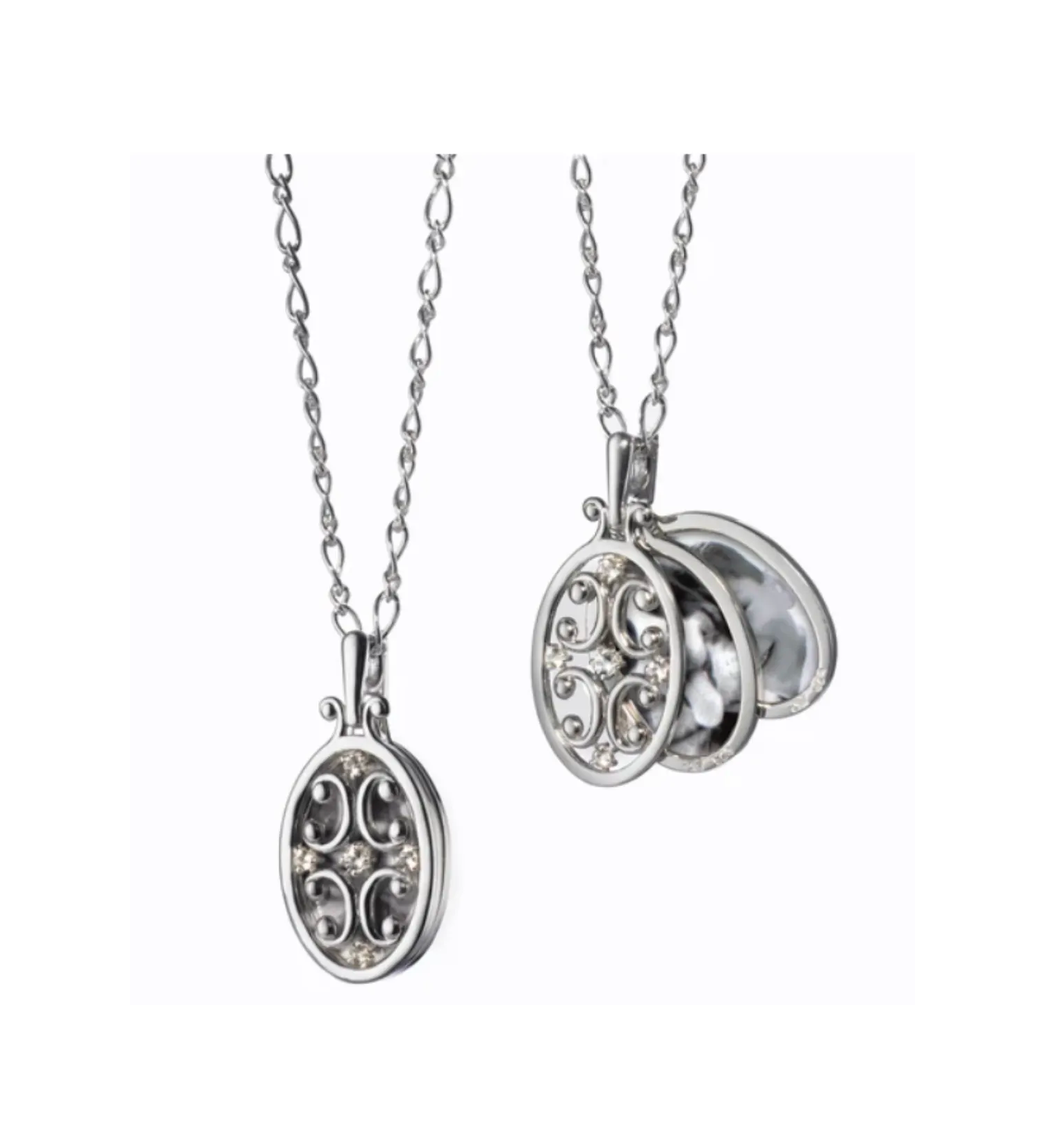 Oval Gate Locket Necklace with Sapphires
Our four-image locket collection also harks back to another era. They combine a traditional locket vibe with extremely up-to-date craftsmanship to achieve the multiple hinge mechanism with moving parts. These lockets have a two-sided inner frame, two hinged doors on the outer frames and can be opened and closed to keep the contents secure.
These are truly unique pieces. Combined with your own customization, you'll be sure to give a gift that speaks to your thoughtfulness.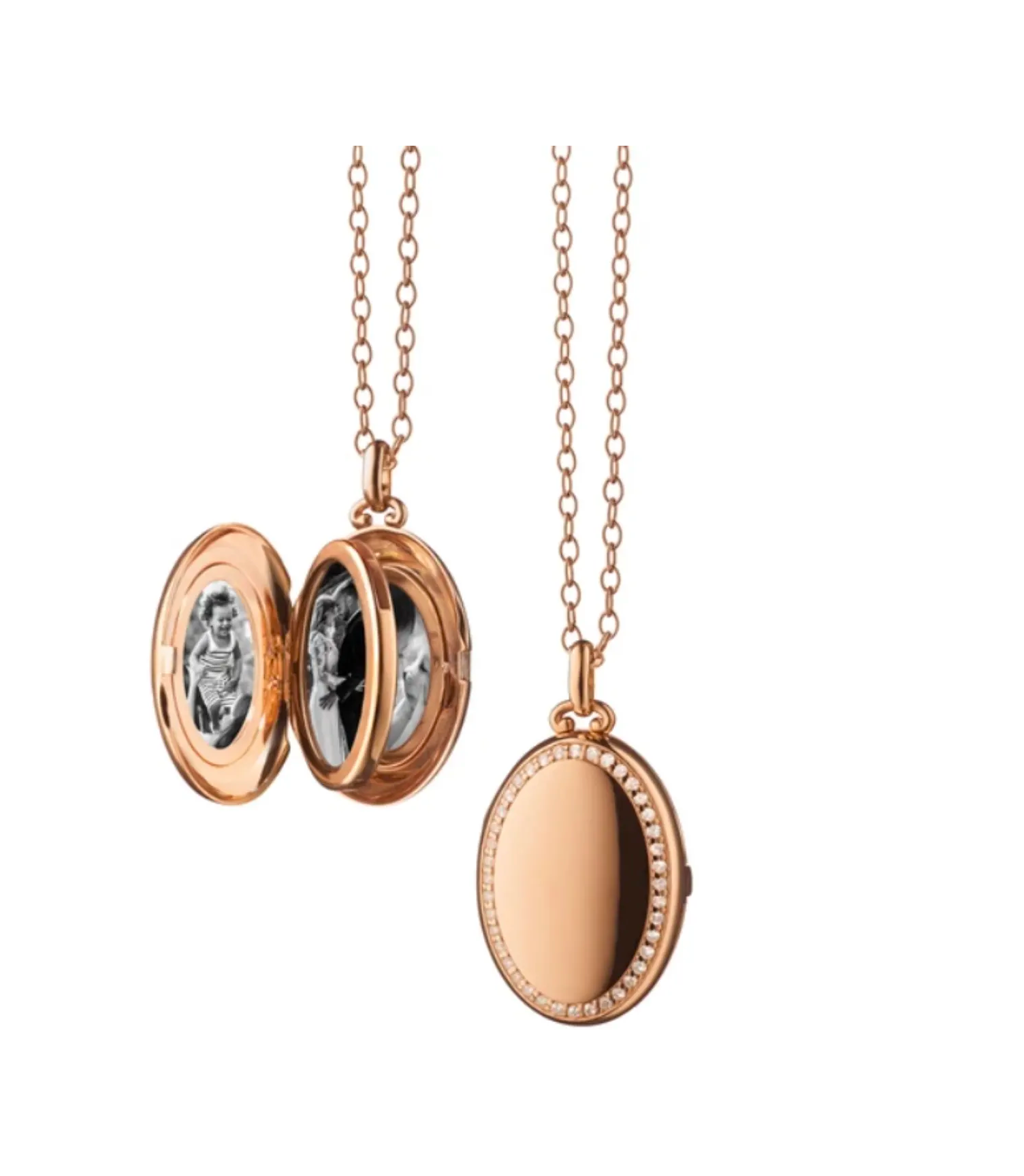 The Four Image "Midi" Diamond Border Locket
Sleek and modern
The beauty of lockets is that they are classic pieces. In other words, they never really go out of fashion. They appeal as much to young people now as they ever have.
That's because modern lockets are sleek and stylish, perfect for a minimalist look, or layered with other necklaces for a bolder vibe.
Monica Rich Kosann has beautiful and contemporary options. Our Slim Locket and Modern Classics collections are both timeless and chic. They're designed to be as stunning with your wardrobe in twenty or forty years as they are today.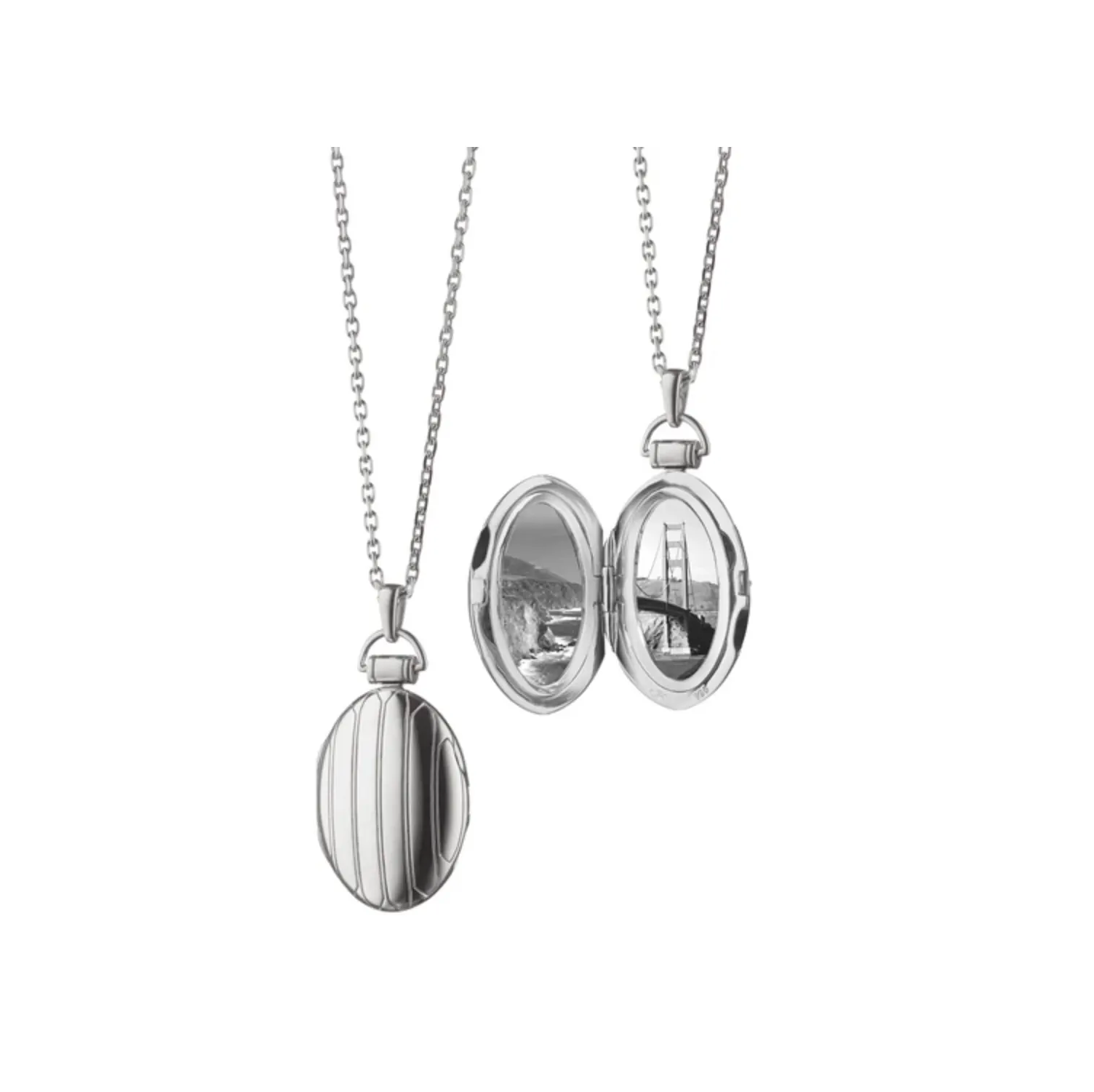 Sterling Silver Oval Pinstripe Locket
A pop of color
If you know the person you are shopping for is a fan of color, then you might be tempted by something that speaks more "boldly".
Our Locket x Color Collection lets you choose from a range of shades, further adding to the customization of your gift. Our lockets are finished with colored enamel ranging from scarlet red through to timeless black or white. Some options are accented with gemstones and work perfectly against the gold vermeil metal.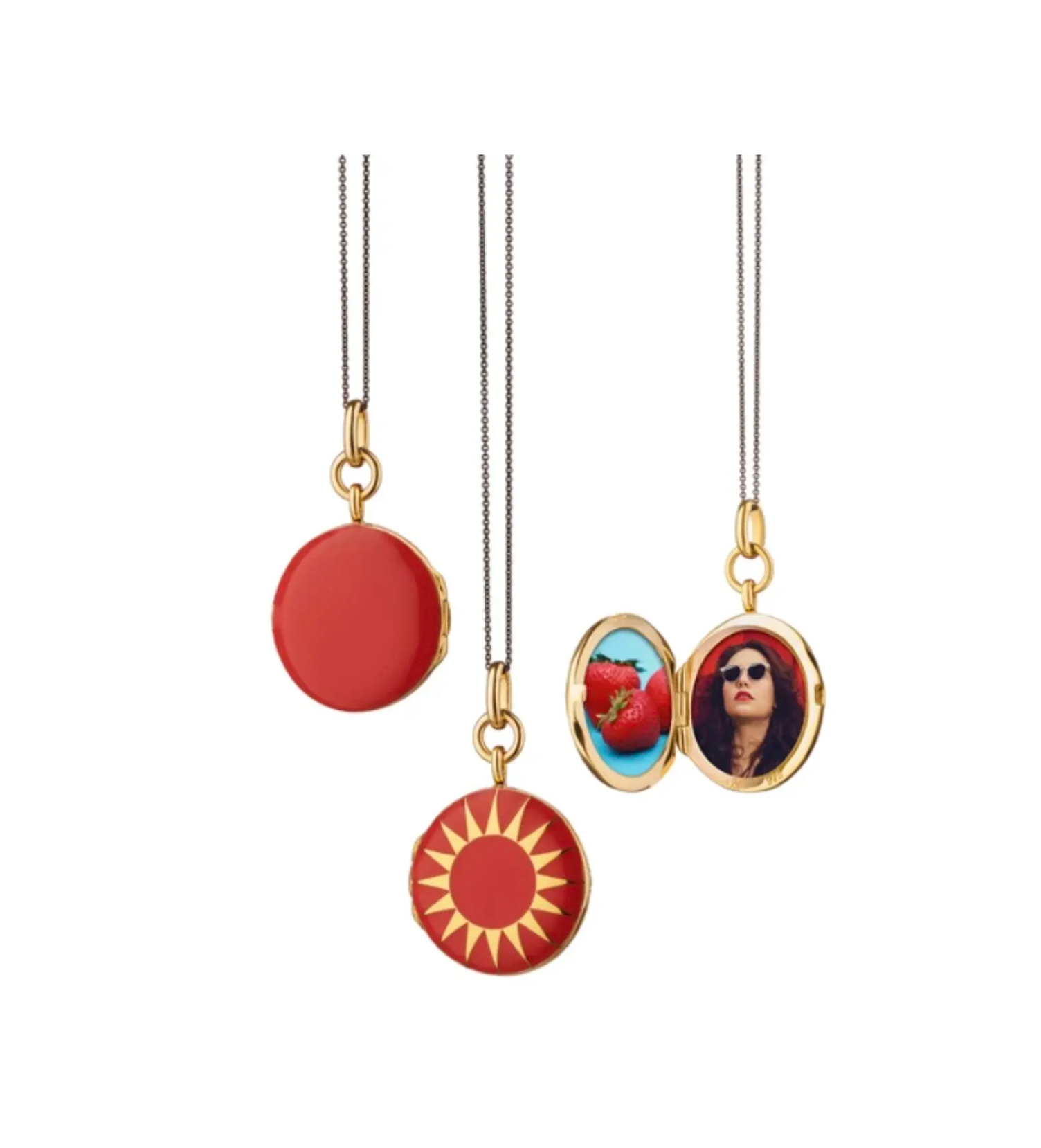 Red Enamel Vermeil Round Locket on 17" Black Steel Chain
Petite and pretty
Our petite "Anna" locket range is the "little black dress" of our jewelry collection. Just like the LBD, it's the "go-to" piece in any woman's wardrobe. This locket can be styled with anything, worn at a formal event or for the work-day, stand alone or layered with other pieces.
The "Anna" comes in sterling silver, yellow gold and rose gold with an adjustable chain (yet another way to keep your gift customized and versatile).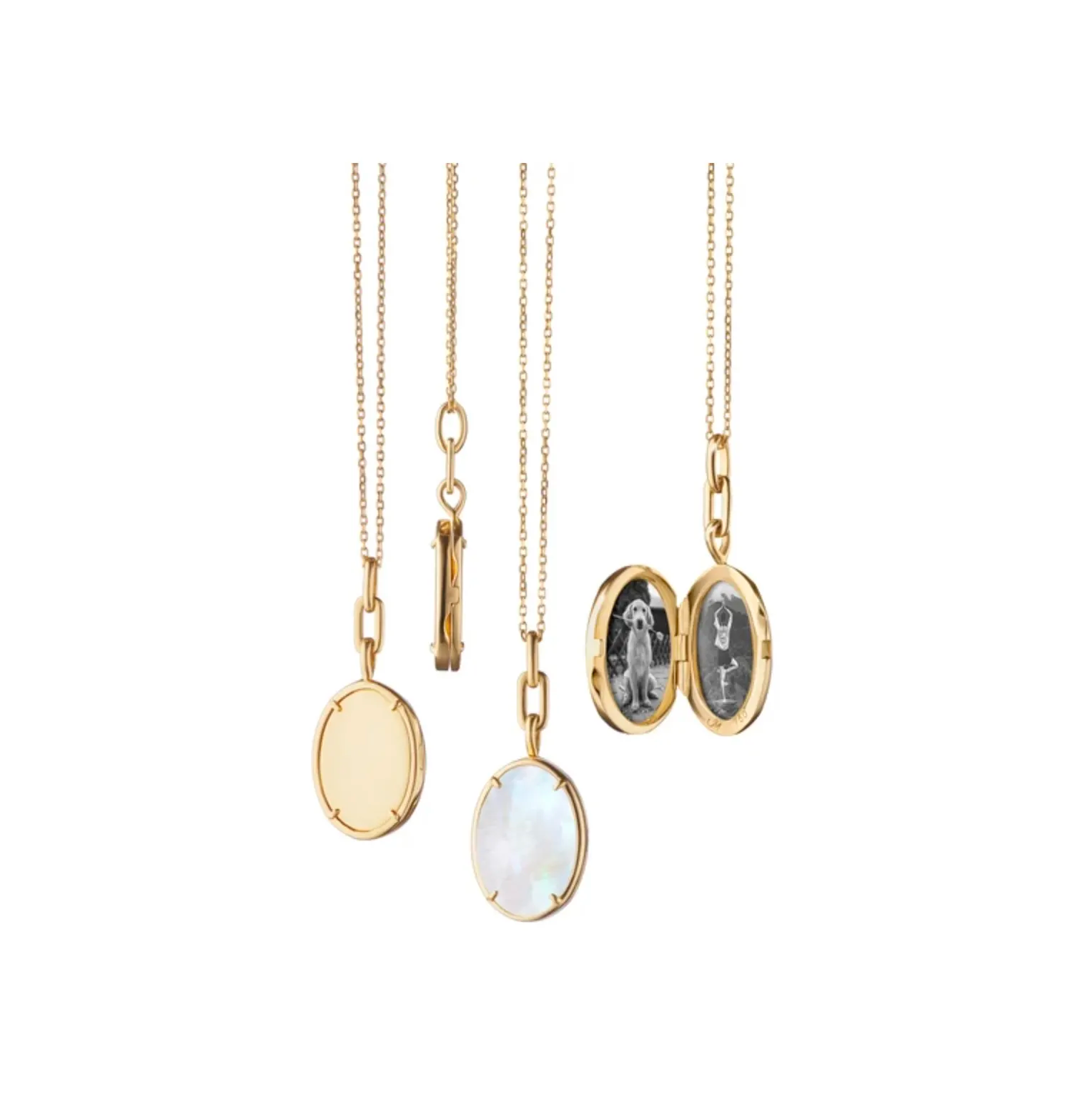 High impact lockets
If you're looking for a locket that will make a statement, choose bigger, bolder pieces.
Our Stone Locket and Ceramic Locket collections create impact with their combination of quality materials and high-end artisanship. As statement pieces, they work beautifully on their own, but can also be layered with shorter necklaces, or even down a bare back to create a more intimate look.
 

Deciding what to put in her locket
This is the fun part: you get to add a uniquely personal stamp on her locket. And although we love the classic portrait photo, there's so much more opportunity to get creative, especially with the modern software available.
Take our "Locket Bar" as a place to explore options. It lets you choose your locket style from the our design library:
Once you've selected, you can edit your locket contents by uploading an image, entering your own text or choosing a quotation or image from a library of images and ideas.
Finally, you print your finished choice, cut it out and place it in your locket. A perfect fit!
If you need some inspiration as to what to include in your locket, here are a few ideas for an extra-thoughtful customized gift:
Her child's handprint
There's something special about your child's first handprint, but there's only so long you can keep it hanging on the wall. By including it in your locket gift, you'll be providing her with an immortalized version of her child's handprint to carry around with her wherever she goes. Paired with a picture of the child, it's a perfect choice.
A series of photos of your relationship
Going for a classic photo locket is a tried and tested formula. But why not give it a little twist and choose three or four photos that sum up the course of your relationship.
You could select one of your first date, your first holiday together, your wedding day, and the birth of your child.
Lace from her wedding dress
If you're feeling extra creative, depart from the photo format and choose something poignant to insert into the locket. Lace from her wedding dress, a meanungful inscription or a small handwritten note..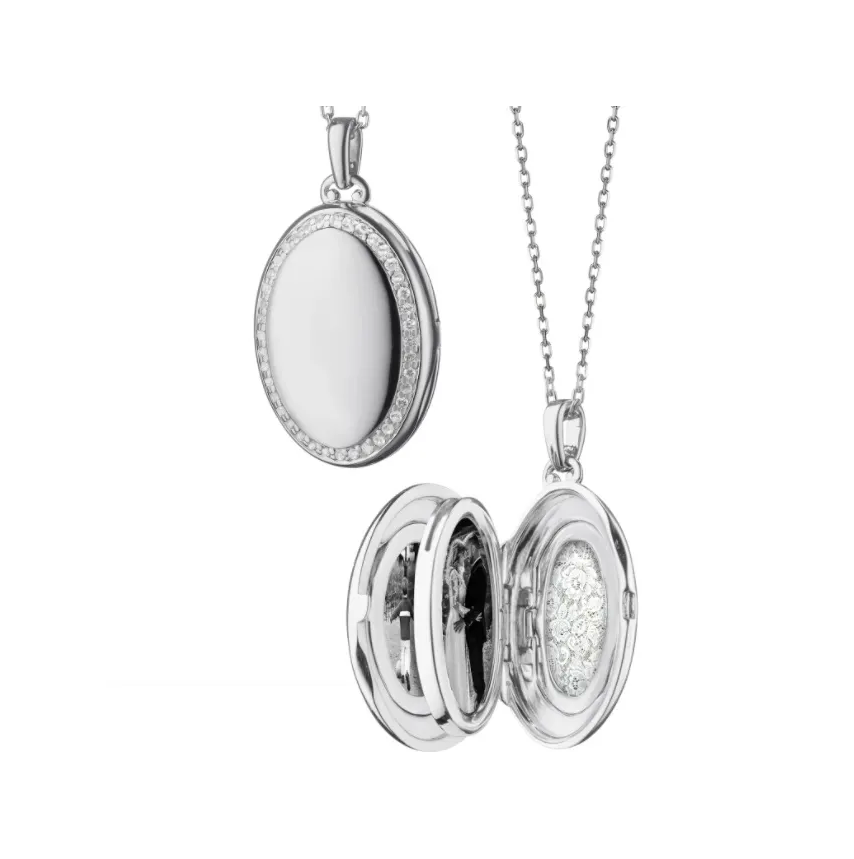 A goal or affirmation
If your giftee is working towards a particular goal, or has a personal mantra they find helpful, why not use this as the contents of their locket? Whether she's training for a race, or just needs reminding of her own special qualities, you can include them in her locket so she can keep the special words close to her heart.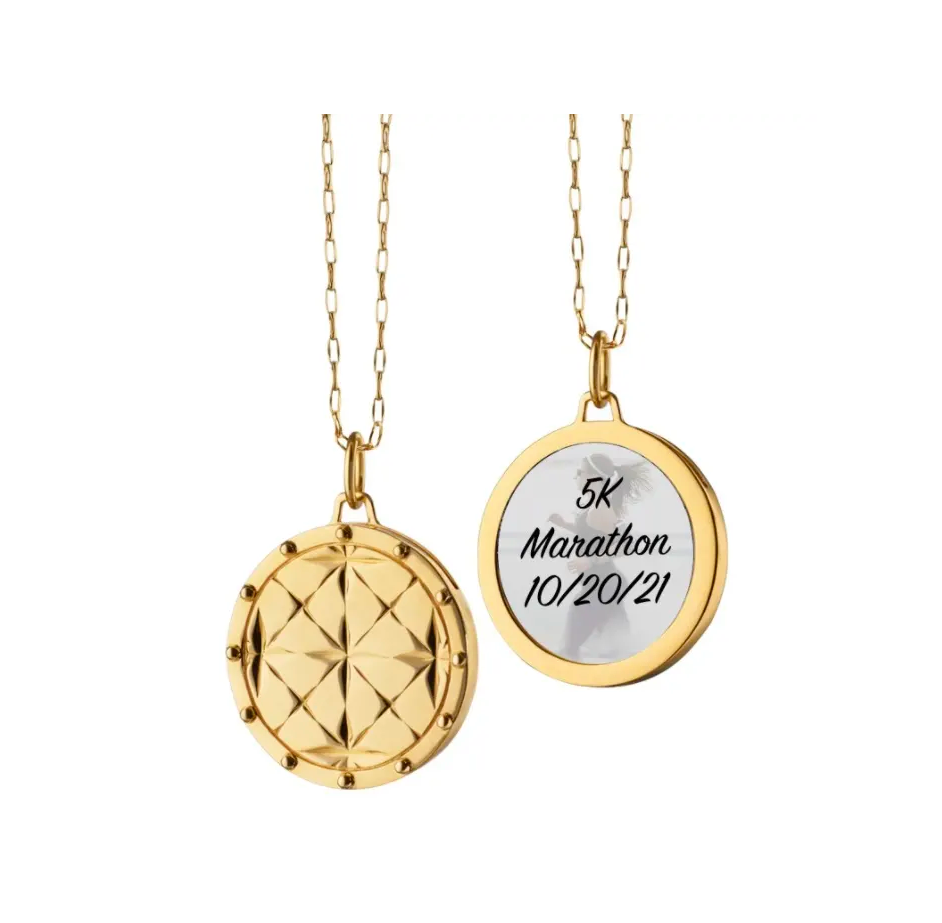 A place she'd like to visit
If you know your giftee well, you'll know her dreams and aspirations. If there's a particular place she'd like to visit (perhaps it's a place you plan to visit together) then include a picture in her locket. You could even combine it with tickets to visit this place for the perfect gift: an experience she won't forget with a locket that allows her to treasure the memory forever.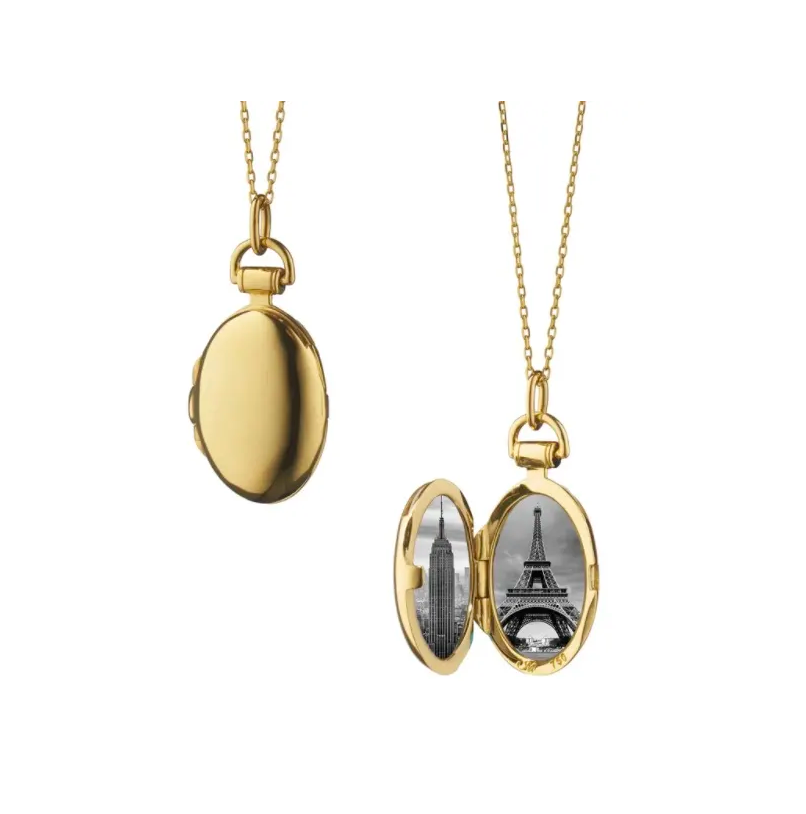 A special date
Whether it's an anniversary, a birthday, or the birth of your child, whatever date she feels close to can be perfect for her customized locket. Pair the special date with a corresponding photo to make it more poignant and stylish.
In summary
Locket necklaces are a meaningful choice for modern gift-giving. Not only is there a rich selection of styles available thanks to modern manufacturing techniques, but there's also plenty of opportunity to get creative with how you personalize them.
How would you personalize your locket? And what style of locket are you most drawn to?