Until very recently, the locket was an old-fashioned piece of jewelry you'd expect to find in your grandmother's old trinket box. Lockets were of a time past, when keepsakes held great sentimental value, and were passed down the generations.  
Today, locket-wearing is a trend that's growing apace, taking on a whole new meaning among younger generations. Not only as a look - it's classic, versatile, and nostalgically romantic - but lockets have been adopted by a new generation as aspirational pieces too.


Read on to see what makes the locket such a special staple for your wardrobe, and how to pull off the look.
The traditional symbolism of a locket
Lockets date back centuries, possibly developing from ancient Greek and Roman amulets. All the way back to Ancient Rome, lockets would contain a lock of a loved one's hair - a direct precursor to the locket we know today.
Through the ages, the notion of holding a sentimental item inside a piece of jewelry never really went away. Charles I kept a secret image of his beloved, and he himself would become immortalized in locket portraits by his Royalist when he died in 1649.
Over the centuries, lockets evolved throughout Queen Victoria's reign as symbols of secrecy, typically containing an image of a child or spouse, or even a lock of hair. Lockets were worn underneath clothing, the wearer keeping their secret close to their heart. Into the 20th Century, the 1920s and 30s saw a revival of lockets, although they remained sentimental, often romantic pieces, where secrets were kept.
However, towards the end of the century and into the 21st Century lockets maintained a more traditional appeal, and were limited in styling options to be an everyday accessory. They might be kept as sentimental family heirlooms but wouldn't form a central part of the modern wardrobe. As items of jewelry, they lacked quality; the methods of crafting them simply hadn't changed in decades. For a while, the locket was assigned to the far corners of our jewelry boxes.
The modern appeal
Over the last few years, there's been a marked revival in the wearing of lockets. Hollywood has seen the likes of Jennifer Anniston and Cameron Diaz wearing beautiful lockets on the red carpet. And the locket effect has filtered down into bridal fashion and is now a mainstay of high street fashion too, managing to be both sentimental as well as chic.  
In a social media age, where personal photos are in constant public circulation, it might be surprising that there's some appeal in carrying around an image in your jewelry. That said, there is something alluring about the secrecy of a locket. It's a chance to keep private an image of personal significance. With a locket, you can hold a sentimental item close to you and be in charge of who - if anyone - gets to see it. It's an item for you, and you alone, to hold close.
There's been a subtle shift in the meaning of the locket, and it's the locket's ability to tell a story that appeals to a new fashion conscious generation. Modern tech allows jewelry consumers to install something highly personal such as a miniature portrait, a quote or affirmation, a personal goal, or the picture of a place they want to visit.
Once a purely sentimental piece, the modern locket now tells a story. You don't have to be in a relationship to wear a locket. You don't need to be in love, have children, or be betrothed. Your locket can tell your story, whatever that might be.
How modern technology has changed lockets
Because lockets are complicated to manufacture, they haven't always been very durable. They rely on intricate hinge-work, and the technology simply hasn't changed for decades.  
With new techniques and processes, modern lockets are vastly more sophisticated. Their hinges are more robust, their materials more diverse and, overall, they can be produced as much sleeker pieces than ever before.
Coupled with this is the way in which modern consumers purchase their locket. Either by uploading a picture they want to include in their locket, or providing a mantra they want to engrave, the technology exists to include the consumer in the experience of customizing their own piece to tell their individual story.
Not only does the locket itself tell a story, but the act of purchasing the item brings the buyer on a journey too.
Modern styles of lockets
The modern locket comes in a vast choice of shapes, sizes, and function, appealing to a whole new generation of sensibilities. From gold and silver, through to platinum or glass; from heart-shaped to traditional oval; from vintage one-chamber photo lockets to a multiple-image piece; from classic slimline to chunky, there's something for everyone.
The vintage locket is a timeless classic, but modern lockets can include chic super-slimline, color-pop ranges, jewel-set pieces, ceramic materials and "Lock and Gate" designs.
Let your locket tell your story
Part of the appeal of the modern locket is the range of items you can include inside your locket, and it's thanks to modern technology that the options are endless.
You may want to go traditional and include a miniature portrait of a loved one, or riff on the theme with an image of your child's handprint. Perhaps you want to immortalize a few words that sum up where you are in your life.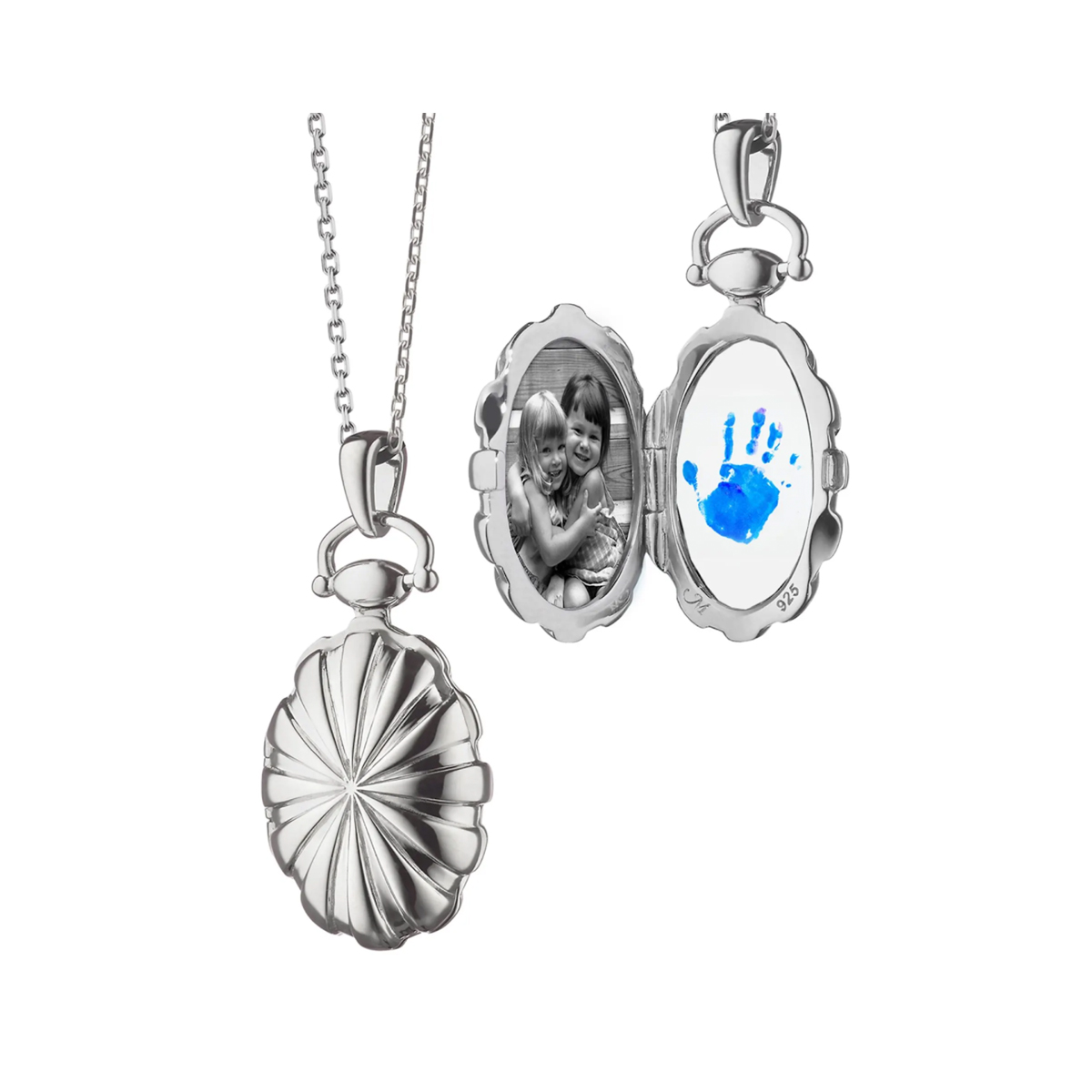 Initials, special dates, messages, Bible passages, song lyrics or quotes, can be easily sized, scaled and printed to include inside of lockets. That said, because situations can change, words or images can also be easily replaced or updated in the future.
Styling the modern locket
The modern locket is as versatile as it is classic, meaning that it can be worn for any occasion and with any look.
For a younger generation, simple, understated lockets can be a wardrobe staple, just like a pair of earrings. Dressed down, it can be worn against a white tee with a pair of jeans. Or dress it up against a floral dress with heels, and you're set for an evening out.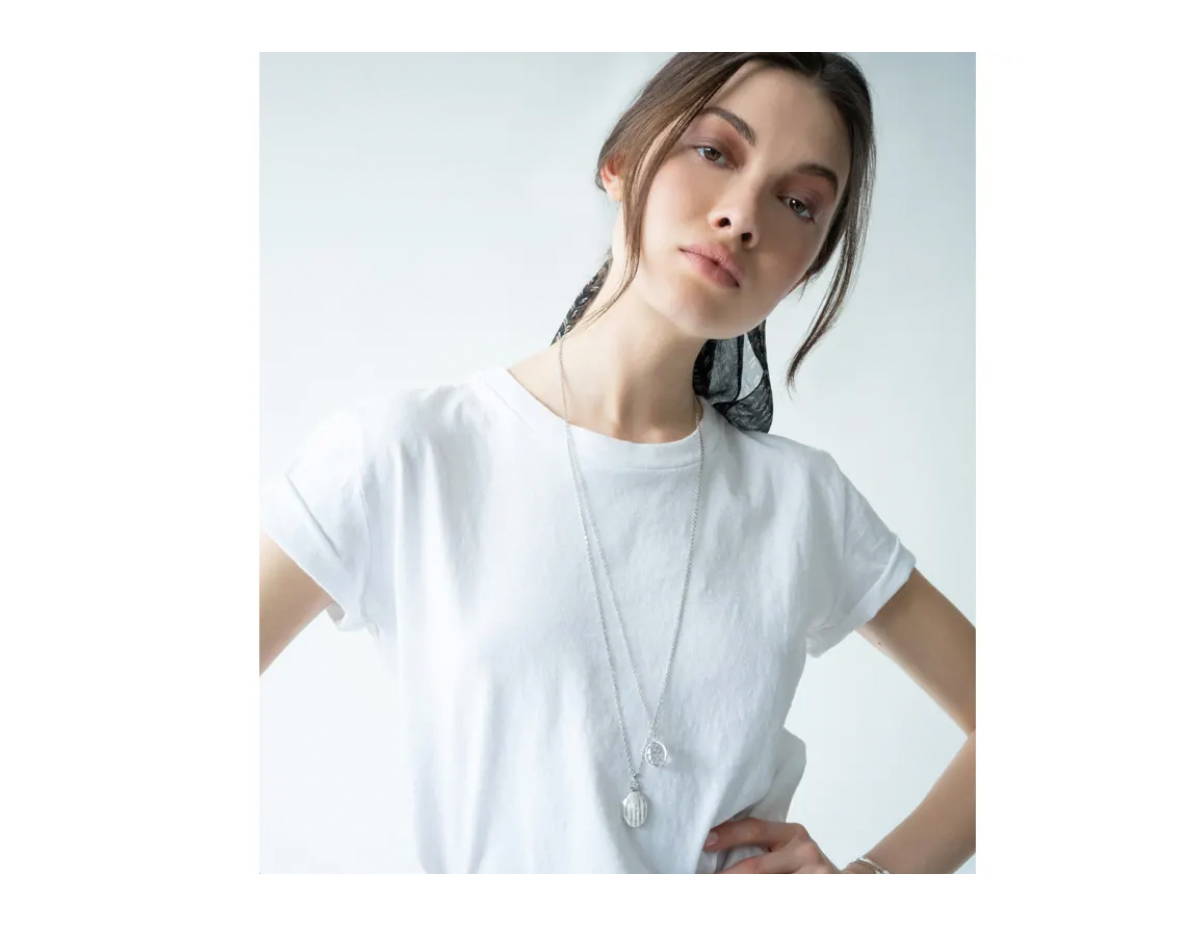 If a more vintage look is preferred, lockets might be worn with a buttoned up blouse or high neck top with a skirt. A more high-end locket containing diamonds or special gemstones might be worn for a black-tie event complementing a gown.
Because there's a locket for every occasion, women often have more than one, so that they can adorn any look with a suitable locket.  
Let your locket shine
If you want to show off your locket, wear it as a single item. Don't draw focus away from it by layering it with other jewelry, and keep your outfit simple.
Ideally, go for a high collar top or a blouse that's cut just above where the locket sits and let a high-impact piece, like a diamond-set locket attract the attention it deserves.
The business look
If you plan to wear your locket to work, it can be an easy styling choice. Worn against formal workwear, or even under a strong blazer, a simple locket worn alongside a chain won't draw too much attention if you want to keep it simple and understated. A the same time, if your work allows for it, a layered, more eclectic look can be just the right choice.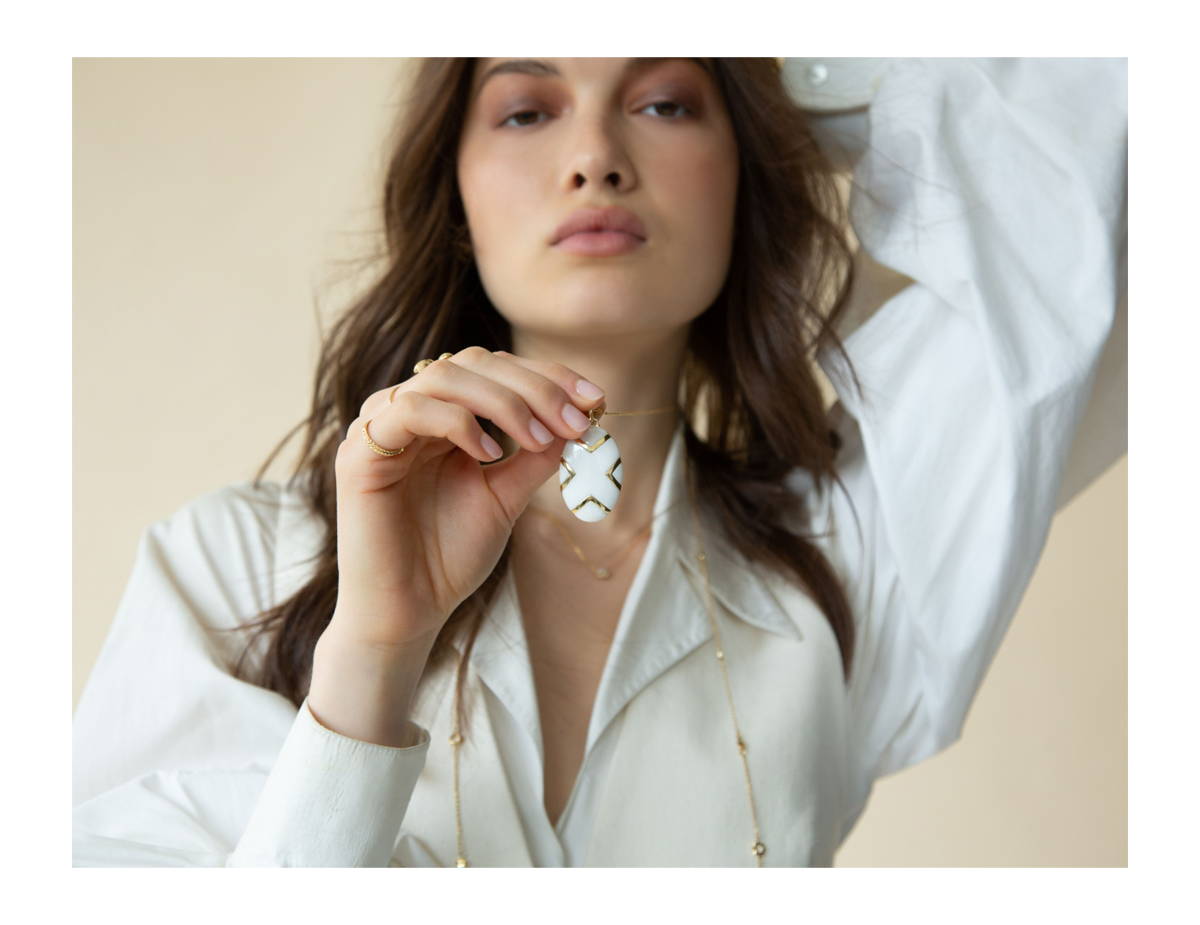 Layer your locket
The fun, modern way to wear lockets is to layer them with your other pendants and chains. It's up to you whether you go bold and create impact with multiple items, or just go for one or two chains with which to pair your locket. You can also experiment with layering different lengths of locket chains to create a unique eclectic vibe.
Harmonize with your other jewelry
If you're wearing other jewelry - rings, bracelets, earrings or other necklaces - consider how they work together and with your locket. Just the right level of styling thought about how your pieces complement each other allow you to achieve a modern, cohesive look.
Ideally, match your metals or shades, and even replicate the weight of your different pieces. So, if you're wearing a chunkier style of locket, match this with a chunky bracelet.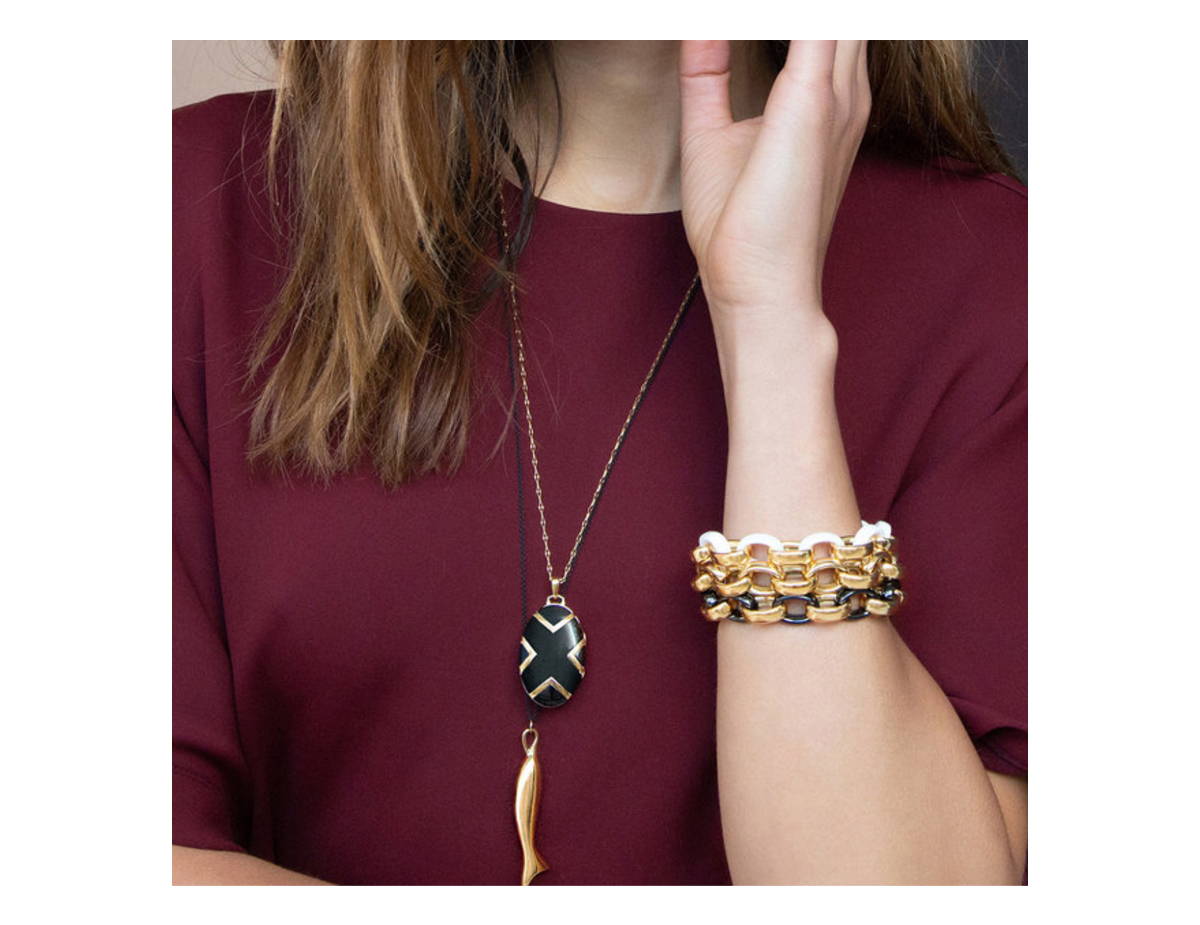 Experiment with different metals
Traditionally, mixing jewelry metals is something we think to avoid. Thankfully, lockets can be one exception to this rule. Because they shine as individual pieces, they can bear to stand out against a variety of other materials, textures, or colors.
A gold locket would work beautifully when paired with a simple silver chain. Let the chain work as a blank canvas on which to let your locket shine.
Let the color pop
There's nothing more empowering in style than a strong pop of color, and there's no reason why you can't use your locket to achieve this.
Go for a bright red or blue enamel locket hung on a black steel chain and paired against a traditional gold or silver pendant.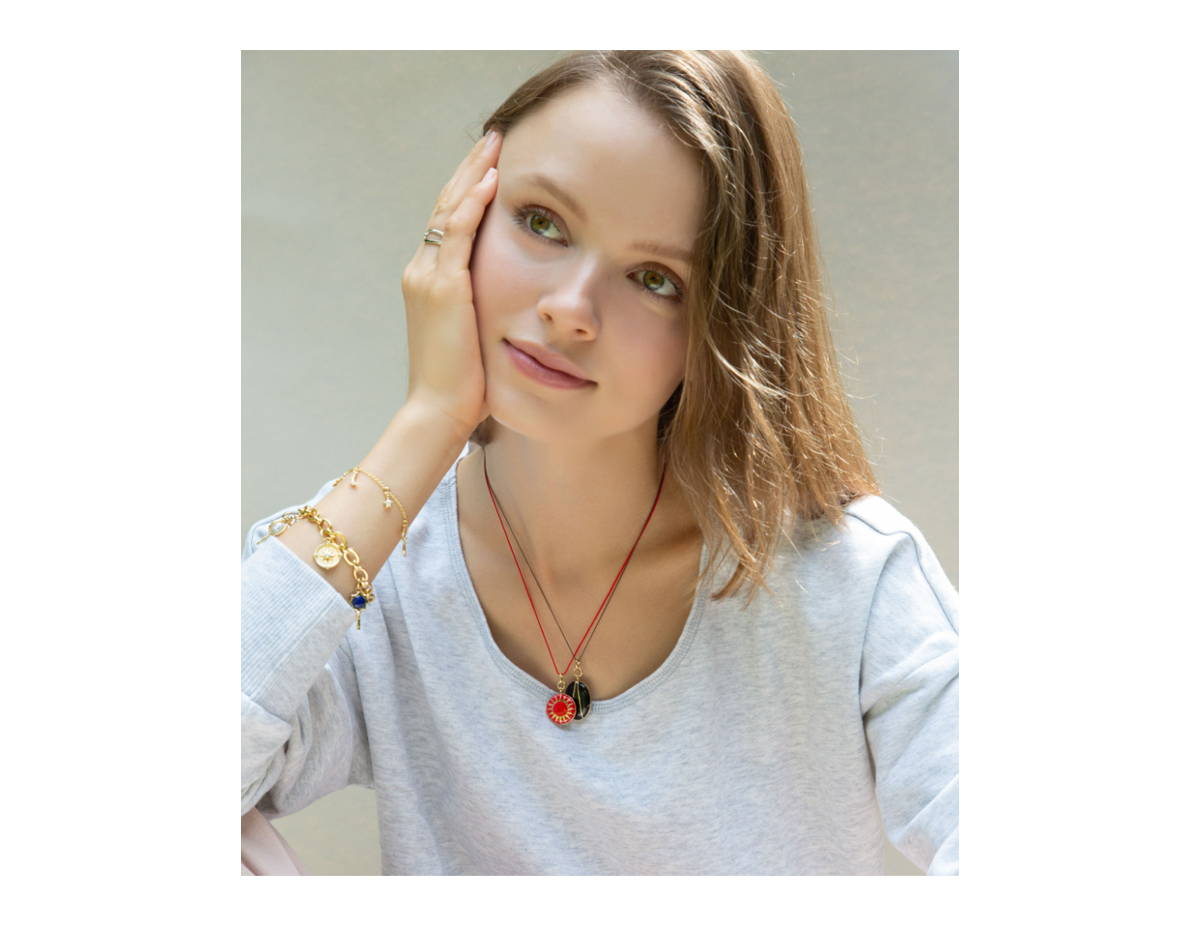 In summary
The modern locket has seen an exciting renaissance over the last few years. Not only has it been adopted by younger generations of women, but men have also enjoyed layering them up against other necklaces.
It's a locket's ability to make a fashion statement, tell a story and hold a secret that appeals to a new generation. They can be personalized with messages, set with a symbolic photo, and can act as the talking point of your outfit.
And thanks to rapid advancements in jewelry manufacturing techniques, lockets now stand the test of time, and are made in more interesting designs than ever before.
What's most special about the locket, however, is its ability to transcend age - even gender - and appeal to anyone, at any life stage, on any budget. It's their versatility and timelessness that endures.  
How would you style your locket? Let us know what sentiment or photo you would most want to keep inside.