WHY WE LOVE "DESIGN YOUR OWN" JEWELRY
So many of the products we see in today's world are everywhere. Whether it's shoes, clothing, accessories, home products and even technology, how often do we see the things we own literally "coming and going." In that respect, being able to find things in our lives that are personalized, or are uniquely created to reflect our own individual story, can be a truly special experience.
For me, this is especially true for fine jewelry. And it is even more true for a personalized necklace as it is a jewelry category that really allows us to design our very own. The art of being able to personalize a necklace with your own style and meaning is the ultimate in story telling.
HOW CREATING PERSONALIZED JEWELRY STARTED FOR ME
As many of you may know, my roots are in photography and I have always considered myself a storyteller. A photograph is the story of a moment in time, and often reflects the journey of those in the photo towards that moment. Becoming a jewelry designer didn't change a thing for me in terms of that philosophy. I still help women to tell their stories, just differently now. I design jewelry that means something. It is not just beautiful, it can empower and inspire a woman to wear something that reflects her celebrations, milestones, and adventures. In that respect choosing one of my pieces in the very first step in a personalized jewelry experience.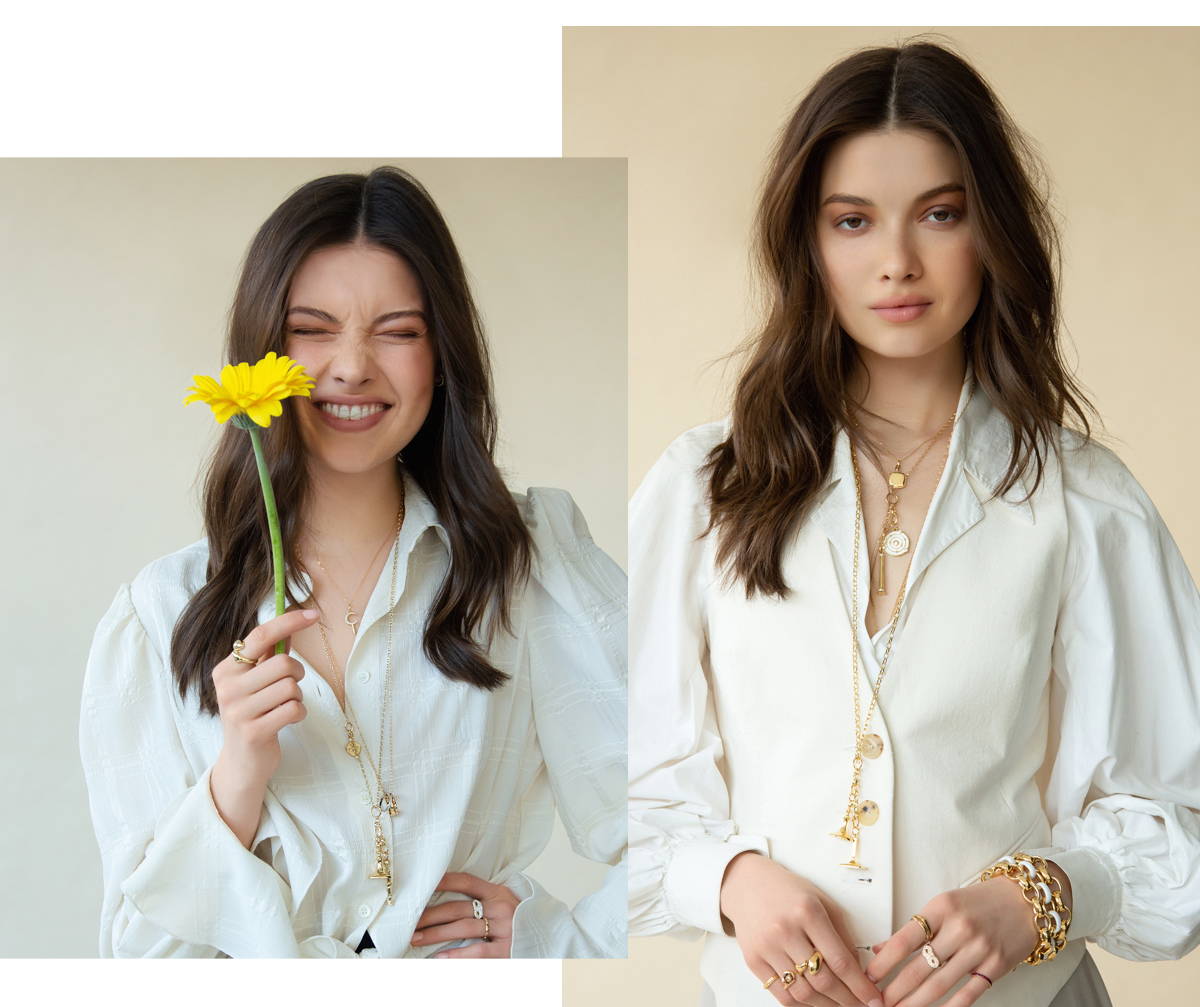 STARTING THAT PERSONALIZED NECKLACE
The first question in personalizing a necklace is short, long, or both? One thing to consider is do you want to create something for everyday? A piece that you can literally never take off. In that regard a short necklace is always the ideal choice. A great chain with the right locket, charm or poesy ring for example can become a signature for you, something your friends and family identify as an everyday style. So, in the rare times you might not wear it, the question becomes … "I see you aren't wearing your ________ today."
Picking that right necklace style can involve a variety of tiers of personalization. Firstly, choosing just the right design. Will it be a locket in silver, two-tone or 18k gold? Then what is the right chain, should it be silver, gold or steel? What photos or words will I put in that locket? That is the ultimate secret personalized decision as the only people who will know what is in your locket are those you choose to share it with.
Or maybe you will prefer the grand themes behind our charm necklaces and poesy ring necklaces? What are the themes that best reflect your individual story and current life events? Carpe Diem, Dream, Adventure, Never Fear, Breathe, Strength…the choices are as varied as our individual personalities. And once you arrive at those perfect choices, do you maybe choose a longer chain to create a unique statement piece, or even better do you use an existing short or long chain that you already own, to have the ability to wear a personalized necklace at either length.
COMBINING PERSONALIZED NECKLACES FOR A PERSONALIZED LOOK
Once you've created your first personalized necklace, more will surely follow. Sometimes they don't require any purchase at all. An heirloom piece of jewelry in your family is a creative option. An old family ring or band added on a chain you already own can be the ultimate personalized necklace. But should you choose to keep creating with styles like ours you can begin to create a layered look, one that becomes a signature part of your personal style.
I personally love to layer my necklaces...whether they are long or short. I love the idea of being able to create one's own statement depending on your day, your mood, or even your outfit. I think the pieces I choose to go together say so much about me, my stories and my life journeys. A group of short necklaces worn at varying lengths creates one's own "neck mess." It's fun, creative and has a singular style all its own.
One important part of our personalized necklace offering is our "design your own" (DYO) charm necklaces. They come in a variety of metal choices and include links with hidden hinges where one can add and remove charms in seconds. It's the ultimate in changing up a personalized necklace look every day one chooses.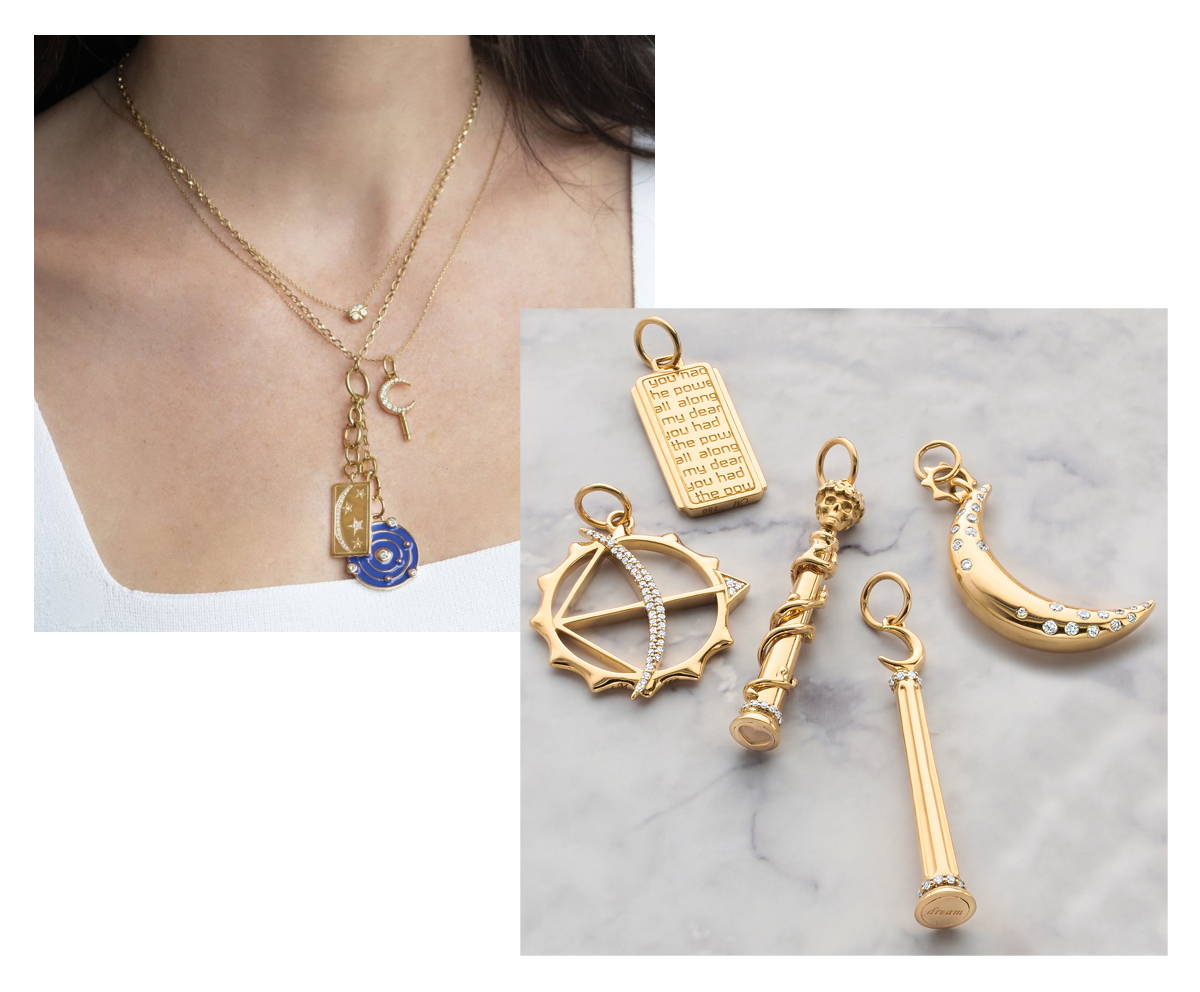 HOW I PERSONALIZE MY OWN NECKLACES
How do I personalize my necklaces? I love clipping on certain charms and lockets to my own "design your own" charm chains depending on my mood. Throughout this healthcare crisis, I have been wearing my "Dorothy" medallion as a daily part of my neck mess, whether I wear it alone on a thin chain or add it to my DYO. It makes me feel strong. I either add my locket, if I am feeling like holding family close or need those special secret inspirational words I frequently put inside. Or I add in my never fear FOB charm. Some days I mix it up all of those above with vintage ones I own and cherish the possibilities are endless.
Personalization is what's it's all about, we are individuals, and all have different ways we want to share our stories with the world.